'I'm trying to create something we connect with but aren't used to. It's instinct. It's both familiar and frightening at the same time'
says Laust Højgaard as he is spraying Golden heavy body, fluid high-flow acrylic paint, through an Iwata Hp-CS airbrush (with an Iwata studio series smart jet plus compressor) onto a natural linen double gesso primed canvas stretched over FSC approved Nordic pinewood stretcher bars and talking about the process of making his paintings.
'With the airbrush it's like carving clay, it's like using a modelling material. I allow the figures totake their own form with this tool which feels almost like sculpting, and then after I use theprecision tools where I add detail.'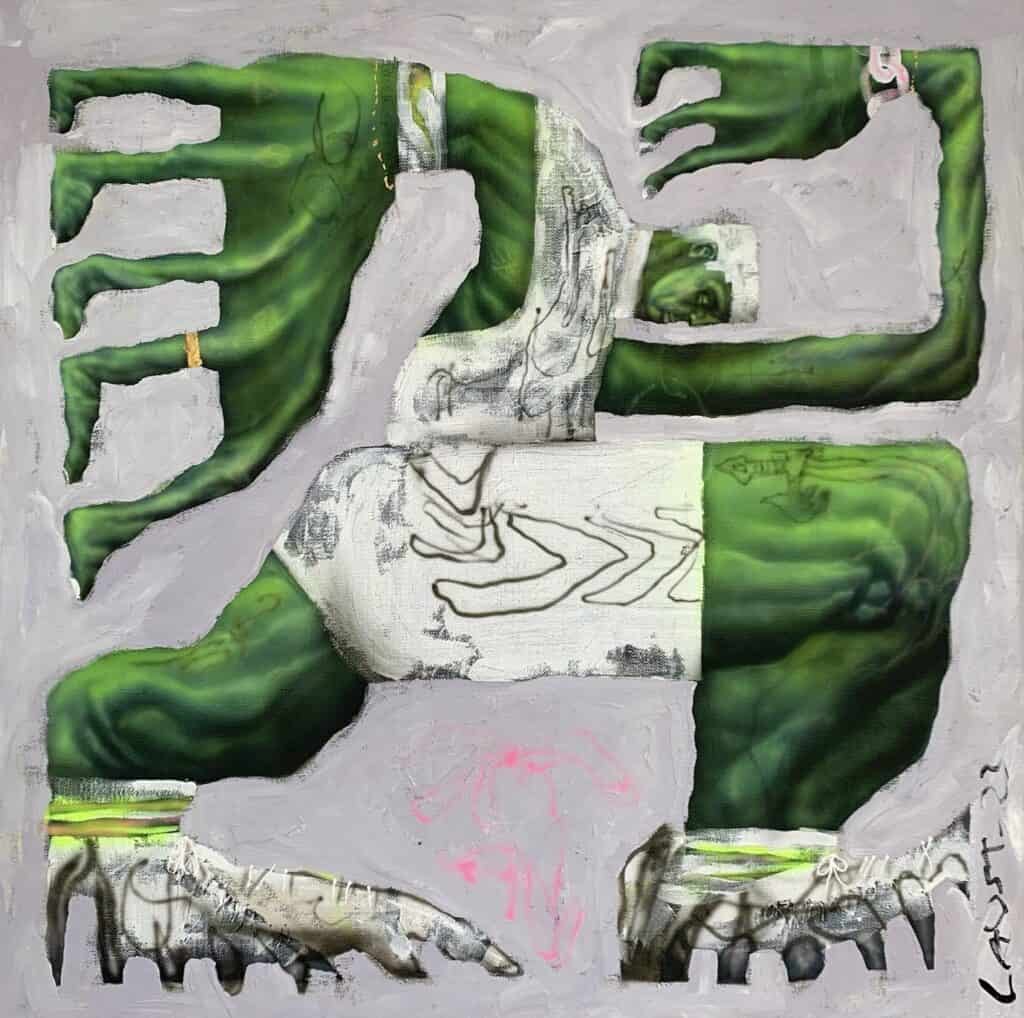 Metal spatulas, scalpels, gauge precision fine line applicators, Da Vinci brushes (various sizes), kitchen sponges (from Netto) and bamboo wipes (fragrance-free) are used, and what follows is an exploration of how different shapes, symbols, gestures, expressions and textures can be combined and balanced to create both tension and familiarity.
'My work is a clash of contrasts and it's about being in that sweet spot, balancing the contrasts between the combined elements and constantly exploring that overlap. That is what keeps me curious and drives my work.'
Anachronistic figures that appear in lumpen, exaggerated shapes that look like they could be folded back on themselves, sealed, and filled to make a physical form. They are tattooed with Hobo-code and indecipherable tribal lettering, wearing chains, football boots, Adidas, Goretex, Nike, riding superbikes and horses, driving chariots or Jeeps. The flattened depth quality and the mixed paraphernalia of combat and sport create suspense that suggests the figures are paused and pre3D, stoically waiting for something to happen and ready to be reanimated. They are figures with an ancient history and an imminent future.
I ask if the paintings are scenes or portraits and Højgaard carries on:
'I imagine that the characters are aware that they are being looked at, but they're not present themselves. They are aware that they struggle to fit into their surroundings, I like to think these are portraits that represent the real world taken to its extreme.'
This sense of not fitting in is paralleled by a compositional not fitting in. The figures are cramped and confined by the limits of the space they have been allocated to fit into, their limbs running tight to the angles and boundaries of the canvas. I found it easy to recognise that the presence of distorted scales and proportions suggest an ambivalence to accuracy or truth. But I also found that in relating to these figures in that way I also had to acknowledge an unnerving acceptance that now when we see images of bodies, we accept that they aren't necessarily true to reality and that they are suspended unnaturally in front of us, stripped of depth. The real-world in extreme.
Højgaard's paintings are undeniably captivating and relatable, somehow entirely appropriate for 2022, paintings that I didn't know I needed to see to make sense of feelings I hadn't worked out yet. They have a timeless quality to them and carry the reassuring simplicity of latent ancestors, poised and prepared, ready to intervene.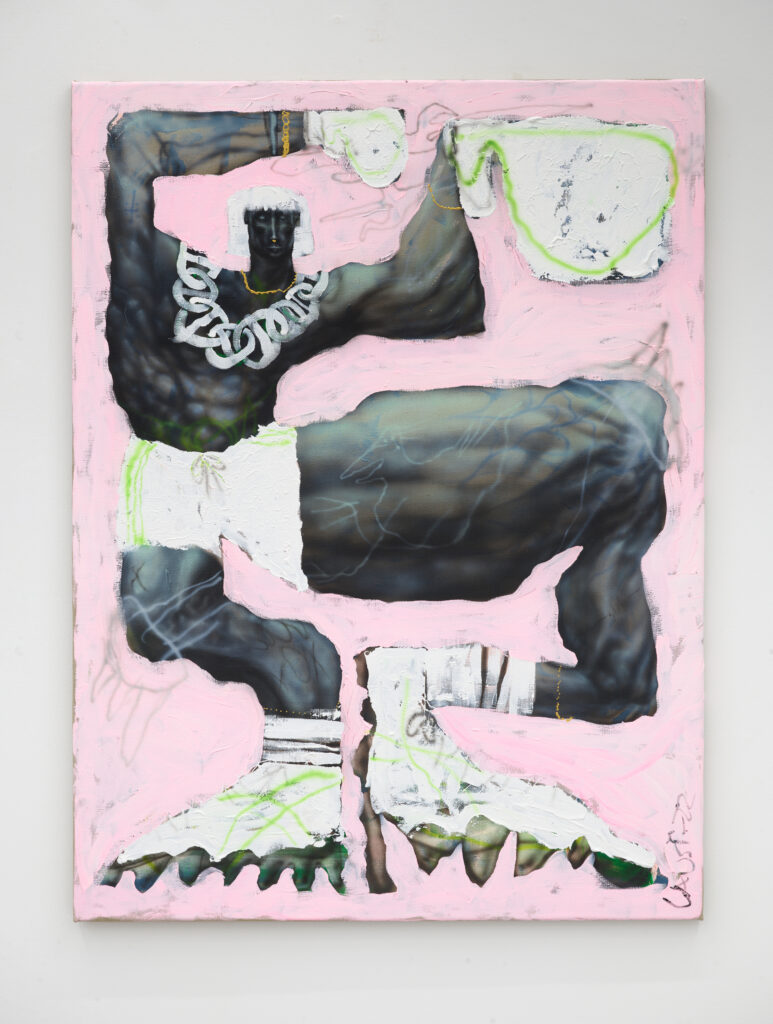 Laust Højgaard will be releasing his first print edition 'Spaggy' on 22th of September 2022, exclusively on oneoffany.com . Every screen print is unique, hand-finished with acrylic, phosphorescent and fluorescent acrylic by the artist. 
Four prints of the edition will be shown during Berlin Art Week at KPM Berlin x Galerie Droste at the 'Chronicles 5' group show (14th-18th Sept. 22). More info here: galeriedroste.de/exhibitions/chronicles-5
Categories
Tags