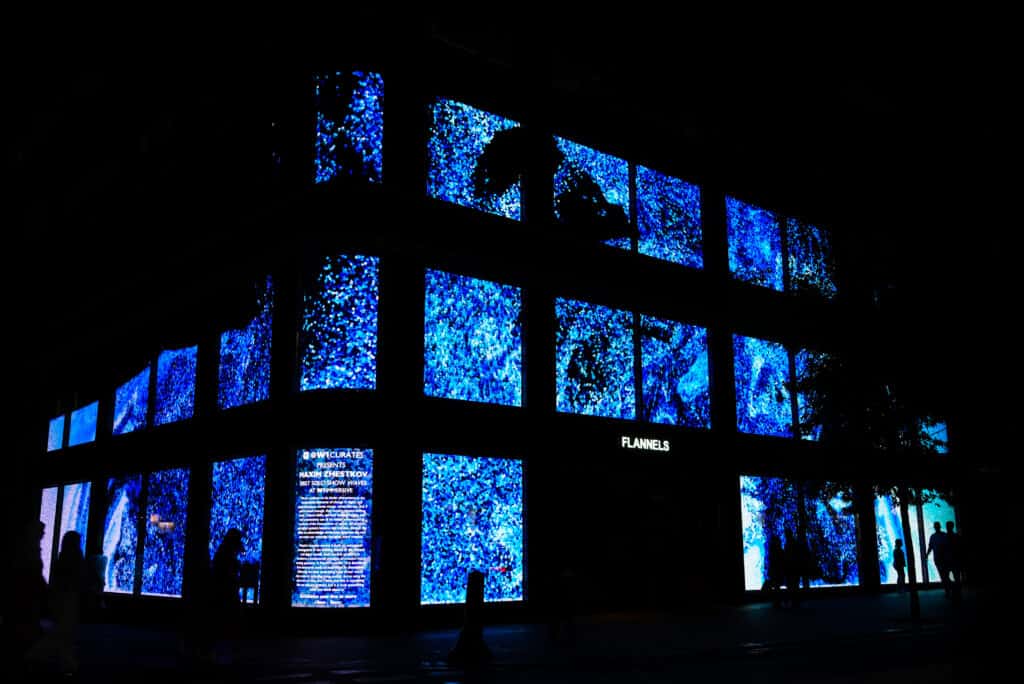 In the heart of central London, W1 Curates and FLANNELS have partnered to host an exhibition series championing the world's most exciting and innovative digital artists. The program currently features an immersive and startlingly beautiful exterior and interior installation titled WAVES by Maxim Zhestkov. The artwork spans the bespoke LED digital screens on the full façade of the store, and reaches its climax in the hypnotic elevated basement space complete with floor to ceiling digital screens.
The extraordinary public exhibition combines state-of-the-art technology with moving and emotionally resonant artwork to create a deeply effecting digital and physical environment. As Maxim Zhestkov's first ever fully immersive solo exhibition, it is a powerful debut that sets him apart as an entirely new kind of art practitioner for the digital age.
Overarchingly, the exhibition meditates on its titular phenomena, WAVES as a symbol of change and an interface between digital and physical systems. We may initially affiliate the word waves with organic ideas around tides and sea shores, yet it also speaks directly to digital notions like wifi-connections, and metaphorical concepts around cultural ideological shifts. By looking at waves in an expanded sense, the exhibition blurs the boundaries between the organic, digital, social and political entities that they may symbolise. It visualises our interconnectedness with both nature and machine as a web of waves which run through and between us, while the boundaries between these elements become fluid and malleable.
W1 Curates and FLANNELS exhibition, WAVES has the power to introduce digital art into our everyday experience for the first time, and to create a new kind of 'installation art' befitting of our contemporary context. I caught up with Maxim Zhestkov, just as the show opened, to learn more about his practice, this pioneering exhibition and the potential future of digital art.
How are waves understood as both a motif within and a driving force for this project?
WAVES began as an exploration: I wanted to connect all the windows on W1 Curates' exterior screen into a single canvas. During the research phase, the notion of the "wave" revealed itself to be so multifaceted, both visually and conceptually, that it became the driving force of the project.
As for the interior — an almost-360-degree experience, divisible into four corners, and covered by the two-dimensional representation of a particle flow — it always promised to be a great canvas for the interaction of waves.
Describe your process as a practitioner. How did this project move from an idea, through phases of experimentation and development to its ultimate display at FLANNELS as part of W1 Curates?
I create sculptures with computer simulations. When I started to use different forces and processes to interact with volumes of particles, it became evident what worked and what didn't — what would be a meditative experience, a playful one, or a tense one. Every movement conveys an emotion, so I experimented with different movements to create different moods, playing with the connection between humans and content.
Creating a 3D scene involves many factors. After setting the conditions, you then observe the result. You constantly identify errors and then adjust the conditions. In this positive feedback loop, the human curator is extremely important. How one sees, how one directs the process, how one decides the outcome — all of this is crucial. My method of creation is a conversation with a machine in the language of physics.
That is a complicated process, involving dynamics, form, light, colour, and space. Making any project feel "complete" requires a constant renegotiation with the simulation's unpredictability.
How did you develop the skills to work in this way? What was your educative background? How does your current work relate to your previous commercial projects for brands such as Adidas, IKEA, BMW, Google, Playstation, and Adobe?
Well, I spent the last 20 years of my life studying the software, trying to balance the software's limitations with my creative aspirations. Then, working with large brands repeatedly presented the challenge of finding a creative approach to a given task. This was a constant exercise in hacking limitations because in reality, delivering exactly what a client wants is impossible. But during this time, I learned to think like other people. I can now see different points of view in my own artistic projects.
What inspired your move to work as an independent artist?
Large brands tend to play it safe. The art world leaves more room for abstraction, which is an exciting prospect.
What kind of reception have you received from the art world as a whole, being that digital art is still a fairly new area of development?
The art world was wary of digital art until recently. It was just like in my university twenty years ago, where everyone was sceptical of computers because of the accusation that devices do everything for you. Painting, on the other hand, does not occasion philosophical discussions about what elements come from the creator and what uncontrollable elements come from the paint.
Working with simulations, the lines are harder to draw, as it's obvious (at least to me) that some things emerge by chance. The question of "Who is the creator?" does not have a simple answer, in this case, so we still need to think about the place of digital art in the global art world.
I think of my work as "art" rather than specifically "digital art." Art is a way of connecting people's emotions; I don't think that medium is all that important. If something facilitates this interaction of emotions, it is art.
What is your relationship to art history and where do you find inspiration? Do you often look to artwork in the traditional sense, or are you more driven by other modes of creative production such as video games, VR, Augmented reality, etc.? I ask this because there is something about your work that recalls the sculptural forms of Anish Kapoor to me.
Anish Kapoor was one of the most important artists to me. He showed me that a contemporary approach to sculpture was much more poignant than anything I'd studied at university — mostly Renaissance and earlier eras.
Studying form and volume and seeing the work by other artists always opens something new. Anthony Gormley is one of my favourite artists — he rejects pure realism in pursuit of his own imagination. Either that or he tries to imagine what a person feels in a particular situation.
Games and AR/VR experiences are other amazing sources of inspiration. Still, it is always tempting to pay too much attention to a tool and try to find answers within the technology. It is crucial to begin with an idea of what you are trying to tell and how. Writing and drawing on paper help to avoid 'playing with the tools'.
What do you see as the potential future of art production in this emergent digital space? What new possibilities are on the horizon?
I think that true digital art has not yet emerged. Virtual realities in the future will turn everything around us into content. Only a fraction of what we see today is content. In the future, it will be one hundred percent.
We will interact with the entire world around us through the interfaces — not connected by text and hyperlinks. The interfaces will be spacial and abstract. They will effectively create spaces in which we live.
I am finishing a large VR project called "Modules", on which my studio and I worked for a year. I am sure that it is going to open up new paths for artists who want to build their own universes.
How has our understanding of 'art' evolved and in what ways does this become relevant to your work?
I think that art is moving from something elite to something more direct and familiar. It is a transmission of emotions through different tools and environments — architecture, animation, and sound. We get more integrated into these worlds created with an artistic approach, so art keeps expanding into our lives.
How do you think your piece will operate architecturally and in the context of the urban space within which it will be viewed? What interactions and new dialogues will emerge?
The artwork on the exterior of W1 Curates became an interaction of two directions, connected on the corner. When you stand on this vertex and see how virtual matter moves between different walls, you see the interaction of two planes that only meet in this special place.
Questions about the architecture of the future and its connection to motion are some of the most important: Should our homes be static or should they have the ability to change? How would our approach to architecture change when we spend the majority of our lives in digital environments?
Interiors and buildings of the future should be created in digital worlds. There are millions of companies that work on mobile applications now, and there will be dozens of millions of companies that will create digital spaces.
Digital spaces can release us from matter and allow us to perceive abstractions, but they will still need to have some references to the familiar reality. Our minds have been forming for millions of years in the material world. Will people be able to adapt to the new digital realities? Will they need spaces that have gravity? One of my next projects is going to be an exploration of this idea.
What do you hope viewers might take from their experience of the exhibition?
Everyone should experience their own emotion. I think people will experience themselves, free their imaginations, recall memories, or imagine the future. Everyone has their own viewpoint, and everything is extremely personal, not only art.
The interior creates a meditative experience of breathing together with the artwork. When I see the waves move, I think about the micro- and macro-levels of reality. Everything is united, and we are a part of it. I like the metaphysical and abstract layers of the experience. It demonstrates something that can be observed endlessly: how matter perceives time through changes.
What's next for you and your practice? Do you have any more exciting projects coming up?
In a month, I release "Modules" — a virtual gallery that will expand my entire life and include all of my projects. Soon, I will also launch a gallery project in Zurich — more details soon. Another project is going to open in Amsterdam, in which I am going to connect our reality with digital spaces and explore how the membrane between the physical and digital world is getting thinner and thinner.
Maxim Zhestkov's Waves is at W1 Curates, Flannels London Oxford Street until 7th September
Categories
Tags