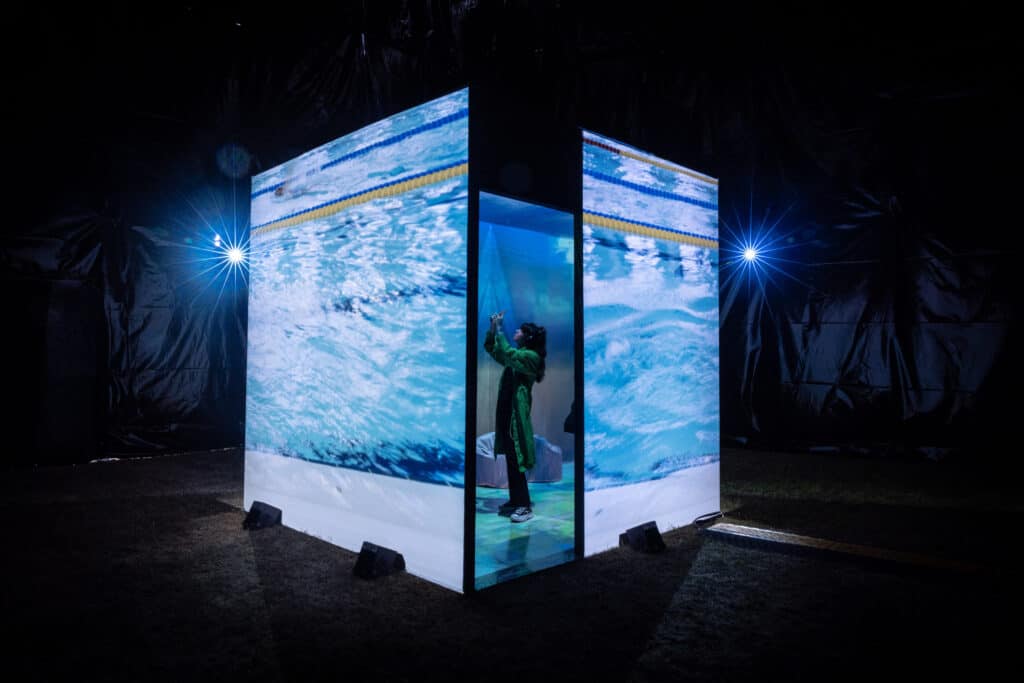 Fluito is a new, interactive outdoor public art installation created to celebrate the Birmingham Commonwealth Games inviting participants to explore different layers of aquatics. Created by Birmingham-based artist Georgia Tucker, Fluito means to overflow or to float and showcases the agility and speed of elite swimmers, the positive mental impact of swimming, water inequality within Commonwealth countries and ocean pollution. Through a maze of projection, soundscapes, mirrors, visuals and film, Fluito integrates the virtual with the physical to create a transfixing immersive experience.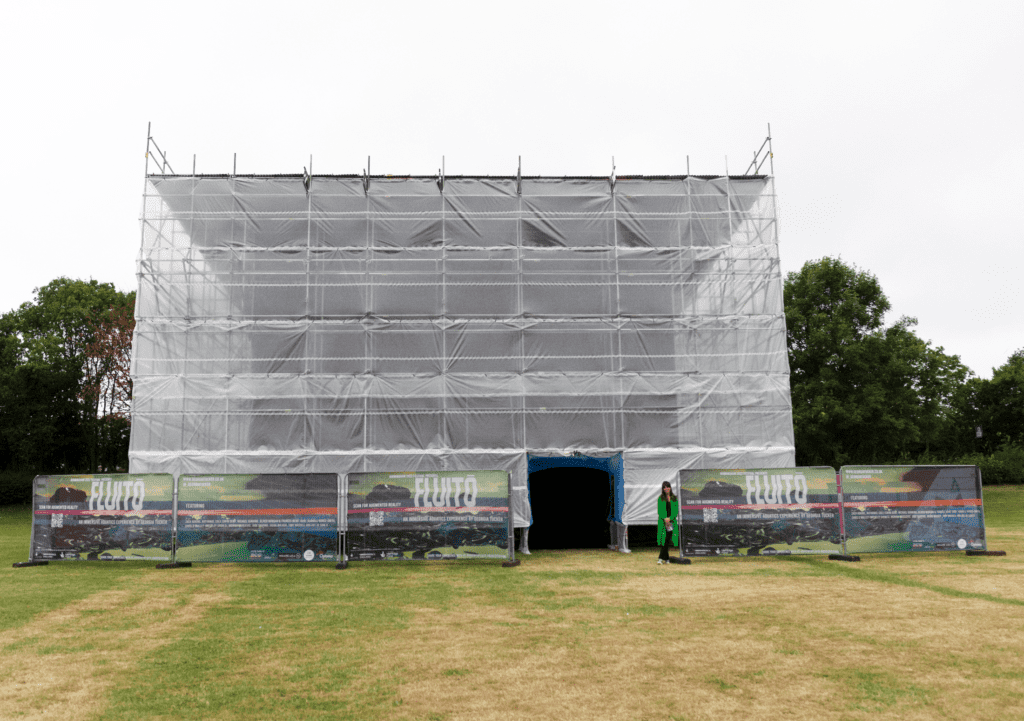 Based outdoors in Sandwell Valley Country Park and the experience is accessible to all. Through an augmented reality (AR) experience, participants from all 72 Commonwealth Countries are also able to participate in Fluito from anywhere in the world online.
Taking inspiration from Tucker's front-row experience of the everchanging Birmingham city landscape, Fluito places two scaffolding cubes one inside the other which the viewer will explore within. Fluito was conceptualised by Tucker after completing her MA at the Birmingham School of Art in 2021 and aligns with her personal passions in raising awareness of protecting our planet.
'Climate anxiety can leave people feeling overwhelmed rather than inspired to change. The experience of Fluito is playful and memorable and although people do need to alter their behaviours, I wanted to showcase there is beauty in the future and a purpose to changing.'

said Georgia. 
During the creation of the project, Tucker wanted to represent a diverse sector of the swimming community. She examined the way swimming impacts people's lives; professionally and competitively but also socially, as a way to connect with others or meditate in solitude. The soundscape will incorporate first-hand interviews with communities and individuals whose lives are positively impacted by swimming. Celebrating local talent is an important part of the artwork as Tucker aims to reconnect audiences and highlight Birmingham as a cultural and sports hub. Fluito will allow landlocked Birmingham residents to dive in and experience the escapist feeling of being near water. Entering water increases blood flow to the brain which improves memory, mood, concentration and even nutrient supply.
Fluito is free of charge and will be running until 7th August 2022. The experience lasts 30 minutes and can be booked for up to 20 people. Book HERE
Categories
Tags