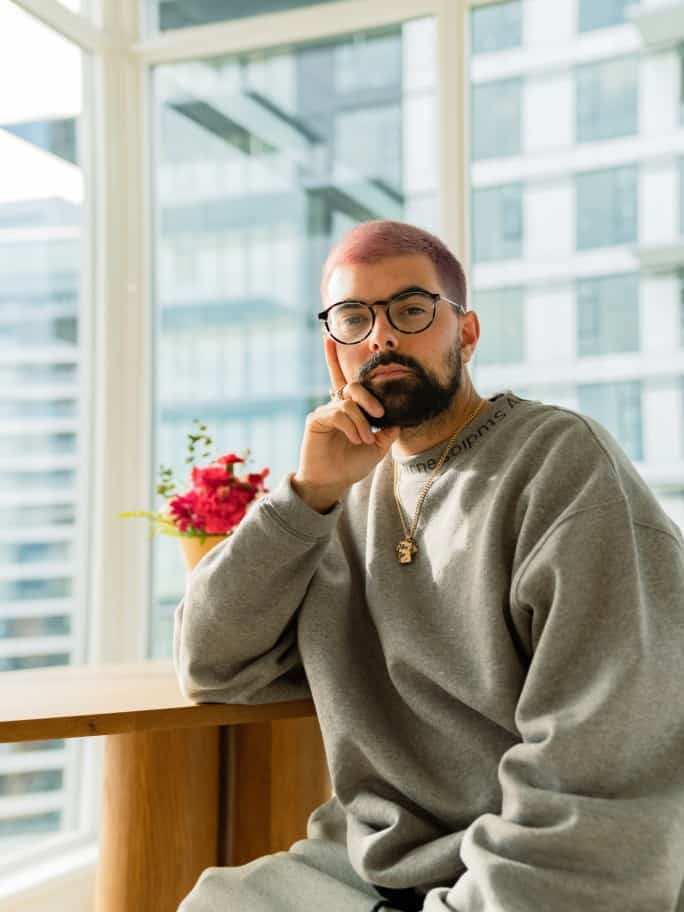 Leading digital artist FVCKRENDER has announced the LVCIDIA NYC.NFT event taking over Studio 525 on June 21st -23rd and featuring a collaboration with Steve Aoki's A0K1VERSE, as well as performances by Steve Aoki, TOKiMONSTA, and The Holy. Acting as an immersive journey into the audio-visual landscape of FVCKRENDER's LVCIDIA virtual gallery metaverse, the event will be accompanied by the launch of an open edition NFT created by Fvckrender to celebrate NYC.NFT and exclusively available at the LVCIDIA events.
Guests are invited to step out of their own world and into the world of LVCIDIA, an epic crossover of IRL elements and the otherworldly digital dimension FVCKRENDER has created. 
The commitment to not just immersion, but true interaction sets this project apart, taking care to foster community and engage attendees each step of the way. Sleek and serene, the event will surround attendees in the ethereal world of FVCKRENDER and LVCIDIA. Clean lines and subtle accent lighting puts the artwork and viewer immersion at the forefront of the visual aesthetic.
"I'm excited to welcome attendees to LVCIDIA at NFT NYC. LVCIDIA is going to be a massive curated world, where people can explore virtual environments both physically and digitally. I'm kicking off the project, but this is just the beginning as we create an ecosystem where some of the most incredible artists will be able to contribute their own elements."
From the moment attendees step inside the waking world of LVCIDIA, a 360 degree projection mapped surround that fully immerses attendees in the living worlds of FVCKRENDER's work, they are met with subtle atmospheric effects, synchronized ambient lighting, and a spatial sonic soundtrack, creating an inspired multimedia journey for the senses. With a custom DJ Booth that doubles as a performance space and art installation, LVCIDIA is both a visual and auditory exploration. Attendees are treated to a custom audio landscape that evolves and changes as they navigate the experience, thanks to a multidimensional soundscape from THE HOLY and a collaboration with Steve Aoki's A0K1VERSE, as well as performances by Steve Aoki and TOKiMONSTA. 
The options for playing a part in the creation of a new world are vast, as attendees become the curators at the FVCK_AVATARS Gallery. Utilizing RFID custom chain link wristbands, collectors are able to display FVCKRENDER pieces from their personal NFT wallet on a series of Ultra High Definition Samsung Frame Screens. Allowing attendees a unique opportunity to experience and share their collection in its highest quality, accompanied by subtly reactive LED backlighting.
Utilizing the ever-expanding world of XR Technology, the LVCIDIA XR Photo Booth provides attendees with an opportunity to step directly into the worlds of FVCKRENDER in 3D space, and capture their experience with a short collectable clip sent directly to their digital device. Multiple environments and coordinated IRL lighting elements give users an array of options for customizing the look and feel of their shoot, not only offering a fun way to directly engage but leaving people with a lasting visual to share. 
That is not the only lasting impression of the special event, with a special NFT NYC FVCKRENDER piece for purchase. This open edition will be available only to event attendees and open for the duration of the event. This exciting new chapter in the art-driven world of LVCIDIA is not to be missed, bringing visions from one of the most prominent NFT artists to life. Thank you to sponsors Ledger and OTOY, who make this all-out event possible.
FVCKRENDER  LVCIDIA June 21st – June 23rd, 2022 Studio 525 525 West 24th Street New York, NY 10011 12pm-6pm | 9pm-1am Register HERE to experience one of NFT NYC's most coveted showcases.
About the artist
FVCKRENDER has already made his mark on the digital scape, and it is a massive mark at that, bringing not just art, but community, utility, and ultimately entirely new worlds to the metaverse. A self-taught and native digital artist, has been innovating in the cyber world since long before it was his full time job. Originally from Montreal, he developed his artistic prowess from his own laptop, prioritizing his work every chance he could while working to support himself. Utilizing breaks and stolen moments before shifts, he taught himself to use the 3D art software that has since defined his career. Developing incredible dedication along with his skills, he began creating one piece of work every day–a tradition which continued for the next five years. 
His unique and futuristic style is both mechanical and eerily human, filled with raw emotion not often seen within machinery and tech. Currently based in Vancouver, BC, he continues to bolster his already impressive body of work, using the process of creating as a form of self therapy. Using his art to illuminate and thereby overcome past traumas, he infuses it with striking vulnerability, balancing that with a necessary element of fun. His work has been featured in esteemed auction houses such as Christies and Sothebys. The recent success of his FVCK_CRYSTAL project has generated over 36 million dollars in total revenue. Some notable clients include Ledger, Supreme, Hypebeast, The Hundreds, Swarovski, Dior, Avant Arte, Spotify, TIME, and many more.
Categories
Tags