Superblue has teamed up with artist JR for its beta launch of JR Reality – the first Augmented Reality community network and largest participatory art project in the world, in collaboration with AR leader Niantic.
JR Reality extends JR's 'Inside Out Project', giving anyone with a smartphone a forum to share their own and discover others' local stories.
Since 2013, artist JR's 'Inside Out Project', has turned the world into a public canvas, giving visibility and agency to almost half a million people in 140 countries to date. With Superblue, JR takes the 'Inside Out Project' to a global scale, connecting communities around the world through a collaborative virtual journal filled with personal stories rooted in physical places.
JR Reality offers an interactive platform for people to chronicle their cities: everyone is invited to attach a portrait or personal memory to a particular location, leaving behind digital touchpoints for others to uncover for years to come.
Have you ever passed somebody on the street and wondered what their story is? Or looked up through a window and wondered who lives there, what kind of life do they have? It's time to find out. In my latest work REALITY everyone is invited to leave portraits and voice messages attached to special places. It's time to go outside and explore, reconnect with one another and show the world your face again. Together we can tell the world your story and meet the amazing people that live in your city

JR on the possibilities of REALITY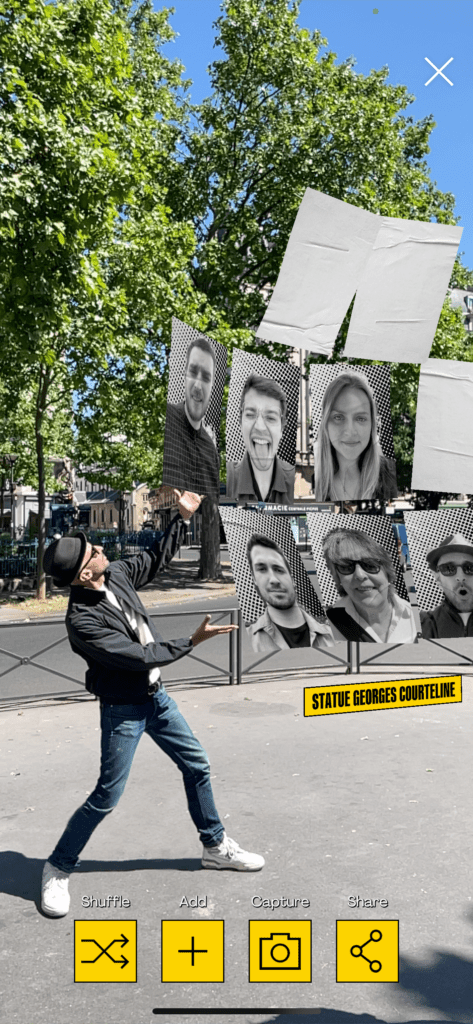 Experienced exclusively via the Superblue app and in its first phase available in San Francisco, JR Reality forms an underlying 3D map of individual cities across San Francisco, New York, London, Paris, Miami and Los Angeles so that all mobile devices can share the same frame of reference even on massive scales. Utilising AR and Niantic's Lightship VPS, the virtual community experiment invites users globally to go outside, explore their local areas, and leave virtual messages for each other on a living mural.
At Niantic, we're driven to create immersive AR experiences that inspire movement, exploration, and shared experiences. We're excited to partner with artworld disruptors Superblue and JR to take shared art experiences to the next level. Together, we invite everyone to go outside, take a look around, and engage with their city in a new light

– Dan Morris, Director of Developer Relations, Niantic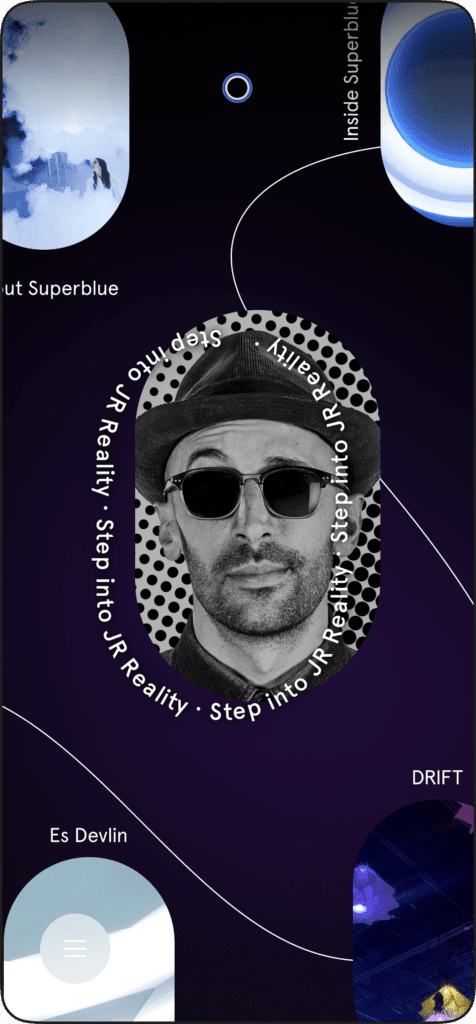 Since launch, Superblue has established itself as the leader in the field of experiential art, working with some of today's most renowned artists such as Es Devlin, DRIFT, A.A. Murakami, Glenn Kaino and Yinka Ilori. We are continually pushing boundaries with digital technologies to create shared, participatory experiences and we are thrilled to launch JR Reality as the first of many projects that exemplify our ongoing commitment to developing augmented and virtual reality opportunities for artists to expand their art with cities as their canvases.

Mollie Dent-Brocklehurst, Co-Founder & CEO, Superblue
JR Reality is accessible via the Superblue app, which is free and available to download on iOS and Android devices via closed Beta in San Francisco now. To give it a go join the waitlist: (superblue.com/app/jr-reality).
After San Francisco's beta launch, New York will be the first REALITY city to come online for audiences in Fall 2022, followed by London, Paris, Los Angeles, Miami & Tokyo – dates to be announced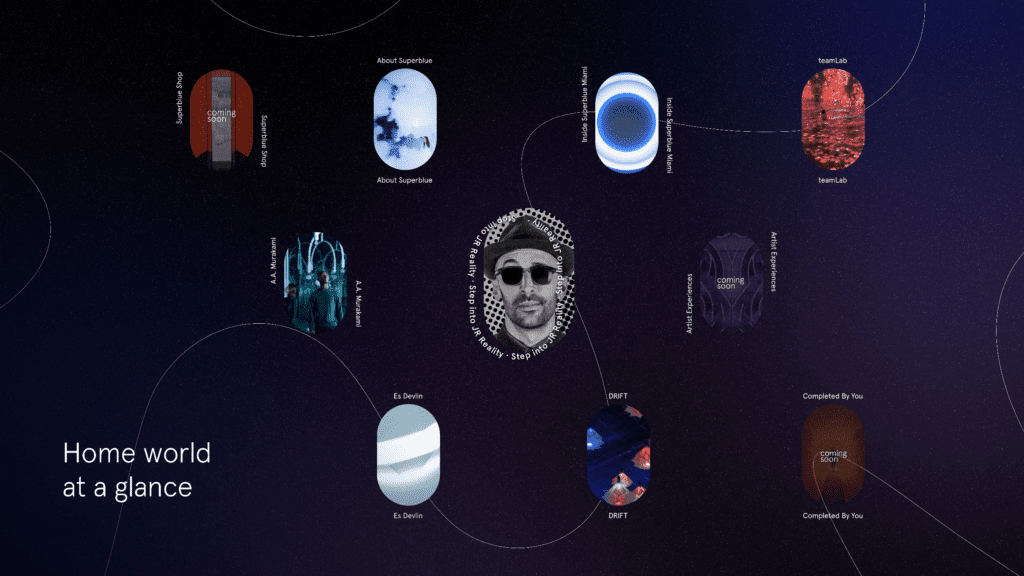 About the artist
JR exhibits freely in the streets of the world, catching the attention of people who are not typical museum visitors, from the suburbs of Paris to the slums of Brazil to the streets of New York, pasting huge portraits of anonymous people, from Kibera to Istanbul, from Los Angeles to Shanghai. In 2011 he received the TED Prize, after which he created Inside Out, a global participatory art project that allows people worldwide to get their picture taken and paste it to support an idea and share their experience – as of January 2022, over 450,000 people from more than 141 countries have participated, through mail or gigantic photobooths. His recent projects include a large-scale pasting in a maximum security prison in California, a TIME Magazine cover about Guns in America, a video mural including 1,200 people presented at SFMOMA, a collaboration with New York City Ballet, an Academy Award Nominated feature documentary co-directed with Nouvelle Vague legend Agnès Varda, a huge installation on the Pantheon in Paris, the pasting of a container ship, the pyramid of the Louvre, a monumental mural "à la Diego Rivera" in the suburbs of Paris, giant scaffolding installations at the 2016 Rio Olympics, an exhibition on the abandoned hospital of Ellis Island, a social restaurant for homeless and refugees in Paris or a gigantic installation at the US-Mexico border fence. As he remains anonymous, JR leaves the space empty for an encounter between the subject/protagonist and the passer-by/interpreter. That is what JR's work is about, raising questions.
About Superblue
Superblue is a ground-breaking enterprise dedicated to supporting artists in realising their most ambitious visions and engaging audiences with experiential art. Its network of artists encompasses the leading practitioners of experiential art, whose practices catalyse engagement with the most pressing issues of our time and generate new perspectives on our world. Through its experiential art centres, which are specifically designed for presenting large-scale, immersive art installations, Superblue provides artists with expanded opportunities to transport audiences to the new worlds they create. Superblue additionally acts as an advocate and agent for experiential artists by fostering opportunities for them to expand the reach of their work through collaborations with museums, collectors, visual and performing arts festivals, architects, municipalities and place-makers. Superblue provides these partners with unparalleled expertise and support for the production, installation and presentation of large-scale experiential works, through collaborative presentations, public and private commissions and acquisitions. In the coming years, Superblue will open new experiential centres across the U.S. and internationally.
About Niantic
Niantic builds augmented reality technology that powers the real-world metaverse. Our Lightship platform is the world's first scaled AR platform, enabling developers around the world to create sophisticated AR experiences for phones and eventually AR glasses. Lightship is also the foundation for Niantic's hit games, including Pokémon GO, Pikmin Bloom and Ingress.
Categories
Tags