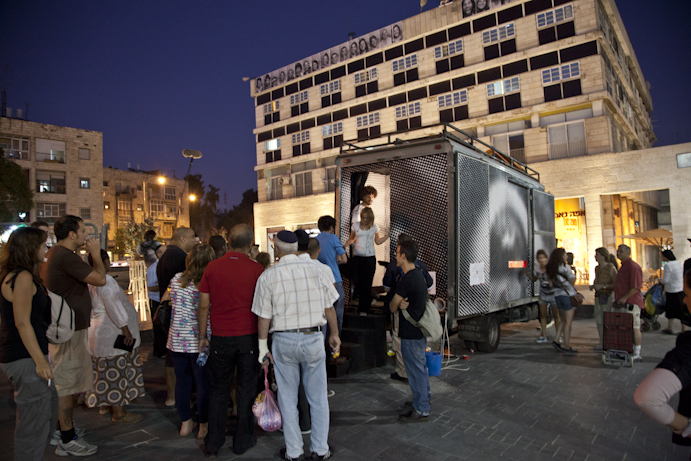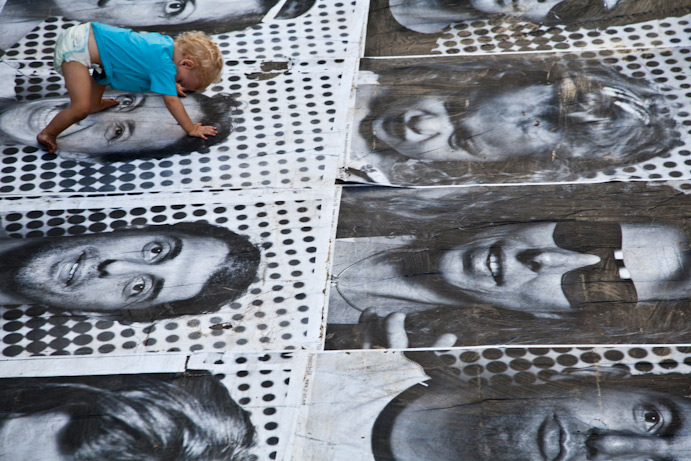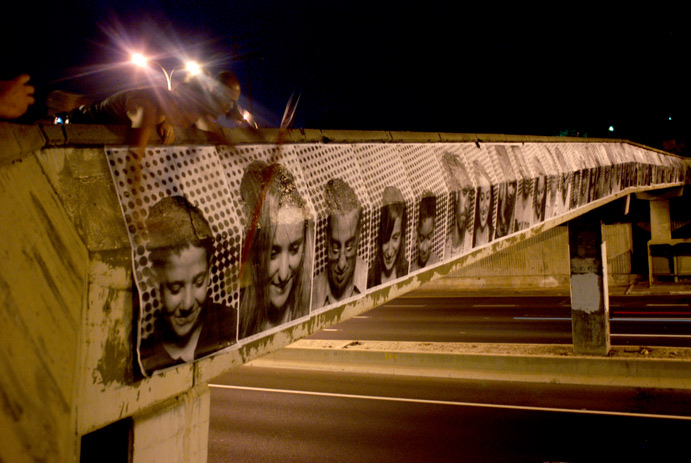 Large black-and-white portraits have been appearing on bridges, billboards and broken-down buses all over Israel and the West Bank as part of an international project that allows people to turn pictures of themselves into works of art or political statements.
The portraits of ordinary Israelis and Palestinians are part of a project created by JR. The project, Inside Out, gets people worldwide to make a statement by having their photo taken and then printed on posters that they can then hang in a place they find significant.
Inside Out started in Tunisia in March and has also been to North Dakota in the U.S., Scotland and South Africa.
For two weeks, the project had two photo booths in the West Bank Palestinian cities of Bethlehem and Ramallah and a roaming photo truck that drove around Israel, taking a total of more than 7,000 portraits. It finished up in Israel and the West Bank this weekend.
Israelis and Palestinians made different uses of their photos.
In the Aida refugee camp in Bethlehem last week, Palestinian youth activist Munther Amira came up with an idea for a political statement. He organized a group of children from the camp to have their photos taken and then painted flags on the posters of countries that support the Palestinian leadership's bid to win statehood recognition at the U.N. next week.
They took the portraits to Israel's nearby separation barrier and pasted them along the concrete wall.
In Tel Aviv early Thursday, a group of Israeli artists dressed in black pasted posters on the side of a bridge in what they called an apolitical art installation.
JR, the artist behind the endeavor, said he envisioned the project as one in which his own ego was not a factor. Instead, the photo booths provide the materials and inspiration for people to take the idea and make it their own.
"It's about them. We transferred the power of the project to the people, and it's really their statements," he said.
Categories
Tags