I'm not sure you have to be obsessive to be an artist, but plenty of artists have made bodies of work that are naturally described that way. The best-known examples tend to be individually produced:
Today, On Kawara's rule-driven production of over 3,000 paintings of the date, made during 1966–2013.
Roman Opalka (1931-2011) painting an uninterrupted series of numbers across hundreds of canvases, reaching 5,607,249 after more than 45 years.
Tehching Hsieh's One Year Performance 1980-1981, for which he punched a time clock on the hour all year, photographing himself 8,760 times as he did so.
Day by Day, Good Day, Peter Dreher's life-scale paintings of the same empty glass – 2,500 times by night and 2,500 times by day over the forty years from 1974.
In 2010 at MoMA, Marina Abramovi? engaged in The Artist Is Present, for which she sat silently for eight hours a day for three months, meeting the gaze of 1,000 strangers.
Other artists have set up collective endeavours to reach comparably obsessive outcomes:
Ai Weiwei's  Sunflower Seeds, 2010: a hundred million of them, hand-crafted in porcelain by specialists working in small-scale workshops in in the Chinese city of Jingdezhen.
Christian Marclay's The Clock, also from 2010, a 24-hour long montage of some 12,000 film clips of clocks, edited together so that they show the actual time.
And you can now see an example of each approach in, oddly enough, London's two Goodman galleries:
Candice Breitz's Digest, 2020, at the South African-originated Goodman Gallery (to 20 Jan): an installation of 1,001 videocassettes, the polypropylene sleeves of which have been almost wholly obliterated by the impasto application of black acrylic paint by a fifteen-strong team directed by the artist. Just one word, painted white, is visible from each title. If that sounds limited, that is deceptive: no other current London show has more to unpack – even though you can't take the films out of their boxes – and I strongly recommend a visit.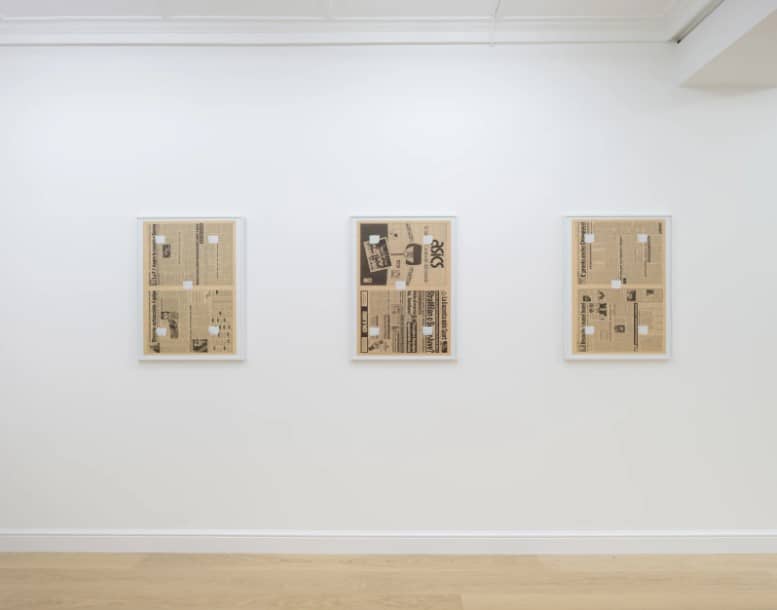 A selection of Niele Toroni's 'Imprints of a Number 50 brush at intervals of 30 cm' at the new project space of the New York founded Marian Goodman Gallery (to 11 Jan). That invariable title reflects the Franco-Swiss artist's consistent and never-delegated method of painting on all sorts of surfaces since 1967: he makes similar and similarly-spaced marks using each side, once, of a flat brush 50 mm wide, the aim being to divorce painting from traditional notions of authorship and originality.
Art writer and curator Paul Carey-Kent sees a lot of shows: we asked him to jot down whatever came into his head
Categories
Tags