The Africa Center announces States of Becoming, an exhibition curated by Fitsum Shebeshe and produced by Independent Curators International (ICI) on view at The Africa Center at Aliko Dangote Hall.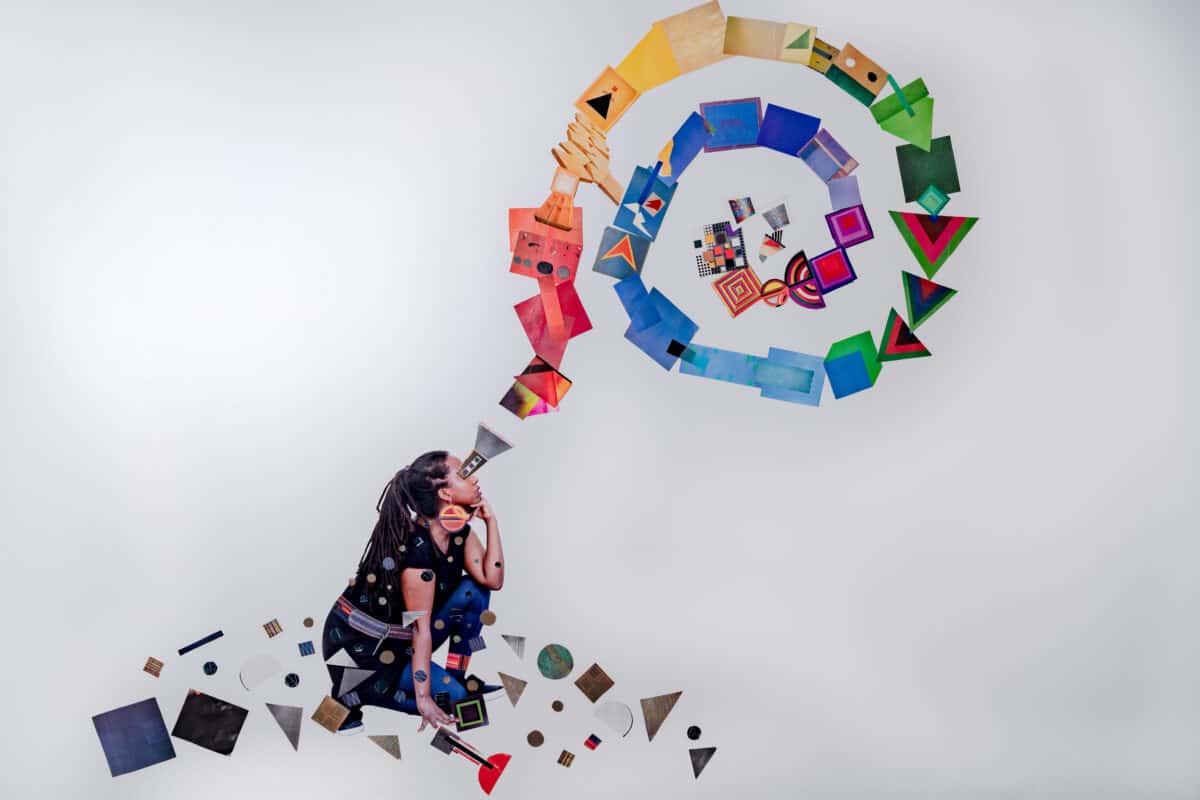 States of Becoming examines the dynamic forces of relocation, resettling, and assimilation that shape the artistic practices of a group of 17 contemporary African artists who have lived and worked in the United States within the last three decades, and informs the discourse on identity construction within the African Diaspora. States of Becoming will be the first major contemporary art exhibition at The Africa Center since its transition from the Museum for African Art in 2013 and will be the first presentation of the touring exhibition produced by ICI.
States of Becoming was born out of my own process of relocating to the United States in 2016.

This exhibition allows for further understanding of not only my own experiences, but also those of the artists. By analyzing both the unique aspects and commonalities together with The Africa Center's global and local communities, we can reimagine together how we think about how identity is continually shaped and reshaped.

Fitsum Shebeshe
The concept for States of Becoming evolved from curator Fitsum Shebeshe's lived experience following his 2016 move from Addis Ababa, Ethiopia to Baltimore, Maryland and his subsequent firsthand knowledge of the weight of cultural assimilation. Confronted with a different society, Shebeshe encountered a wide range of existential questions that shaped his relationship to institutions and culture. Shebeshe also had the realization for the first time that he was viewed as belonging to a minority because of the color of his skin, and a newfound awareness of the profound impact Ethiopia's traditional and conservative culture had on his personal sense of individuality.
In States of Becoming, curator Fitsum Shebeshe contributes a significant and personal view of contemporary art of the African Diaspora, and reasserts the importance of a curator's lived experience in exhibition-making.

All of us at ICI are proud to see the exhibition debut at The Africa Center, an African-centered home for Shebeshe's vision and the multidisciplinary perspectives of the artists, making this an ideal start to the exhibition's five-year tour.

said Renaud Proch, ICI's Executive & Artistic Director. 
Having found kinship among cultural practitioners from the African Diaspora who shared his experience, Shebeshe has united 17 artists with States of Becoming who either came to the United States over the past thirty years or who are first-generation born. The artists represented in States of Becoming relocated from twelve countries in Africa and one in the Caribbean–Ethiopia, Ghana, Ivory Coast, Kenya, Liberia, Mauritania, Nigeria, Senegal, Sierra Leone, Sudan, Trinidad and Tobago, Tunisia, and Zimbabwe–with roots in cities across the U.S., including New York, Washington, D.C., New Haven, Detroit, and Los Angeles.

Like Shebeshe, each artist in the exhibition has had a unique relationship to the U.S. context, which is reflected in their work. States of Becoming explores these artists' perpetual process of identifying, redefining, and becoming themselves in both local and global contexts, opening up perspectives into multiple states both geographic and emotional in a constant flux of social and cultural adaptations. The exhibition presents work across mediums including painting, photography, sculpture, installation, and video, that express the many different ways in which identity is remade and reimagined. For instance, Nontsikelelo Mutiti looks to hair braiding salons of the African Diaspora, and Amare Selfu moves from figuration to abstraction to express transformation as a result of relocation. These distinct experiences produce a sense of hybrid culture emerging out of real and imagined genealogies of cultural, racial, national, and geographic belonging.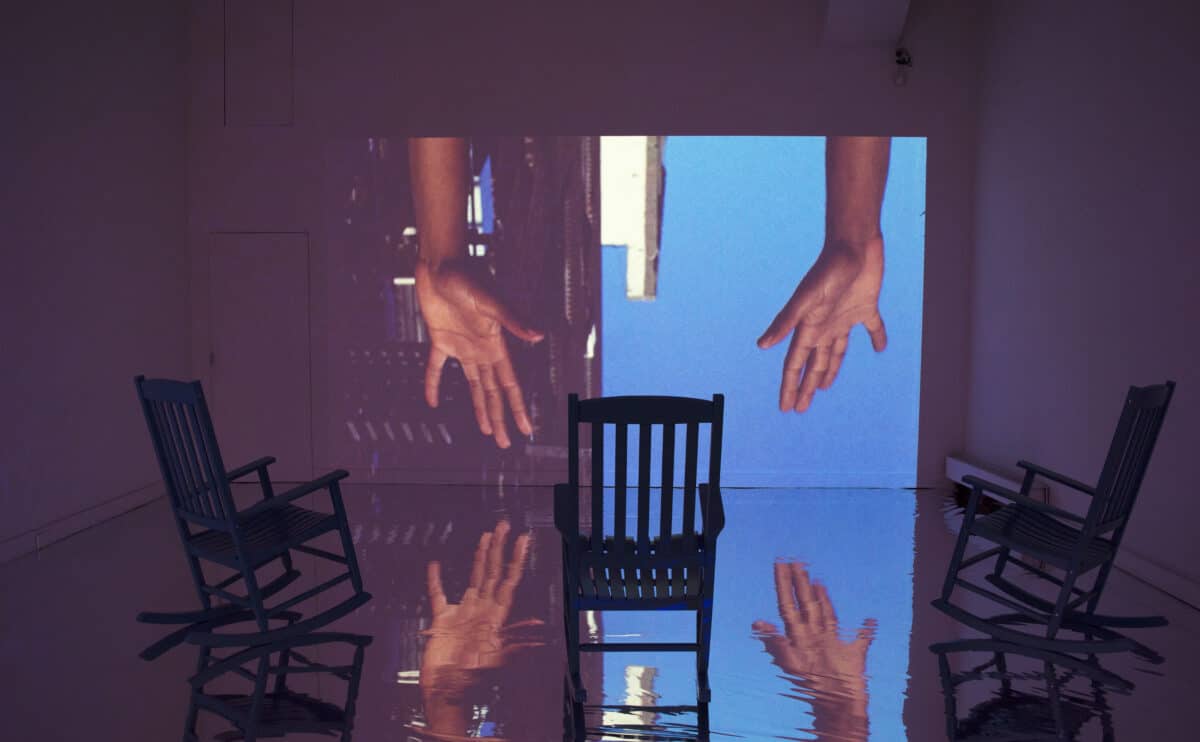 Although the individual artistic methodologies and experiences of the artists featured in States of Becoming vary, each seeks to reconceptualize a hybrid culture formed from real and imagined genealogies: cultural, racial, national, and geographical belonging. The exhibition is loosely arranged with three main categories: those whose aesthetic forms have undergone drastic transformations since migrating; those who desire to share the experiences and culture of their country of origin within the communities in which they now reside; and those who build bridges between the African diaspora and African American artists of their host country. By contextualizing these practices today, the exhibition provides a space to consider the intersections and contribute to the evolving discourse on relocation, resettling, assimilation, and identity construction.
Artists: Gabriel C. Amadi-Emina, Kearra Amaya Gopee, Kibrom Araya, Nadia Ayari, Vamba Bility, Elshafei Dafalla, Masimba Hwati, Chido Johnson, Miatta Kawinzi, Dora King, Helina Metaferia, Nontsikelelo Mutiti, Yvonne Osei, Kern Samuel, Amare Selfu, Tariku Shiferaw, and Yacine Tilala Fall
States of Becoming, October 14th, 2022—February 26th, 2023, The Africa Center, 1280 Fifth Avenue, New York, NY 10029 Curated by Fitsum Shebeshe, Produced by Independent Curators International (ICI) Tickets to the exhibition will be available at theafricacenter.org in early-October 2022.
States of Becoming is a traveling exhibition curated by Fitsum Shebeshe and produced by Independent Curators International (ICI), New York. Lead funding is provided by the Hartfield Foundation as part of an initiative to support ICI's commitment to new curatorial voices who will shape the future of the field, and ICI's Curatorial Intensive alumni as they move through the stages of their career. States of Becoming is made possible with the generous support of ICI's Board of Trustees and International Forum. Crozier Fine Arts is the Preferred Art Logistics Partner. The presentation at The Africa Center is made possible with support generously provided by The Africa Center's Board of Trustees and patrons.
The States of Becoming exhibition tour has been organized by Independent Curators International (ICI) and is available for hosting art spaces through 2027. For more information, contact ICI's Exhibitions Manager, Becky Nahom, at becky@curatorsintl.org.
About the Curator
Fitsum Shebeshe is a curator and painter based in Baltimore, Maryland and Washington, D.C. He is currently the Gallery Director at Harmony Hall Regional Center in Fort Washington, Maryland. Before moving to the United States in 2016, he was Assistant Curator at the National Museum of Ethiopia. In 2012, Shebeshe co-founded the 1957 Initiative to annually celebrate the liberation of African countries from colonialism through the arts. In 2013, he curated the 1957 Art Show at the National Museum of Ethiopia on the occasion of the 50th Golden Jubilee Anniversary of the African Union, and in 2017, he was the curator of Depart Africa at the Baltimore School for the Arts. Shebeshe holds a Master of Fine Arts in Curatorial Practice from the Maryland Institute College of Art.
About ICI
Independent Curators International (ICI) supports the work of curators to help create stronger art communities through experimentation, collaboration and international engagement. Curators are arts community leaders and organizers who champion artistic practice, build essential infrastructures and institutions, and generate public engagement with art. Our collaborative programs connect curators across generations and across social, political and cultural borders. They form an international framework for sharing knowledge and resources—promoting cultural exchange, access to art, and public awareness for the curator's role.
ICI's flagship professional development program for curators, The Curatorial Intensive, supports emerging curators by bringing them together to gain new skills and perspectives on curating in partnership with advanced-career faculty. Since 2010, the program has taken place in more than 25 cities around the world and served 500 curators from 70 countries, who form an unparalleled, dynamic alumni network. curatorsintl.org
Categories
Tags