Blue skies, sunshine and crowds of glamorous people – it's been quite a while since I've experienced this heady mix.  Throw in some palm trees and here I am in Miami, where else.  There is a palpable energy and enthusiasm in the air for Miami art week, the year-long embargo has only increased people's desire to visit the fairs, socialize, be seen, and of course view and buy art.   The noticeable difference this year is the explosion of NFTs. Coinciding with a large Bitcoin conference in the city, Crypto-nuts have flooded the scene.  The NFT market has achieved lofty heights (reaching $10.7 billion in the third quarter of 2021 according to The Times).   Tezos (one of the original open-source blockchains) has partnered with Art Basel and presents a special project 'Human + Machine: NFTs and the ever-evolving world of art' which explores questions about the role of human and machine by allowing visitors to collaborate with an algorithm, designed by artist Mario Klingemann, to create a generative self-portrait (you basically stand in front of a TV screen and click the QR code).  Interactive yes.  Artists embracing new technologies as a new artistic medium – great.  I'm sure there is much more to come from this new trend, particularly as the mayor of Miami (Francis Suarez) is actively encouraging tech employees and investors to the area.  Could Miami become the NFT capital?  The link between the boom in Crypto and NFTs is tangible – but will the bubble burst?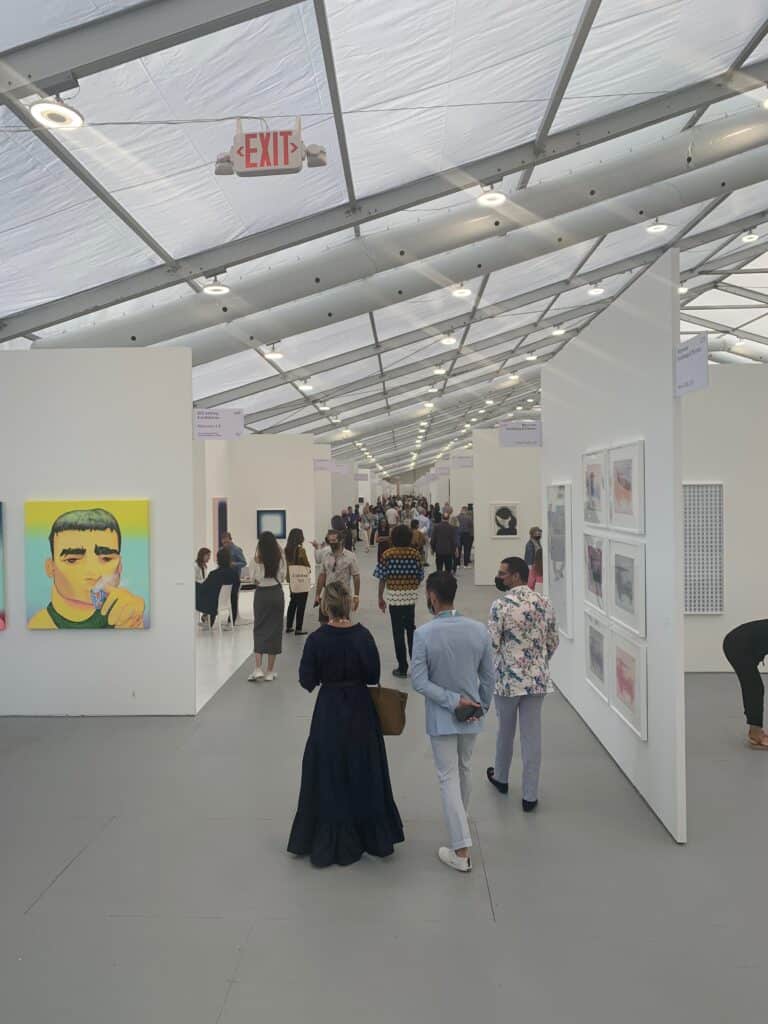 I'm here to exhibit at Context Art Miami for the first time – presenting a solo presentation by Colombian artist Santiago Montoya.  As the preparations are in full swing, I managed to escape the crates and clamour of installation and head over to Untitled fair preview.  Snaking queues of people are already gathering on Miami Beach and the preview has only just opened.  
Untitled Art prides itself on balancing 'intellectual integrity with cutting-edge experimentation', giving the traditional commercial trade fair feel a shakeup with a more curatorial approach.  The fair invites guest-curators to present a special exhibition, and this year guest curators Estrellita Brodsky and Jose Falconi have conceived an ambitious group exhibition 'Elsewhere(s)' that brings together over 25 artists from Latin America and its diaspora. The exhibition seeks to reflect on the role of the artist, and to 'envision alternative societies as shamans, healers or utopian visionaries'. Sounds like we could all do with some of that right now. Highlights from the exhibition include Colombian artist Santiago Montoya's epic 'Wall of Lamentations' work consisting of rows of vibrant international banknotes, and striking textile works by Jorge Eduardo Eielson (Peru) and Manuel Antoni Pichilla (Guatemala).
Here are some of the highlights from the fair:
Zidoun Bossuyt Gallery from Luxembourg presented 3 paintings and a sculpture by Oklahoma-based artist Summer Wheat. Her large-scale paintings feature haunting blue female figures that really draw you in.  Painted on aluminum mesh, both the vibrant colour and technique is expressive and has a physicality that blurs the lines between figuration, abstraction, fine art and craft. 
I'm definitely having a textile/fabric art moment and really enjoyed Michael C. Thorpe's fabric 'paintings', presented by Laisun Keane gallery from Boston.  These quilted paintings combine the language of abstract painting, and the immediacy of portraiture, still life, text and interiors.  This new body of work exhibited for the first time at Untitled explores the relationship between African Americans with nature.
Some other gems were works by Jason Martin and Jacob Hashimoto at Makasiini Contemporary from Finland, Jon Key paintings showing with Steve Turner from LA, Daisy Patton at K Contemporary, Denver (one of Artsy's top booths at Untitled), and some gorgeous new paintings by Tahnee Lonsdale showing with London's Cob Gallery. 
Art Basel
At the press conference ahead of the opening of the fair, Basel's Global Director Marc Spiegler was asked whether the effects of Omicron had affected any of the visitors being able to attend.  He confirmed that the exhibitors from Africa (where the Omicron variant was first identified) were already in the air and all exhibitors had managed to arrive.  Not sure if that makes me feel comfortable or not.  The return to physical events was of obvious relief to many, as the pandemic forced the often outmoded systems of the art world to adopt digital channels faster and effectively in order to survive the past 20 months.  But the digital platforms have served galleries well, enabling their inventory to be accessed and shared globally.  Basel have now incorporated the digital as an inherent part of their offering as a fair, with an online viewing room accompanying the main event, and any VIPs not able to attend the physical fair, they have the opportunity for a personalized, bespoke digital tour of the fair with an assistant going round the galleries on behalf of the collector, asking any questions and requesting information.  Smart.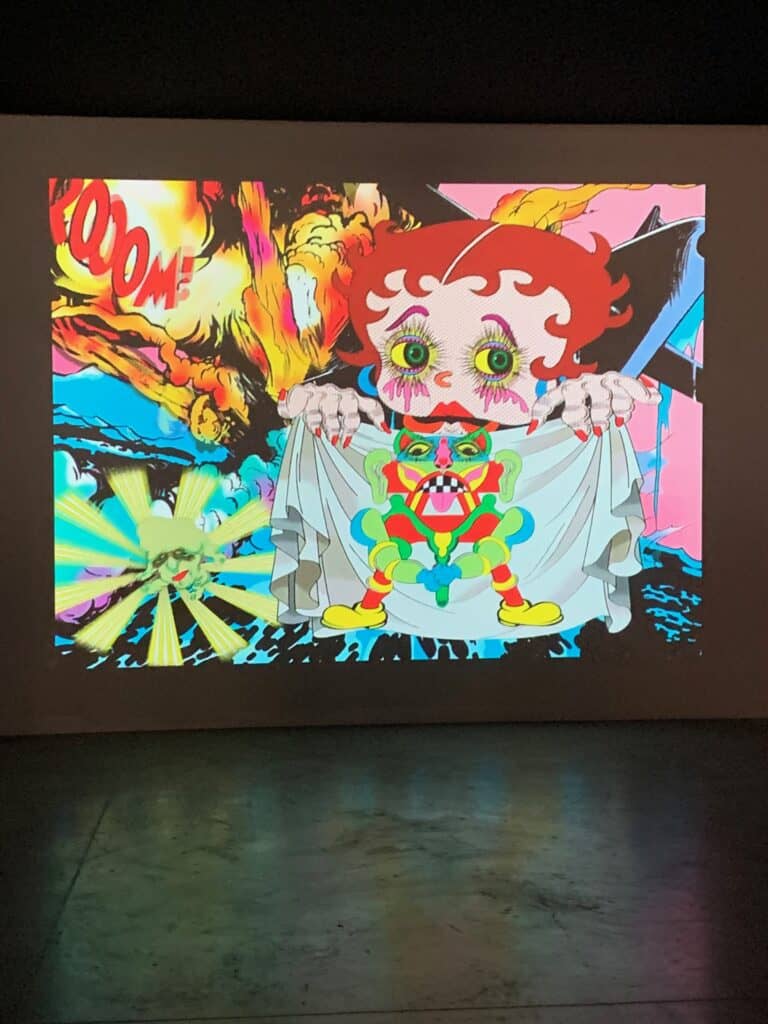 First stop is the exhibition 'Meridians' curated by Magalí Arriola (the director of Mexico City's Museo Tamayo) featuring large-scale, ambitious artworks often not accommodated by the commercial focus and tight booth spaces of an art fair.  I loved the impact of this presentation, encompassing performance, suspended paintings, installations and sculpture.  Mesmerised by the video work by Keiichi Tanaami 'Red Shade' – a new film by the 85 year old!  Mind-blowing graphics, taking you on bizarre acid-trip like assault on the senses, inspired by his memories of World War II juxtaposed with images of Western pop culture.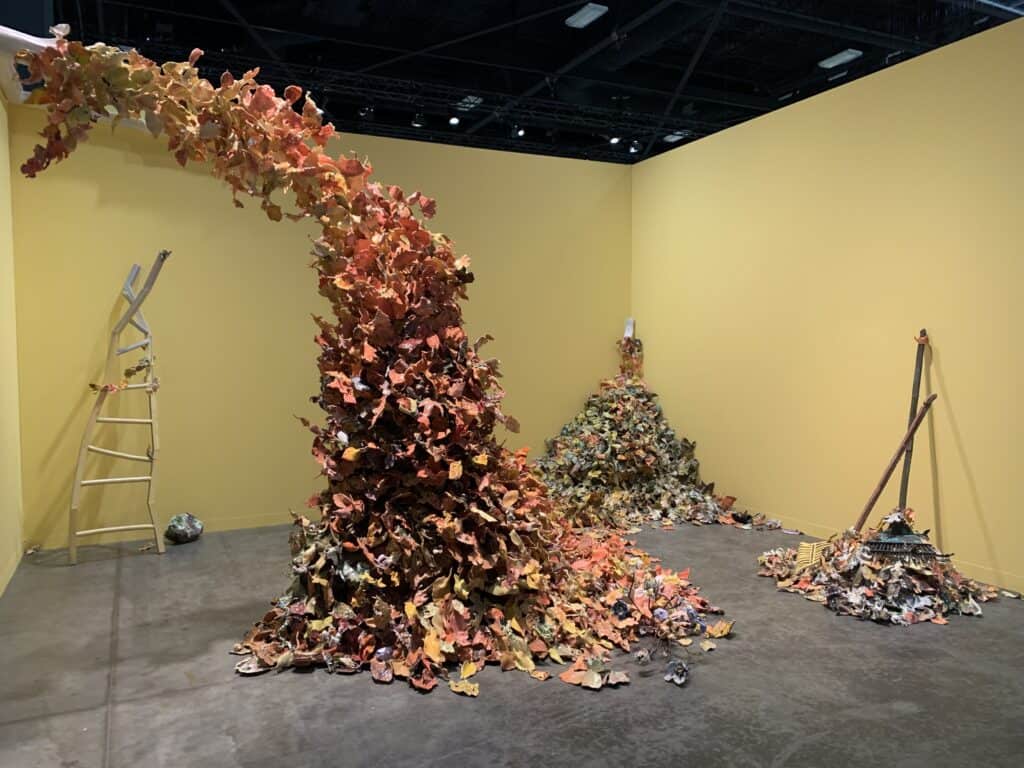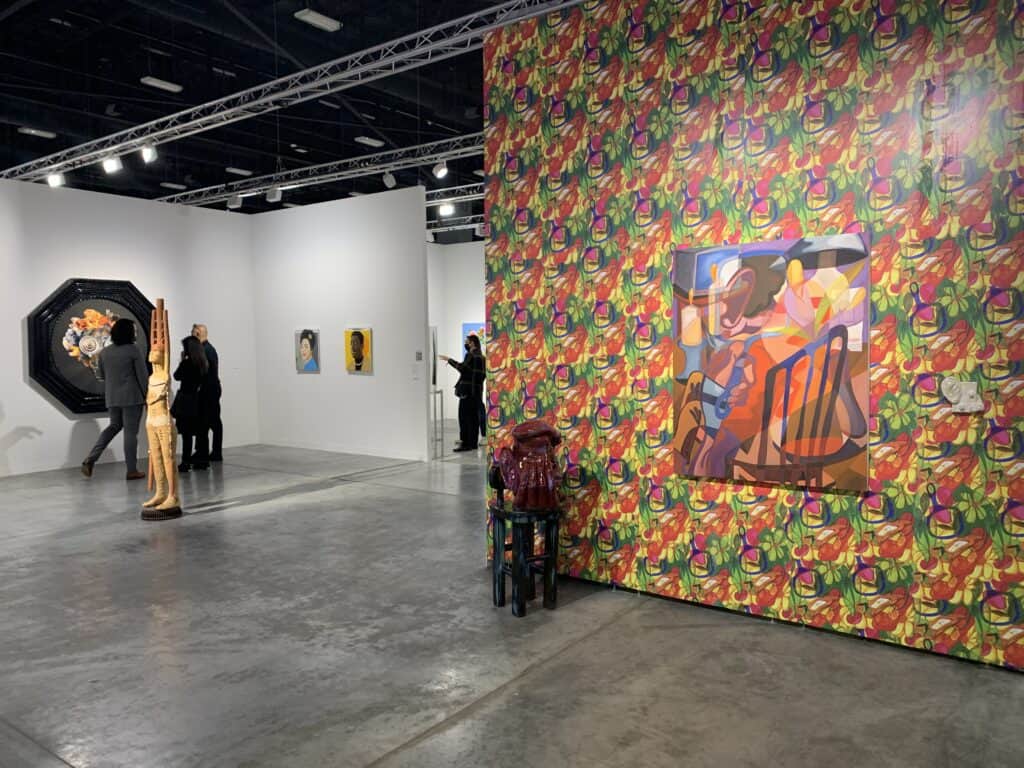 And Rebecca Manson's ceramic installation of dead leaves was awe-inspiring, presented by Josh Lilley Gallery.  Other highlights at the fair included Jessica Silverman's gallery presentation featuring artwork by Rashaad Newsome;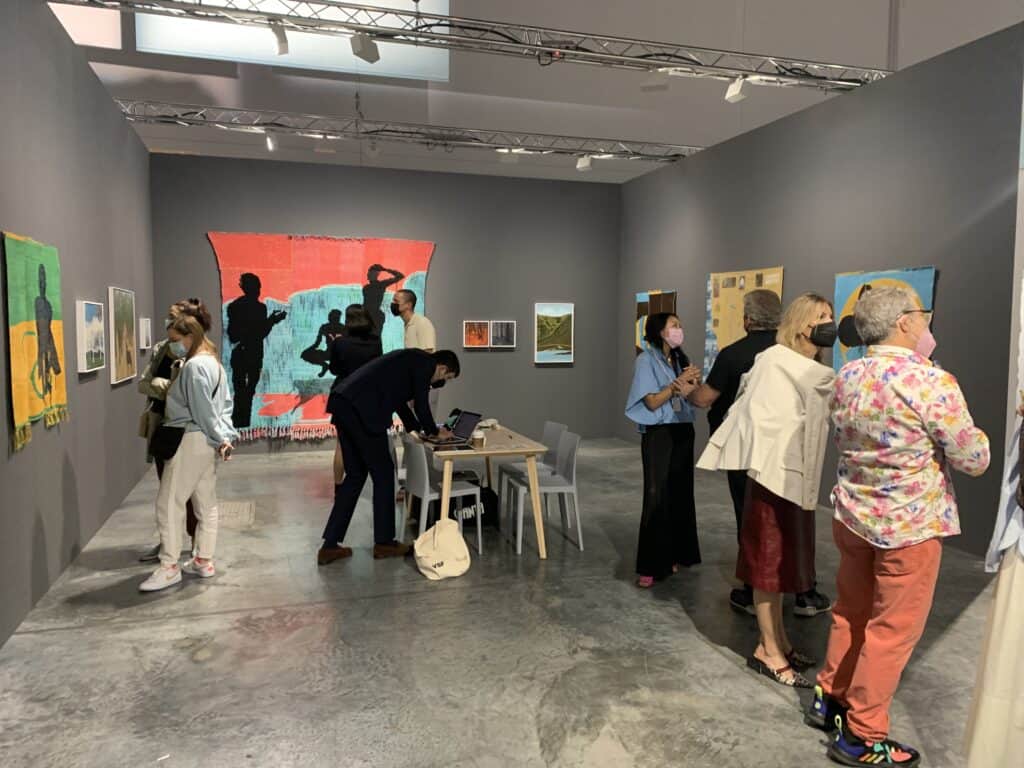 Various Small Fires from Los Angeles/Seoul showing Jessie Homer French and Diedrick Brackens; Pilar Corrias – in particular paintings by Christina Quarles; Kohn Gallery – with exquisite embroidery works by Sophia Narrett; Yancey Richardson presented a two-person exhibition by Zanele Muholi and David Alekhuogie which was particularly impactful and a strong dialogue between the artists that was effectively communicated amongst the bustle of an art fair.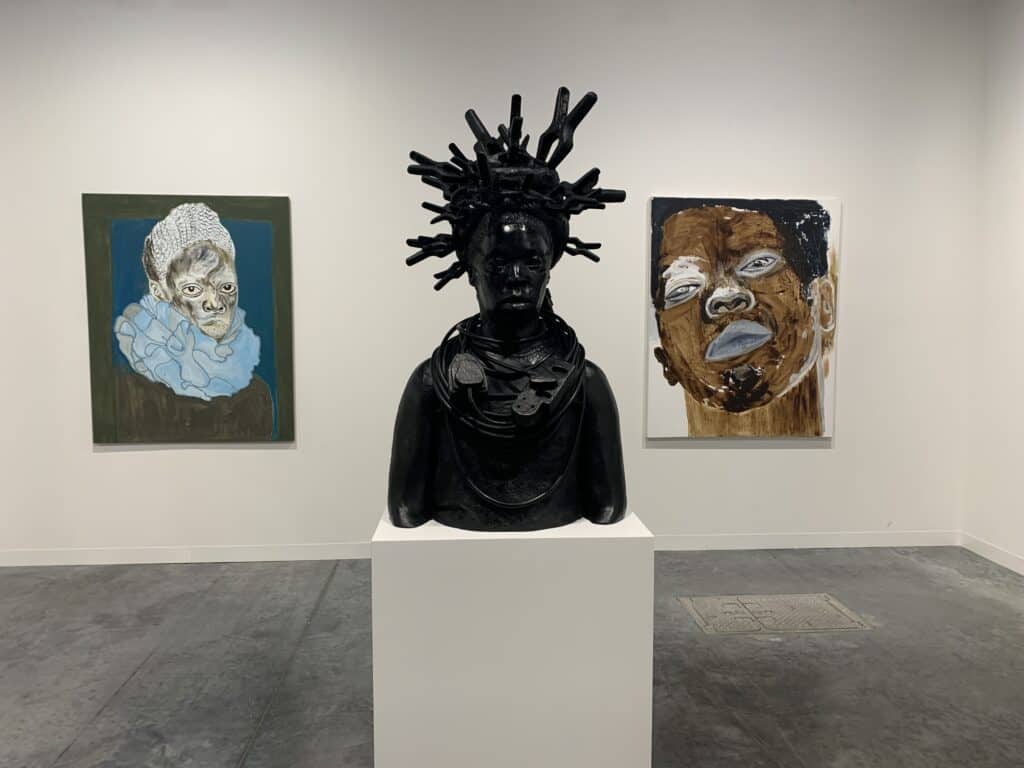 And so to Context – the sister fair of Art Miami – attendance surpassed expectations and visitors flocked to both fairs in a steady flow, art lovers queuing to get in before opening hours each day. 
The Miami crowd was jubilant to be out and about, seeing art in person and having the opportunity to socialize again.  Lots of money in the room but arguably not much visible business being done on the booths.  Highlight booths at Art Miami include Duran | Mashaal from Canada, Sundaram Tagore, Galeria La Cometa from Colombia and a solo exhibition of works by Carlos Cruz Diez from Galeries Bartoux.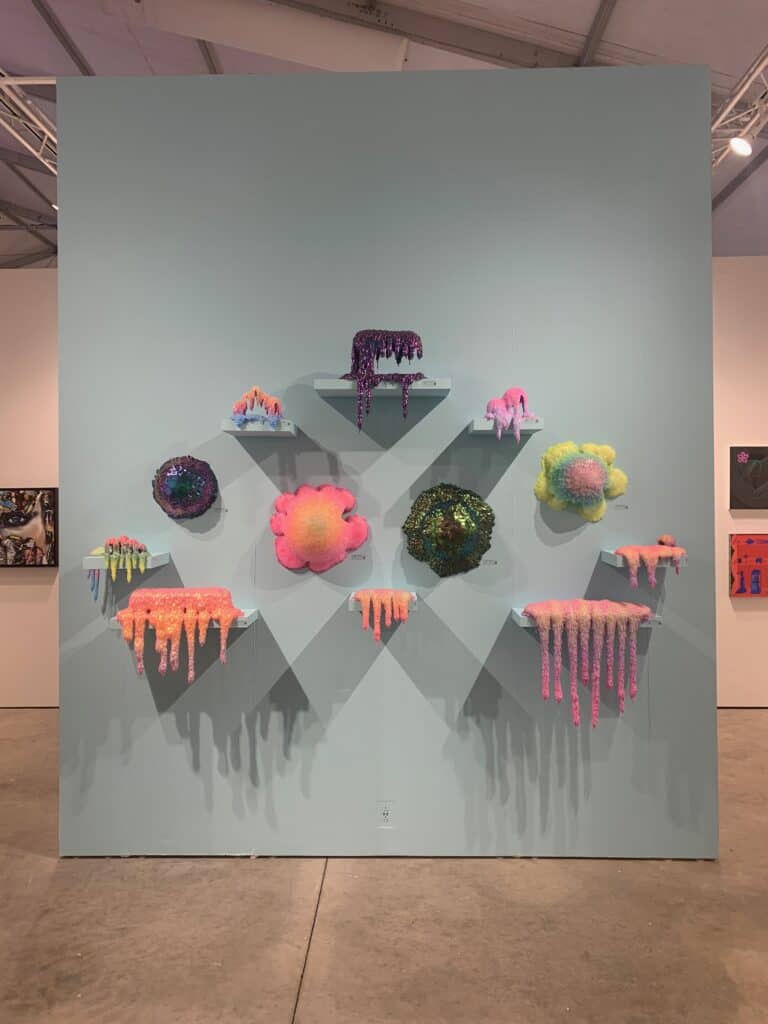 An upbeat presentation from Hashimoto Contemporary at Context – including a super fun installation by Dan Lam, known for her 'drippy' sculptures and use of vibrant colour.  Loved discovering the graphic, figurative painting of Nigerian painter Tosin Kalejay showing with Christopher Moller Gallery from Cape Town.  The figures are representations of his fellow country-men, with the artist stating "if I don't tell the story of my own people, who will do that?" as an attempt to dispel stereotypes and to represent Nigerian art more authentically.
Against the backdrop of gloomy headlines about Omicron, Miami feels a world away from all the doom and gloom.  The infamous Miami parties are relentless, too many to list here but personal highlights include the launch of amazing painter Mickalene Thomas' book at Gucci, and a personal fave Jonathan Van Ness' (of Queer Eye TV fame) pop-up 'self-care' event.  Ridiculous I know but super fun and all very 'Miami baby'.  Only 50% of people wear masks here and there is very much the feel of business as normal.  But is it?  I've heard contradictory opinions all week – that Basel wasn't anywhere near as busy as usual, that sales weren't as strong as suggested.  There is definitely a lack of international visitors here – a majority of the people I met are domestic (Colorado, Denver, Nashville, Texas, New York).  But are people buying?  If recent auction results are anything to go by most definitely.  Phillips, Christie's and Sotheby's all hit record highs this year in New York, across the emerging level as well as blue chip, hitting above $2.3 billion (according to Art Net).  As the headlines reveal more worrying statistics about the Omicron reach, and travel rules to the UK change (again) during the week I am here, sales pick up and there's a sense of enjoying this Miami bubble while it lasts.
Categories
Tags