Mary Quant was a true pioneer who broke the mould of conventional 1950s fashion. Quant was famously credited with inventing the mini skirt in the 1950s, a daring move in completely the opposite direction to the 'New Look' silhouette made famous by Christian Dior in 1947 – 2 years after the end of World War II – which featured a cinched-in waist and full A-line skirt.
Quant's brave new world of daring mini skirts and matching brightly coloured tights fitted with the emancipation of women as the male-dominated era of the 50s segued into the 60s world of free love made possible by the contraceptive pill. Quant's designs took off in London and made an impact in the USA and as far afield as Japan, becoming part of the global 'British Invasion' of the 60s, along with the music of The Beatles and the Rolling Stones and the photographs of David Bailey. Fashion designer and friend of Quant, Zandra Rhodes says: "Her legacy was the beginning of Swinging London. The real Swinging London and how I remember it."
'Quant' is the first official documentary of revolutionary fashion designer Mary Quant, who opened her first boutique 'Bazaar' in 1955 in London's Chelsea, followed 2 years later by her 2nd boutique designed by Terence Conran. Quant's daring designs were a radical departure from the demure fashions of the 50s, and she not only liberated women with the freedom of her designs but was also a trailblazer for women seeking to break the conventional mould of 1950s stay-at-home housewife.
In another first, this is the directorial debut of actor and producer Sadie Frost who, like Quant, is an entrepreneur who has carved herself a successful career in front and behind the camera, all whilst raising a family.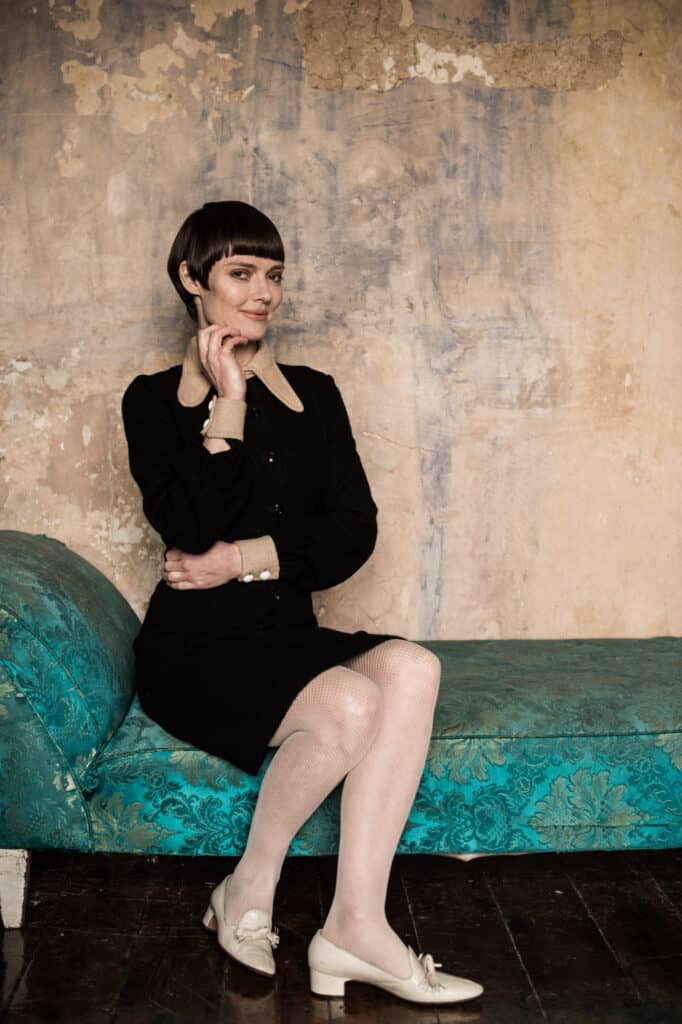 Sadie Frost's first foray into directing premiered at the BFI London film festival and is an insightful, well-crafted look at the legacy of Quant as a businesswoman and fashion designer, as well as a comment on the need for the contemporary era of fast fashion and consumerism to become more environmentally aware, and return to a smaller scale more bespoke model in the mould of Mary Quant's original boutique. Frost interviews an interesting cast of figures from fashion and culture, interspersing interviews with archival footage and reconstructions, which star Camilla Rutherford as Quant.
Now aged 91, nonagenarian Quant herself doesn't appear in the documentary, however there is a wealth of archival footage and interviews with the Grand Dame of British fashion that take the viewer on a journey from post-war Britain through the swinging 60s to the punk era of the 70s when Vivienne Westwood took on the mantle of fashion innovator from Quant.
The film has the blessing of Quant's son Orlando Plunket Greene, who provides many insightful anecdotes about the life and legacy of his mother and later Father, Alexander Plunket Greene, who was Quant's business partner and the love of her life. There are also interviews with Quant's Godson Jasper Conran and prominent figures from the fashion world including British Vogue Editor Enninful, make-up artist Charlotte Tilbury, legendary fashion designer Zandra Rhodes, photographer Tony McGee and Supermodel Kate Moss.
Quant enrolled at Goldsmiths art college in 1950 at the age of 16, where she took an art diploma course with the aim of becoming an art teacher. Goldsmiths had only just reopened after the end of World War II, and Quant remembers it as "the most provocative and exciting art school of the lot. It does attract some very interesting people and it produces so many new ideas in all sorts of areas. That is the joy of Goldsmiths." Quant met her husband Alexander at Goldsmiths, and they went on to start the Mary Quant fashion empire together and revolutionize women's fashion: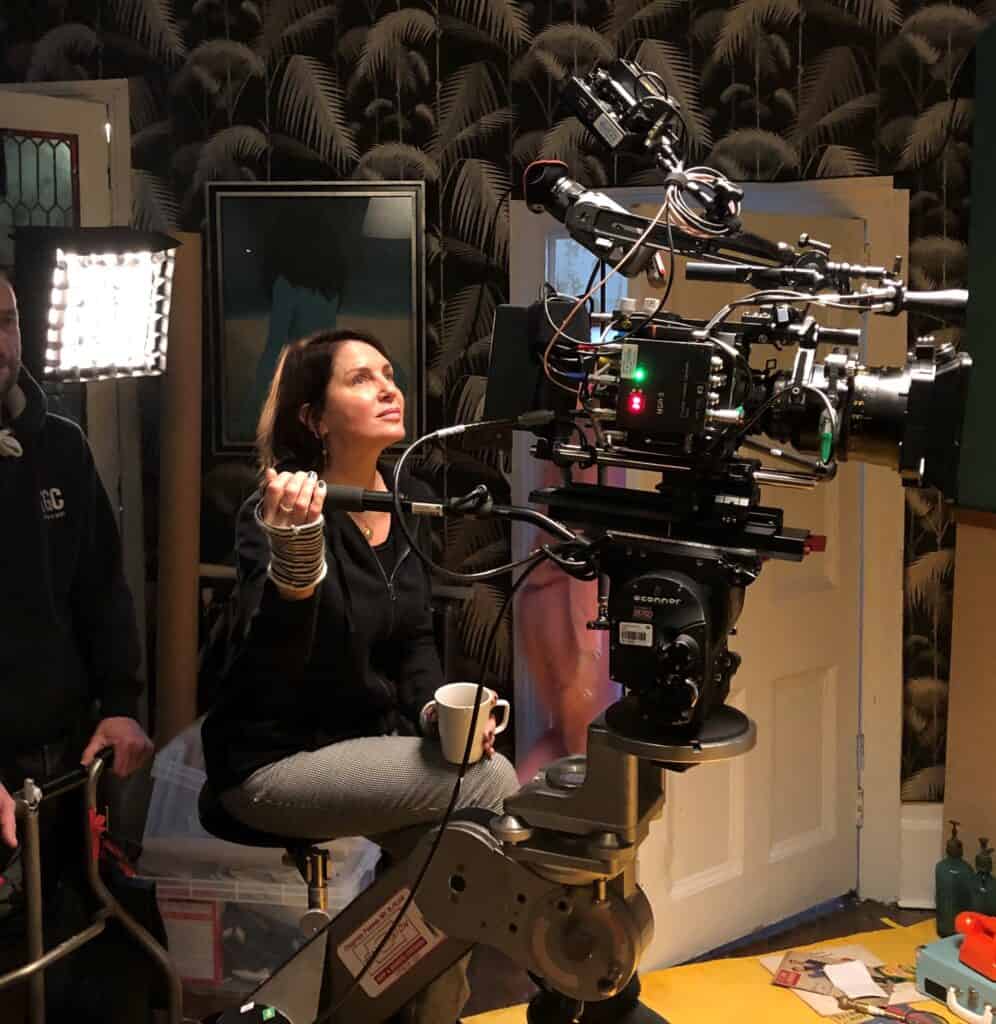 Whilst at Goldsmiths, Quant began making and designing clothes for herself and other art students and became famous for popularising the miniskirt. She also introduced brightly coloured tights to match the clothes. In the documentary, she describes how she went to theatrical tights manufacturers to make tights in the bright pop colours she wanted to match her colourful clothes.
Christopher Frayling, Rector of the Royal College of Art is interviewed in 'Quant' and talks about contemporary culture owing 'almost everything' to the art school culture of the 50s and 60s.
In archive footage of an interview, Quant talks about her vision of a designer as "Wanting to live in the future. Wanting to change things." 'Be Free, be yourself' was the eternal spirit of Mary Quant.
'Quant' is a long-overdue celebration of Mary Quant's legacy, an Alpha woman in a male-dominated world, as well as a look at the pop culture of the 60s, the time of Beatlemania, David Bailey and Vidal Sassoon's famous geometric bob, which was worn by Quant and her models. In archival footage her late husband says of their famous NYC trip: "The whole place was so mad about England. You'd never seen anything like it.
Mary Quant set the precedent for women fashion designers such as Vivienne Westwood who took on the mantle of fashion innovator and rebel in the 70s when youth culture turned to punk rock and anarchic fashion. We forget how radical the miniskirt was at the time of Quant's first boutique in 1955. She is quoted in the documentary saying that some people were so shocked by her fashion designs they called her a 'degenerate'. Mary and her husband took some models to New York to showcase the new designs, and her models were refused entry to a restaurant because they were wearing trouser suits, which was unheard of at the time.
Fashion Author Terry Newman says in the documentary:
"When fashion resonates its always in tune with activism in some respects. When you look at the chronology of feminist politics, you can see how fashion has evolved. So when you put the spotlight on the 60s and Mary Quant, there's a clear correlation between the women's movement and the clothes that she was designing."
Quant revolutionised the way people wore fashion, and realised that the face didn't match the clothes, which made her decide to take on cosmetics and create the first make-up palette in one box: "I got involved with the make-up bit, because although the clothes were different, the face was wrong."
In Quant make-up artists Charlotte Tilbury says: "She watched women putting foundation on their lips to create this new look of a 'Baby Doll' aesthetic. Coming up with the paint box idea was revolutionary at the time."
In the early 70s, there was still a perception in society that you can't have a full-time job and juggle a family as well, but she proved people wrong by having a child and continuing with her career as a fashion designer and innovator. In the 60s and 70s, Mary Quant showed that you could be successful you could juggle a career with having a family. She talks about the duality of women in footage of a discussion during the creation of her perfume when she explains to the perfumer what sort of scent her Quant woman would wear.
"It seems to me that inevitably to be a women now is a very schizophrenic sort of situation. Because on the one hand one has a chance to be ambitious, but at the same time one wants flattery and prettiness. This perverse schizophrenia is the mood that I would like to arrive at."

Mary Quant
The documentary ends with Vivienne Westwood protesting against fast fashion, about clothes being made with cheap labour for high street chains and ending up in a landfill saying "Buy less, choose well, make it last."
In October 2000 Mary retired from the directorship of her brand but the legacy continues and there are still 100 Quant stores in Japan. Quant became a Dame in 2015 and in April 2019 the V&A held a retrospective of her work. What she created and the example she gave of a woman creating a business empire resonates with what fashion designers do today.
Quant is in cinemas now.
Categories
Tags