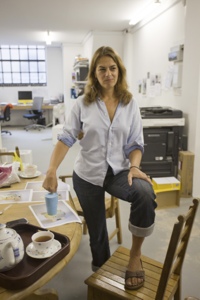 TWENTYEIGHT FINGERS has been realised by Joanna Brown after the idea cropped up in a conversation with five fellow fine arts masters students from the University of Leeds in 2007. It has resulted in a collection of 28 bronze casts of the index fingers of significant creative figures of our time.
A new arts project featuring the fingers of luminaries including Alan Bennett, Sir Terence Conran, Tracey Emin, Lord Foster, Anish Kapoor and Dame Vivienne Westwood is highlighting the diversity of creative thinking and practice, culminating with a unique auction.
Speaking about the project, Joanna said:
"I'm really thrilled by how the artistic work has matured over time; it has exceeded my dreams and has developed far more facets that I had envisioned at the beginning. Some of the highlights were drinking tea from a Snowman mug with Raymond Briggs, seeing Wallace's new love interest with Nick Park at the Aardman studios and meeting Alan Bennett in his home. The moulds have also been taken on a park bench, in a hairdressing salon and people's kitchens… there are so many stories to tell!"
The piece will be on display at The Royal Academy, while the exhibition 'Bronze' is showing until 9th December 2012, the National Trust's High Cross House in Dartington, Devon from 15 Until 6th January 2013 and Dean Clough in Halifax, Yorkshire from until 20th January 2013.
Between September 2012 and January 2013, while the piece is exhibited, three editions of the cast fingers will be auctioned online at www.twentyeightfingers.org to raise money for art therapy at Freedom from Torture and The Art House (Wakefield).
"I realized how beneficial art therapy can be for processing and expressing aspects of life that are beyond words when my father was dying. And this made me want to support art therapy as a cause. I am also an activist and have met many people that have been tortured for their beliefs. In supporting Freedom from Torture I hope that many people will be able to taste and experience 'freedom' and peace,"
said Joanna Brown.
Anyone interested will be able to bid for the individual fingers of one set or for two complete collections, with each finger being auctioned for a starting bid of £95. A photograph of the individual with the mould on their finger will be included with each bronze cast.
A limited edition of a select number of fingers in red glass is also in the pipeline. The sale/auction of these will benefit the Royal Academy, National Trust and World Wide We Foundation (wwwe.org). A book, TWENTYEIGHT FINGERS (ISBN 978-0-9555060-1-7), edited by Joanna Is available for £15 at the exhibition venues and online.
Commenting on the project, Lord Foster said: "The auction is an innovative idea to raise money for two very worthy causes. I'm delighted to be able to help."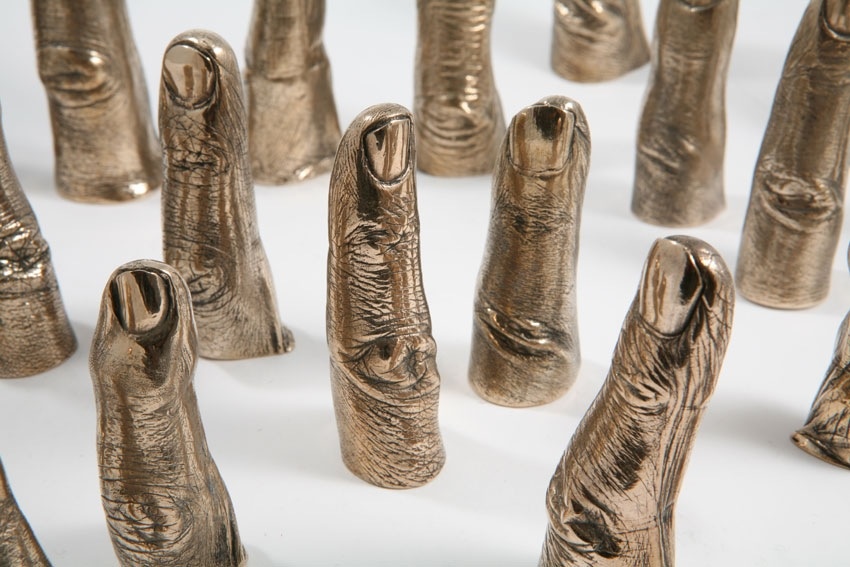 About TWENTYEIGHT FINGERS
TWENTYEIGHT FINGERS fingers is a collection of bronze casts of the index fingers of creative people, including visual artists, musicians, writers, animators, architects and poets, highlighting the diversity of creative thinking and practice. The piece includes cast index fingers of: Alan Bennett, Richard Billingham, Raymond Briggs, Sir Terence Conran, Richard Deacon, Tacita Dean, Ludovico Einaudi, Tracey Emin, Lord Foster, Antony Gormley, Sir Nicholas Grimshaw, Mona Hatoum, Susan Hiller, Anish Kapoor, Richard Long, Hugh Masekela, Roger McGough, Morten Morland, Alice Oswald, Nick Park, Cornelia Parker, Tom Phillips, Mary Quant, Ed Ruscha, Michael Sandle, Edmund de Waal, Dame Vivienne Westwood and Benjamin Zephaniah.
www.twentyeightfingers.org
About Freedom from Torture
Freedom from Torture is the only national organisation in the UK dedicated solely to the rehabilitation of torture survivors. In 2011 the organisation received referrals for help from over 1,500 people who came from more than 80 different countries. Services provided include medical consultation, practical assistance and a variety of psychological therapies, including creative approaches such as art therapy, to meet the complex and diverse needs of survivors of torture living in the UK.
Categories
Tags