Collezione Maramotti (Reggio Emilia) inaugurates its autumn programme with the opening of two exhibitions and the announcement of further projects. Collezione Maramotti, opened in the 1960s by Achille Maramotti, founder of Max Mara, is the most important cultural hub of the area. Alongside its art collection, showcasing masterpieces from 1945 to 2000, it promotes a variety of cultural activities, including the renowned Max Mara Art Prize for Women.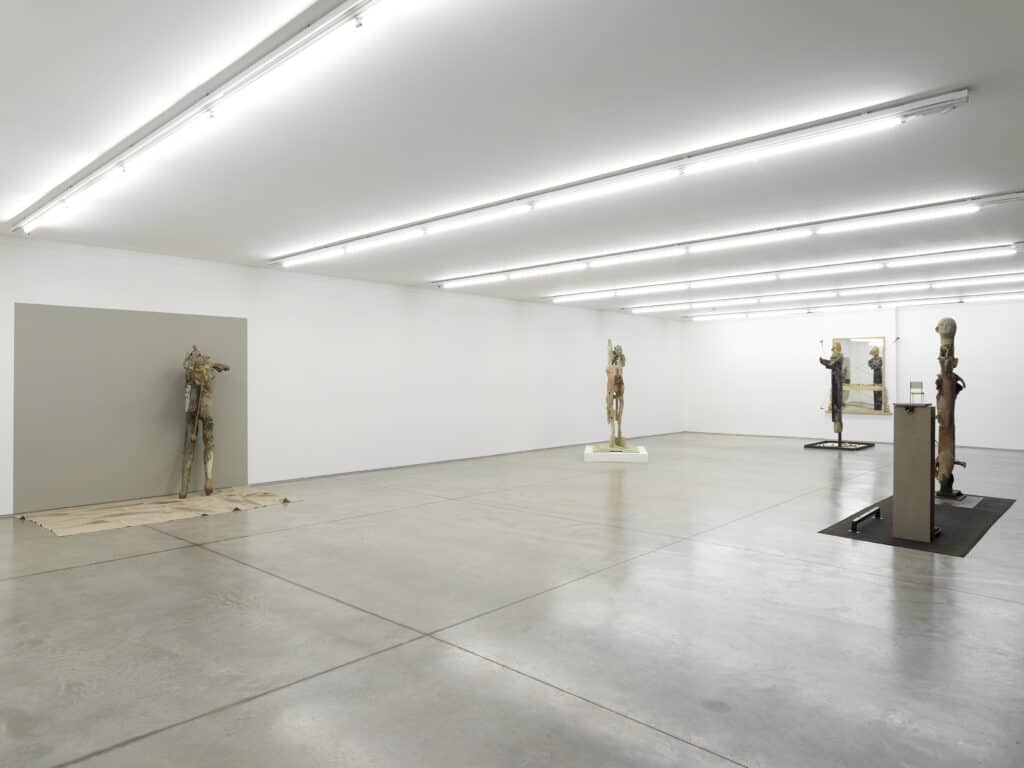 The Collection invited TARWUK, a Croatian artists-duo based in New York, to have their first solo exhibition in Italy. Entitled Ante mare et terras, it presents a set of drawings and four large scales sculptures exploring the idea of identity in all its fragmentation, mystery and continuous metamorphosis. The works, all vaguely anthropomorphic, inglobate foreign elements on their surfaces – found objects, flowers, emblems… These almost mark the complexity of identity, the several roads that this follows simultaneously. At the same time, they act as triggers. Integrating personal memories and seemingly random compositions, these objects incite the viewer to activate the sculptures, to engage profoundly with all the layers that make them up. We explore their vastness, eventually projecting our own memories and subconscious onto them. Indeed, these sculptures are definitely introspective, while also being deeply rooted in the artists' personality and experience. They work as a cycle, starting with a 'mirror stage' and animating the show by way of a delicate contrast between movement and stillness, lustre and opacity.
Studio Visit. Practices and thoughts around ten artist studios is the second exhibition that welcomes visitors into the Collection. This collective show gathers together ten different artists, already part of the Collection, that agreed to share their studio idea. The ten participating artists are: Andy Cross, Benjamin Degen, Matthew Day Jackson, Mark Manders, Enoc Perez, Luisa Rabbia, Daniel Rich, Tom Sachs, TARWUK (Bruno Poga?nik Tremow and Ivana Vukši?), Barry X Ball. Entering a studio space means getting to know the artist profoundly; it means having the chance to overlook the whole creative process, and the dull, unproductive moments as well. Studio Visit presents works that already form part of the Collection, alongside new creations conceived for this occasion. This both allows to access an intimate, usually concealed space, and to create a dynamic archive of the present. The spectator moves through an open space, a winding maze where to get lost within different ideas of creation.
Another adventure by the Collezione is La Visita, a site-specific project by Peeping Tom, a Belgian dance theatre company founded by Gabriela Carrizo and Franck Chartier. Commissioned and produced by Fondazione I Teatri in partnership with Collezione Maramotti, with the support of Max Mara, it will premiere on Thursday 4 November 2021 at 8:30 pm at Collezione Maramotti. Part of the Aperto Festival, it presents three days of repeat performances. La Visita won the 2021 Fedora – Van Cleef & Arpels Prize for Ballet, which singles out the best new projects in the field of international dance. The work impressed particularly the jury because of 'its unique approach of involving local communities while blurring the lines between art forms,' as noted by Nicholas Payne, Director of Opera Europa and Chair of the Jury of the FEDORA – VAN CLEEF & ARPELS Prize for Ballet 2021. La Visita, in fact, will see members of the Collezione Maramotti staff move through the exhibition space, interacting with the artworks.
While this public interacts with the Collezione, the artworks themselves will seem to spring to life. In fact, viewers are gradually led into a world where the museum, entrusted with preserving things over time, must deal with the ephemeral and transitory. The audience, too, must rise to the challenge, questioning reality and fiction, art and the everyday. The piece also wants to bring various characters from other works by Peeping Tom into a new setting. It is as if they have moved, with all their stories and memories, into a new house where they can live other lives.
In the same week (on 6 November at 8:30 pm and 7 November at 6 pm), Peeping Tom will also be at Teatro Municipale Valli – again, as part of the Aperto Festival – to present another of the Belgian company's most important works, Triptych: The missing door, The lost room and The hidden floor. In this trilogy, cinematically constructed to be like a live montage, Carrizo and Chartier explore their characters' inner worlds. The result is a disturbing, claustrophobic universe. The performance will be accessible to blind and partially sighted people through audio introduction and description services from WordUp Team.
TARWUK, Ante mare et terras Collezione Maramotti, Via Fratelli Cervi 66 – Reggio Emilia – 20th February 2022
Studio Visit. Thoughts and practices surrounding ten artist's studios
Andy Cross, Benjamin Degen, Matthew Day Jackson, Mark Manders, Enoc Perez, Luisa Rabbia, Daniel Rich, Tom Sachs, TARWUK, Barry X Ball Collezione Maramotti, Via Fratelli Cervi 66 – Reggio Emilia – 20th February 2022
Pepping Tom, La Visita (Site-specific performance) Collezione Maramotti, Via Fratelli Cervi 66 – Reggio Emilia 4 – 7 November 2021 (4 November 2021, 8:30 pm; 5 November 2021, 8:30 pm; 6 November 2021, 4:00 and 7:00 pm; Sunday 7 November 2021, 4:00 pm)
Triptych: The missing door, The lost room, The hidden floor Teatro Municipale Valli, Reggio Emilia 6 November 2021, 8:30 pm and 7 November 2021, 6:00 pm
Tickets can be purchased at www.iteatri.re.it and at the Teatro Municipale Valli ticket office (check opening hours at www.iteatri.re.it). Tickets that remain available will be for sale at Collezione Maramotti, one hour before the performance.
Categories
Tags