Lee Sharrock spoke to the artist and curator as they prepare for their exhibition preview on New Bond Street. Paul Robinson, AKA LUAP is presenting a vast new body of work including painting, sculpture, photography and installation, in a solo exhibition 'The Unconscious Therapy', which fills a 3-storey Great Portland Estates building on New Bond Street.
LUAP has collaborated with MC Llamas, a curator who recently made waves on the contemporary art scene with her curation of 'The Female Room' at Art in the Age of Now, a group exhibition at Fulham Town Hall that attracted long queues and critical acclaim. LUAP and Llamas have created a huge, tactile room with walls covered in pink fur, featuring one of LUAP's signature pink bears. Visitors can take a bit of respite from the hecticness of Frieze art fair as they enter the womb-like pink space, and will be encouraged to interact with the installation.  
LUAP has first-hand experience of mental illness, and he discovered the bear character during Cognitive-Behavioural-therapy, when it surfaced as a memory and went on to populate his work in the form of painting and sculpture as a positive symbol associated with recovery. The Pink Bear is a recurring motif in the new exhibition, where it is depicted within beautiful forests and landscapes, painted from photographs taken by the artist. The exhibition opens just as Mental Health Week comes to a close, which is apt because the imagery may strike a chord with people who have experienced mental illness.  Our universal experience during the pandemic-induced lockdown made many people feel isolated or alone, and many of us took solace in nature, just as The Pink Bear does in 'The Unconscious Therapy' paintings.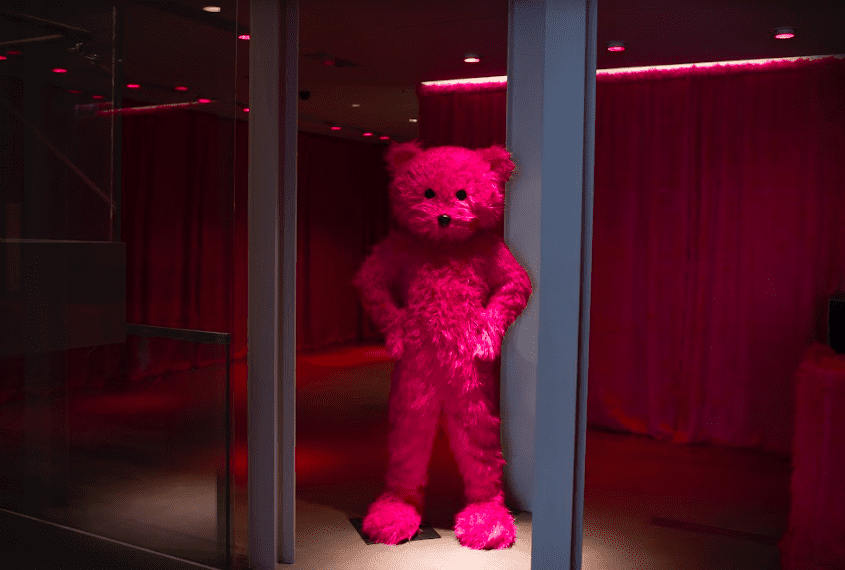 Lee Sharrock: You worked together earlier this year on the critically acclaimed exhibition at Fulham Town Hall 'Art in the Age of Now'.  How did you begin collaborating together, and how did the transition happen from the group show to this new solo show? 
MC Llamas: LUAP contacted me after seeing the rooms that I had curated at the Town Hall and asked whether I could help him out with his solo show. I had seen and loved his work at the town hall and was very interested in working with him and conceptualizing the iconic image of the bear which he had created. 
LUAP: 
I first met MC at Fulham Town Hall and we have been in touch ever since via the power of Instagram. I feel a mutual respect for each other's creative process has evolved as we became better acquainted with each other's work and thought process.
I really loved the way MC curated 'The Female Room' at 'Art In The Age Of Now' with a bold mix of artists working in different styles and mediums, for example combining the intricate pencil drawings of Nettie Wakefield with the haunting sculpture of Little Red Riding Hood by Nancy Fouts was a great success. This way of juxtaposing seemingly disconnected works and putting them together in a way that somehow works really hit home to me as it is something I do within my own artistic practice.
Your curation of the Fulham Town hall exhibition focussed on women artists in 'The Female Room'. How does your approach differ when curating a group show and a solo show, and how did you come up with the theme for LUAP's exhibiton? 
MC: With a group show, the aim is to tell a story and link up all the works and artists that works and strengthens both with their personal narratives and creates a strong theoretical body. My approach with LUAP's solo show was to delve into what the true meaning of the pink bear was, the fact that it represents loneliness, and well as projecting a sense of joviality and positivity. I see is as symbol for self-reflection, and well as representation of a certain common subconscious, linked to mental health and the state of being.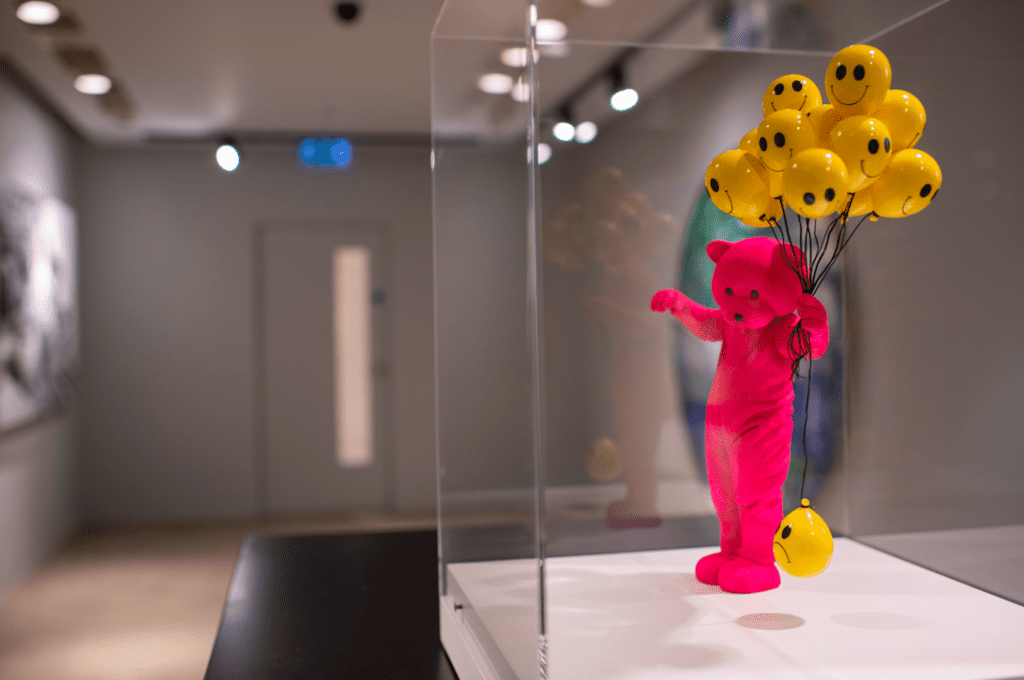 The exhibition opens as Mental illness week draws to a close. Your work explores mental illness and recovery, and is drawn from personal experience.  Do you use art as a kind of cathartic process in your recovery, and do you think it's important for artists to draw on personal experience and issues like mental illness that are such universal themes for many? 
LUAP:  Disconnected from people around me, I struggled to really communicate. How could I? I was even disconnected from myself. It's called dissociative disorder, my therapist told me. And as life happened, love came and went, my depression deepened, and with it the vast disconnect. This is how I discovered Cognitive Behavior Therapy (CBT). I was in need of a lifeline, desperate for a bridge to connect.
With my therapist, we explored trees, as I pictured them. But she turned on a different light when she asked me to draw a tree or three to represent my emotions or people in my life and how I felt about them. We then had another session where I visualized and drew the tree I wanted to be. The tree I am and the tree I would be were polar opposites. And so I shed my negativity and embraced positivity. As my branches spread and my leaves sprouted, I grew a bridge to connection, enabled by nature. 
Further, into my therapy I reconnected with a happy childhood memory of a pink bear, it is from here that The Pink Bear was born. The Pink Bear was my beacon of light helping me to explore the dark caves that had developed inside my mind. The Pink Bear melts away fear and darkness with the warmth and joy of innocence lost by just being there, a hidden light in the darkness empowering me.
I think personal experience gives depth to artwork and helps form a stronger narrative within it rather than just being surface deep and purely looking at the aesthetics. The idea must come first and I hope that people can recognise the ideas within my work so that if they are struggling on their own journey then can find a way to relate and hopefully shine some light on their own journey. I think their is strength in knowing that others have gone through the same journey as you and have made strong progress on getting to the other side.
You've managed to find an incredible, vast space for this solo exhibition, in Mayfair during Frieze Week.  How did you find the space, and how vital is it that companies help artists with venues, especially during such financially uncertain times for artists coming out of the pandemic? 
MC: LUAP did an incredible job finding the space. The owners have been very generous throughout our collaboration. I think it's such a wise idea for big companies to help artists with venues at the moment, as there are so many empty spaces, artists do a great job at sponsoring locations and giving them life. It makes visitors interact differently with locations that would otherwise be used as retail spaces.
LUAP: As a result of the pandemic many retail businesses have seen their doors close for the last time or have moved online as part of the changing retail landscape. This has led to there being a swathe of empty spaces on the high street both in London and throughout the world. This is true of New Bond Street too with a small number if empty spaces appearing.
I think companies and estates working with artists is vitally important as it hugely benefits both parties. Art brings life and energy to empty spaces and in turn drives people to visit the destinations which is what the businesses and estates want too. It really is a win-win and should happen beyond the recovery from Covid.
I feel art and artists have always played a vital and pivotal role in the energisation of city landscapes, turning empty areas into bustling hot spots. I have worked in partnership with Great Portland Estates to transform 95 New Bond Street into an exhibition space for Frieze week demonstrating the energy and creative power art can bring to the worlds most premium retail destination.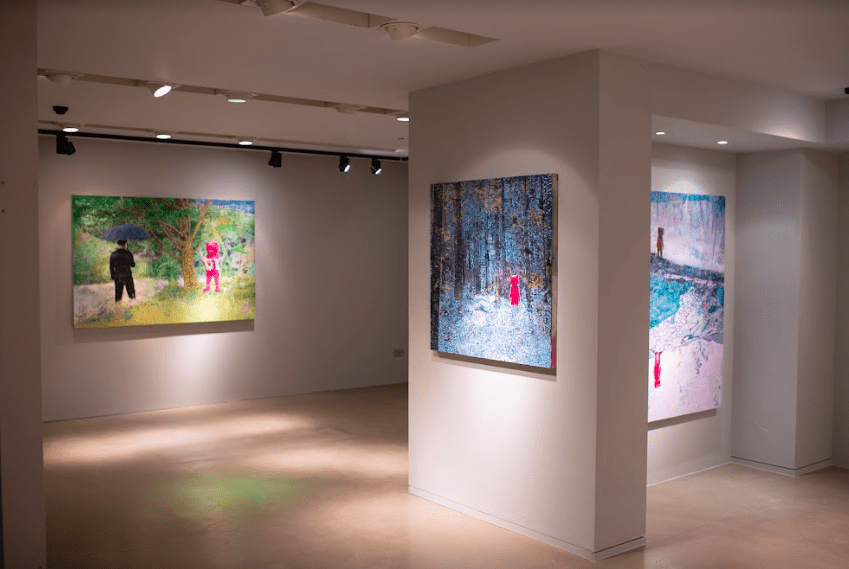 This new exhibition features photography, sculpture, painting and installation.  How long did it take to make the work, and what is your working process/ environment?  
LUAP: The work is the culmination of 3 years worth of work. This includes travelling for the photographic research part of my process and then creating the painting, prints and sculptures based on this research. Fortunately for my process COVID didn't get in the way too much as I had already completed the travel aspect before the first lock down hit so it meant for the majority of COVID I was in my painting studio or photographic studio.
I travel for both research and as a form of therapy. Travel used to be a unconscious therapy, but has now become a conscious one as it gives me time to escape the city allowing me to explore the mountains and other natural wonders of the world as well as giving me time in the evenings to write and sketch ideas. For this exhibition I travelled to New Zealand, Indonesia, Scotland, and throughout England when travel abroad became impossible. I did have other trips planned which had to be postponed, but I had the majority of my research completed with final pieces of photography being completed in my photo studio.
Photographs can be the end product or they can work as a study for a painting. I find some photos work better as paintings and some work better as stand-alone photographs, they both have very different qualities and aesthetics. For paintings, I am looking for something that has a lot of texture that can be translated into paint for the backgrounds and context within which The Pink Bear exists.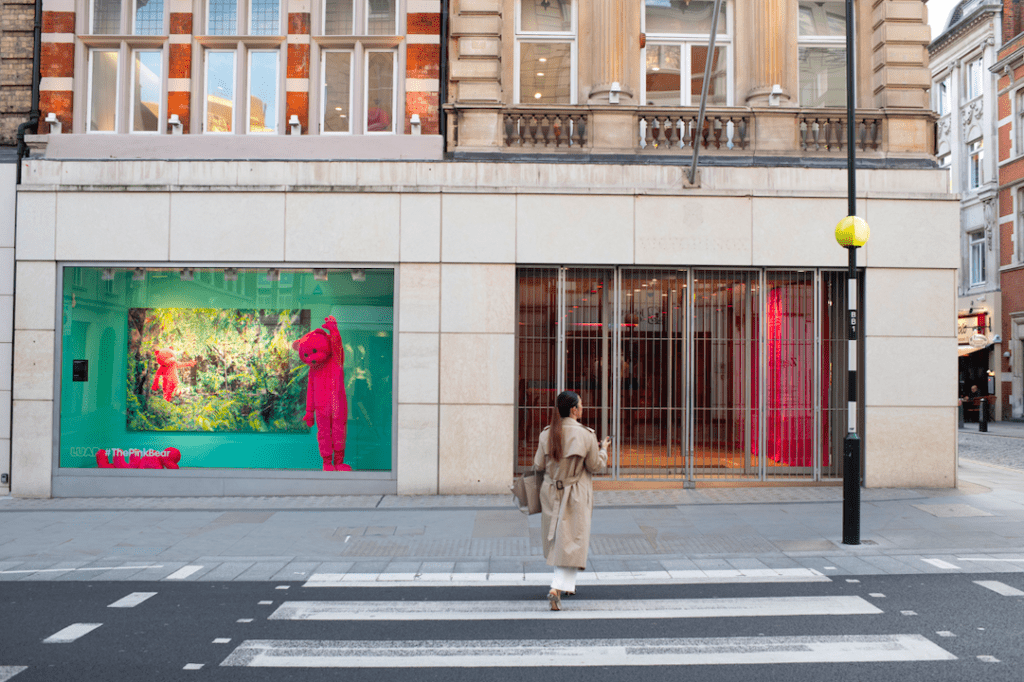 What was the creative process when you collaborated on the conception of 'The Unconscious Therapy'? Who came up with the title? And how long did the installation of the exhibition take in such a vast space?  
MC: LUAP and I had lots of brainstorming conversations over the summer, we would bounce back ideas and concepts, trying to visualize how to best use this incredible space. LUAP had mentioned covering a wall of the first floor with pink fur and I suggested doing the whole space in fur. I wanted for the viewer to feel like they were being embraced by the bear, not just look at it. The 2 other floors were curated depending on the narratives of each piece, we wanted people to have space to properly look at the works, so prioritized a more minimal curation, I was very adamant that we have a slick hang for individual pieces, to clarify the abstract ideas behind the works. I feel like LUAP's work is so conceptual and could be misunderstood as being just about the pink bear narrative, when, it represents so much more, so this is what my drive was in the curation of the space and working with LUAP. 
LUAP: The exhibition is the culmination of many months of work and project planning so that the installation and exhibition could all be installed smoothly over the period of a week, rather than turning into chaos. We did several site visits and created 3D scans of the entire building so that we could plan everything off site, it made the whole process a lot smoother rather than having to keep popping back and checking things.
When it came to the installation it was very important to plan all the logistics carefully as there were many moving parts. 18 very large paintings, framed photographic prints, and over 150m of pink fur to line the walls of the ground floor gallery space, as well as 4 life-size pink bear installation both in the gallery space and in the windows.
The title just made sense. It's about the things we do in our life that make us feel happy. The unconscious things. Like buying some flowers. Going for a walk. Taking 5 minutes out of your day to reflect and then move forward. Going shopping and buying something that makes us smile. It's all a form of therapy. The Unconscious Therapy. It also made sense as it's about dream states, another way our mind processes our waking life and represents it back to us as abstract ideas to help us make sense of the world. The title just seemed to make sense on so many levels.
Categories
Tags