I interviewed Jim Naughten ahead of his solo show Eremozoic at Grove Square Galleries, running from 7th October to 18th November 2021. From orangutans swinging through psychedelic forests, to deer roaming saturated canyons, Naughten's digital paintings explore the idea of the natural world as a faraway fictional fantasy alerting us to its rapid disappearance and our growing estrangement, yet never losing hope for the future.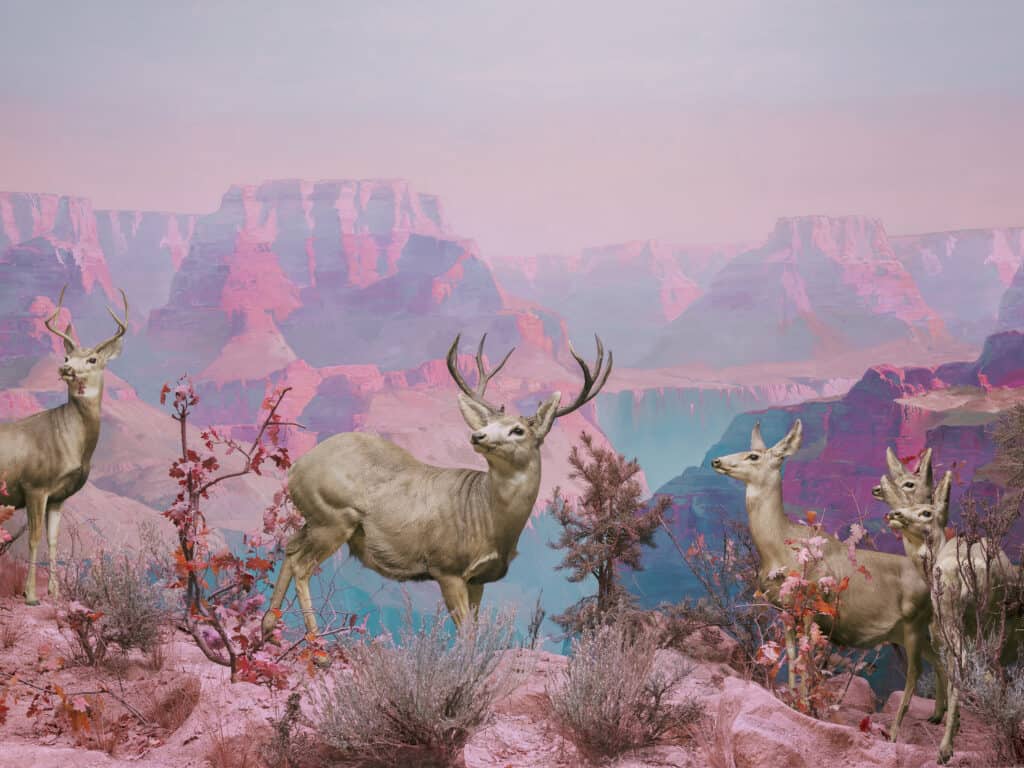 In your works you tend to explore the natural world through a very catastrophic, yet ironic, lens. Why this approach?
In the simplest sense I'm questioning our idealised, rose tinted view of the natural world which is largely fictional. The reality is that it's in an extremely catastrophic and diminished state, but the images come across as engaging, dramatic and captivating. They do not put off the audience in the first instance, managing to also create a dialogue discussing the various fictions at play. I had not thought of them as ironic but perhaps there is some in the over idealised presentation. They have been described as disorienting and unsettling which certainly fits the narrative.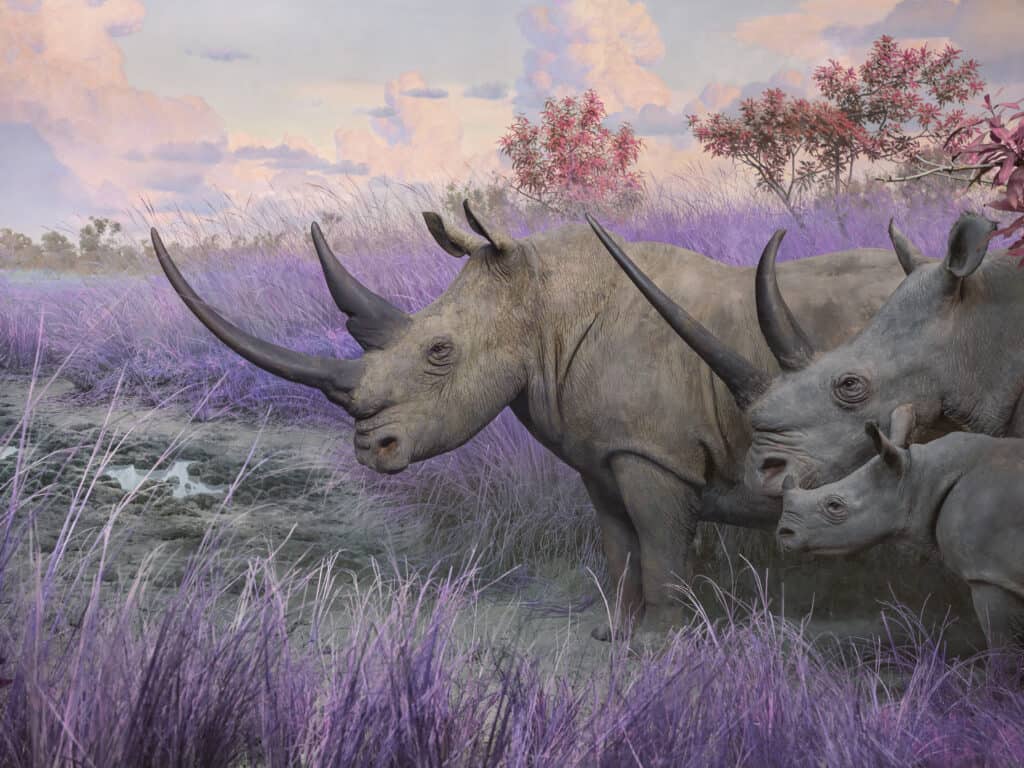 The saturated and surreal colours characterising your work, especially those in Eremozoic, seem very evocative. They set the tone for a psychedelic feeling, disorienting yet fascinating. What are you trying to convey?
By creating unreal settings I'm suggesting that our image of the natural world is fictional. I'm also interested in how we have become mentally disconnected and insulated from it – wildlife happens elsewhere, in isolation, on nature documentaries, safari parks, zoos. It feels like a secondary consideration as humans increasingly dominate every corner of the world. Our ancestors were directly and intimately connected to every aspect of the natural world. Instead, modern humans often have little interest in it. There is yet another fiction at play here: we are still a biological species, subject to its laws, susceptible to viruses, for example.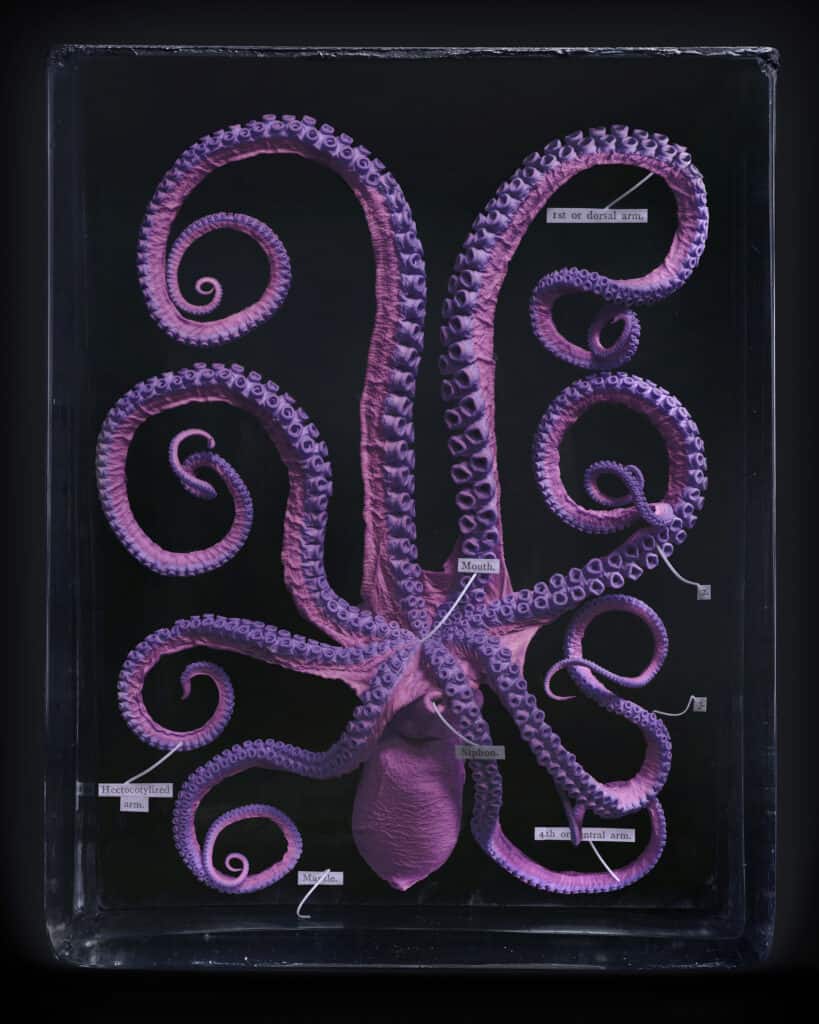 Are we really living in the Eremozoic period, as Biologist E.O. Wilson suggests, our Age of Loneliness?
E. O. Wilson suggests we are entering the 'Eremozoic' period (after the Paleozoic, Mesazoic, and Cenozoic periods bringing us to the present day), categorised as the Age of Loneliness or desolation. For the first time in 542 million years of life on earth, a single species is responsible for the decline and extinction of the majority of other species on the planet.
Do you think the faraway fictional world you create is more a dystopia or a utopia?
I want the images to be surreal and utopian but absolutely not representative of reality. The future does have the potential to be extremely dystopian but it seems that there's a growing awareness of the gravity of the situation. I am not giving up hope just yet 🙂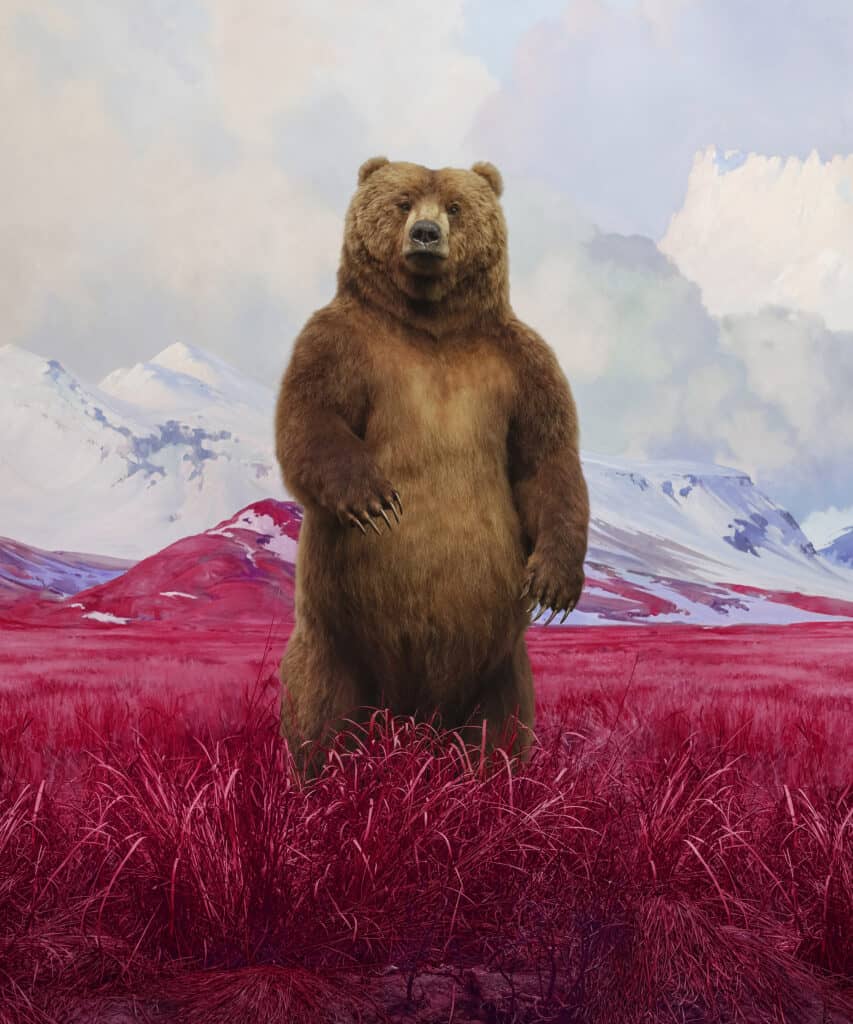 Can you tell us about your practice, which combines painting and photography? How did you develop it and why?
I started my practice as a painter, mainly using oil. Whilst at art school, I decided to learn how to use a camera and then ended up specialising in photography. When digital photography arrived I did not warm to it immediately. Yet, it surely dawned on me that working with retouching softwares, like Photoshop, was similar to oil painting in many ways. You can return to an image again and again, altering and layering, adding and subtracting elements and colours. I usually start with a 'base image', a large file which you could equate to a canvas, and work on that, sometimes for weeks, to get the right finish. There are parallels with both processes.
In Eremozoic you also started experimenting with dioramas – displays designed to provide a window onto nature, traditionally used in exhibitions of natural history. How did you reinvent this technique for your latest creations?
Most of the images in Eremozoic are taken from natural history dioramas albeit with elements added and subtracted, colours altered and abstracted. The natural history dioramas themselves are human made fictions – they fit perfectly into the narrative for the series.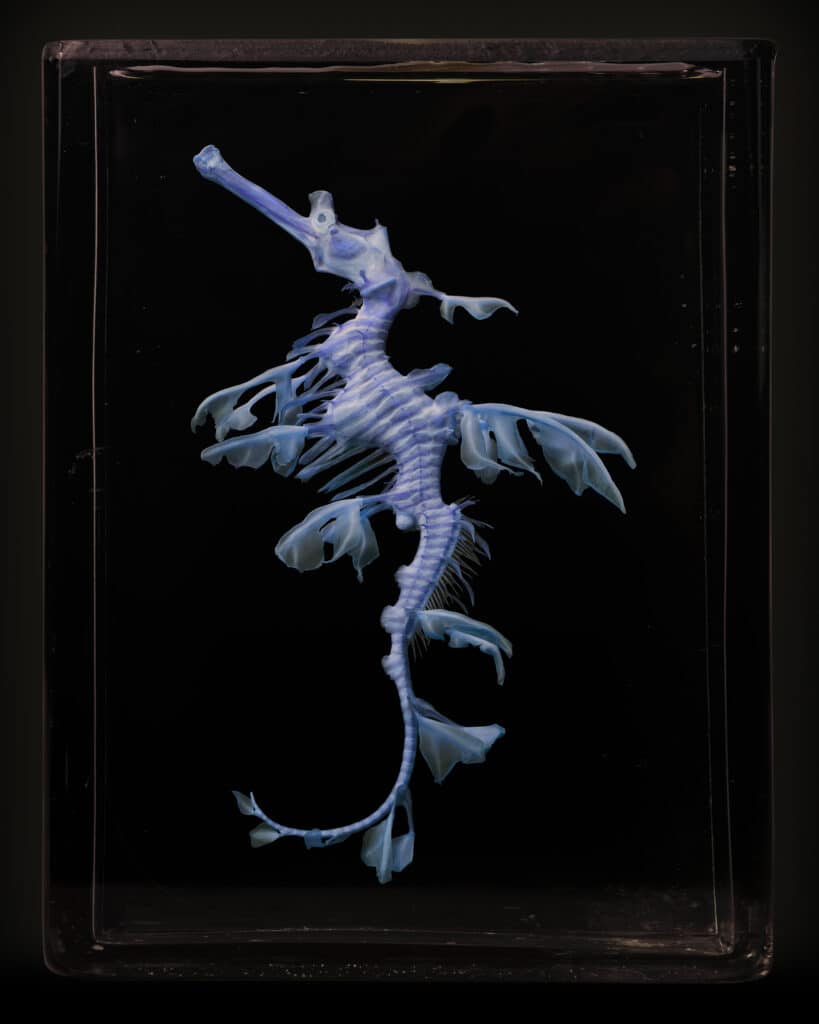 Jim Naughten, Eremozoic, 7th October – 18th November 2021 Grove Square Galleries, 156 New Cavendish Street, London W1W 6YW (Opening hours: Monday – Saturday 10am – 6pm)
About Jim Naughten
Jim Naughten is a photographic artist whose enchanting and illusory body of work explores our modern-day disconnection from nature. After being awarded a painting scholarship to Lancing College, Naughten studied photography at the Arts Institute of Bournemouth. Drawing on both of these backgrounds, he describes his practice as 'digital painting', using digital enhancement programmes to conjure the striking and alluring worlds of his images. Working in a style close to magic realism, his art blurs the line between truth and fiction, fantasy and reality, nature and the unnatural.
Engaging with biological and scientific theory, Naughten's most recent work is inspired by E. O. Wilson's idea that we are living in the Earth's Eremozoic period: characterised as an age of loneliness following mass extinctions caused by human activity. His images are based on dioramas found in natural history museums all over the world, reimaging these animal forms in defamiliarised contexts and with a heightened colour palette. By creating these new and disorientating perspectives, he encourages us to reflect on themes such as our relationship with wildlife and the future of biodiversity and the planet.
Naughten's work has been widely featured in exhibitions across Europe and the US. This includes solo shows at the Imperial War Museum, Horniman Museum, and a forthcoming show at the Wellcome Collection (2022), as well as group shows at the Royal Academy of Art and National Portrait Galleries in London. His work is included in collections such as The Museum of Photographic Art, San Diego; The Imperial War Museum (UK); and private collections worldwide. He was nominated for the Prix Elysee 2016 and shortlisted for the Vevey Images photo award 2012.
About Grove Square Galleries
Founded in September 2020, Grove Square Galleries is a new London art gallery offering emerging and established collectors an avenue for exploration and discovery. Merging digital innovation and physical exhibitions, the gallery's Fitzrovia space offers an artist-led exhibition programme celebrating contemporary art practice worldwide. Artists represented by the gallery include Orlanda Broom, Crystal Fischetti and Christopher Kieling.
Categories
Tags