Van Gogh lived at 87 Hackford Road, Stockwell during 1873-74, having arrived in London as a 20 year old art dealer – 2021 marks 50 years since it was discovered that he had a room in the three-storey Georgian house near The Oval. The house has been extensively renovated and conserved since its purchase in 2012 by current owners, the Wang family. See the website for opening times and events.
The house also bears the eccentric evidence of those involved in its subsequent history. Arthur and Marjorie Smith lived there when it became suddenly famous: they kept relevant press cuttings and and seem to have had curious tastes in décor. It was the postman and avid Van Gogh enthusiast Paul Chalcroft who discovered the Vincent link in 1971: he also made paintings in Van Gogh's style,  a few of which can be seen. Even if original Van Goghs were available, incidentally, insurance and security issues would probably prevent their display.
Brian Griffiths and Frank Kent present a work – sculpture-photos, I'd call them – in each room, as the first in a new annual commissioning programme. Subjects with various degrees of connection to Van Gogh are shown within an open cube which references Van Gogh's use of a framing device when composing pictures, acts as a frame itself, and unifies the series as if applying an objective, albeit somewhat ramshackle, means of measuring the informality of the improvised images. Van Gogh's chair is the most instantly recognisable motif, but it's not a photograph of the original, but of Bob Law's sculptural reimagining of it.
A new wall installation by Jo Volley presents a 'Pigment Timeline' for Van Gogh: bands of colour in the stairwell show the 30-odd paints which he used, and relate them to when the colour became available – so that, for example, the Palaeolithic origins of Raw Sienna are contrasted with 17th century Naples Yellow and 19th century Viridian. The longer the line, the older the pigment, one result being to show that Van Gogh was quick to pick up on what was newly available.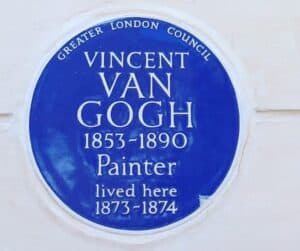 Art writer and curator Paul Carey-Kent sees a lot of shows: we asked him to jot down whatever came into his head
Categories
Tags