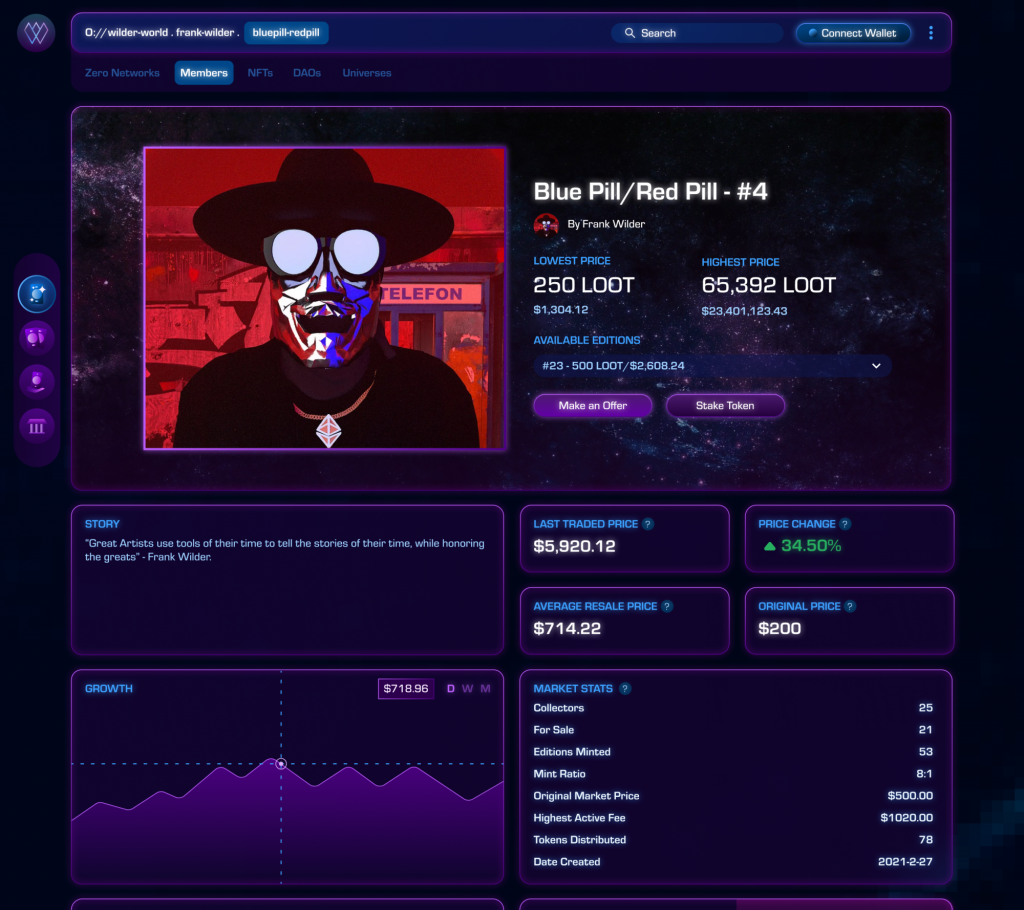 Have you heard about NFTs? If not yet, then you have come to the right page. People of the 21st century believe in liquid assets and in digital ones, which are worth millions. Today's world is more focused on digitalization and digital money.
The youth believes in valuing digital assets like pictures, audio, or other digital files. NFTs are a significant part of cryptocurrency assets. If you find the topic interesting enough, then peek into the following article to know more!
What are NFTs?
The preset world enjoys the boon of digitalization to a great extent with lesser risk in storing your assets. However, with the advancement of the world in digital procedures, people are also discovering one way or the other for fraudulence and various hacks to steal digital assets.
The encoding experts of the 21st century have finally found a unique code to secure those assets, and it is none other than the NFTs. In simple words, NFTs are unit of data which forms the digital ledgers like blockchains.
As per TheMoneyMongers.com, a crypto investment portal reported "Each of the NFTs comprises unique codes which certify them to be private assets of individuals." Moreover, the particular codes and signatures in the NFTs make them non-interchangeable.
Why should you use NFTs?
If you have adequate information from the digital world, you would know that NFTs are in trend right now. But have you ever imagined why? The following points will highlight the benefits of using NFTs:
There is a basic rule of the world that has been used for a long time now. If a sure thing is functional and yet limited, its value increases by huge rates with time. Similarly, the encoders and creators of NFTs have kept the supply narrow, which makes them more valuable at present. As a result, cryptos are in high demand. If you manage to purchase some in today's world, you can consider holding onto certain digital assets.
Another significant aspect of NFTs is that they are indivisible. Whatever that is divisible gets decoded with time, and its digital value decreases. But it is not so with the NFTs. Many of these unit data are indivisible, which prevents everyone from using them without purchasing them.
The most significant advantage of using NFTs is their uniqueness. Each of the NFTs has got individual and unique tokens that decide the essence of. These tokens are non-interchangeable. Nobody can even get access to these without proper information regarding the secret codes without purchasing them. The data are secure and accurate always.
The best thing about NFTs is that they are easily transferable with the right amount of purchase. Anybody can have significant assets in NFTs, but they can also buy or sell them according to their values which depend on the data uniqueness in no time.
Maintenance of ownership rights:
The main reason behind NFTs being in high demand is nothing but their ownership rights. Each NFT has got unique data stored in it. It protects the ownership rights efficiently because no buyer can change, remove or edit the data in the NFT at any cost!
How to invest in NFTs?
After knowing the benefits of NFTs, it is evident for you to be curious about purchasing one. However, you have got nothing to worry about as the following steps will help you with the process:
The first thing that you should know about investing in NFT is the necessity of having a crypto exchange account. The account works like a digital bank in the real world. If you do not have an account, you can easily create one using various platforms like Opensea, Rarible, and SuperRare.
Purchase Ethereum and Bitcoins:
Most of the markets or digital platforms dealing in NFTs accept ethereum or bitcoins. Therefore, you need to decide the market which you want to use for purchasing NFTs first. Once you determine the market, you can get information about the cryptocurrencies which they accept. Then, according to the valid info, you can buy sufficient ethereums or bitcoins for getting NFTs in exchange.
If you are not aware of the social platforms that deal with NFTs, you are on the right page. There are several ethereum based social platforms that sell NFTs in exchange for cryptos like ethereum or bitcoins. A few markets are MetaMask, Nifty Gateway, NBA Top Shot, and OpenSea, etc. All you have to do is open a wallet in the above-mentioned social markets for purchasing NFTs according to their data values.
You cannot get NFTs in their raw code forms in the markets. If you ever get an account for purchasing NFTs in the social needs, you would get various options of NFTs in the form of digital arts, audio files, videos, photos, etc. You can finalize your NFTs and then start to bid.
If you go for a primary market, you will get unique and fresh options that you can sell later, making 5 or 10 times more profit than the initial price due to the high demand. But if you purchase the precious NFT from the secondary market, you would also get to see the last bidding price on the piece at ease.
Now you have come to the end of the article with adequate information on NFTs and their purchases. What keeps you waiting? Go and make a valuable and unique investment on the NFTs now!
Categories
Tags