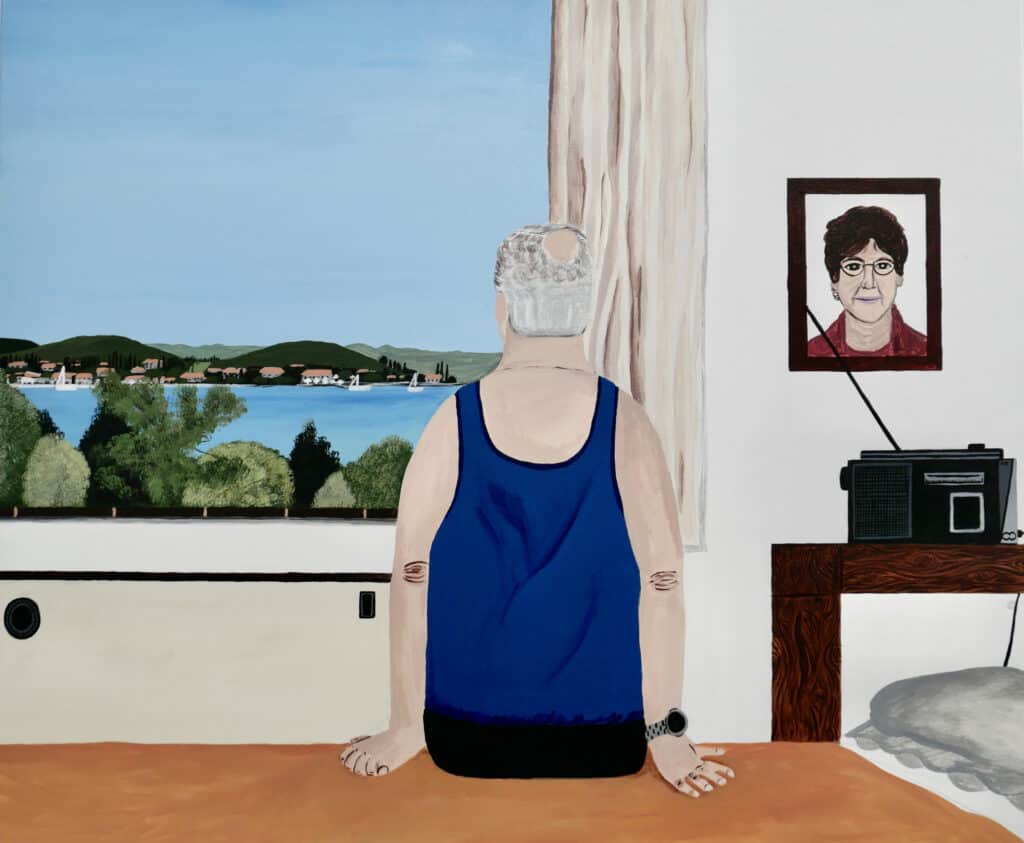 Bradford born, London based painter Conor Murgatroyd recently sat down with art historian, writer and curator Hector Campbell to discuss his experiences at art school, his art historical influences, exhibitions in alternative spaces and his current solo exhibition 'Relation' at Lychee One in London Fields, which runs until August 15th (in-person) and 15th September (online).
Hector Campbell: You grew up in Bradford, West Yorkshire, with your father working as a graphic designer/painter and your mother with a musical background, before moving to stay with your grandmother during your teenage years. Did you have a particularly creative upbringing? And how does your hometown continue to inspire your painting practice? 
Conor Murgatroyd: I have always had a strange relationship with Bradford,  growing up and living there until I was 17, and now going back to visit family every few months. I didn't have a  particularly creative upbringing, I enjoyed art at school and at nursery but it was never a consistent aim of mine to carry out a career in painting. It was more of a subconscious thing that was always deep down inside of me growing up, and with the right guidance at college it emerged and I realised that it was the right thing for me to do. 
H.C: In 2016 you graduated from Chelsea College of Art with a BA in Fine Art, having previously studied a foundational art course at Leeds College of Art. You've spoken previously about a notably influential tutor on your foundation, how did Chelsea compare to your time at Leeds? 
C.M: I enjoyed my time at Leeds College Of Art massively. I studied for the BTEC Foundation Diploma in Art and Design and then specialised in painting in the final year. The guidance from my tutor Duncan Mosley was very inspiring. While at Leeds something clicked with me where I learned to utilise my character and interests in a constructive way, and I discovered that I could document my life through the medium of painting, which for the first time ever gave me direction and also pleasure in being myself.
Chelsea was great for me, I carried on developing all of the things I had learnt at Leeds just in more of an intense atmosphere. My work weaved through different themes over the space of the three years and I had great fun being in London as a kid from Bradford. The style of tutoring at Chelsea also tested me greatly, even today I am still trying to answer some of the questions those tutors put to me. 
H.C: Post-graduation you took a three-year absence from painting, working various jobs including construction and scaffolding before returning to painting full-time in 2019. What triggered this departure from art-making after Chelsea? And how did those years inform your current art practice? 
C.M: I simply wasn't inspired after graduating. Financial pressures were fifty percent of the reason why I stopped painting, and the other half was due to many other aspects. I genuinely believed I would never paint again. Looking back on it now it was a hard time, as I believe that when creative people cease to be creative it will eventually crush your soul, it certainly did for me.
I have always enjoyed physical labour and needed money as I had no financial support from anyone apart from myself, so it was a no brainer to get into that line of work. I rarely painted, at a push making two paintings a year, and felt very deeply angry at many aspects of life. Now my current practice supports me fully and I am in the studio 6 days a week. Nothing gives me a kick up the backside more than thinking about how miserable I was not devoting my time and love to painting and now everything I do goes into my love of art. 
H.C: Whilst at Leeds and Chelsea you painted mostly still lives and interior or architectural scenes, including depictions of 1980's terraced football grounds, 1950's/60's French-influenced interior design and flower arrangements (inspired by your time working at a garden centre). What led you to first introduce people into your practice, having avoided figuration for the first few years of your artistic career? 
C.M: Even though painting gave me the confidence to tell my story and be myself, it has still taken years for me to finally feel one hundred percent confident in what I paint. I think the perfect example of this is how long it took me to truly adopt figuration and make it an integral part of my practice. 
Throughout my time studying the themes I painted were always very simplistic and naive in a way, I was essentially trying to figure out what it is I wanted to say with my work. There was so much confusion at the start, and even today popular talking points really bore me as I see it as a way for people to make themselves look like Mother Teresa. Back then when I was figuring these things out it was quite attractive to delve into themes I had nothing to do with, but I always came back to my true honest interests and you can see that in my early work. Today, I try to depict a clear perception of my reality and use the images from my life to tell stories of how we as individuals are uniquely beautiful during our time on earth. 
H.C: You've previously described your paintings slightly comically as "Magritte meets Bradford", and have also painted personal appropriations of Magritte's 'Le Soupçon Mystérieux' (1928) and 'La Clairvoyance' ??(1936). Which other historic painters are you especially influenced by? And how important is art history in understanding contemporary painting? 
C.M: Renoir, Hopper, de Chirico, Picasso, Henri Fantin-Latour, Bonnard are just a few of the artists I admire massively. The recreation of images is something that all past great artists I love have done. Those personal appropriations of different works is a theme that has always been part of my practice. Not simply as a nod to them, I feel like past work of my favourite artists holds such great power and importance that I must hold onto that. I am influenced by the opinions and interests of many different people from the past and from the present day, and like to publicly display these influences in my work. The comical aspect of my work is something I never intentionally tried to incorporate, I accept that's just the way those works are, but recently I have tried to move away from that and focus on more serious themes.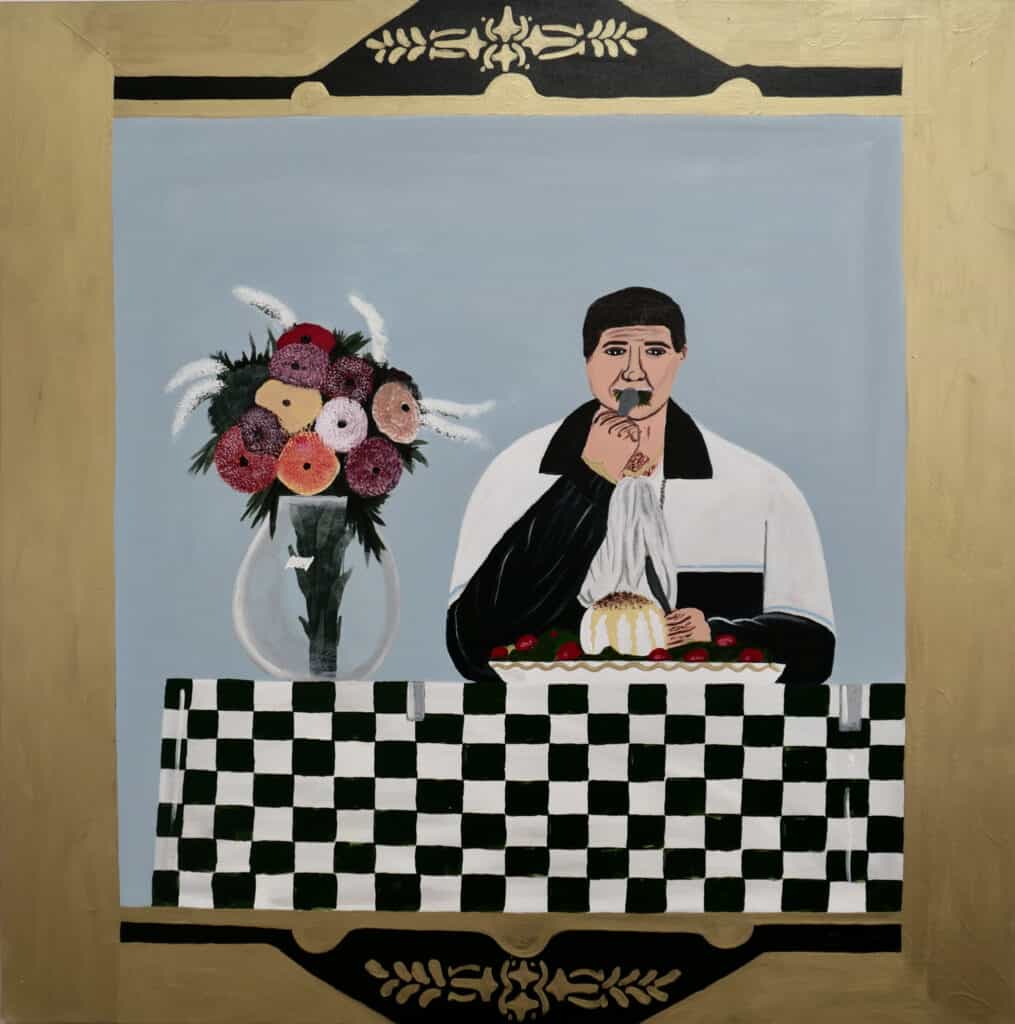 H.C: Your 2020 solo exhibition 'Windows' consisted of a series of paintings of shopfronts, including Beaumont ??Greengrocers & Fruitsellers, Ayres Bakery, HA Smith & Son Butchers and F. C. Soper Fishmongers in your local Nunhead, as well as shops further afield such as ??E Haag Jewellers in Chesterfield and Stockbridge Fisheries in Keighley. What drew you to depicting these independent stores, their proprietors and customers? 
C.M: I love shopping. For food, clothes, jewellery, fish, you name it. It's an experience that the every day gives me and I get a kick out of it. I wanted to create work about my favourite shops and the people in them. I love good characters, they're what makes the world go round, and the places I painted are full of them. 
H.C: 'Windows' was presented both online and in-person at Avalon Cafe in Lewisham, and your upcoming solo exhibition opens at Sage Flowers Florist in Peckham later this year. What appeals to you about exhibiting your paintings in alternative spaces such as these? And do the artworks elicit different conversations and connotations than they might do in more traditional, 'white cube' gallery spaces? 
C.M: Conventional 'white cube' spaces are my favourite places to exhibit in, but having 'Windows' at the cafe in Bermondsey worked perfectly for the narrative of the show. When I approached them to hang the works there, we agreed that the paintings and the subject matter would fit really well.
With the forthcoming Sage exhibition, Iona and Romy who own the shop are such talented florists. Their flower arrangements have a beautiful sculptural quality to them that really resonates with me. Utilising these unorthodox places to exhibit my works has always come out of great admiration for those other people who push boundaries and create interesting conversations within their work, whether that be supporting the local community or creating visually stunning bouquets of flowers. Initially, I was a little sceptical about working in these spaces, but when you have the right space and the right artworks for that space it doesn't matter where they are displayed. So long as people get to see the works and enjoy them.
H.C: Your current solo exhibition, 'Relation' at Lychee One in London Fields, presents paintings made over the turbulent last twelve months of repeated lockdowns and includes depictions of domesticity, carefully constructed still lives and some unexpected exotic imagery. Could you give us some insight into this latest body of work? 
C.M: My new body of work 'Relation' features family portraits and still lives based around different cuisines. My pattern is from Former Yugoslavia and her mother and grandfather both feature in portraits. These paintings are a way for me to analyse my relationships with these loved ones, who fascinate me day in and day out, in many different locations such as the North of England or Lovište in Croatia. 
The still lives are all inspired by different historical depictions of flowers by different artists, as well as focusing on all my favourite dishes, which span a wide range of cuisines. The show as a whole is me examining my current situation in the world, my relationships with different people, as well as with certain countries, cuisines and characters. 
Conor Murgatroyd's solo exhibition 'Relation' at Lychee One in London Fields opens Wednesday, August 11th, 4-8pm, and runs until August 15th (in-person) and 15th September (online).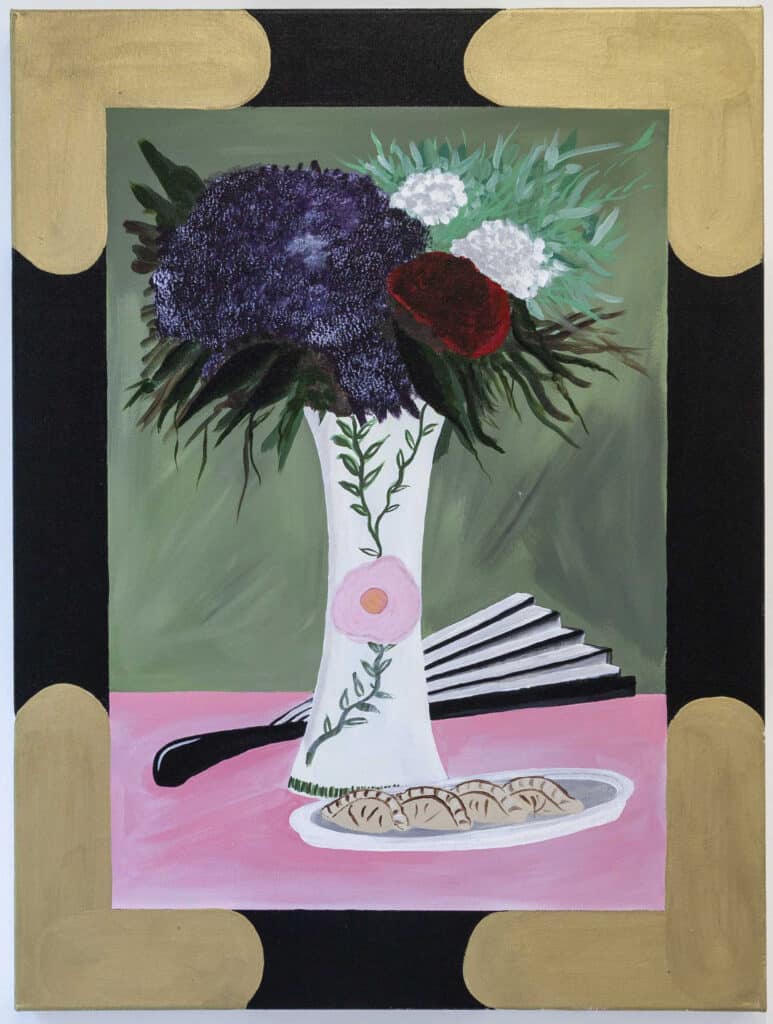 Categories
Tags