The artist Jimmy Cauty, best known for co-founding the KLF and the Orb, and for burning one million pounds as part of the K Foundation, is touring his latest installation MdZ ESTATE around "Municipal Disaster Zones" in the UK. This month through to 28th August, the shipping container that holds ESTATE is sat in a car park in Sheffield.
ESTATE is a "dystopian model village experience" containing four 1-to-24 scale concrete tower blocks, collectively known as Iceni Heights. Each room inside the blocks has been "painstakingly vandalised", and viewers can peek inside the rooms where TVs flicker with a rolling news station put together especially for the installation. ESTATE is the third in Cauty's series of model environments, following Riot In A Jam Jar and ADP RIOT. Each tower block serves a different function, with block 1 containing residential Live-Work-Die units, block 2 a multi-storey high-security children's prison, block 3 a high-rise care home for the old, the dying and the dead, and block 4 apparently some kind of spiritual centre for neo-pagan misbehaviour.
Cauty often collaborates with other artists, and the Sheffield leg of ESTATE's tour has been facilitated by local "art, humour and magic" collective Sheffield Arts Lab, AKA SHLAB. Through the Arts Lab, posters for ESTATE's Sheffield visit have been made by local artist and rapper Kid Acne, while Sheffield musicians have remixed Cauty's "Chinook" soundscape, to be played out on Iceni Heights community radio, broadcasting from a 1-to-24 scale pirate radio station inside the estate.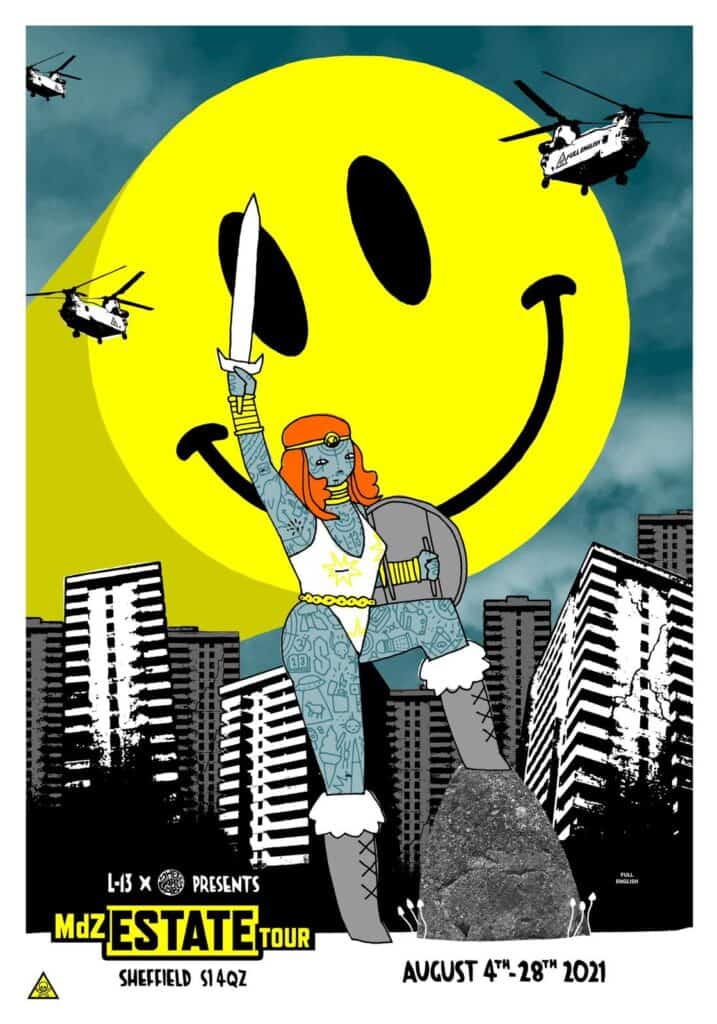 The installation is free to view. Slots for entering the shipping container to view up-close were all snapped up within hours of being made available, but there is a waiting list, and in the meantime, ESTATE can still be viewed externally through conveniently-placed eye holes. Anyone with a suitable Municipal Disaster Zone who wishes to host ESTATE in the future should get in touch with Cauty's representatives L-13 Light Industrial Workshop.
Speaking to Will Gimpertz for Sheffield's Now Then magazine, Cauty said that ESTATE is
"about the joy of pure, unadulterated vandalism". Cauty also revealed that, during the towers' construction, "because we were initially unsure if life on earth would survive the pandemic, when the first lockdown happened we put [three of the towers] in large wooden shipping crates, wrapped the whole lot up in plastic wrap with a sign on the front that said something like: "If a future civilisation finds these tower blocks, please make them into a model village then tour them in a shipping container full of smoke."
He also revealed that the towers are intended eventually to live outside, and asked for anyone with a suitable location to get in touch with L-13.
ESTATE will be in the car park outside Theatre Deli, St Mary's Gate Retail Park, Sheffield S1 4QZ until 28 August 2021. ESTATE on Instagram
Categories
Tags