ALMA ZEVI Venice presents artist Sofia Stevi's solo show 'The Somnambulists'. A series of black and white figures fluctuating into an undefined space explore our identity, increasingly depersonalised, suffocated, but also looking at a brighter future. Here, Stevi tells us about this exhibition, her use of colours, chaotic narratives and recent existential explorations.
The colours in your works always seem very evocative. Here, there is a strong tension between the dark, heavy black and white notes that characterise the figures in your paintings, and the vibrant, lively colours that define the wallpaper. Why did you create this contrast?
These portraits/ figures are only made with black ink on white cotton. It is the most natural way for me to work and I think it empathises the movement and postures of the bodies. The idea of wallpaper was a curatorial decision, but I have always been interested in pattern-making and surface design. I grew up in a country where we appreciate white walls in most interior decoration but I find wallpapers and murals quite fascinating. The pattern of this specific wallpaper comes from a much older sketch of mine where I decided to maintain the original colours. It provides a fantasy universe for the b&w figures to exist in.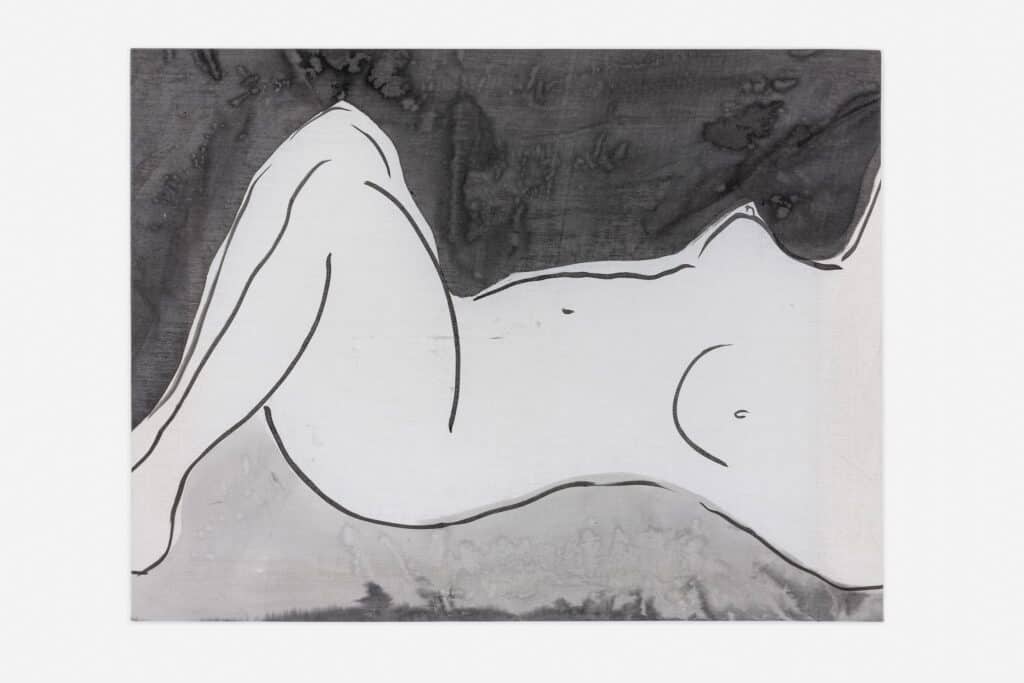 While the wallpaper conveys a sense of chaotic joy, the human figures inhabiting your canvases, bodies where the head is either cut out from the picture or hidden behind cloudy, dense shapes, have a more grotesque feeling. What are you expressing with this contrast?
I am more interested in painting the experience of the body rather than a certain personality. I am looking at my cat right now and I can find perfection in the way he moves and exists. A natural yogi, he can jump in a shelf full of glass and manage not to break anything. The human body feels weak and unprepared in comparison. But these are the vessels we exist into; they are, indeed, grotesque and this is what I enjoy exploring.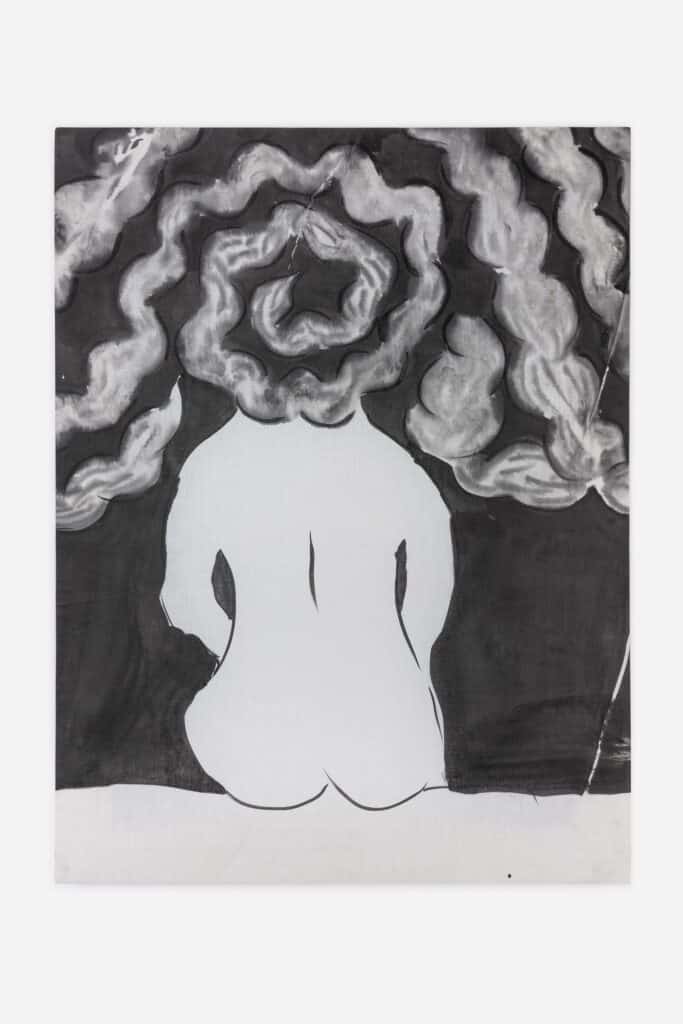 The human body, or parts of it, often recur in your work. Has it always been the subject of your oeuvre? What made it so central for you?
I like to draw many different things that have to do with my reality, and the human body is, and has always been, fascinating for artists. I am most interested in movement, curvaceous brushstrokes, and imperfections. Even in my much older book sculptures, the whole idea of exploration was based in human spine deformities.
For 'The Somnambulists' you also started experimenting with male bodies which you were not that familiar with. What encouraged you to get out of your comfort zone?
It is all about curiosity for the human body. I wanted to look more in-depth at more angular, flat lines and shapes. I do not see the body as a stereotype or as an ideal, it is what we have to do with carrying ourselves in our life on this planet.
The forms you outline are always suspended in a dream-like atmosphere; they emerge abruptly only to disappear right after. Beholders can attempt interpretations as to what they are looking at, but the narratives remain tentative and open to multiple interpretations. How important is it for you to let this mystery take over?
I am not trying to intentionally create a mystery for the viewer except for when I am? I am happy for someone to make interpretations. When my works leave the studio and, most importantly, when they are exhibited they are freed from the intentions of the artist. As a viewer myself I prefer to enjoy an exhibition before I read the press release.
You tend to create an intriguing narrative in each of your creations. Do you usually envisage your works as continuous creations, with a never-ending plot-line, or are they separate entities, rather?
This is such a nice question, makes me think a lot. I would say, definitely, there is a never-ending plot-line, but it exists inside me in a very chaotic way. Perhaps this explains why sometimes I need to stop and think and write things down.
In this exhibition figures stand-alone, each delimitated by the edges of the canvas where they lie still. Does this have any correlation with the ideas of isolation and solitude that still linger in the air? Are you moving to a more existential exploration of bodies?
Even though I made these works quite before our current situation, they have never been exhibited before and I believe it was the right time for them to come out. I think even previous to the lockdown we were still leading very individualistic lives with a lot of privacy and exaggerated online existences. The covid period that we are still going through is a harsh realisation of isolation and suffocation but it has also created the conditions to start caring for each other again. Just the act of going around wearing a mask is an example of caring for the person standing next to you. I believe during the pandemic everyone became a little existentialist. Unfortunately, we are living through tough times and perhaps it will become harder for the younger generations, not only in terms of the pandemic but also of climate change. These days I am thinking a lot about the human body, nature, as well as the natural implications on the human body.
Often your paintings expand beyond the edge of the canvas, either by elongating it with new patches of cloth, creating an environment all-around or, as you did at ALMA ZEVI's by designing the wallpaper behind the wall-hung paintings. What is it that pushes you to go beyond the physical delimitation of the canvas?
I would say it happens naturally; it can be very liberating not to think of the stretcher as a limit. Sometimes it makes sense for it to be there, other times everything can happen.
Sofia Stevi 'The Somnambulist' at ALMA ZEVI Venice – July 31st
Categories
Tags