Tabish Khan the @LondonArtCritic picks his top exhibitions to see right now. Each one comes with a concise review to help you decide whether it's for you. Those looking for more exhibitions should check out his top West End exhibitions, all are still open to visit.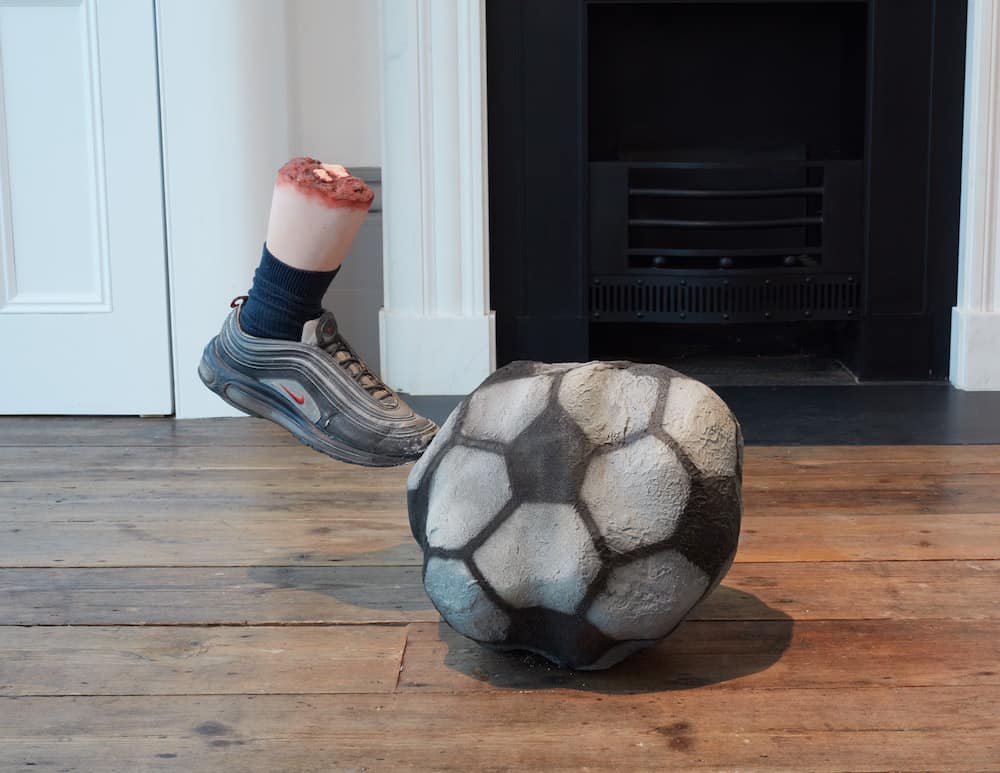 Balls @ OOF Gallery
Football may not have come home but the art of football has found a home with the opening of OOF gallery in Tottenham. The opening show is aptly named 'Balls' and includes an egg painted liked a football, a very long phallic football and Rosie Gibbens rucksacks with teats so team mates must drink by suckling on each other. There are a lot of fun and accessible works, but also challenging ones that look at the macho culture and homophobia present in football. Until 21 November.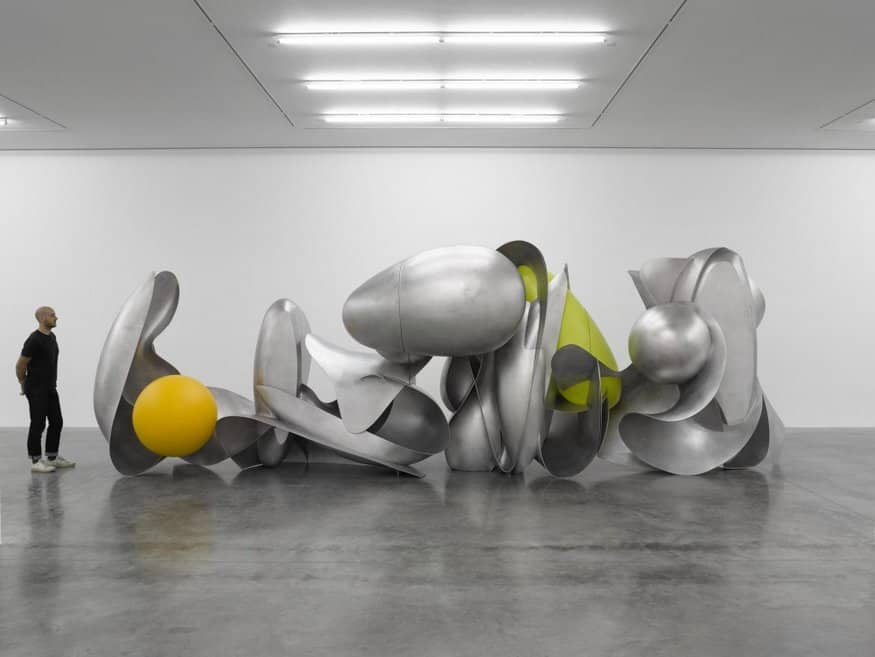 Liu Wei: Nudita @ White Cube, Bermondsey
A giant metal sculpture appears to be squeezing two yellow segments as if they're in the grip of a mechanical boa constrictor. In the next door gallery another abstract metal 'beast' is caged as if it could break free at any moment. There's a sense of power and threat within these monumental sculptures. Until 5 September.
Anton Alvarez: Tight Squeeze @ Huxley-Parlour
If these sculptures look like they've come out a machine and been plopped on to a plinth, that's because they have. The artist extrudes clay through moulds and adjusts the height of the drop to create natural looking structures. It's a fun and playful selection of sculptures in this colourful show. Until 11 September.
Summer exhibition 2021 @ Royal Society of Sculptors
A colourful angular sculpture by Steve Hines bursts from the floor, a contrast to Nicola Anthony's delicate words held within glass – these are just two works in an excellent and varied sculpture exhibition. Out on the terrace Sophie Kemp's giant iced gems are impossible for any passerby to miss. Until 19 September.
Terence Coventry: Vital Image @ Pangolin London
A pair of choughs squawk at each other while a giant goat dominates the centre of the gallery. These angular metal sculptures by Terence Coventry in his signature style look at home in a London gallery, almost as if the architecture of the city has influenced their development – squaring off their natural curves. Until 14 August.
Enni-Kukka Tuomala: Is there space for empathy @ Bow Arts, The Nunnery
Sit or lie under a metallic cloud-like sculpture and listen to a thumping heartbeat in this relaxing installation, where the adjacent gallery space asks us questions that are highly relevant for our time such as whether we can be physically close again, and how we can be more empathetic. An uplifting work when we need it the most. Until 8 November.
Rachel Kneebone: Raft @ White Cube, Mason's Yard
Small piles of chaotic ceramic creations can be seen as small studies for her much larger works like the one upstairs that delicately hangs from the ceiling, feeling like it could snap and smash into pieces at any moment. It's a real contrast to her more totemic work up at Yorkshire Sculpture Park. Until 4 September.
Liu Wei image: © Liu Wei. Photo © White Cube (Ollie Hammick). Royal Society of Sculptors photo Jennifer Moyes. All other images copyright artist and courtesy gallery.
Categories
Tags