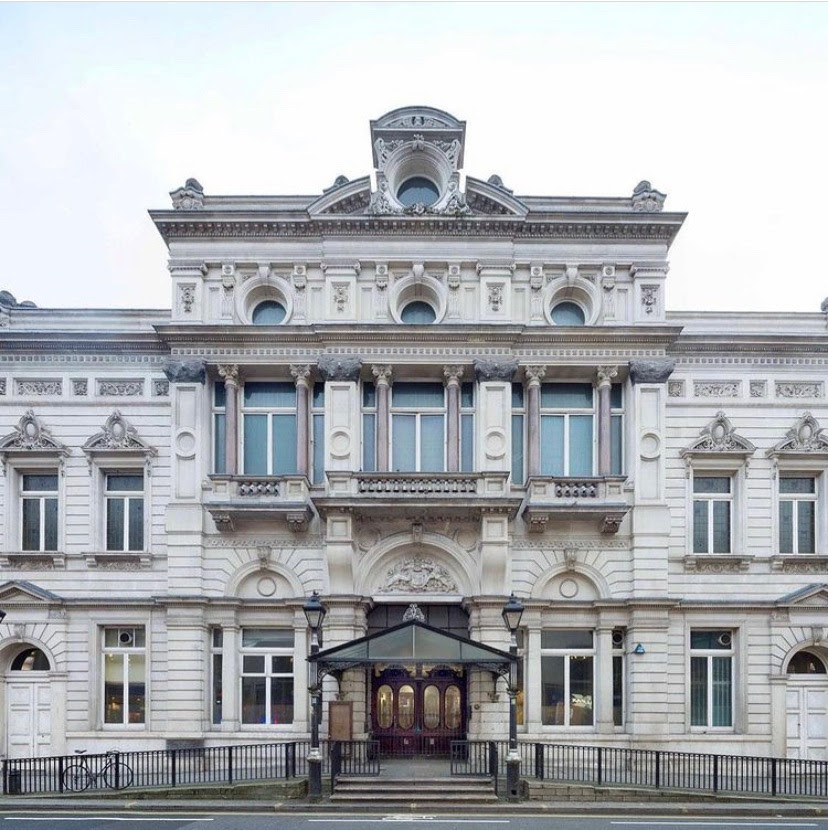 Historic London building Fulham Town Hall will open its doors after lockdown for the first time in a decade as it plays host to Art in the Age of Now, a group exhibition that brings together contemporary art, live music, talks and performance art.

This iconic, deserted 51,000 sq ft Victorian space in West London, empty for over ten years, will be open to the public this May once the current lockdown is eased. Overseen by curator Ben Moore (Art Below), and co-presented by hotel operator Lamington Group, Art in the Age of Now is a free event for the local community and features an extraordinary programme of installations, guest exhibitions, live performance art, music, talks, readings and screenings in the atmospheric setting of Fulham Town Hall before owners Ziser property redevelop the building and give the iconic space a new lease of life as a creative community hub and boutique hotel in 2022.
Many of the landmark building's beautiful original fittings are preserved and will remain so in its future life as a hotel and entertainment space. The elegant architecture and decorative features include green marble columns, stained-glass roof lights, wrought iron balustrades, and art deco lighting. Built-in 1890, it features a beautiful grand ballroom, a courtroom in the round with original stained-glass windows and tiered seating, civil registration and function rooms and each area will be taken over by some of London's most exciting established and upcoming contemporary artists. The cells in the building's basement vault beneath the courtroom, complete with the original bars from their time as holding chambers, will be transformed into mini art spaces for emerging talent. The venue itself is an embodiment of local history and community; it has played host to countless marriages and christenings, and performances from legendary London bands such as The Clash and The Slits. Now, this ornate grade II listed landmark will be brought to life through an engaging multidisciplinary exhibition.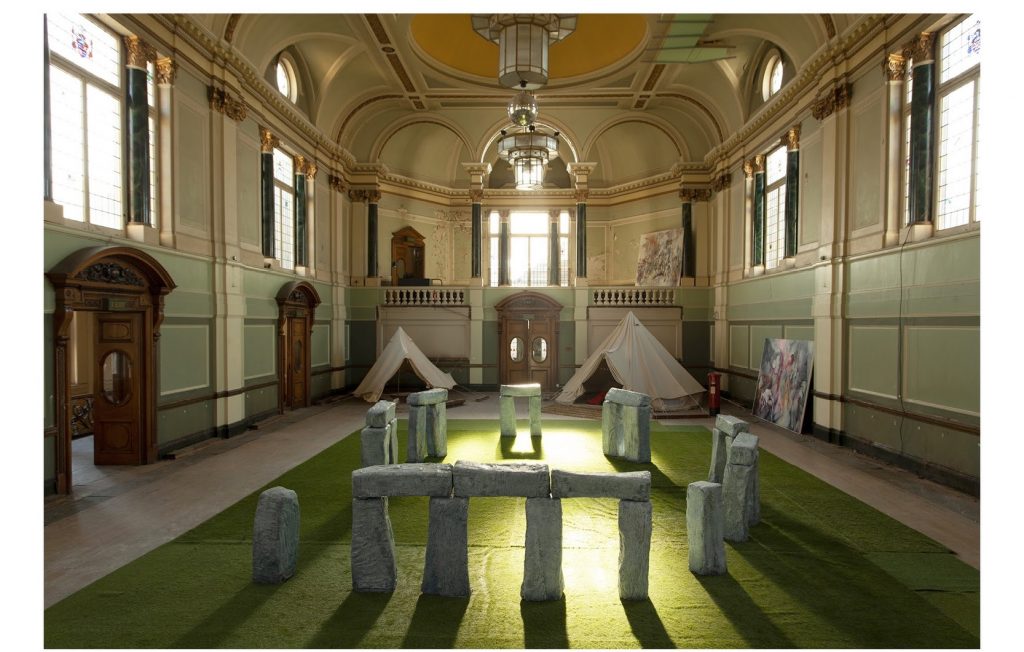 The exhibition is divided across the main rooms, project spaces, individual artist rooms, the basement vaults and the town hall courtroom. Many of the works have been produced in isolation during lockdown and will be exhibited for the first time. This will be a platform to support the capital's cultural community after a challenging year and a celebration of local artists and scenes.

Liam Hayhow will transform the exterior windows of the town hall with a series of experimental light installations, creating a flood of evolving coloured light. Sam Haggerty will make a statement in the ground floor entrance with Elephant in the Room. Melding a miscellany of materials, Sam's elegantly twisted machinations make for a weird and wonderful world.
Three dedicated spaces celebrating women in art will be curated by Mc Llamas featuring Holly Allan, Pauline Amos, Edie Baker, Kiera Bennett, Elodie Carrel, Arietta Chandris, Catherine Eldridge, Abigail Fallis, Nancy Fouts, Jessica st James, Chloe Karayiannis, Bip Ling, Jil Mandeng, Marion Mandeng, Sarah Maple, Savannah Mcmillan, Tuesday Riddell and Nettie Wakefield.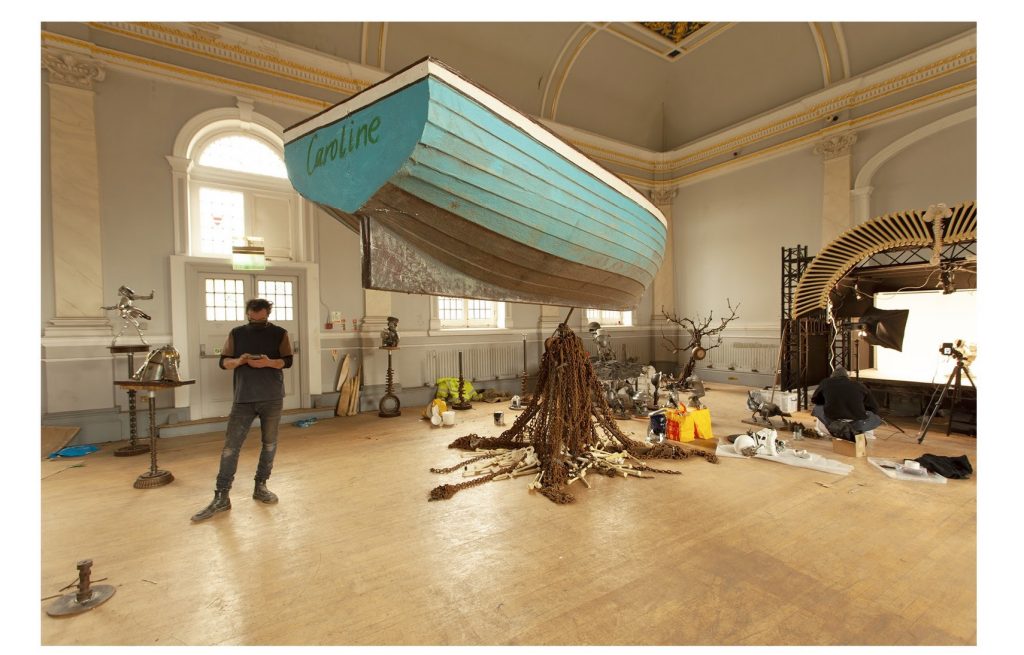 Joe Rush, whose sculptures have helped shape Glastonbury down the years is transforming the ballroom, complete with stage and sculptures recycled from salvaged material including F15 bombers and Soviet tanks.
Participating artists have come together to produce a dramatic recreation of Stonehenge. This communal project aims to highlight the importance of the World Heritage site and will take over the grand ballroom.

Conceptualised by Ben Moore and positioned as the exhibition's communal hub, The Henge is a multimedia installation bringing together a wealth of collaborative creative skillsets incorporating sculpture, lighting, sound and grass. Charlotte Colbert's Mastectomy Mameria is a mass of breasts that on closer inspection reveals some nipples are missing, sewn up as after a mastectomy. Since the birth of her children and her own personal experience of hospital maternity units, Charlotte's creative output has reflected her sense of life postpartum.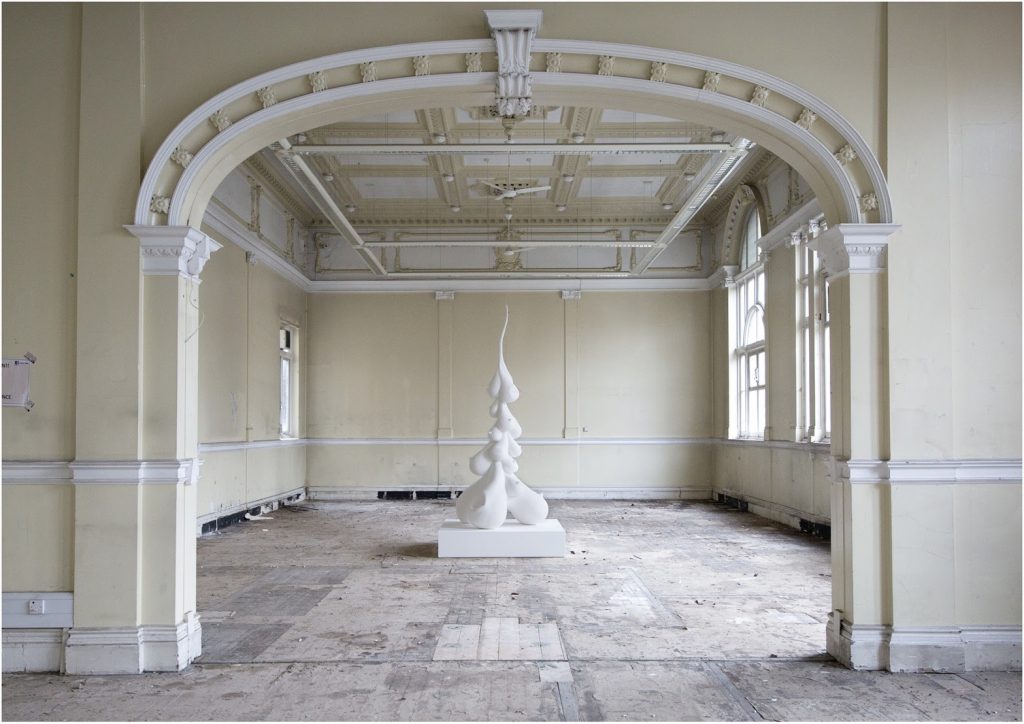 Hoxton gallery will take over a dedicated space featuring works by artists including Mr Doodle, whose work is often described as Graffiti Spaghetti, with clusters of characters, objects and patterns in a formation that appears to continue to grow relentlessly. A moving exhibition of portraits of missing persons by contemporary artists will also be presented at the town hall Titled unmissable and produced in partnership with the Missing People charity, it features beautiful original works by artists including Ian Bruce, Charming Baker and Chris Moon. It is curated by Ben Moore and features a portrait of his brother Tom who has been missing since 2003. London writer and socialite Christabel Milbanke has transformed the opulent wood-panelled Mayor's Parlour into an intimate venue for private dining, drinks, poetry and music. Called simply Christabel's, the room offers an avant-garde alternative to London's affluence-enamoured members-only establishments.
Art Wars is an exhibition of customized Stormtrooper helmets by leading contemporary artists including Retna, Philip Colbert, Joe Rush and Unskilled Worker. This showcase has toured Dubai, Sweden, Miami and Los Angeles and is curated by Ben Moore.

One Small Step is an exhibition featuring leading artists including Jake & Dinos Chapman, Mr Brainwash and Chris Levine.
Angry Dan, Ben Eine, Lucy Flynn, Force, Lea Bou Habib, Paul Insect, Luap, Jack Laver, dotmasters, Gary Mansfield, NERONE, REZ, SPORE, UNVRSL NMD and Matt Webb form a collective of street artists who will be taking over the building's basement, transforming the labyrinth of former holding cells. Art in The Age of Now will partner with The Net Gallery who will digitally map the exhibition for online audiences. Bladesman will produce a series of short films to document the exhibition.
"Curating the programme at Fulham Town Hall is a dream come true, even in these challenging times. With a positive outlook, a collaborative spirit and a shared love and passion for the work we do (myself and the artists involved), I am confident that we will be able to give West London a much-needed art event that will revive and boost its cultural heartbeat."

Ben Moore
The space will adhere to the government's Covid safety regulations with time slots available to pre-book. The 51,000 sq ft building allows for large numbers to move through the space. There will be a link to subscribe for free tickets. The exhibition will take place in May in line with the lifting of the full lockdown and regular updates on the programming and timing can be found on Instagram @artbelow and @fulhamtownhall.
Art in the Age of Now Private View 19th May from 6 pm Open to the public 20th May 2021, 11 am-6 pm Visitor Information Fulham Town Hall
Categories
Tags