In an insightful chat with Art Below's eccentric founder and director Ben Moore the conversation spanned across everything from The Life of Brian and eco-farms to spiritual quests, ambitions and of course a bit of art was thrown in for good measure.
Not long into the conversation with Ben it became clear his greatest desire in life is to be "free". He spent many years fighting the shackles of employment only to now find himself director of his own company, trapped by the constraints of running a business. "For a while it was hard" he admits, "I never planned for Art Below to last as long as it has. It started out with a laptop and a phone but as soon as the banks got involved there were suddenly debts to pay and the only way to stay afloat was to keep the business running. It was a sort of spiral really". But today, the project is going from strength to strength, now established in Tokyo and Berlin and fast developing links in Paris, Hong Kong, Stockholm and Dubai over 800 artists have displayed their work to tens on millions of commuters thanks to Art Below.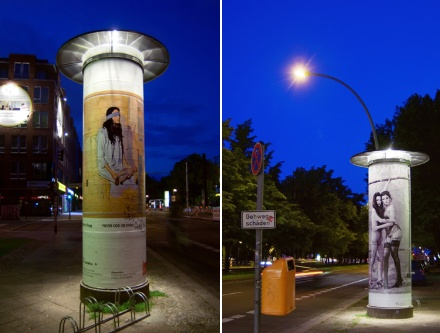 "There was a time when I saw the business as a trap I couldn't escape from, it's now developed into a social enterprise with so many exciting projects lined up. It's exactly the direction I want it to be going in. I couldn't be more excited about the future for Art Below". It is this element of social engagement that lies at the very heart of the enterprise. Art Below continues to develop a public gallery space in major London subway stations, abolishing the general public perception that art belongs in distant, high brow spaces.
The idea of 'Turning Ad space into Art Space' first arose between Ben and his brother Simon several years ago when Simon was working at a spatial imaging firm, developing 3D advertising visuals to be displayed on the tube. The brothers became impassioned by the idea that the public underground was the ideal space for artists to present their work to wider audiences, capturing the attention of thousands of busy commuters each day.
With space in major stations all across London including Bond Street, Old Street, Liverpool Street and Angel, the project offers creatives the opportunity to display their work regardless of their status in art world. Ben firmly believes that when it comes to displaying their art, people should never be told 'no'. By paying for a space it's theirs to do with as they please. "But what if someone submits something truly awful, would you be happy to display it despite the associations it will have on your brand?" I inquire. "It's not my place to tell them no", Ben answers…"of course, if someone sends me something truly awful, I'll often have a scout around their website for something better and subtly suggest they submit that instead!"
So, regardless of talent, if you've got the money any artist can display their work on the Underground. The set up certainly breaks down the traditional barriers of curation and selection that stands in the way for most artists to gain the exposure they crave and despite the lack of serious vetting; the quality of work has been extremely high caliber.
The long list of talented individuals assosiated with Art Below just highlights exactly how far this enterprise has come. Recently all over the papers for his guerilla graffiti antics on the ubderground, Banksy has been dipping his toes in the pools of the Art Below collective alongside other Urban artist greats such as Don, Goldie and Inkie.

It's not only Urban artists who are proud to display their work in the name of Art Below. Creatives from a whole range of disciplines including fashion, fine art, photography and design have all been involved. Notable names include Sarah Maple, winner of the 4 new sensations Saatchi Gallery prize, award winning fashion designer Ada Zanditon and photographer Johan Andersson.
Recently Art Below teamed up with trendy members bar The Hospital Club in order to launch a new public art campaign offering creatives the opportunity to win a display space in an illuminated lightbox at Bond Street's central line platform for one month. The last theme was 'Escape' (very appropriate considering Ben's emphatic quest for freedom!) and was won by the up and coming fine artist, Hannah Biscombe. Her winning entry is pictured below…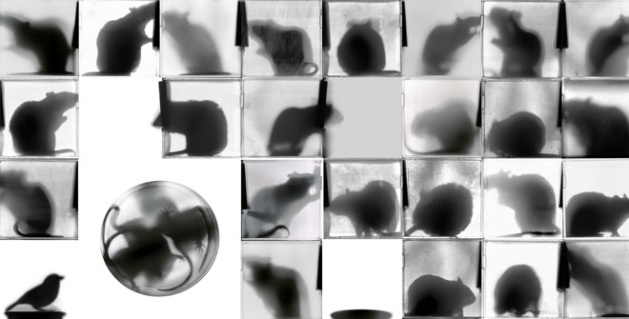 Art Below is a rapidly expanding and evolving enterprise; one which I hope will be around for a long time to come. With an enthusiastic and innovative entrepreneur like Ben running the show, there's no reason why it shouldn't be.
Keep up to date with all of art below's new projects by checking out the regularly updated website www.artbelow.org.uk
by Pippa Irvine
Categories
Tags