During the Other Art Fair a group of internationally renowned artists including Tracey Emin, Gavin Turk, and Jake and Dinos Chapman participated in a group show curated by Ben Moore fundraising for Parkinson's UK.  Each artist was given a resin mould of the human brain to embellish with their own distinctive style, creating a ready-made sculpture. The completed sculptures were displayed during the art fair,  together with limited edition prints for sale, before being auctioned off in early 2022 with all funds donated to the charity.
FAD sat down with British artist and curator Ben Moore. Founder of Art Below and Art Wars, Ben's projects are often collaborative and span across various themes including advertising, transport, and art in public spaces. He has worked on charity exhibitions with artworks stemming from a single object before, but this is his first time fundraising for medical research. He starts by highlighting the impact Parkinson's has in the UK:
"First of all it's important to mention that 100% of the proceeds of all the brain artworks goes directly to Parkinson's UK charity to further the research of the mystery of the fastest growing neurological condition in the world. The science and scientists have still not quite figured out what's causing it and therefore continue to struggle with finding a cure for it."
 What informed the choice of artists for this project?
"In my approach to selecting artists for a charity exhibition, ultimately I am aiming to attract and secure artists who will raise the highest prices at auction as well as raise the profile for the charity in a positive and engaging way..artists that can basically do both of these things. A lot of the artists in this exhibition are artists I have worked with previously on similar charity exhibitions where we give artists an object: like in 2019 for the 50th anniversary of the moon landings we gave artists astronaut helmets, and in the case of Art Wars we gave them Storm Trooper helmets. So a lot of the artists were already familiar with the timelines and concept of taking an object and putting their iconic trademark style onto it. The works are instantly recognisable as the artist's work, for example when you look at Emin's, it's very typical of her work (she often uses writing in her work) and is actually instinctive with how she spontaneously applies paint onto the surface. The same with D*Face, who included his iconic angel wings and Bran Symondson who works with dollar bills a lot of the time, and Gavin Turk who frames his work in glass vitrines. [The show also features] some artists I haven't worked with before like Alex Echo, who is actually suffering from Parkinson's. I think it's really important that there is an artist who has a personal link to the cause."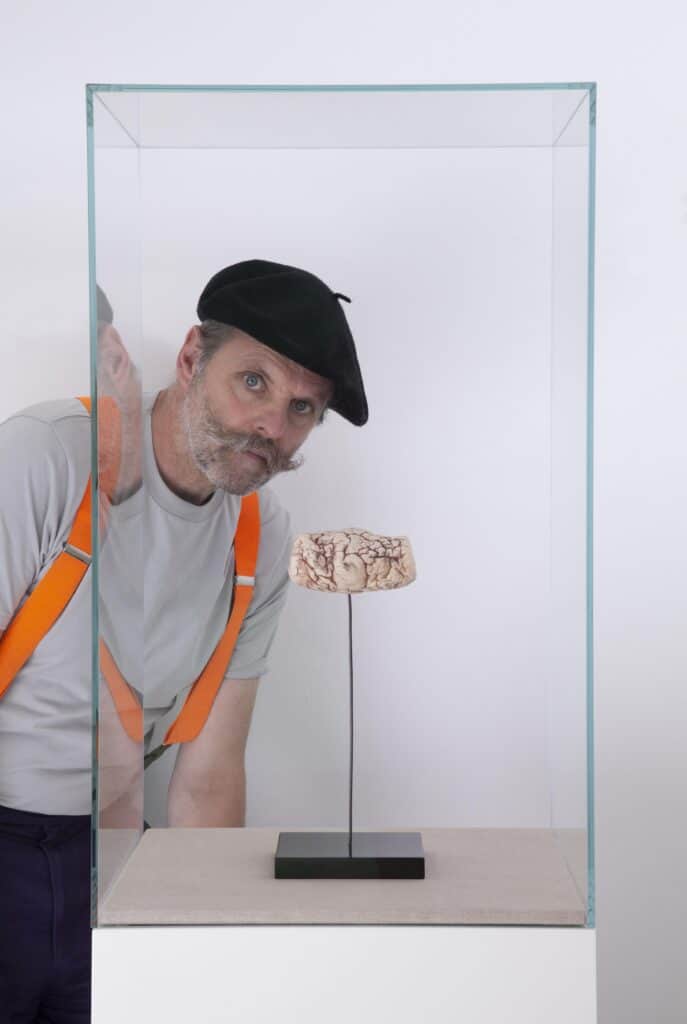 How has this impacted his production of the work?
"During this project, I worked with Alex Echo for about a 2 month period. Over those two months he would often share with me over email the kind of side effects and regular occurrences that were happening to him due to [his] Parkinson's. One of the main problems that he suffers from is falling over – he is a very tall man and would often stumble and fall as a result of Parkinson's, so he decided to exhibit his work as a plinth that has fallen over – so the plinth was lying on the ground and the brain was on the ground trembling. He fitted it with a battery and a little motor which vibrates every 10 seconds or so. People were often coming up to me and saying "one of the plinths has fallen over" and that was the whole point, he wanted people to think that it has fallen over and reflect on the problem that he suffers from, to channel it through his work."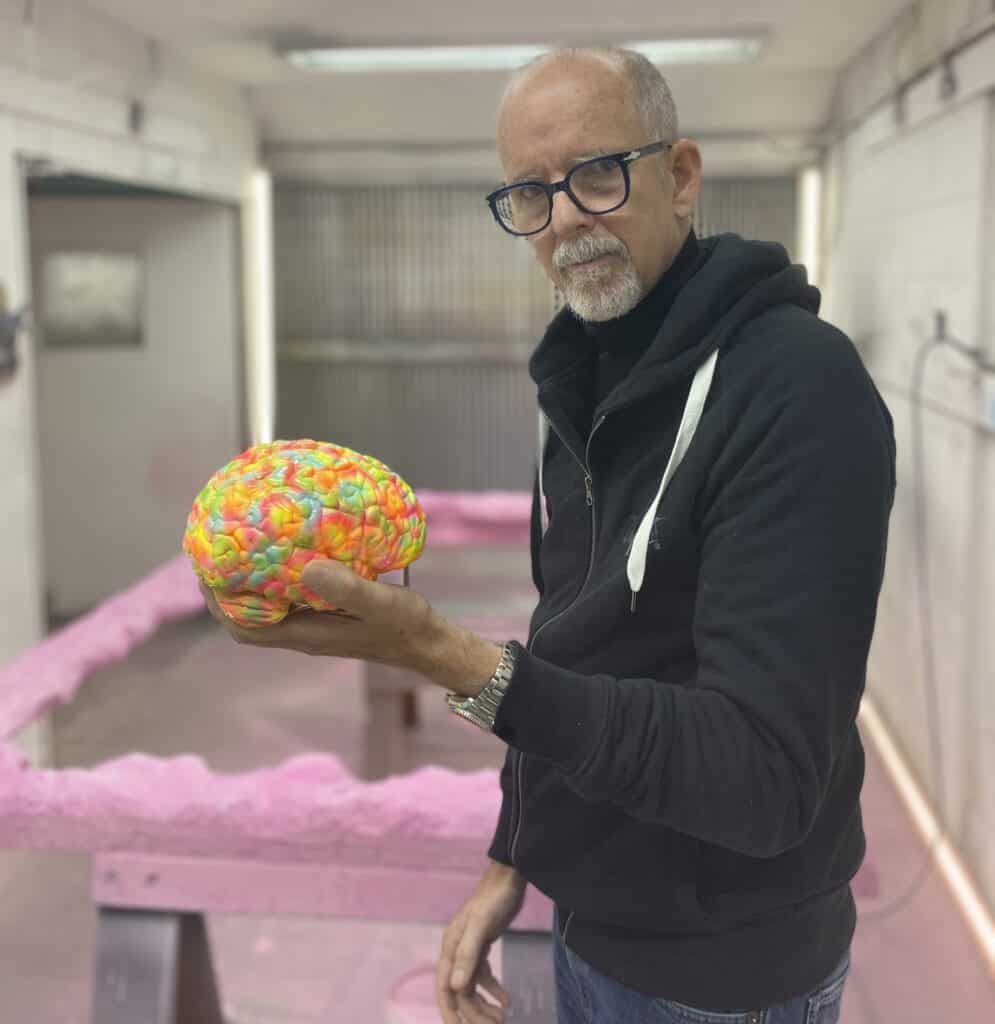 Tell me a little bit more about the decision to create 3D brain sculptures for the artists to work with, essentially visualising one's own brain. 
"My go-to man for making anything is Schoony, who comes from a film prop background and is able to conjure up anything that you ask him using 3D printing. We took the average adult human brain and measured it, and then reproduced it by 3D printing it. It took about two days to print the whole thing. We then made a resin cast of it and replicated it to give to [each of] the artists. Schoony is also an artist featured in the exhibition and 3D printed his own piece, unlike the other brains which are all resin casts."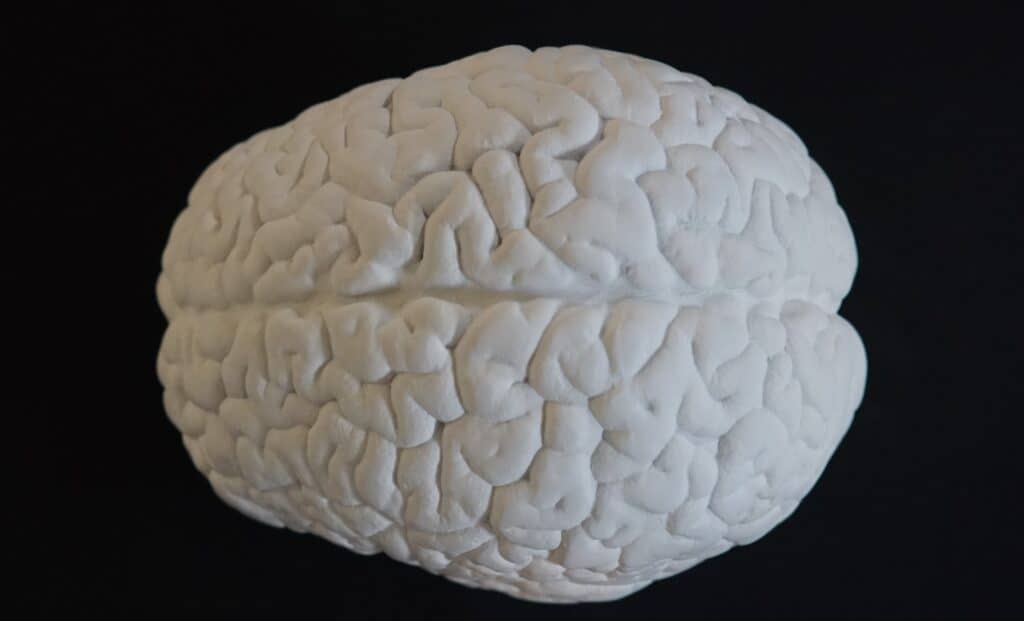 ABOUT THE OTHER ART FAIR The Other Art Fair, a leading artist fair for discovering emerging artists, provides a platform for artists to present and sell their work directly to art buyers both through in-person events and online. Each fair presents more than 90 artists chosen by a selection committee of experts, enabling both collectors and first-time buyers to purchase directly from artists themselves. Since 2011, The Other Art Fair has worked with over 3,000 artists from more than 20 countries, with fairs based in the UK, US and Australia. Unlike "other" fairs, The Other Art Fair creates an accessible and open fair designed for visitors to enjoy an interactive and immersive experience. www.theotherartfair.com 
ABOUT SAATCHI ART Leading online art gallery Saatchi Art features one of the world's largest selections of original art and allows people all over the world find art and artists they love. The online art gallery offers original paintings, drawings, sculptures and photographs by over 100,000 emerging artists from over 100 countries. Saatchi Art is redefining the experience of buying and selling art by providing art lovers with free art advisory services and an expertly curated selection of art, while giving artists a convenient and welcoming environment in which to exhibit and sell their work. www.saatchiart.com
Categories
Tags