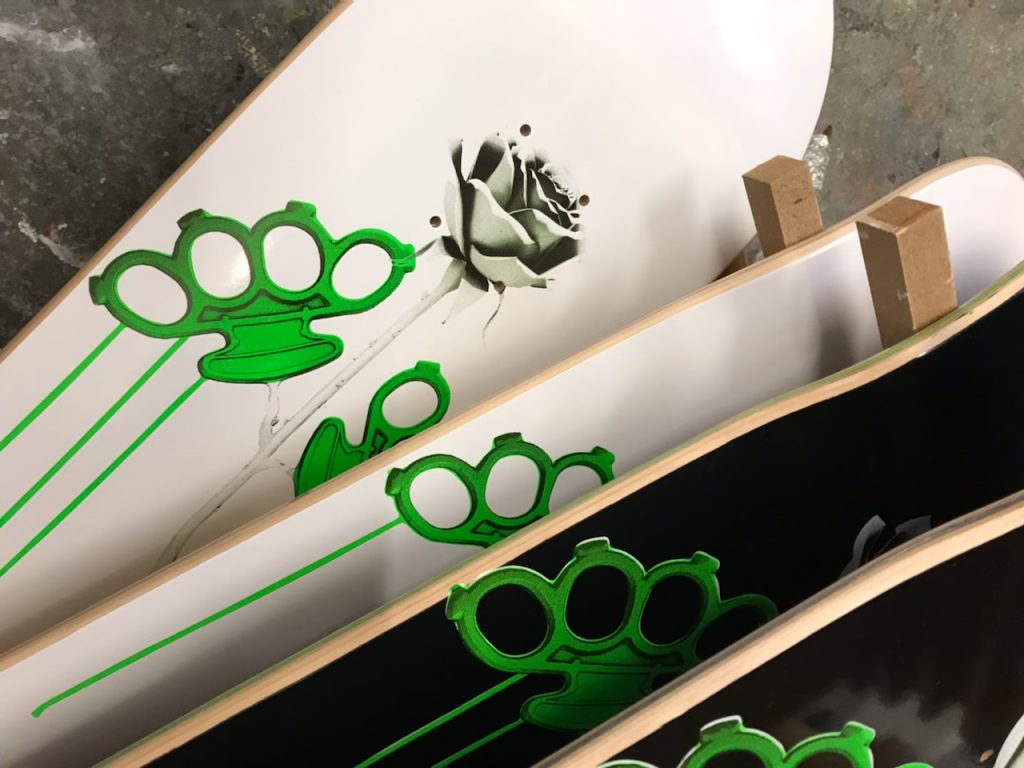 Kicking off the inaugural launch of the Clown Skateboard Guest Art Project is a seminal figure in the landscape of urban contemporary art. Esteemed Paris based artist Ludo (Ludovic Vernhet) juxtaposes the beauty of the natural world against darker forces, with his detailed drawings revealing a new order of hybrid organisms and contrasts. His signature style of black, white and neon green is seen over this first drop from the Guest Art Project.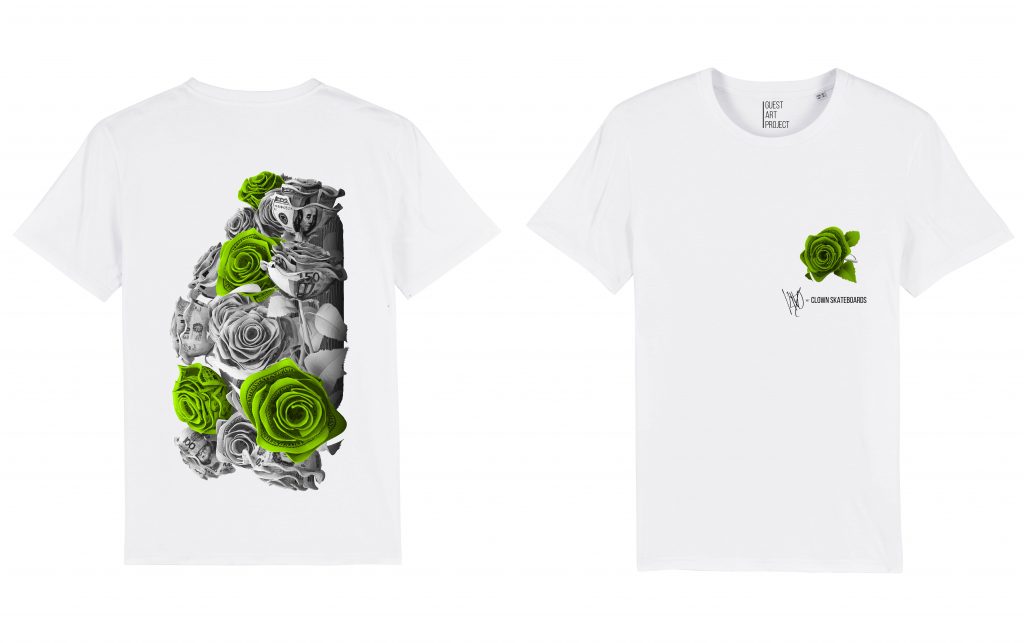 The Ludo Guest Art Project consists of boards and T-Shirts full details at clownskateboards.com/guest-art-project release March 4th
Only 80 sets will ever be made in this series with 70 being made available to the public for a limited time only. The boards are produced in the UK and all hand applications will be conducted in a small UK print studio by our resident master Tommy. As each diptych is unique, a COA will be supplied to coincide with this and each board will come with a top print Ludo with Clown Skateboard signature.
About the Artist
The work of Paris-based Ludo (Ludovic Vernhet) explores a world where biotechnological chimeras offer to merge plants and animals with our technological universe.
Through his work, Ludo aims to reveal the opposites that cohabit our world, often taking unlikely pairings to absurd lengths. These dualities are reconciled by the artist through the creation of hybrid organisms.
Drawn with the precision of botanical illustrations, this new order of hybrid organisms is both elegant and ferocious, simple & sometimes caustic. Butterflies become brass knuckles; carnivorous plants bare rows of hunting-knife teeth; bees hover hidden behind gas masks and goggles; automatic weapons crown the head of sunflowers; human skulls cluster together like grapes.
As a protean figure of contemporary creation, Ludo expresses himself in various media, locations and sizes, including giant murals on the walls of streets worldwide, and gallery and museum exhibitions presenting installations, canvas, drawing, sculpture and photography all with his signature style of black, white and neon green.
In 2017 alone, Ludo presented a reunion solo show at Paris' esteemed Magda Danysz gallery, was recognised as a key figure in the landscape of urban art through the creation, exhibition and acquisition of a new sculpture in the permanent collection of the newly established Musée Urban Nation in Berlin, and as a continuation of his "Ephemera" project, created of a new large-scale installation in the middle of Guangzhou, China's second most populous city, an endeavour supported by the governments of China and France.
Regardless of the medium or technique used, Ludo's work provokes the enthusiasm of international collectors, galleries and museums worldwide. Of particular note, Ludo has exhibited at the Shanghai Power Station of Art Museum, CAFA Peking & Centre Pompidou Paris.
About the Clown Skateboard Art Project
The Guest Art Project will see four artist partnerships taking place throughout 2021, with each artist creating a brand new series of specially designed Clown skateboards.
Each release will be strictly limited, hand developed and will come with a Guest Art Project Certificate of Authenticity signed by the artist, Clown and the makers. A minimum of a third of all profits will be reinvested to help support social the skate community, through kit donations, funding of social projects and mentoring through the CIC arm of Clown Skateboards 'In Action'
Categories
Tags