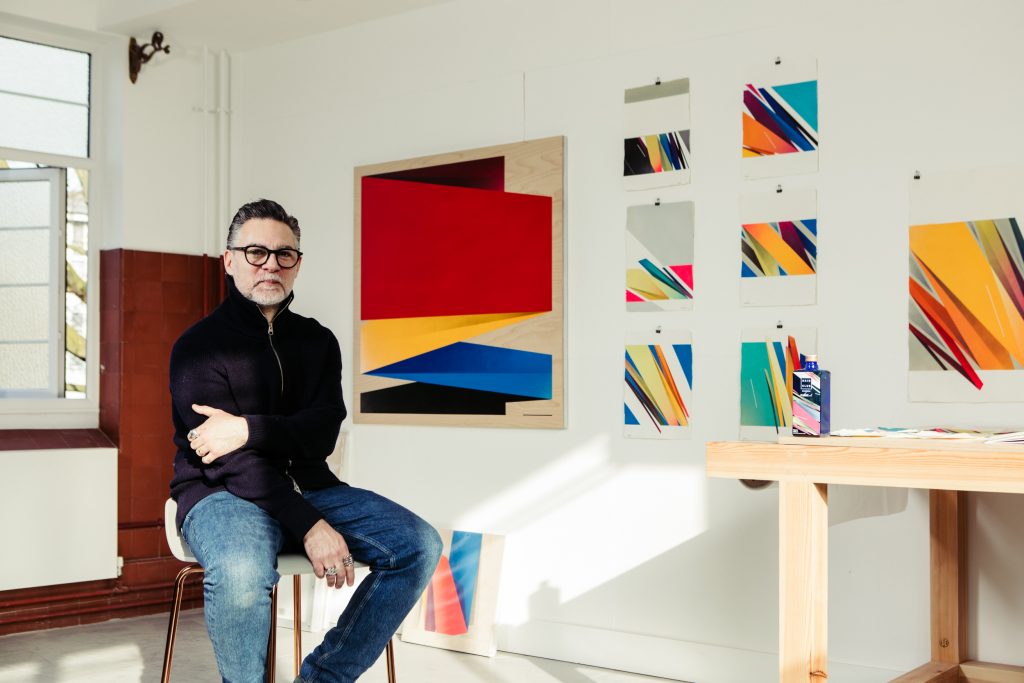 Having kicked off with D*Face and Bradley Theodore Haig Club continues its collaborative releases by uniting with global artist and FAD friend Remi Rough for its latest partnership. We managed to get some question time with him ahead of the limited edition bottle release (this Thursday) to talk about the project, art and music during lockdown and his Fantasy Projects initiative.
Remi can you give us a quick overview of your art practice
I guess originally it started with the book Subway Art and graffiti artists like Dondi, Kel and Mare139, then I discovered more left of field graffiti artists like Futura and Juice 126 who influenced the way I worked immensely. Much later I discovered Malevich, Van Doesburg and Mondrian.
A pivotal moment for me in becoming an abstract painter was standing in front of 'Full Fathom Five' by Jackson Pollock at Tate Britain in the early 90's and knowing that I simply wanted to make art for the rest of my life. As far as my practice is concerned it's mainly studio-based and I deal with the math of painting composition and colour. I do a lot of murals externally but they all originally stem from what I create in the studio.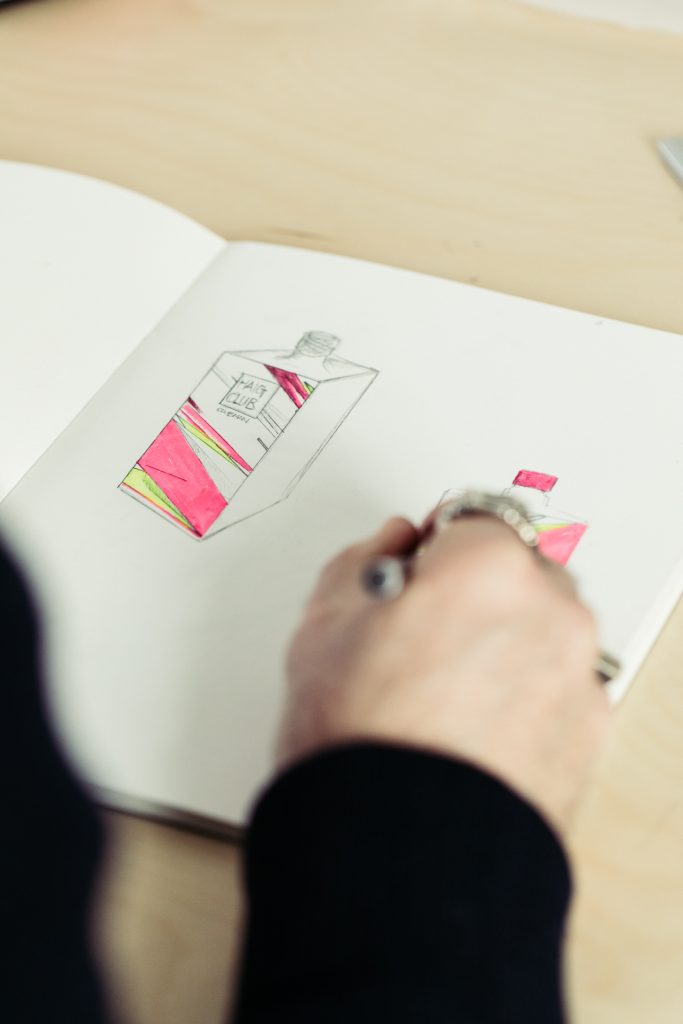 How is the process you followed to produce this work for the limited-edition Haig Club bottle different to some of your larger canvases?
I started working on ideas on paper and then began to transfer those ideas into Adobe illustrator as I wanted the end result to be super sharp and clean. I guess the difference is that the bottle is more contained and you can't hide any flaws within it. I realised that at an early stage and knew I had to really push to make it work on the front of the Haig Club bottle… I am very happy with the result though. Having less space to work with and knowing you have to fit the artwork around text and a logo can be challenging sometimes but I'm quite partial to a challenge…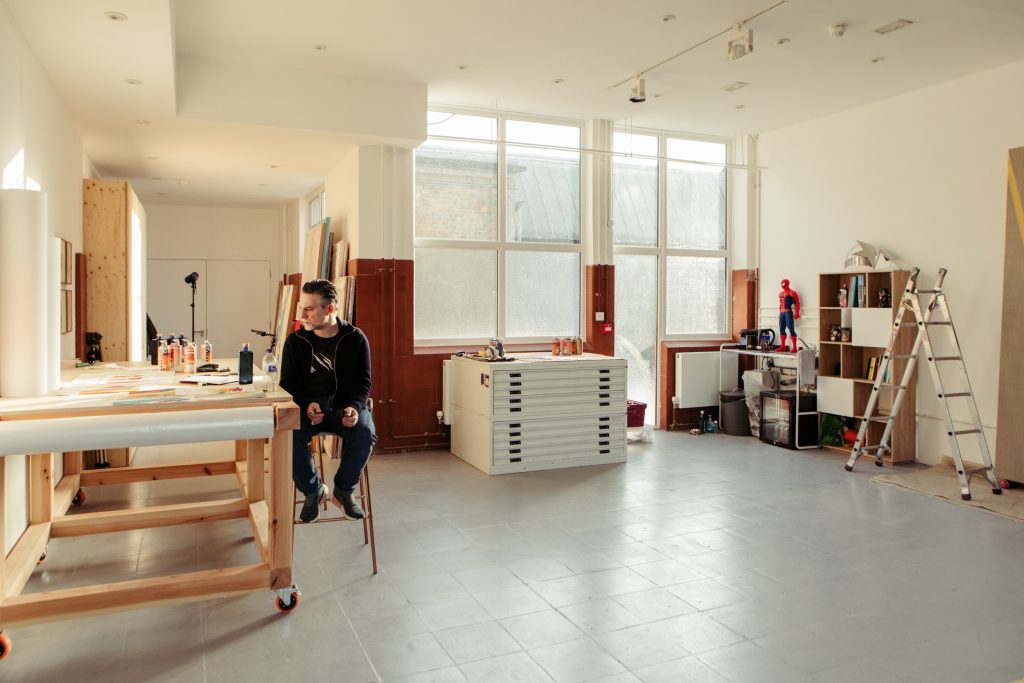 How has COVID affected your work? Have you been able to access your studio?
I am very lucky, I moved studio in September into a much bigger space and it has really allowed me to look at what I'm doing a lot more. My studios are open and so I have been making a huge amount of work over the past year. I even managed to have a major show at Kronos Gallery in Trento, Italy and actually be there for the opening which was amazing!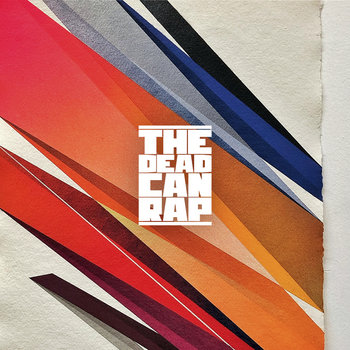 Also, you put out some music during lockdown how did that come about?
I have been making music forever and have been in various bands since I was 18. But my good friend and critically acclaimed musician; Mike Ladd and I had been working on TheDeadCanRap album for about 18 months and we finally put it out on DefPressé Records in December just gone… Shame we can't do an album launch or any shows right now but we did get four stars from Mojo Magazine and a rave review from The Wire Magazine so it isn't all bad. The album also features Nosaj, Open Mike Eagle and Malik Ameer and has been described as "Reminiscent of 'Kid A' Radiohead meets Wu-Tang." Which made me and Mike very happy. I also put out a solo album on my own name called 'Sonic excursions' and did a really fun musical collaboration with a Manchester band called Bodies UK whose music I really like.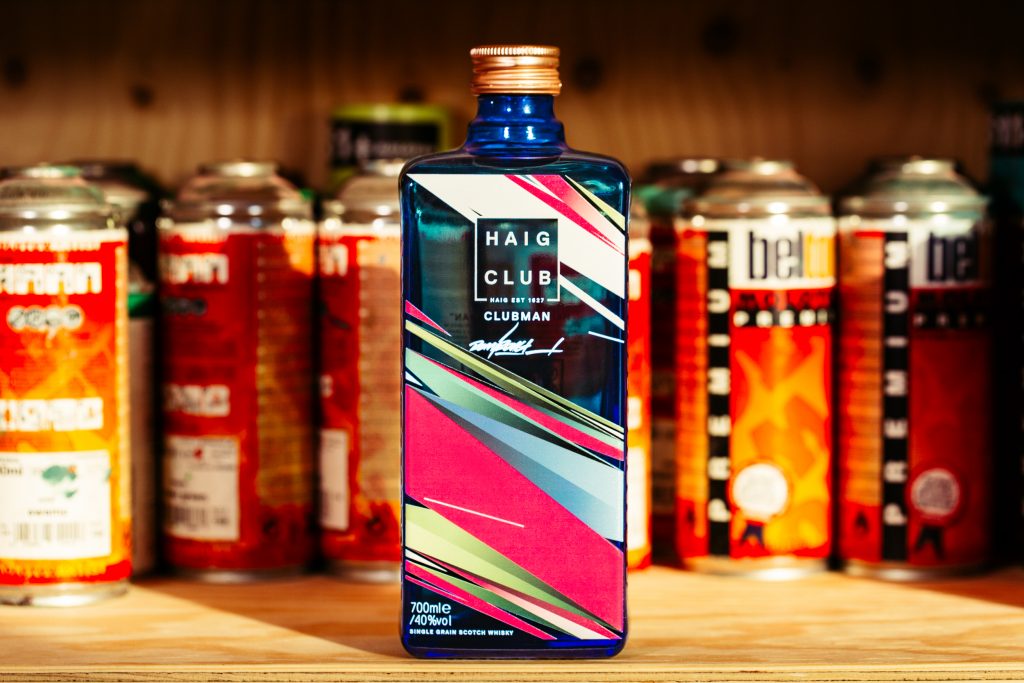 Your abstract style and use of colour seems to have worked really well with the Haig Club bottle does the fact it's quite square work well?
I got even more excited when I saw the actual bottle and even with early proofs of the artwork, I could see this was going to be a really nice collaboration. I guess there is a nice sense of geometry on the bottle.

What was it like working with Haig Club?
Haig Club got in touch way back in the Summer and it sounded like a really interesting project plus I really like the other artists they were working with so, to be honest, it was an easy yes and they have been really cool to work with literally letting me get on with it in my own way. They were really open to some of the crazy ideas I initially had but with all projects like this, you soon find out what will work and what won't. It was interesting seeing how the world of Whisky brands worked as I didn't have any knowledge prior to this.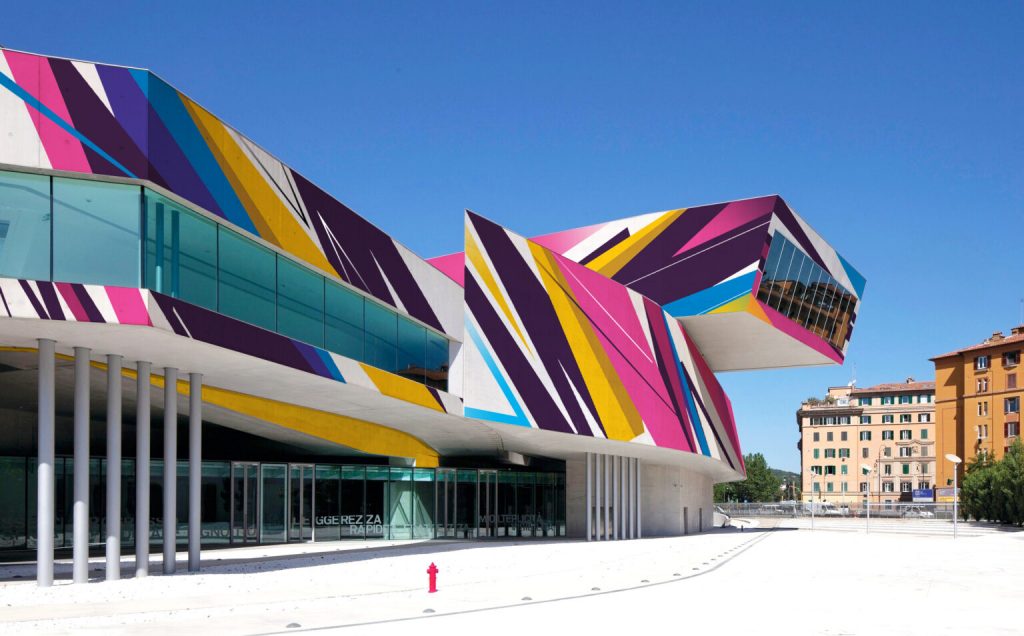 We see you have been pretty active on Instagram has this been a great way to keep in touch with your wider community?
I love Instagram and the connectivity you can have with it. Probably the biggest thing I have done during this entire pandemic was my Fantasy Projects which really seemed to capture people's imagination. As no one is really painting many murals at all lately I made 40 photoshopped renders on iconic and strange buildings I found online. It was a great way to engage and keep the art dream alive.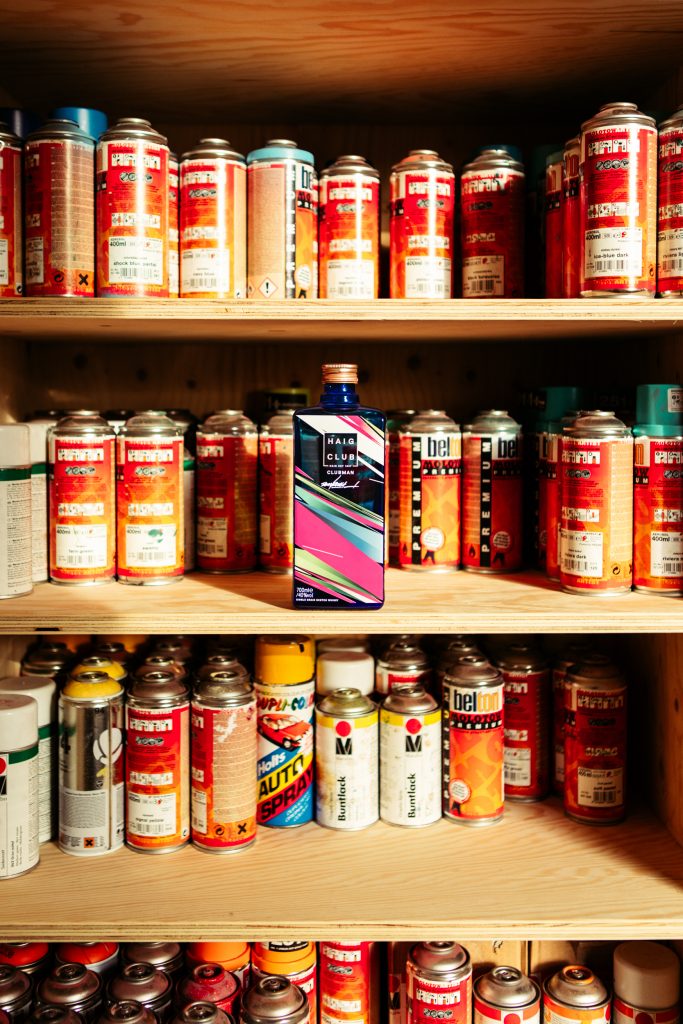 Final question – Do you, think collectors of the Remi x Haig Club limited edition bottle should buy two one to keep fresh and one to share with friends?
That's a tough question, there's only a very limited number available so I'd say buy one, enjoy it and keep the bottle and then there's still plenty for other people to get one too. It should probably be treated like a print release and only 1 print per person. I don't like to think of unfairness in these kinds of situations. Everyone should have a chance of getting one I think! (Nab as many as you can ed!)
The Remi x Haig Club limited edition bottle is available exclusively from Thursday 25th February at haigclub.com
You can also catch Remi Rough live in conversation with international art curator Fatos Üstek live on our Instagram @worldoffad from 6 pm Wednesday 24th – follow us to get notified.
About the Artist
Remi Rough (b. London, 1971) deals with visual semantics, distilling fragments of the world around him into powerful abstract compositions. Unlike 'pure' abstract painters such as Malevich and Mondrian, Remi's pseudo-sculptural paintings and large- scale murals are instilled with a 'street-wise' energy and tension born from early experiences as a young graffiti writer, painting walls and trains across the world. Those familiar with the almost impossibly intricate interplay between geometry, line and colour seen in late-80's 'wildstyle' graffiti will undoubtedly discover deconstructed visual clues to the artists schooling. Both colour and music have played important formative roles in the development of abstract art – Kandinsky is widely believed to have had synesthesia – and both Plato and Baudelaire wrote of the visual arts using auditory terms. The instinctive use of colour and geometric form in Remi's work can often result in what might be described as the graphic notation for some unseen urban symphony, such as in the visual scores of Hans-Christoph Steiner. It may come as no surprise then, to learn that Remi is also an accomplished music producer.
Categories
Tags