A group exhibition opening on 4th March at new West London gallery 99 Projects features several artists previously interviewed by the exhibition's curator in FAD column 'The Upcoming' – Kay Gasei, Sarah Emily Porter, Redbellyboy, Poppy Lennox, Yurim Gough, Josephine Zentner and Eva Yates – alongside more established artists including; Ann-Marie James, Bruce French, Kristjana S Williams, Lauren Baker, LUAP, Remi Rough, Trish Wylie and Aaron Bevan Bailey, and fine art photographers Misia-O' and Simon McCheung. The 99 Projects gallery space was designed by Newman Zieglmeier architects and the light-filled gallery is a perfect venue for 'Rebirth'. 
Lee collaborated with 99 Projects director Frances Casey on the exhibition, which features paintings, limited edition prints, photography, sculpture and ceramics, all related in some way to the theme of 'Rebirth'. Several artists have made new pieces for 'Rebirth', including; a new neon 'The Answer is Inside' by Lauren Baker; Kay Gasei's new painting The Prophet, and a new abstract canvas by Bruce French. 
Some of the artworks on display will be exhibited for the first time in the UK, including; two photographic prints by Misia-O', winner of the 2021 Salon des Beaux Arts Prize, from her Different Shades of Yellow series shown at les Rencontres d'Arles last year; two wall-mounted ceramic pieces by Yurim Gough, who will have a solo exhibition at APT gallery this May, and is also exhibiting in a major museum show at the Fondation d'entreprise Bernardaud in Limoges (opening in June); and Straight Talkin', a painting by Remi Rough which relates to the special edition artist label commissioned by David Beckham for his Haig Club Whisky brand. 
Lee and Frances are donating 10% of sales from the exhibition to the charities Macmillan Cancer Support and Choose Love. Since Russia invaded Ukraine, Choose Love have set up a Ukraine fund, so the Choose Love donation will be donated to the Ukraine Crisis Fundraiser: https://bit.ly/3hriF5Y
The artworks selected by curator Lee Sharrock for 'Rebirth' are a reflection of either; a creative rebirth; a renaissance in creative output born from a period of hibernation and introspection; a spiritual rebirth; a sexual rebirth; recovery from an illness; a rebirth of studying, reading and learning; a period of new life, growth or activity; a cognitive or psychological rebirth; or a reinforced appreciation of natural beauty and the life cycle of fauna and flora.  Here, some of the artists explain how their work relates to the theme of 'Rebirth'.
Sarah Emily Porter
"Born out of a period of introspection harboured by the pandemic, 'Sudoku No.4' takes the mathematics of a Sudoku – a puzzle I completed daily in the back of the Metro newspaper as I commuted pre-pandemic to and from my studio – to create an equal, but random distribution of colour."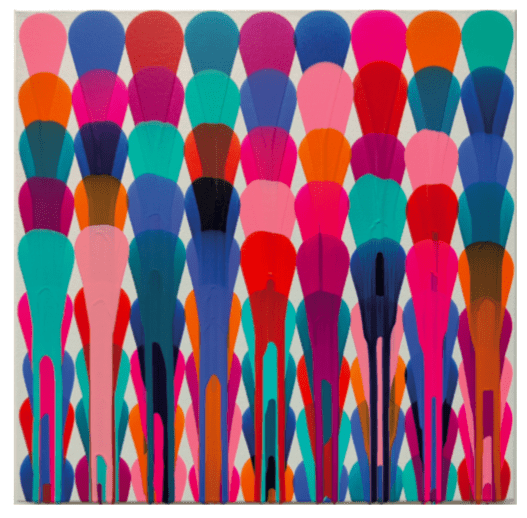 Sarah Emily Porter 'Sudoku No.4', 2021
Kay Gasei 
"My piece "The Prophet" is based on the book 'The Prophet' by Khalil Gibran, it's meant to invoke the same or at least similar feelings I felt when I first read it. Ascension and the possibility of falling, failing even, I tend toward more dialectic interpretations in my work not wholly resigning to one train of thought. The character is rising out of a darkness in himself, his soul in bloom, a renaissance of self. Hopefully this comes across."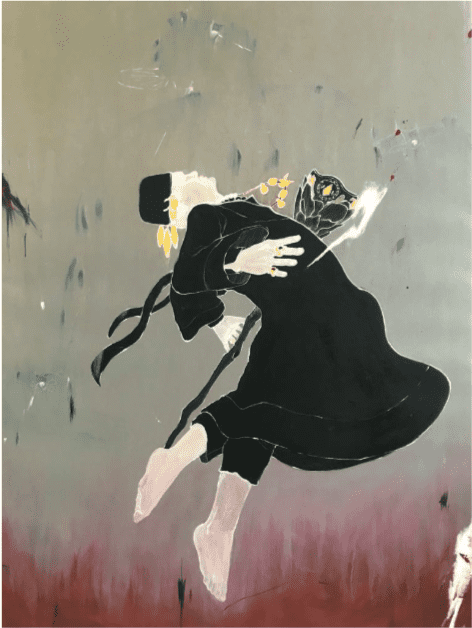 Eva Yates
"My painting in 'Rebirth' is a contemporary version of the myth of Narcissus, who perished beside the pool of water where he had beheld his beautiful reflection. The nymphs and the spirit of Echo, the nymph who died of a broken heart over Narcissus, mourned him every day since his demise. Overwhelmed by his beauty, they forgave the egotistical way in which Narciussus had toyed with them and shunned them. So every day they watered the Narcissus flower that had sprung up in his memory and watched it grow ever more beautiful."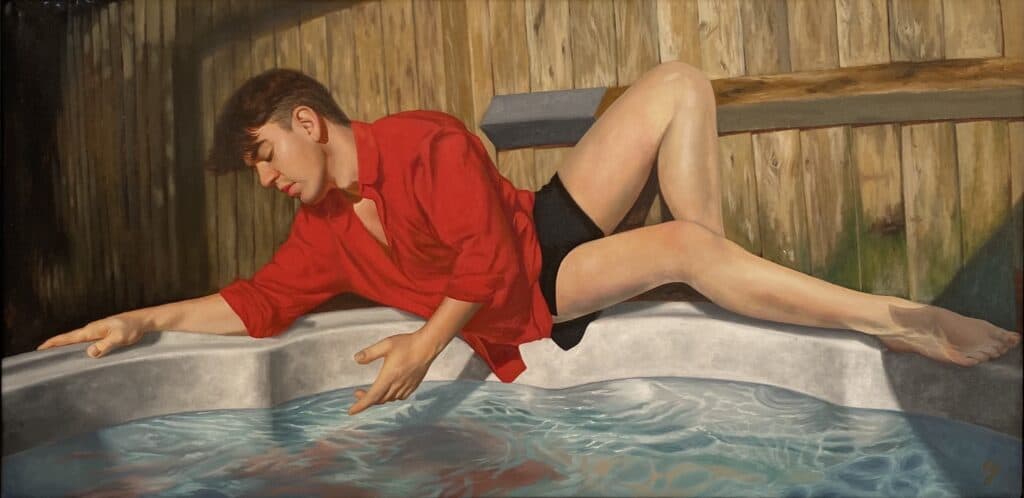 Poppy Lennox 
"'Tinea' presents the geometric form of a moth, and in the artwork I fuse together elements from different species into one imagined creation. The moth – metamorphosing through its various stages, transforming again and again until its final fleeting form is realised – is the ultimate symbol of rebirth and resurrection."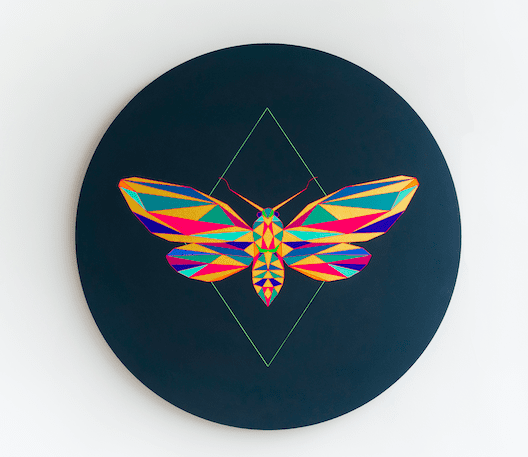 Kristjana S Willliams 
"'Vor Blossoming' represents the rebirth of one of the most iconic early Italian Renaissance masterpieces – 'Primavera' by Botticelli, which has also inspired this artwork. 'Vor Blossoming' is a powerful modern interpretation in which iconic mythological figures are superseded by the triumph of fantastical nature."
Redbellyboy
"I became a Dad in February 2021. I wrote the text for 'You Are Loved' as cheeky, funny, heartfelt words of wisdom that I could pass on to my son. This is my attempt to reassure him, and my wife, that no matter what, they are loved. The piece symbolises not only the literal birth of my son, but also our rebirth as parents, and my rebirth as an artist because fatherhood pushed my words, style and view of what my art could do to another place."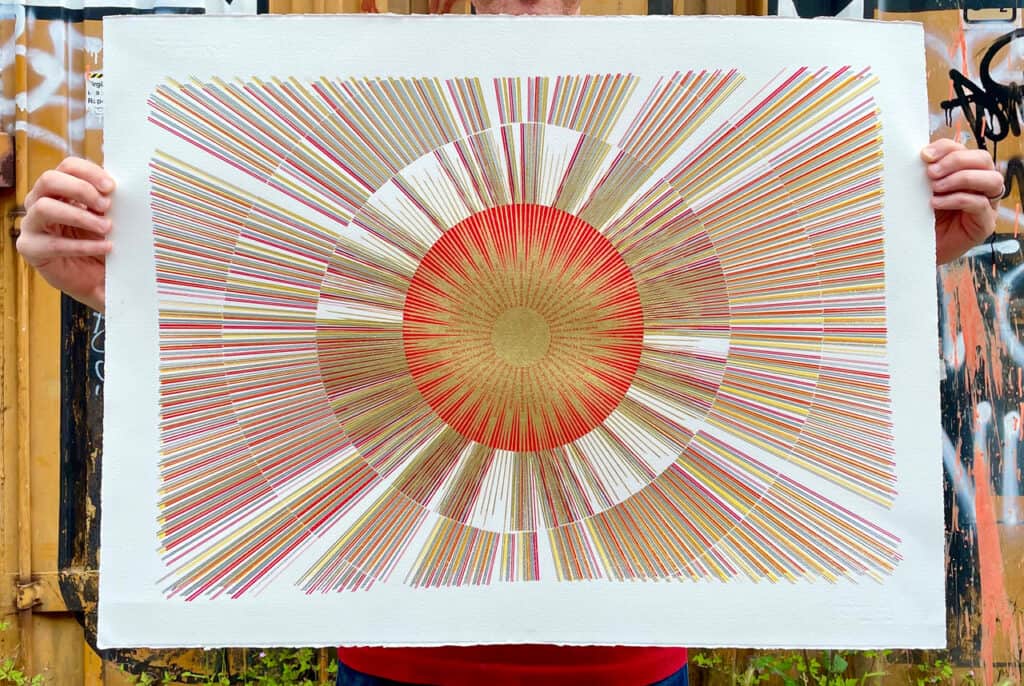 Josephine Zentner
"'Parlour Room' is a sultry evening scene, inviting the viewer to soak in the warmth of the desert at dusk, with furniture and a floral arrangement that looks like it came out of a Manhattan apartment. Every day is a fresh start, and I find that this rebirth begins at sunset; the winding down of the day inspires the intentions of tomorrow."
'Rebirth' is at 99 Projects, Kensal Rise, until 27th March.
Categories
Tags