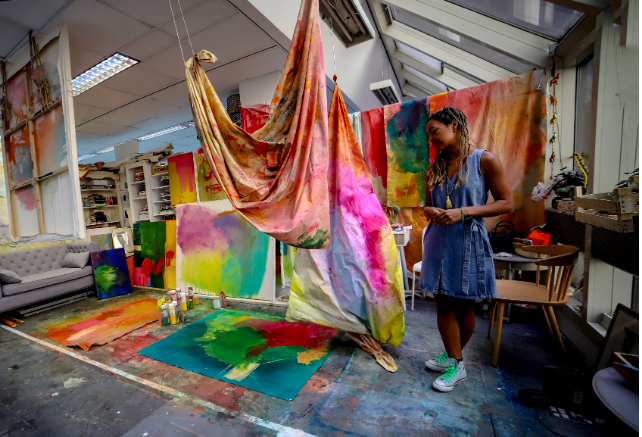 We caught up with artist Crystal Fischetti ahead of her upcoming exhibition Hello Again! at Grove Square Galleries.
You have an interesting process/practice – could you give us an overview of how you produce work and what inspires you?
My personal life experiences, the highs and lows. I also love to travel and meet and speak with different indigenous cultures. I usually start on the floor of my studio or if I am travelling, on the beach floor. I love to paint sitting down and on the ground. I then stretch the material (cotton duck, cotton bed sheets, calico, over the stretcher frame and start hammering and stapling away. I do a mini work out at the studio! It was interesting with a fractured toe for 7 weeks!
There is a lot of movement when I work. I then continue soaking mediums on the painting. These are often natural pigments, botanicals, acrylics, oils, wine, coffee, you name it! Painting is a form of communicating and a very natural human expression.
I often turn the painting upside down, unstretch it, hang it from the ceiling or hook it as a drape, walk over it, sit on it and start all over again until I feel it's complete. I prefer to work with the 'one shot' philosophy. At the end of a studio day I feel very tired as I offered a little bit of my soul magic in the work. Painting is alchemy to me.
What's the significance of the number 36?
My age currently. Numerologically based on Ayurveda it adds up to number 9 signifying hard lessons learnt. I am now in the beginning of a new Karmic Journey in life. The show runs through and into my birthday month of February where I will be feeling the energetic completion adding up to 10: 37 years.
A Shaman is a person "regarded as having access to, and influence in, the world of good and evil spirits. Typically such people enter a trance state during a ritual, and practise divination and healing." How has this experience manifested itself over COVID and have you been healing?
Healing is about facing your Shadow. Dark aspects of the ego will show up and come up to the surface to either be addressed or readdressed if the lesson was not learned the first time. Sometimes, yes it can be scary and really difficult to deal with. Sometimes 'evil spirits' appear… I have cut off low vibrational energies connected to certain individuals who also include false friendships and partnerships. These were people who have either wanted to get something out from me or who themselves had not done the spiritual inner work to heal their own traumas.
Empaths often attract narcissists but setting and asserting boundaries is key to a healthy life. You can't save people. You can guide and pray and be yourself.
I am a healer, I heal people who wish to be healed. I work with my ancestors in Spirit for protection and illumination. I do not dabble in the dark arts. There are many who do this to get what they want based on ego and fear. I deal with Light and upliftment. My services include and are not limited to cartomancy readings, energy work through light reiki and guidance through conversation. I have an account on instagram called @abstract_medicine for more info.
As a Psychic Medium the information from The Great Spirit comes to me in many different ways. I have psychic knowing, seeing, hearing and awareness. It does not take much for me to 'suss someone out and their true intentions'.
Basically I am the bridge between the physical and spiritual realm and I am very grounded. I like to be around people who uplift me and who I uplift. It has taken a lot of Shadow Work to know and accept myself and Self. I love life and have no regrets. Everything is sacred.
You are British, Italian and Colombian – is any particular nationality important in your art practice or are they all as important as each other?
I was born in London. My father is Sicilan and my mother is Colombian. When you have a delicious meal do you pick out all of the ingredients? All the parts make the greater whole. I speak and am these cultures mentioned.
Is humanity destined to destroy itself?
It depends on the perspective. A level of entropy is important for planets to evolve and for them to be created. Maybe we should be thinking on how we can actually be more in service to nature, wildlife and protecting our bees in England for example. Without Gaia we are nothing. Death of the Ego is necessary. A lot of people are waking up that superficiality is not who we truly are. Many breakdowns in marriages, relationships of all kinds are happening to put us on the right path. It's up to you to heed the signs.
Chop wood, carry water, chop wood, carry water – what do you chop and what do you carry?
Haha! I dedicate my life experiences and love for being human through the work I create. This is what I carry. I do this diligently and with joy. I pray that others feel uplifted when they see my paintings.
Enlightenment happens but then you must stay grounded. This is the Buddhist teaching. Being spiritual doesn't mean going to yoga at a studio and then being snappy with the waiter at a restaurant. How can you practice yoga off the mat? Life is about navigating and flowing with light and dark experiences and being cool to make mistakes, being courageous and being okay to think differently. I am not a saint but I do the best I can.
What have you been reading and watching during lockdown?
The Way of The Shaman, Michael Harner
Hippie, Paulo Coelho
Thus Spoke Zarathustra, Friedrich Nietche
Kama Sutra
Tarot and Astrology published by Taschen
Robbin Williams and Eddie Murphy Stand up.
Crystal Fischetti: Hello Again! 11th February – 9th April 2021 Grove Square Galleries www.grovesquaregalleries.com
About the Artist
Crystal Fischetti (b. 1984) is best known for abstract works which are a fusion of vibrant colours and gestural movements.

Influenced by the distinct styles and techniques of Abstract Expressionism, Fischetti draws on her South American and Italian heritage to create visually striking paintings, murals, installations and works on paper. Using a soak-staining method to apply paint to unprimed canvas, paper or linen laid out upon the floor, the resulting works resonate with the movement, energy and spontaneity used to create them; becoming life affirming records of her gestures.
Alongside her spiritual influences, Fischetti draws on her Shamanic birthright to conduct her life and work in accordance to the principles expressed in the philosophy of Paolo Coehlo and the psychology of Carl Jung; striving for balance, and treading a path of both mindfulness and authenticity in the greater pursuit of happiness. Each of her pieces are therefore inextricably linked to the artist herself, encapsulating her energy and invoking a moment in time.
Fischetti's artistic direction and choice of colour is additionally guided by her chromesthesia – or sound-to-colour synesthesia in which sound involuntarily evokes an experience of colour shape, and movement.
After attaining her BA in Fine Art and Art History from Leeds University Fischetti completed an MA Fine Art at the Chelsea College of Arts, London. Her work can be found is in the collections of MONA, New York, the San Diego Institute, San Diego, and Yue Hu Museum, Shanghai. In recognition of her achievements, Fischetti has been awarded multiple grants, awards and commissions; these include a project for British Airways First Magazine and the coveted Visa for 'Artist of Extraordinary Talent' by the U.S. Government.
Categories
Tags