Palais de Tokyo has invited Anne Imhof to realise an exhibition occupying all its spaces in the winter of 2021. This project continues a series of Cartes Blanches, beginning with Philippe Parreno in 2013 and followed by Tino Sehgal (2016), Camille Henrot (2017) and Tomàs Saraceno (2018) thereafter. Anne Imhof, whose international recognition includes the Golden Lion at the Venice Biennale in 2017, has exhibited at Palais de Tokyo as early as 2015 with DEAL, presented as part of the festival Do Disturb.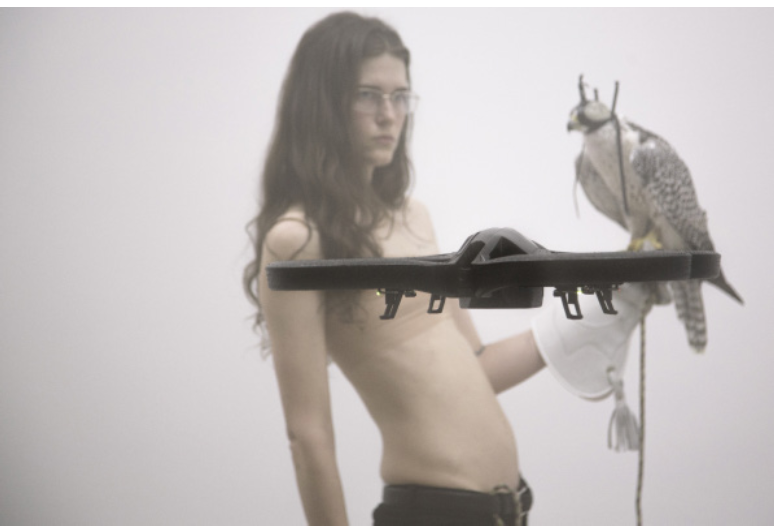 With this Carte Blanche, Palais de Tokyo wishes to highlight the amplour and protean character of her practice. For this rst large-scale exhibition in France, she will combine performance, painting, music and installation works. This winter, she will be stripping bare the spaces of Palais de Tokyo while inviting the public to a topographical experience, a spiral descent into the building's entrails. Anne Imhof will thus open up new perspectives onto the spaces, but also onto her practice, placing it in a broader aesthetic and conceptual tradition, which connects it to other historical and contemporary artists. Her own works will be put into dialogue with pieces by guest artists which will punctuate the show.
For her Carte blanche, Anne Imhof will create effects of resonance and duplication amid an open architectural space, transformed into a vast sonic body and an inhabited labyrinth. She deconstructs the hierarchical systems it embodies so as to generate new images in which the live, visual arts, music and architecture merge.
Curators: Emma Lavigne and Vittoria Matarrese
About the Artist
Anne Imhof was born in 1978 in Giessen, Germany. She lives and works in Berlin and Frankfurt (Germany). After studying at the Städelschule (Frankfurt, Germany), in 2013 she put on her rst solo exhibition "Parade" in Portikus (Frankfurt, Germany). Since then, Anne Imhof's work has been shown in particular at the Art Institute of Chicago (2019), the Tate Modern (London, 2019), the Hamburger Banhof (Berlin, 2016), Kunsthalle Basel (2016), the MoMA PS1 (New York, 2015) and the Carré d'Art Musée d'Art Contemporain in Nîmes (2014). She has also taken part in a large number of group exhibitions and festivals, including the MMK Frankfurt (2019 and 2014), Tai Kwun (Hong Kong, 2019), La Biennale de Montréal (2016), the Centre Pompidou (Paris, 2015) and the Palais de Tokyo (Paris, 2015)
Anne Imhof represented Germany at the 57th Venice Biennale in 2017 where she won the Golden Lion for the best national participation, thanks to her performance Faust. She has also been awarded the Absolut Art Award (2017) and the Preis der Nationalgalerie (2015).
Categories
Tags