Anne Imhof 24-hr print fundraiser for Ukraine- With the global presentation of YOUTH marking one year since Russia's 24 February invasion of Ukraine, CIRCA collaborates with Anne Imhof to present #YOUTH24 – a 24-hour print fundraiser aiding youth and the countless others affected by the ongoing war in Ukraine. Taking place on Friday, 24th February 2023, proceeds from this time-limited release will be donated to the United Nations CERF and Ukraine Humanitarian Fund.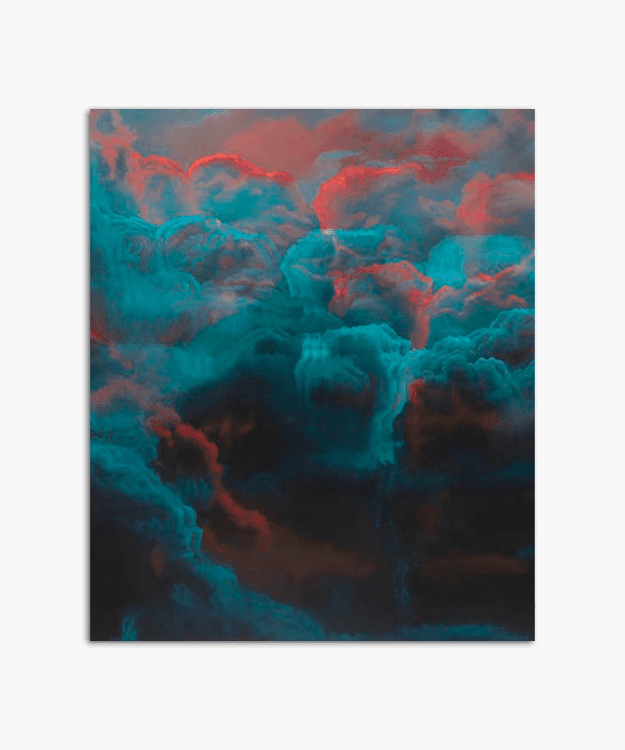 Imhof, an artist who draws on cultural history, from Greek mythology to underground culture, whilst examining the dynamics of power, notes:  
I hope this work will continue to move people and raise questions like what if freedom, hope and peace are possible? What if we start believing in it, because we all wish for it, and need it so bad? I hope the funds generated with CIRCA enable the United Nations CERF to provide aid and support to those in Ukraine. And I hope too, that this war ends soon. Thank you so much to everyone for your support.
A recurring motif in Imhof's paintings, billowing technicolor clouds creates a multilayered, three-dimensional effect that is translated into print form with four separate colour screens. The artist will hand-sign and personalise each lithograph print in the fundraiser edition with a hand-painted detail that is unique to each print. Coinciding with the one year anniversary of the Russian invasion of Ukraine, the 24-hour fundraiser launches on CIRCA.ART/YOUTH after an extended presentation of YOUTH on London's iconic Piccadilly Lights, Friday 24th February at 20:23. Discover more here. 
We are thrilled to collaborate with the CIRCA team and the passionate and diverse artists they represent. Thank you to Anne Imhof for supporting youth in conflict areas such as Ukraine through CERF. They need and deserve our solidarity and hope.

Lisa Doughten, Director, Humanitarian Financing and Resource Mobilization at the UN Office for the Coordination of Humanitarian Affairs
YOUTH was originally intended to be shown at the Garage Museum, Moscow, but was cancelled due to the start of the Russian-Ukraine war on 24th February 2022. Set in Moscow, YOUTH presents a group of horses running and communing together in an open field covered in freshly fallen snow. They seem to nurture one another, moving beautifully and freely through the natural environment to the baroque strains of J. S. Bach's St. Matthew Passion. ??As day moves slowly into night, the film reveals the site to be an urban one, a historic social housing development located at the edge of the city. Severnoye Chertanovo, which was built in the late 1960s, was developed as an experiment in mass housing after the Stalinist era. Humans are absent from the film, which touches on ideas of space, displacement and disorientation.
CIRCA 20:23 presents YOUTH by Anne Imhof coincides with the largest presentation of the artist's work in the United States to date and her first solo exhibition in Los Angeles at Sprüth Magers, on view until 6th May 2023. 
Anne Imhof has this rare ability to create works of art that reflect the hopes and troubles of our times. Coinciding with this one year anniversary of the Russia-Ukraine war on 24 February 2023, CIRCA is honoured to collaborate with Imhof to launch #YOUTH24 – a 24-hour print fundraiser, raising vital funds for our friends, United Nations CERF, supporting youth affected by this unjustifiable and inhumane war in Ukraine.

Josef O'Connor, Founder and Artistic Director, CIRCA
CIRCA 20:23 FEBRUARY PROGRAMME
YOUTH by Anne Imhof, 3 – 28 February, CIRCA 20:23
20:23 GMT London, Piccadilly Lights
20:23 HKT Hong Kong, CVISION – SOGO
20:23 CET Berlin, Limes, Kurfürstendamm
20:23 EST New York, Times Square,  EssilorLuxottica (3-15 February)
20:23 CET Milan, Cadorna Square, EssilorLuxottica
20:23 KST Seoul, COEX K-Pop Square
20:23 PST Los Angeles, Pendry W Hollywood (14-19 February)
Hourly PST Los Angeles, Marriott Live, StandardVision 
Hourly JST Tokyo, Shibuya Crossing (6-12 February)
The 24-hour fundraiser launches on CIRCA.ART/YOUTH after an extended presentation of YOUTH on London's iconic Piccadilly Lights, Friday 24th February at 20:23. Discover more here. 
Categories
Tags