The December edition of Art Basel's Online Viewing Rooms previews tomorrow December 2nd and will feature an international lineup of 255 leading galleries from 30 countries and territories across North and South America, as well as Europe, Asia, and Africa. The presentations will be accompanied by a program of online events, including talks and gallery walk-throughs. Local museums, galleries, and cultural organizations will host various exhibitions and activations on the ground during Miami Art Week. The Online Viewing Rooms will run from December 4th to December 6th, 2020.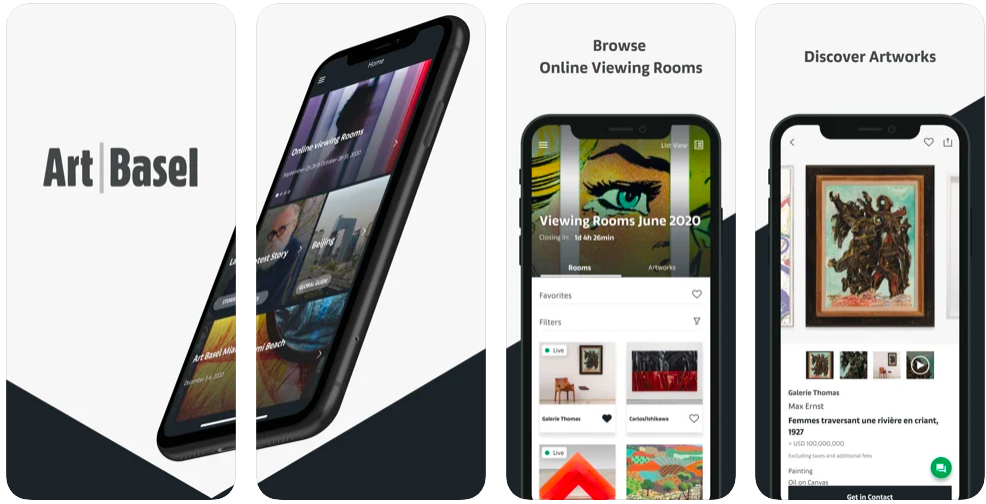 You will be able to browse 2,500 artworks including painting, sculpture, drawings, installation, and photography, as well as video and digital works.
Via the Art Basel website or the Art Basel App.
26 galleries will be participating in Art Basel Miami Beach for the first time: Mayoral from Barcelona; Galerie Knoell from Basel; Steven Zevitas Gallery from Boston; SMAC Art Gallery from Cape Town; Koppe Astner from Glasgow; Curro from Guadalajara; Arcadia Missa from London; Charlie James Gallery, Shulamit Nazarian, Park View / Paul Soto, and Matthew Brown Los Angeles from Los Angeles; Fernando Pradilla from Madrid; Maia Contemporary from Mexico City; Mignoni, Yancey Richardson Gallery, half gallery, Martos Gallery, and Kai Matsumiya from New York; Sultana, Polka, and Semiose from Paris; Central Galeria and Galeria Kogan Amaro from São Paulo; Bank from Shanghai; Galería Isabel Aninat from Vitacura; and Larkin Erdmann Gallery from Zurich. For the full gallery list, please visit artbasel.com/ovr.
Galleries across the world will showcase compelling solo and group presentations of new and historic works from their programs. From South America, Galeria Luisa Strina will present 'De Sur a Norte (From South to North)', a trip through the Americas, contextualizing contemporary Latin American art and celebrating Miami as the meeting place of this rich production. Participating artists include amongst others Anna Maria Maiolino, Fernanda Gomes, and Mateo López. Historic works by Faith Wilding and the late Tina Girouard will be brought together at Anat Ebgi. '10 artists | 10 films' by Fortes D'Aloia & Gabriel, a project exclusively developed for Art Basel's 'OVR: Miami Beach', will feature artist films spanning across the past decade, including new works produced in 2020 by Bárbara Wagner & Benjamin de Burca, Jac Leirner, and Tamar Guimarães, as well as additional works by Rivane Neuenschwander and Sarah Morris, amongst others.
Prometeo Gallery Ida Pisani's presentation will focus on two women artists – the Guatemalan artist Regina José Galindo and the Kurdish artist Zehra Do?an. blank projects will present a solo exhibition of Igshaan Adams' tapestries, whose practice combines performance, weaving, sculpture, and installation, drawing upon his background to contest racial, sexual, and religious boundaries. ROH Projects will present a site-specific presentation by Kei Imazu and Bagus Pandega that takes places in an abandoned shopping mall in Bandung, looking at the immediate implications of the global pandemic in relation to how spaces have changed in function and how these centers for human activity have decayed over time. White Cube will present an early installation by Tracey Emin, and a new torch down painting by Theaster Gates, amongst other works; Hauser & Wirth's presentation, both virtual and in the gallery's physical space, will focus on masterworks by modern and contemporary American artists including works by Louise Bourgeois, Philip Guston, and Simone Leigh. Richard Gray will showcase a varied selection of Modern and contemporary works by McArthur Binion, Roy Lichtenstein, and Joan Mitchell, amongst others. Gemini G.E.L. will present new editions by Toba Khedoori and Ann Hamilton, as well as recent work by Julie Mehretu.
'Our galleries across the globe are preparing thoughtful presentations of the highest quality for 'OVR: Miami Beach', and we look forward to showcasing them to our audiences next month. We are also particularly delighted to amplify the annual Miami Art Week this year through our digital channels, and hope 'OVR: Miami Beach' and the accompanying program will provide engaging opportunities for galleries, their artists, and our international patrons as we conclude this exceptional year.'

Noah Horowitz, Director Americas, Art Basel commented:
The Online Viewing Rooms will be available via the Art Basel website under artbasel.com/ovr and the Art Basel App on App store or Google Play
An events program hosted by the participating galleries will also
accompany the Online Viewing Rooms. The full program of talks and events is available on artbasel.com/events
Categories
Tags