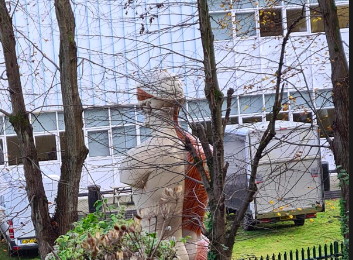 A new work from Damien Hirst has been observed at the Damien Hirst Science Studios in Dudbridge. The studio was completed in 2013 by UK studio Designscape Architects. One is an art production studio that appears to change colour from blue to green and the other is a glazed brick building designed for using toxic chemicals.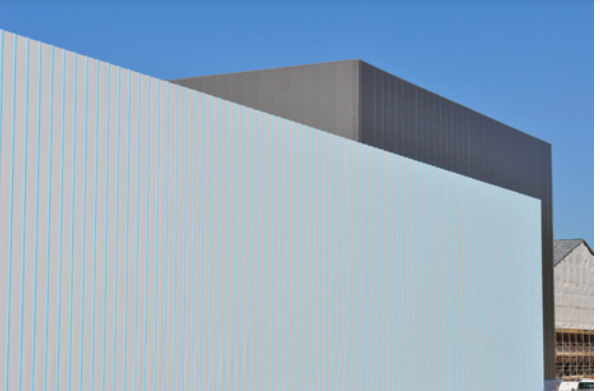 The Science Studio provides the British artist with a generous workspace, storage facility and private gallery for showing work to clients, while the Formaldehyde Building provides a controlled environment for working with chemicals, particularly the preservative previously used by the artist to create sculptures from dead animals.
The new artwork with tendons and skull exposed to the elements seem to be influenced by Hymn 1999 -2005 which is an exact replica of Humbrol Limited's Young Scientist Anatomy Set.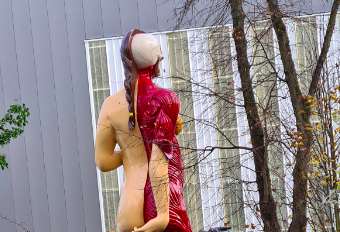 "Another model was seen among the trees, which appeared to be mid-lobotomy."
The art is a far cry from Hirst's most recent work raising money for the charity Save the Children, which featured bright paintings of abstract cherry blossoms.
Hirst was an influential figure in the Young British Artists Movement in the late 1990s, most famous for macabre exhibitions involving sharks and cows.
Earlier this year, the artist produced rainbows filled with butterfly wings in support of the NHS during coronavirus.
Via": Stroud News & Journal
Read more news on Damien Hirst here.
Categories
Tags