Frieze Viewing Room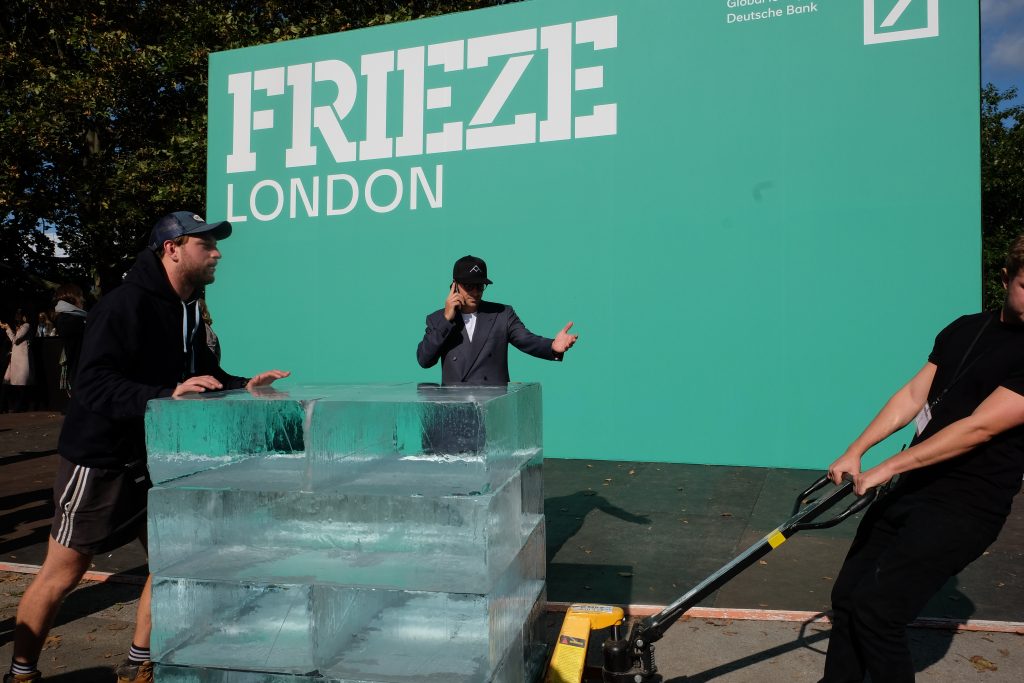 Massimo Agostinelli Freeze Intervention the artist deposits blocks of ice at Frieze London 2019
Frieze today revealed their plans for the upcoming edition of Frieze Viewing Room and Frieze Week in London in October. Galleries, artists, collectors, museums, institutions, audiences and partners will have the opportunity to connect through an innovative combination of online and offline programming. The second edition of Frieze Viewing Room will feature leading galleries' presentations of works, ranging from the ancient era to today's most exciting emerging and established artists, and take place alongside a Frieze Week programme of online and live exhibitions and events across the city. As a response to the ongoing COVID-19 pandemic, this new hybrid model combines the global online reach of Frieze Viewing Room with a commitment to the creative spirit of London.
Frieze London and Frieze Masters are supported by global lead partner Deutsche Bank, continuing a shared commitment to artistic excellence. A dedicated presentation, 'Taking a Stand: Art & Society' will feature artists from the bank's collection who use their creative platform as activism for different causes.
Victoria Siddall (Global Director, Frieze Fairs) said:
'This October, Frieze will continue to showcase galleries and artists from around the world, as well as to celebrate the unparalleled cultural offerings of London. While we will not be staging the physical fairs this year, I'm thrilled that so many galleries will participate in Frieze London and Frieze Masters on our online platform. Visitors will find the same commitment to quality and curated content that they would expect at our fairs, and those in London will be able to experience many of the most beloved aspects of Frieze Week – from Frieze Sculpture in Regent's Park to performance around the city to fantastic exhibitions in London's galleries and institutions. I'm looking forward to a week that not only delivers commercial success, but also fires imaginations and brings people and art together, both online and offline.'
With over 200 participating galleries from Frieze London and Frieze Masters, the second edition of Frieze Viewing Room will benefit from major new developments to the user experience. The app and web- based platform will be live from 9 to 16 of October, with invitation-only preview days on 7 to 8 October, and present an extraordinary cross- section of artwork originally intended to be shown at Frieze London and Frieze Masters 2020. Following the platform's successful launch in May, which saw visitors from 156 countries, Frieze Viewing Room has been developed to feature new functionality, including live chat and social media sharing, alongside the popular 'sign the book' and augmented reality (AR) capabilities. The digital venture will also showcase special gallery sections in line with the fairs' physical iterations, including:
• Focus, the Frieze London section, supporting the participation of galleries aged 15 years or younger and providing a platform for young talent.
• Possessions, Frieze London's new themed section curated by Zoe? Whitley (Director, Chisenhale Gallery, London) and centred around the power of spirituality in the art of our time
• Spotlight, the critically acclaimed section of Frieze Masters' dedicated to solo presentations by pioneering artists of the 20th century, curated by Laura Hoptman (Executive Director, The Drawing Center, New York)
The Frieze Week programme will launch Monday 5th October, taking place both across London and online and is set to feature leading artists, collectors and curators across a wide range of exhibitions, talks and events. An online guide to participating galleries, museums and partner organisations throughout the city will be published on Frieze.com with highlights including exhibitions such as 'Artemisia' at the National Gallery, Cameron Rowland at the ICA and Bruce Nauman at Tate Modern, as well as a new video commission for the Frieze Artist Award, 2020.
Frieze Sculpture: The celebrated public art initiative returns to London's Regent's Park, installing monumental works by leading international artists throughout the English Gardens. Taking place from October 5th – 18th, Frieze Sculpture 2020 will feature works selected by Clare Lilley (Director of Programme at Yorkshire Sculpture Park), participating artists include Lubaina Himid, Richard Long and Rebecca Warren, among others. The works included in Frieze Sculpture will also have a virtual presence on the Frieze Viewing Room platform, enabling audiences across the globe to view and interact with the works online.
LIVE: Frieze London's showcase for Live art will be curated by Victor Wang (???) (Artistic Director and Chief Curator of M WOODS Museum, Beijing). For the first time LIVE will take place at 9 Cork Street, where Wang, alongside a group of artists, will establish a temporary institute of sound and performance art inaugurated as the Institute of Melodic Healing, during Frieze Week. This theoretical institute, Wang explains, arises from the 'necessity to support artistic experimental development without defined outcome, to develop community by thinking through sound and body, and to remember, and amplify, what Stuart Hall called sonic culture'. The LIVE programme will include a series of live and online performances by artists and guests specially selected by the Institute.
Frieze Talks: The fair's acclaimed series of panel discussions, conversations and keynote lectures overseen by Dr. Nicholas Cullinan (Director of the National Portrait Gallery). A frequent participator in Frieze Talks, 2020 marks the first time Cullinan has curated the programme with highlights including a conversation with the luminary artist, writer and director John Akomfrah.
The Frieze BBC Radio 3 Debate: For the third year running Frieze will collaborate with BBC Radio 3 to present a debate focused on Museums in 21st Century, moderated by Anne McElvoy (Journalist and presenter of BBC Radio 3's Free Thinking). Previous participants have included Michael Govan (Director, Los Angeles County Museum of Art), Kennie Ting (Director, Asian Civilisations Museum) and Laurence des Cars (Director, Muse?e d'Orsay and Muse?e de l'Orangerie). The debate will be broadcast on BBC Radio 3's Free Thinking at 10pm BST on Thursday 8 October and then available worldwide as a BBC Arts & Ideas podcast.
Partner Institutions: The Frieze Tate Fund, supported by Endeavor, returns for its 18th year, continuing the fair's longstanding relationship with collecting institutions across the UK.
The Contemporary Art Society will be holding a breakfast discussion on 9 October on the vital role museums and galleries continue to play in their communities during the Covid-19 pandemic. Held at Cromwell Place, with a panel that includes museum directors, artists and collectors, this event celebrates the success of the Contemporary Art Society's Rapid Response Fund, in partnership with Frieze, which supports both artists and museums across the UK during the current crisis.
Camden Art Centre Emerging Artist Prize at Frieze: Now in its third year, the prize offers an invaluable platform to an emerging artist, presenting the winner with the opportunity to realise their first solo exhibition at the esteemed London institution.
Frieze is the world's leading platform for modern and contemporary art for scholars, connoisseurs, collectors and the general public alike. Frieze comprises three magazines—frieze, Frieze Masters Magazine and Frieze Week— and four international art fairs—Frieze London, Frieze Masters, Frieze New York and Frieze Los Angeles.
Frieze was founded in 1991 by Matthew Slotover and Amanda Sharp, with the launch of frieze magazine, the leading international magazine of contemporary art and culture. In 2003, Sharp and Slotover launched Frieze London art fair, which takes place each October in The Regent's Park, London. In 2012, they launched Frieze New York, which occurs each May in Randall's Island Park, and Frieze Masters, which coincides with Frieze London in October and is dedicated to art from ancient to modern. In 2018, Frieze announced the launch of Frieze Los Angeles, which opened February 14–17, 2019 at Paramount Pictures Studios, Los Angeles. In 2016 Frieze entered a strategic partnership with Endeavor, a global entertainment, sports and content company.
Categories
Tags