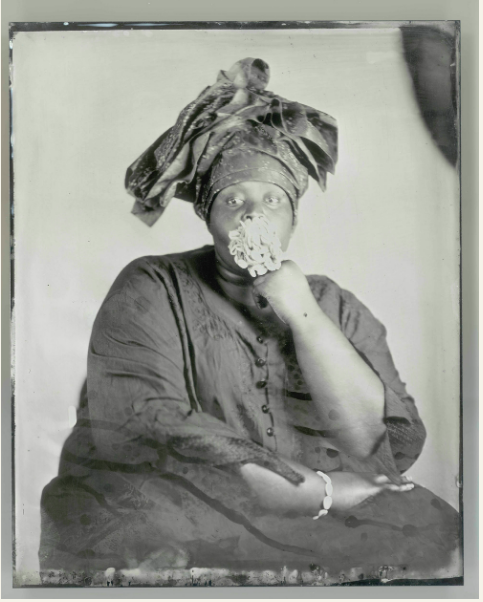 Peitaw 2017, Wet plate collodion tintype on metal, 250 x 200 mm Image courtesy the Estate of Khadija Saye
A new public art project, Breath is Invisible (7 July – 9 Oct 2020), launches today in Notting Hill with an installation of works by Khadija Saye, the young Gambian-British artist who tragically lost her life in the Grenfell Tower fire in 2017, aged just 24. Saye's is the first of three site-specific exhibitions that comprise the project; Martyn Ware, Zachary Eastwood-Bloom and Joy Gregory will present new commissions created in partnership with the local community.
Working collaboratively with young creatives and arts organisations in the area, Breath is Invisible was born out of an urgency to address issues of social inequality and injustice. Breath is Invisible is the brainchild of patron and businesswoman Eiesha Bharti Pasricha and is curated by Sigrid Kirk. The project was launched by David Lammy, Labour MP for Tottenham and Shadow Secretary of State for Justice, who knew Khadija Saye.
The project's community partners include Amplify Studios, The Harrow Club and The Khadija Saye IntoArts Programme which also launched today. Founded by Nicola Green and IntoUniversity, The Khadija Saye IntoArts Programme aims to address the lack of diversity in the UK arts sector by providing opportunities for young people from BAME and disadvantaged communities across the UK.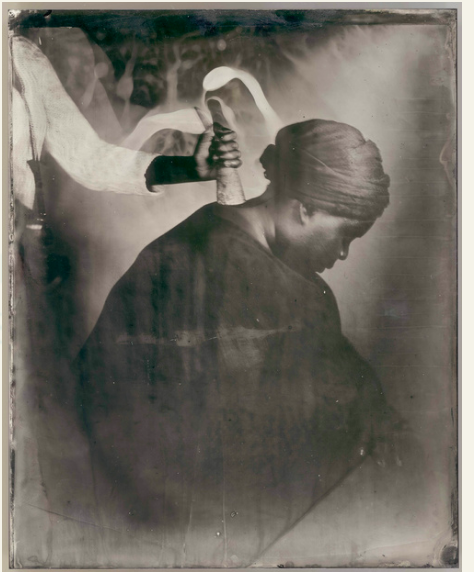 Nak Bejjen 2017, Wet plate collodion tintype on metal, 250 x 200 mm Image courtesy the Estate of Khadija Saye
in this space we breathe is an installation of nine large-scale prints of Saye's most celebrated works shown across the fac?ade of 236 Westbourne Grove in Notting Hill. Exploring the migration of traditional Gambian spiritual practices, Saye said of the works, 'The series was created from a personal need for spiritual grounding after experiencing trauma. The search for what gives meaning to our lives and what we hold onto in times of despair and life changing challenges.' Portfolio sets of Saye's silkscreen prints will be available for sale, with the proceeds going to The Khadija Saye IntoArts Programme and the Estate of Khadija Saye.
The second exhibition in the series to be invisible (11 August – 4 September), is an aural and visual 3D installation based on the song To Be Invisible by Curtis Mayfield. Inspired by current events associated with the Black Lives Matter movement, Martyn Ware's soundscape overlays the sounds of the city with a narration of Mayfield's emotive lyrics to create a meditative 'fever dream'. Young musicians from Amplify Studios on Portobello Road created audio contributions which Ware arranged into the final piece. In tandem, artist Zachary Eastwood-Bloom used bio-feedback from the composition to create a generative digital 3D rendering – a visual representation of the effects of racism that will be projected on the windows of the building.
The genesis of Joy Gregory's work The Invisible Life Force of Plants (8 September – 9 October) is her research into the history of botany between 17th and 19th centuries, revealing how everyday plants we think of as 'native' species have their origins elsewhere. Transported across global trade routes as food sources the symbolic, ritualistic and medicinal values of the plants travelled with the cargo. Gregory says 'My research led me to look at my own personal history through the narrative of plants, their relationship to human ecology and the environment, and the idea of plants as a life force.' Working with local young people from The Harrow Club, Gregory has collected and dried plants gathered from the community gardens, parks and pavements of West London to create the lumen prints and cyanotypes which will be on display.
About the artists
Zachary Eastwood Bloom studied ceramics at Edinburgh College of Art before completing an MA at the Royal College of Art in London. He is primarily interested in working with 3D digital technologies to support storytelling across a range of media. He is particularly interested in how the ancient Greeks used storytelling and mythology as a way of rationalising their world but also how we reshape these stories and characters to our own framework. Through Greek characters and gods, Zachary examines social, political, digital, scientific and religious aspects of present-day world and the subjectivity of truth with an eye looking at our current digitally driven society. Recently he has undertaken residencies with the Pangolin Bronze Foundry and was digital artist in residence with the Scottish Ballet resulting in new bodies of work 'Divine Principals' and 'Technology//Mythology//Allegory. He is based in Glasgow.
Joy Gregory is a graduate of Manchester Polytechnic and the Royal College of Art. She has developed a practice which is concerned with social and political issues with particular reference to history and cultural differences in contemporary society. Born in the UK to Jamaican parents she has always been fascinated by the impact of European history and colonisation on global perceptions of identity, memory, folk and traditional knowledge. As a photographer she makes full use of the media from video, digital and analogue photography to Victorian print processes. In 2002, Gregory received the NESTA Fellowship, which enabled her the time and the freedom to research for a major piece around language endangerment. The first of this series was the video piece Gomera, which premiered at the Sydney Biennale in May 2010. Joy has worked in art education for almost three decades and was an Honorary Research Associate at Slade School of Art [UCL] where she developed new work for the Diaspora Pavilion at the 57th Venice Biennale in 2017. She is the recipient of numerous awards and has exhibited all over the world showing in many festivals and biennales. Her work is in many collections including; the UK Arts Council Collection, Victoria and Albert Museum, Institute of Modern Art, Brisbane, Australia, and Yale British Art Collection. She currently lives and works in London where she teaches Fine Art Photography at Camberwell School of Art, University of the Arts London.
Khadija Saye was a Gambian-British artist who tragically died in the Grenfell Tower fire on 14 June 2017, aged just 24. Despite her young age, she achieved recognition as a hugely talented artist and had already produced significant work, showing extraordinary promise for the future. Saye was honoured to be the youngest exhibitor in the Diaspora Pavilion at the 2017 Venice Biennale, where her works were shown alongside those of established artists such as Isaac Julien and Yinka Shonibare, who were among a number of mentors to the younger artists involved in the Diaspora Pavilion project.
For the Diaspora Pavilion, during 2016-2017 she developed a series of nine tintypes. With the title, Dwelling: in this space we breathe, these works explore the 'migration of traditional Gambian spiritual practices'. This series was part of an interrogation of Saye's heritage and mixed faith background visible in her previous photographic work. Saye's parents were both from The Gambia; her mother, who died with her in the Grenfell Tower fire, was a Christian and her father, who survives her, is Muslim. Saye described her practice as a means to explore 'the deep-rooted urge to find solace in a higher power'.
Saye's medium for this work was wet plate collodion tintype, which is a precarious, fragile method of printing. She said: 'Taking inspiration from the development of portraiture in the fifteenth century, I wanted to investigate how a portrait could function as a way of announcing one's piety, virtue, soul, and prosperity'. By working for the first time with volatile tintypes, a medium so easily affected by elements outside of the control of the artist, the theme of surrendering control to a higher power was somehow exemplified within the materiality of the work. Saye was only able to exhibit six of these works in the Diaspora Pavilion and she agonised over which to choose. In 2017, in collaboration with the Studio of Nicola Green and Jealous she went on to create a silkscreen print of one of the exhibited works, titled Sothiou, using a high-resolution raw scan. Raw scans of the eight additional tintypes have been recovered and used to make 50 portfolio sets of nine silkscreen prints, each including the original signed, dated and numbered silkscreen print of Sothiou. One of the 50 portfolio sets of nine images was sold at Christie's, London, in 2018 to benefit the Khadija Saye IntoArts Programme.
More: estateofkhadijasaye.com/
Martyn Ware After leaving school Ware worked in computers for three years before forming The Human League in 1977. In 1980 he formed the production company/label British Electric Foundation, and in the same year, Heaven 17. As record producer and artist he has featured on recordings totaling over 50 million sales worldwide, working with artists including; Tina Turner, Terence Trent D'Arby, Chaka Khan, Erasure, Marc Almond and Mavis Staples. In 2000 Ware founded Illustrious Co Ltd with Vince Clarke to exploit the creative possibilities of their unique three-dimensional sound technology practice, in collaboration with artists and performing arts organisations around the globe. In 2006 he created sonic architectural works in the British Pavilion at the Venice Architectural Biennale. He is Visiting Professor at C4DM at Queen Mary College, University of London, a visiting lecturer at the Royal College of Art and the Harvard Graduate School of Design and lectures extensively on music production, technology, and creativity at universities and colleges across the world.
About the community partners
Amplify Studios
A new creative arts programme from the Rugby Portobello Trust, Amplify Studios is a safe haven for young people to nurture their passions and develop their business skills in music, visual arts and technology. The organisation builds a crossover of professional and amateur experiences to provide advanced job skills and opportunities in creative industries. www.amplifystudios.co.uk
The Harrow Club
Since 1883, the Harrow Club has been anchored in the local community working with some of the most marginalised young people in West London to provide accessible and high-quality opportunities, enabling them to maximise their life chances and to enhance their personal development. Through creative, cutting-edge projects delivered by an experienced, committed team, they provide learning opportunities, routes to employment and critically increased resilience and well-being for young people aged 8 to 21. www.harrowclubw10.org
The Khadija Saye IntoArts Programme
In memory of Khadija Saye, and inspired by her life, the Khadija Saye IntoArts Programme at IntoUniversity was launched in October 2019. The programme, founded by social historian and visual artist Nicola Green, brings together and introduces new arts-focused activities at IntoUniversity centres across the country. IntoUniversity serves disadvantaged young people across 31 local community learning centres, working with children from age seven upwards, and opening young people's minds to the power of education by providing ongoing academic support, mentoring and aspiration-raising activities. From the age of seven Saye's talent was nurtured byIntoUniversity, a national education charity. She attended IntoUniversity's Carnival Arts Programme, where her instinctive creativity was ignited, nurtured and developed over successive summers. For more than ten years Saye received support with her learning and encouragement for her ambitions. Through IntoUniversity, she was awarded an Arnold Foundation Scholarship for sixth form at Rugby School where she discovered her talent for photography. IntoUniversity also supported Saye in her journey to the University for the Creative Arts where she studied photography. In disadvantaged communities across the UK there are many other young people who, like Khadija, could benefit from support in order to achieve their ambitions. The Khadija Saye lntoArts Programme will enable more young people to follow in her footsteps and show the originality of their voice and their talent.
About Eiesha Bharti Pasricha
Born in Scotland and raised in India, the London-based patron and businesswoman has spent the last decade discovering brands and nurturing talent behind the scenes, culminating in a portfolio that has championed female founders and businesses across fashion, design and lifestyle. Bharti Pasricha's diverse investment portfolio includes: BeautyStack, Flowerbx, Roksanda and We Are Brightland, amongst others.
Bharti Pasricha is a passionate advocate of education and is on the board of the Bharti Foundation, one of the largest interventions for education in India. The foundation conducts free programmes for under privileged children, with a particular focus on girls and currently supports over 800 schools in 16 states. The Foundation also works to improve sanitation facilities in rural India. The desire to develop more collaborations with organisations on issues around community and education are integral to her decision to bring to life Breath is Invisible.
About Sigrid Kirk
Sigrid Kirk is Co-founder of the Association of Women in the Arts and an independent curator, cultural strategist and art adviser. Born in New Zealand, Sigrid has an MA in Art History from the University of Auckland. Arriving in London in 1998 she worked as Partnerships Manager for Arts & Business before joining Zoo Art Fair as Director of Development. She co-founded and ran Arts Co, a cultural production agency with Isabella Macpherson, from 2006- 2017 delivering content and strategy for individuals, brands and public sector agencies with a focus on environmental and sustainable projects. She curated'WasteNotWantit'for Bloomberg LP commissioning designers to create functional design installations out of Bloomberg's waste from 2010-2016 and curated Bloomberg SPACE 2014-2015
She is a Trustee of the Drawing Room, on Eye of the Collector Advisory Board, Glasgow International Advisory Board and the IKON Gallery London Advisory Board. She is currently studying for an Executive Masters in Cultural Leadership at the University of Maastricht / Royal Academy.
Categories
Tags