*The origin story of this exhibition is now a familiar one: cancellations and postponements of all upcoming events. Adaptation is key, and so, we have adapted to our new environment, installing works physically in an ex military base in North London, but presenting them to a virtual audience. In doing so we ensure that care for ourselves and each other is a priority, but at the same time nurturing our intrinsic creativity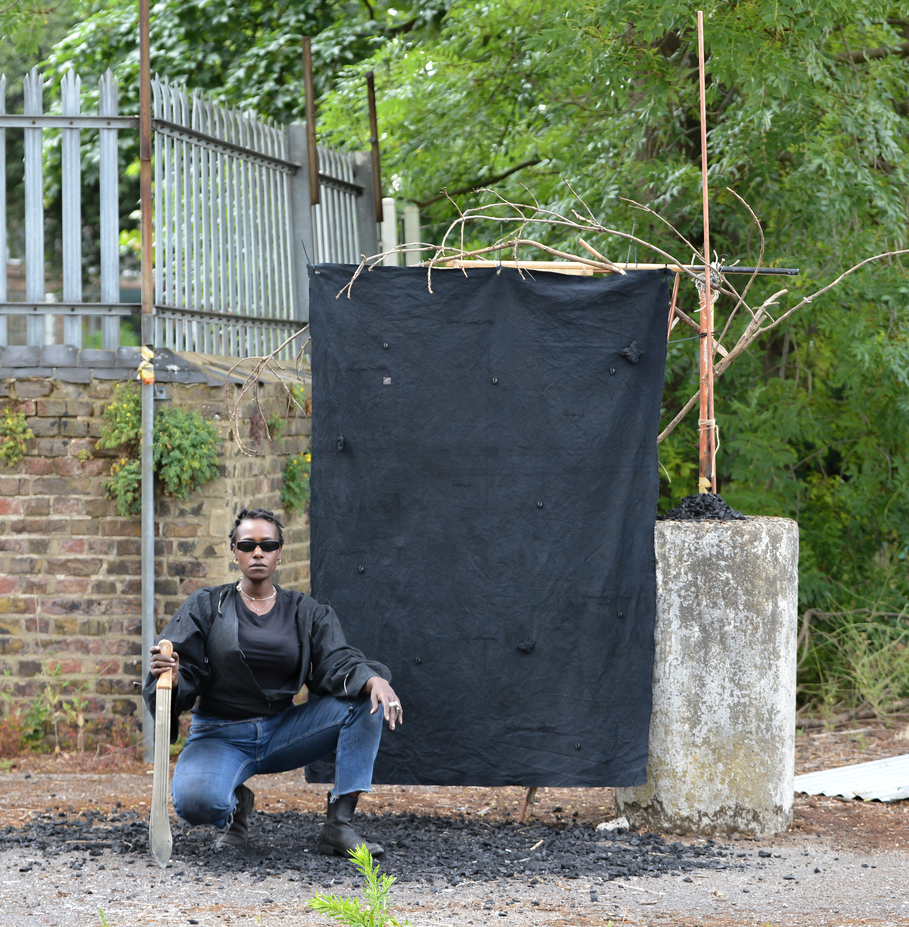 Rebecca Bellantoni and Rowdy SS Do I Worry (MAMA) 2020
Nothing has become more evident in this crisis than the natural balance of the Earth being disturbed through humanity's exploitation of its resources. The crisis has also highlighted systemic injustices and unevenly distributed weaknesses in our societies. What does the cessation of salaries mean to the Capitalocene and how does the invisible threat of a global disease impact the idea of the Anthropocene?
In a world where Science Fiction very quickly becomes Science Fact, is there the possibility that we can create a new reality, or a new story in this very short window of hiatus, that could permanently affect mankind's onward trajectory into a more symbiotic relationship with the natural and technological world and more equitable relationships with each other? Harraway's pursuit of kinship between man/animal/nature/technology could be key to our survival. If we do not succeed, it could lead to an existence more along the lines of James Lovelock's idea of the Novacene, the Hyper Intelligent Age in which mankind assumes the role of domestic plants maintained by superior AI masters. Regardless of which world could come to pass, this is the time to consider alternatives to the current status quo, and ensure that a return to what we called normal doesn't return.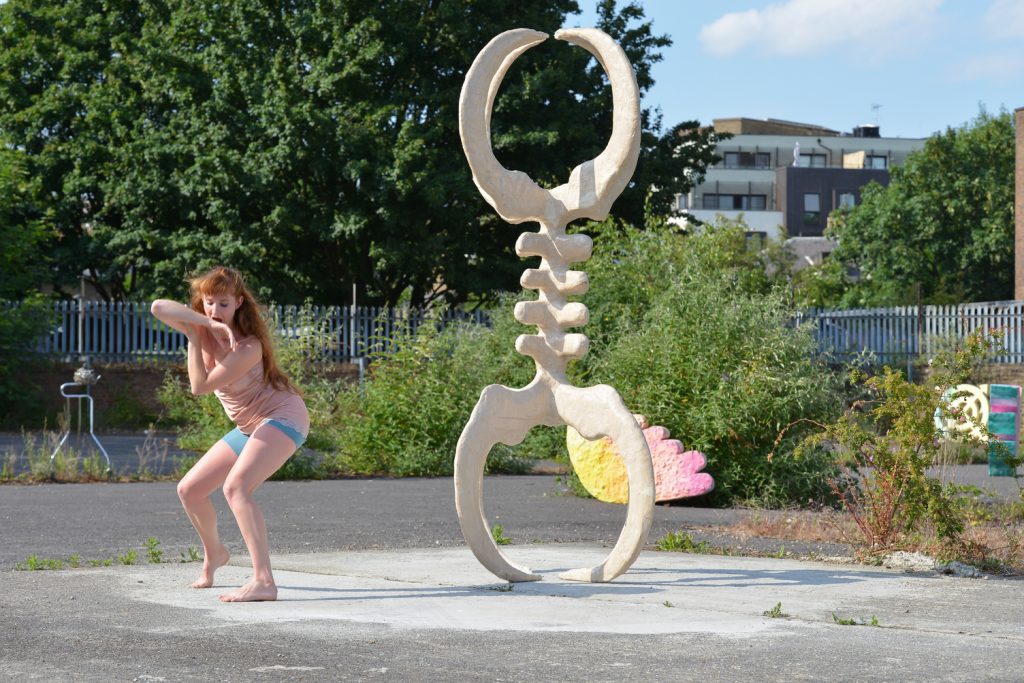 Emma Fischer Lamentation For The Space Between 2020
Challenging the idea of what an exhibition is, who is the audience and what is its purpose – this collaboration uses this time of enforced reflection to imagine and prepare for a new reality in which traditional modes of thinking are reconceptualised. Rebecca Bellatoni's performances investigate our preconceived notions of the accepted 'real' and the experiential 'real', thinking through possible ways of rupturing those borders, and for Ritual for a New Regime she is collaborating with Rowdy SS, who works at the intersection of sound/music, masculine and feminine, giving life to new and old concepts, processes, traditions and techniques. Candida Powell-Williams' freestanding sculptures exist in the threshold between two states of mind- subscribing to both scientific logic and an evidence based understanding of the world, whilst simultaneously employing esoteric behaviour, juxtaposing with Sol Bailey Barker's techno shamanic totems which are the embodiments of Biotechnophillic ecosystem caretakers which, having been installed in an old military base, also act as guardians to a potential otherworldly ceremonial site.
Coming together in varying intersections and a time when society is at a crossroads, all the artists featured in this exhibition break down the boundaries of what we thought we knew and invite the viewer to anticipate what our new reality could be.

Walkaround "Ritual for a New Regime" Produced by @wrjd Sound by @ean40k
In partnership with @propositionstudios
Sol Bailey Barker, Rebecca Bellantoni and Rowdy SS, Emma Fisher, Candida Powell-Williams
Online launch 4pm – 7pm Friday 12th June watch on IGTV @cole_projects
IRL by appointment only 12 – 4pm Friday 12th June Address: An ex military bunker in North London, Zone 2 (get in touch to schedule visit and the location) camilla@coleprojects.co.uk
*A solstice ritual/dance by Emma Fisher will be online on the 20th June 21.43
About the artists
Sol Bailey-Barker (b 1987) British multi-disciplinary artist working primarily with sculpture, sound and performance. Informed by the development of technologies that were for millennia seen as shamanic for their transformative power upon the landscape and their influence over life and death, Bailey-Barker's practice follows this journey of body-hacking and augmentation from the ancient sacred axe to contemporary prosthetics and machinery. Bailey-Barker's abstract sculptures draw from symbolism and objects he studies, using materials associated with both agriculture and industry to provoke an association between the industrial born from technological development and its ancient spiritual origins. Drawing on the sound of rhythmic heavy machinery, deep space and sacred bells, Bailey-Barker's sculptures double as ritual instruments, the installation becomes a temple both revering and questioning human endeavour and where it has brought us to now.
Rebecca Bellantoni is a London-born artist of Caribbean descent who mines and abstracts everyday occurrences, through the lens of spirituality and its aesthetics. Bellantoni investigates the notions of the accepted 'real' and the experiential 'real', thinking through possible ways of rupturing those borders. In her work, she reflects on personal experience, rituals and myth-making. Bellantoni's practice includes video, textile, performance, installation and writing. Her work has recently been shown as part of Block Universe (with Rowdy SS), as part of "Sound 4 Survival" with Phoebe Collings-James and Last Yearz Interesting Negro, at Peak Gallery and at Mimosa House in a duo show with Katarzyna Perlak
Rowdy SS is initiating happenings, performance and installations as interjections to tour, entangle and/or simplify how we are using and have used spaces, the 'things' that do and do not exist in said spaces – the other ways, new ways we can use ourselves, technology and our physicality to communicate, in and outside of these/those spaces. Often working at the intersection of sound/music, dance/movement and live performance alongside making videos and DJing; his works have delved into love, the masculine/feminine, the societal implications of being first a black boy then man, and mined life to share his vision of said life.
Candida Powell-Williams (B.1984) creates installations which play with the relationship between sculpture, live performance and animation. She creates sculptural landscapes that are a response to researching the slippage that occurs to the meaning of historical artefacts over time, aiming to confront our relationship to memory and storytelling.. Often fabricated in sweet gradients of pinks, purples, yellows and greens the colours and surfaces coalesce to appear like disneyfied relics. Sculptures come together in whimsical theatrical staging, animated with fleeting performances exploring gesture and touch which are documented in stuttering layered animations.
Emma Fisher is a dancer and Dance Movement Psychotherapist. Her interest lies in movement's ability to make tangible, for a fleeting moment, the choreography of relationships and attachment experiences that constitute the lived experience. As a psychotherapist, her practice advocates to provide a voice and means of communication for those who are unable to verbally communicate their experiences, highlighting the language of the body and impact of early embodied interactions on an individual's capacity to develop an autonomous and integrated sense of self. Emma collaborates with artists, choreographers and creative arts therapists, performing within art and theatrical institutions and practicing within the education and mental health sector.
Categories
Tags