Eleanor Lakelin Studio Action Photograph by Jeremy Johns
A commission, memorialising Reading Gaol's most famous inmate, Oscar Wilde is the first recipient of the CAS Rapid Response Fund following a crowdfunding campaign that has raised total donations to over £200,000.
In 1895 Oscar Wilde was imprisoned in Reading Gaol and the prison has since become a key site within LGBT history. Despite, 'Save Reading Gaol', a concerted community campaign to save the prison and turn the buildings into a community arts complex, the prison was sold to another, undisclosed bidder by the Ministry of Justice.
An avenue of diseased chestnut trees that would have shaded the gaol when Wilde was incarcerated there was also felled just before the lockdown and the funds provided by the Contemporary Art Society will enable the commission of artist Eleanor Lakelin to create an artwork made from their timber. The Council was keen to create a lasting artwork from the felled wood. It will take its title "Oh beautiful world!" from the words Wilde was supposed to have uttered on leaving the gaol. The work will go on display at Reading Museum when it reopens to the public.
Eva Langret, Artistic Director, Frieze London said:
"We are thrilled with the success of the Rapid Response Fund so far – and we want to thank our many supporters, who have helped raise over £200,000 in just two weeks. With the first round of acquisitions being announced so soon after launching the campaign, it is particularly satisfying to see the rapid, cogent and direct impact that this initiative has on U.K. based artists and museums. We look forward to many more acquisitions over the coming months."

Rabiya Choudhry Portrait – photo credit Eoin Carey
GoMA in Glasgow and the Victoria Gallery & Museum in Liverpool will also be receiving works by artists and craftspeople with strong links to their regions. Three works by Glasgow-born artist Rabiya Choudhry will form the centrepiece of GoMA's reopening exhibition Domestic Bliss. A neon work celebrates Glasgow's Asian shop owners, 'essential workers' during the Covid-19 crisis, whilst two paintings address mental health and the internal and external factors that affect it – a conversation even more prevalent within the context of lockdown.

Rabiya Choudhry Dad (2018)1000mm x 1000mm, neon

Rabiya Choudhry House for the Holy (2016)1000m x 1000mm, acrylic on canvas
The Victoria Gallery & Museum will receive a room size body of work by Liverpool's Granby Workshop who, as part of the Assemble co-operative, won the Turner Prize in 2015. Granby Workshop is operated by a group of residents in Liverpool's Toxteth area, who use local materials – many collected from the disused Victorian terraced houses in the Granby Street neighbourhood – to craft ceramic products.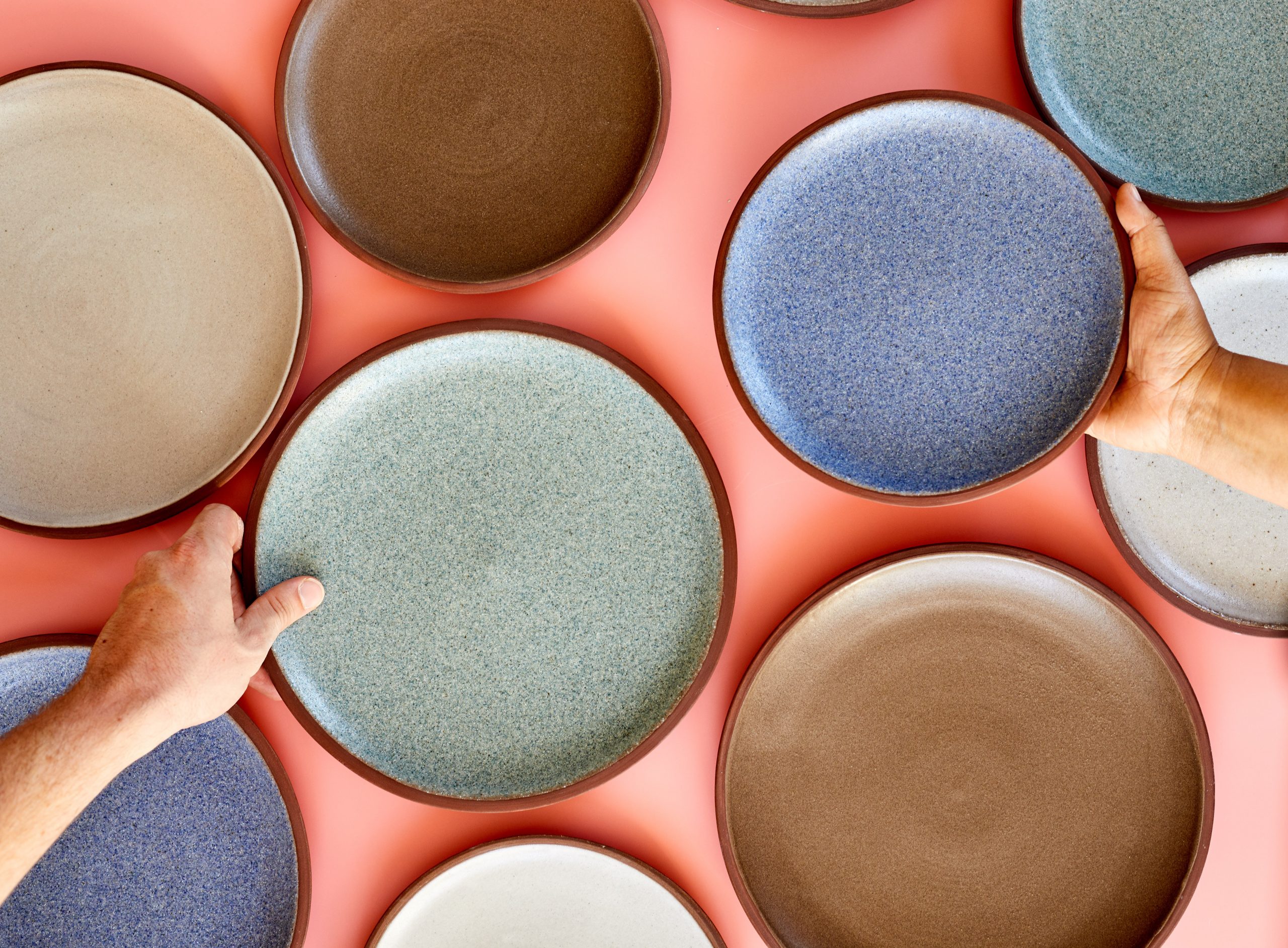 Granby Workshop Dinnerware
The CAS Rapid Response Fund, in partnership with Frieze London, is a response to the Covid-19 pandemic to support both artists and museums across the UK. Museums which are members of the Contemporary Art Society are invited to apply to buy art and craft that will support their civic role when they reopen after the lockdown is lifted.
The fund is designed to support as many different artists and local museums as possible, based on the understanding that our museums will play a vital role in our communities as we exit the crisis. The money raised purchases artworks by British-based artists, providing financial support to artists, technicians and art handlers, many of whom work on a freelance basis and have seen their income streams decimated over recent weeks, due to the Covid-19 pandemic. The CAS Rapid Response Fund also ensures that when museums reopen, they are able to reach out to their communities through new acquisitions, playing a vital role in civic healing and mental wellbeing. The fund has already raised £207,000, which will support around 20 acquisitions. £100,000 was raised through the generosity of CAS Patrons and a further £107,000 has been raised so far through the CAS's first crowdfunding campaign, which closes on 10 June 2020. People who donate £35 receive a limited-edition facemask designed by top artists – David Shrigley, Eddie Peake, Linder and Yinka Shonibare. £120 will buy a pack of all four. For those wishing to pledge further financial support, £2,500 will allow donors to become an honorary Patron of the Contemporary Art Society for a year. The crowdfunding campaign runs to Wednesday 10th June.
The Contemporary Art Society's partnership with Frieze London allows the campaign to reach even more art lovers and collectors, both attendees to the art fairs and readers of the magazines. Applications are being reviewed by the 2020 CAS Acquisitions Advisory Committee, an external panel chaired by Caroline Douglas, Director of the CAS, consisting of leading curators, writers and artists. Further purchases will be announced at the beginning of each month will continue as further funds are raised.
crowdfunder.co.uk/rapidresponsefund
HOW THE CAS RAPID RESPONSE FUND WORKS
The CAS Rapid Response Fund, in partnership with Frieze London, borrows the model of the CAS Collections Fund, which uses donations to directly fund the acquisition of important works of contemporary art for museum collections. Open to buy work from both fine art and craft practitioners, museums apply by making a case for how a specific artwork will support them in engaging with their local communities when they reopen. Applications are being reviewed on a rolling basis by the 2020 CAS Acquisitions Advisory Committee: Helen Legg, Director, Tate Liverpool; Patricia Bickers, Editor, Art Monthly; Haroon Mirza, Artist; Ben Cooke, Director, LUX; Tanya Harrod, writer and curator; Alison Britton, ceramicist, writer,
curator; and Sarah Griffin, Independent curator.
Categories
Tags