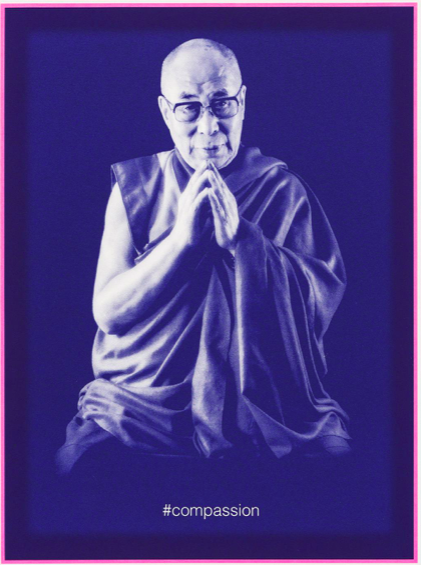 Chris Levine #compassion 3 Colour Silkscreen on Somerset Satin White 410gsm Paper Open Edition 45.5 x 58cm £250 unframed Blind stamped with the year written in pencil and accompanied by a signed COA. All profits donated to the Trussell Trust
"There are difficult times ahead as the economic impact Covid19 plays out and we need to do anything we can to help our brothers and sisters in need. This is an opportunity to show compassion"
Chris Levine
"Kindness is my religion"
Dalai Lama
British Contemporary artist Chris Levine, today (Thursday 28 May) announced the release of #compassion, a new edition portrait of His Holiness the Dalai Lama. Epitomising peace and empathy during the time of Covid, this artwork, a three-colour screen-print, has been created in order to raise vital funds for anti-poverty charity, the Trussell Trust. The print will be available via Jealous Gallery from today 28 May 2020 for a limited period ending Sunday 7 June at 11.59pm (midnight).
Originally created in 2015 on the occasion of His Holiness' 80th birthday and to raise proceeds for communities affected by earthquakes in Nepal, this portrait has been recreated with neon colourways. As in his portrayal of the Queen, the light and stillness at the core of this image offers a fresh depiction of a world-famous face, intended to convey the message within the work – compassion.
Famous for his sensational portrait of Her Majesty Queen Elizabeth II, Lightness of Being, Levine is the second artist (the first being Annie Leibovitz) ever to take a formal portrait of His Holiness, the Dalai Lama. #compassion by Chris Levine, will be produced as an open edition available to purchase for £250
(unframed), with all profits from the sale going to the Trussell Trust.
The Trussell Trust is a charity which supports a wide network of 1,200 food banks nationwide to provide
emergency food and support to people locked in poverty and campaign for change to end the need for
food banks. Their work is vital as food banks are becoming increasingly strained during this extraordinary economic time, in which many people have found themselves struggling to meet day to day requirements. During the last two weeks of March, food banks in the network saw an 81% increase in need for food parcels compared to the same period in 2019, including a 122% increase in parcels for children – that's over 6,250 emergency food parcels every single day.
Known for his work across many mediums, Chris Levine's art considers light not just as a core visual aspect, but of human experience, permeated by a spiritual, meditative and philosophical edge.
Other infamous portraits from Chris include his latest elusive reverse portrait of Banksy, sold at Sotheby's in late 2019, which reached 10 times its estimate £35,000 ($43,600).
To purchase the print visit: www.jealousgallery.com/artists/chris-levine/compassion
Categories
Tags