Frieze launched it's online viewing rooms yesterday afternoon (London time) for the first of two preview days. It's public viewing days are 8th -15th May.
At the end of play yesterday (about 6PM for FAD so we could get ready for our daily fix of nature down by the River Thames) sold-out booths were the exception, not the rule. More common were booths with one or two works off the market. But as Frieze's global director Victoria Siddall said in a press conference over Zoom, The online viewing rooms are
"about getting everyone through this time and making sure everybody comes out the other side in good shape,"
You can seach via Price bracket which is a good addition to the usual search categories. $10k or under is the lowest which seems ok until you do it- over 1500 maybe they could have gone a bit lower? as it is the highest number of any category by quite a distance there are only 29 over $1M
Anyway with 200+ galleries here are some highlights to help you navigate the platform.
1 Alex Katz
There are 10 artworks by Alex Katz not suprising as his work looks great online (which I know is really obvious but it does) our favourite is Inka and Zophia, 2009 from Gray (Richard Gray Gallery) its yours for $725,000 which with the way Trump is going at the moment could be a steal in 48hrs if you hold your money in gold.

Josef Albers Variant: ORrange Façade, 1959 Oil On Masonite
2 Collective Design present 'COLOR AND PRODUCTION': curated by Libby Sellers which consists of three rooms : Mapping, Matter and Materials
As Cool Hunting say
" A milestone partnership with Collective Design, representing Frieze's first commitment to the category, Color and Production: From the Atom to the Void features over 70 unexpected, shoppable works that trace the development of color in design. London-based gallerist Libby Sellers curated the selection, which notes the shift from natural colors to those born from technology and industry. It's an extraordinary study—at times beautiful and often eccentric."
Room 1 Mapping: How much is the Donald Judd? Room 2 Matter: We love James Welling Room 3 Material Marten Baas is very cool but he's pipped by Daniel Buren.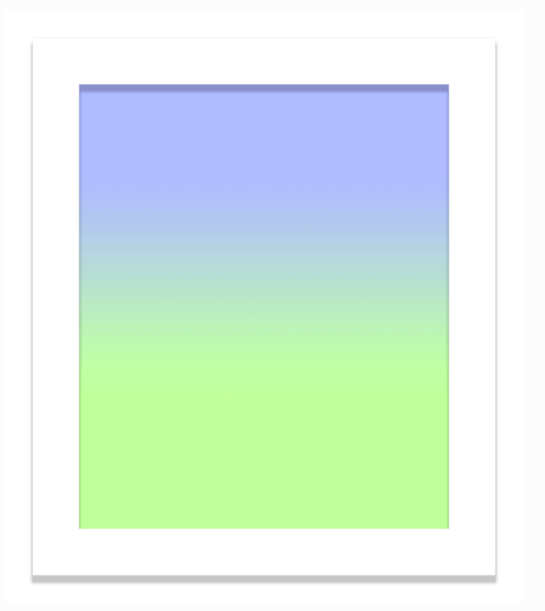 James Welling ILAL, 2020 Dye Sublimation Print Edition Unique $25,000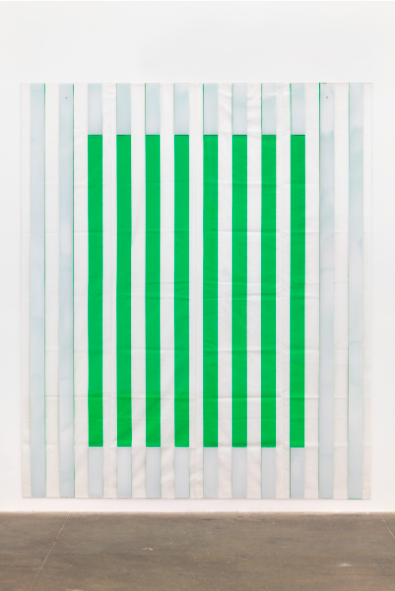 Daniel Buren Photo Souvenir: Paint on/under plexiglass on serigraphy, Framing NO. 1 green, situated work, 2013 Acrlic Paint on plexiglass over stripped cotton canvas

BJjarne Melgaard My Trip, 2019 Video Edition
3 Acute Art 
A special mention for Acute Art the AR and VR people we have been having lots of fun placing KAWS arworks all over the place for Frieze they are showing Bjarne Melgaard there's a 2D film but you can also see it in VR if you have the right kit.
4 Tom Pope DEUTSCHE BANK COLLECTION, Live with Tom Pope VIDEO
We really like Tom Pope at FAD espcially his grandfather clock / time work. Ther is a video you can watch of him talking about his work plus: Tom Pope will be hosting a performance online on Wednesday 13th May at 1pm EST/6pm UK/7pm CET. The video gives you background into Tom's performance projects to date and a lead into what is instore on 13th May. To sign up for the 13th May event email RSVP@frieze.com
Here is an interview we had with Tom in a toilet of a gallery in 2012. fadmagazine.com/2012/10/02/the-tom-pope-interview/

Natalia LL Consumer Art, 1972 Photographs on baryta paper $ 65,000.00
5 Artworks Benefitting Those Affected by COVID-19 (VR 2)
This charity viewing room highlights galleries who work with artists and initiatives supporting individuals, organizations or causes directly affected by COVID-19. All exhibitors or their artists shown in this viewing room are donating part or all of the proceeds from the sale of the works toward charitable initiatives. It is at each gallery's discretion how they choose to contribute from the sale of the work, and to which initiative.
Inquiries Charityviewingroom@frieze.com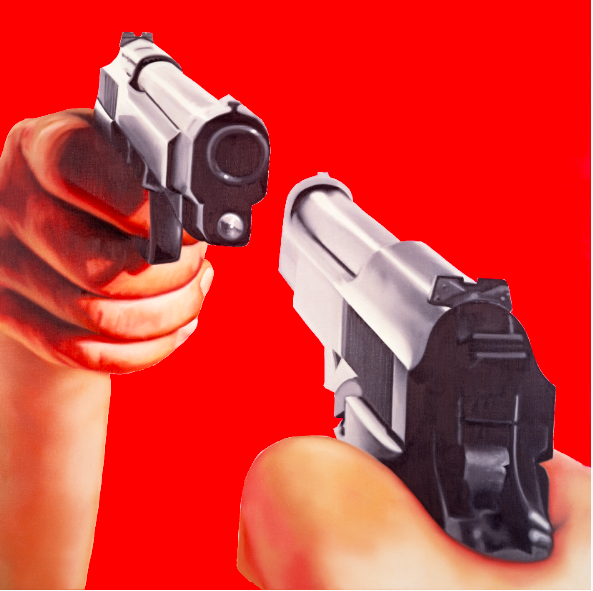 James Rosenquist Professional Courtesy, 1996 oil on canvas
6 James Rosenquist
There are two of his works at the fair but our favourite is at Thaddeaus Ropac Professional Courtesy 1996 seen above . In 1996, Rosenquist created twenty-six gun paintings that were shown at Feigen, Inc. in Chicago and Galerie Thaddaeus Ropac, Paris, that same year. As the artist explained:
'I want to illustrate the stark look and confrontation of a handgun. Young people are confused by the way guns are depicted in the movies and on television. It shows the hero being shot, getting up brushing himself off, and then going on to act in another movie – becoming an even bigger star. The reality of being shot is really death forever'.
While other works in the Target Practice series depict single or multiple guns pointed outward, in Professional Courtesy Rosenquist staged a stand-off between the two handguns.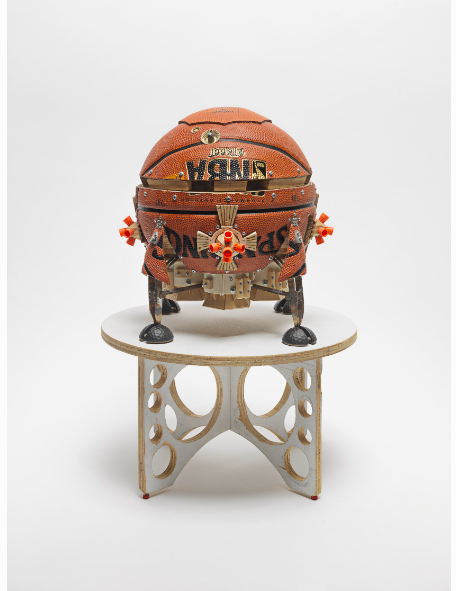 Tom Sacha ARIES, Mixed Media
7 Tom Sachs 
There are three Tom Sachs works at Frieze There's a great chair at Salon 94 but we have to go with Aries at Thaddeaus Ropac I am an Aries and am a sucker for a basketball and space.
Tom Sachs' Aries (2018) is a recreation of the Aries-1B lunar carrier, a fictional spacecraft that ferried passengers between Space Station One and the Earth's moon in Stanley Kubrick's seminal science-fiction film 2001: A Space Odyssey (1968). Using found materials, including a basketball, Sachs has constructed a low-tech version of an advanced spacecraft, fabricated with the technical rigour and handmade artistry that have become his trademark. The artist has long been fascinated with space exploration, in particular the Apollo Program from the 1960s and 70s, as well as NASA's ongoing role as an incubator for pioneering new technologies that later resurface in everyday life and consumer products. Sachs has realised an entire body of space-related works, including bricolage models of various spacecraft, shoes made from materials developed for use in space, and his immersive Space Programs to the Moon, Mars and Europa. As Deborah Cullinan observes, 'His work reminds us of the seduction and utopian idealism that permeated our culture in the postwar period of space exploration, which brought us the Apollo program and continues to imbue the NASA brand with romance and intrigue.'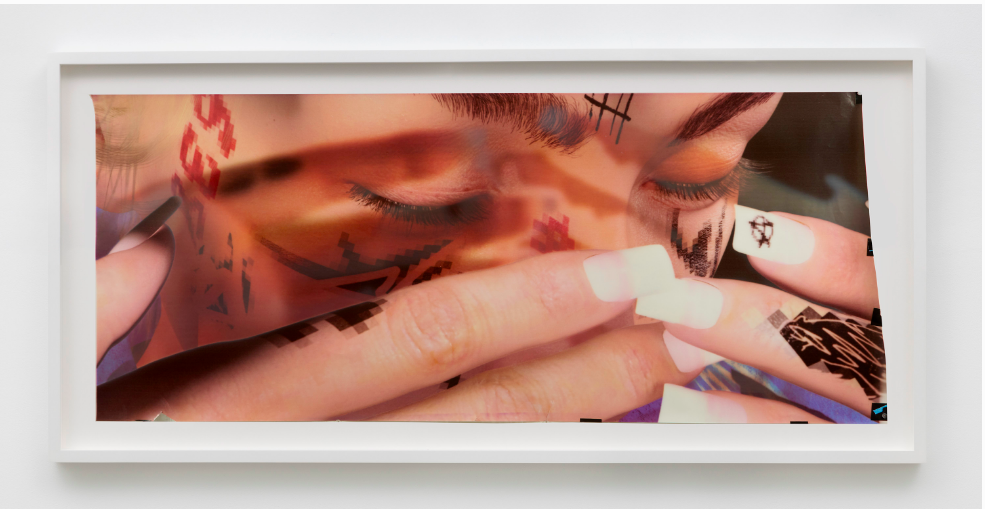 Avery Singer Untitled (Study), 2019 Acrylic on Paper
8 Avery Singer
Only one work by Avery Singer at Frieze (newly signed with Hause & Wirth) and already sold.
Unititled (Study) Growing up in a creative community, Avery Singer experimented with photography, film, and drawing, but in those years never considered working with paint. During her studies at Cooper Union, Singer engaged in performance art, video making, as well as sculpture utilizing carpentry, metal casting, and welding. After graduation, she discovered her chosen art form from an unanticipated experiment with SketchUp, a program used by her peers to design exhibition spaces, and airbrushed a black-and-white painting based on a digital illustration. Since then, she has experimented with new softwares and methods.

Nora Turato We Gonna Stand Until It's Right To Sit, 2019 Emulsion Paint On Wall
9 Nora Turato presented by Galerie Gregor Staiger
Nora Turato works in performance and a variety of text based media related to this practice, from publications to murals, videos, prints, as well as enamel panels. This project, which was originally planned to take place simultaneously with the artist's performance at the Museum of Modern Art in New York as part of Studio Now, features new works based on this performance and its accompanying publication, pool 4. As we wait for better days to see the performance, we are happy to present a first part of this body of work here.
The works are based on Turato's performance scripts and reference an aesthetic from utilitarian graphic design mixed with fonts drawn from her own hand-writing. The material is invariably eclectic, potentially encompassing almost any site where words are used, ranging from mundane non sequiturs to current news items, referencing popular culture, literature, poetry (where we may also find links to a tradition of spoken word performance the likes of David Antin and Spalding Gray), invented slogans, meaningless profundities or meaningful nonsense.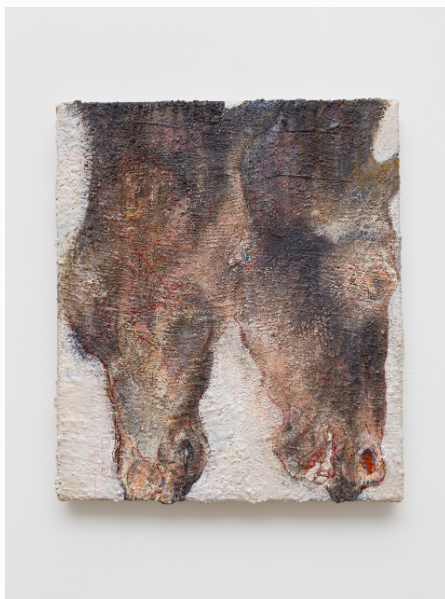 Patrick H Jones Head IX, 2020 Acrlyic and Mixed Media on canvas
10 Patrick H Jones presented by The Sunday Painter
Patrick H Jones makes paintings based on personal memories, often drawing on the trauma or distress of loss. In this body of work Jones reflects on time spent with his father, exploring the sentimentality of memory and the significance of small moments shared with him before his death. An attraction to the more troubling of these recollections is present within the body of work, both repellent due to their content and precious because of their ephemeral nature. The laws of push and pull, repulsion and attraction allude to the pathological patterns taking place within Jones, which manifest themselves in the reflection or geometry of light and dark in the works. Desperation and hope become entangled and figures without defining features are brought to the surface only to be knocked into the background. While the intimate, solitary headshots are reminiscent of historical death masks, a form of memento mori, the churning compositions of the larger paintings approach figuration in a loose and open manner; limbs and structures morph together, creating a rhythm within the work, mostly without volume, depth or perspective, allowing scope for abstract formal design. The depiction of the horses references an early memory of foot and mouth infected cows burning in the landscape, with the rigidity of their limbs finding a parallel in more recent experiences. These groups of people and animals reveal moments of close proximity and contact, while the final outcomes of the works explore personal loss and shifting notions of self. Drawing on Jones' own personal experiences, the works are also analogous to broader universal truths and histories. This is conveyed by both the inherent vulnerability found within the works and also ambiguity of the subjects; being of no particular place and time, these tumbling structures and figures create chaotic situations that explore community and individual as one.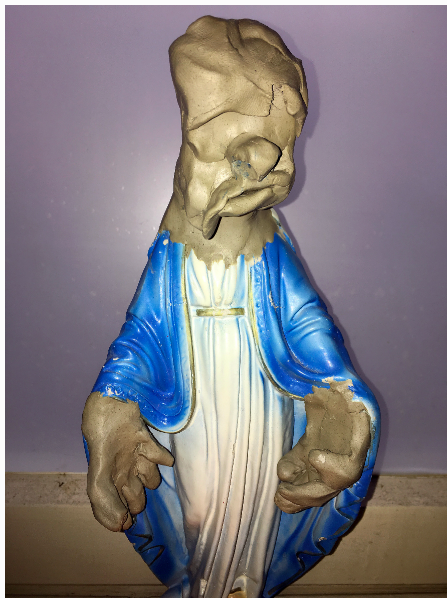 Jesse Darling Our Lady St Jerome, 2018 Color Photograph Edition 2/32
11 Jesse Darling presented by Sultana
Jesse Darling is an artist working in sculpture, installation, video, drawing, text, sound and performance. They live and work in Berlin. Their work is broadly concerned with what it means to be a body in the world, though what that means is both politically charged and culturally determined. Their practice draws on their own experience as well as the narratives of history and counterhistory. To be a body is to be inherently vulnerable, which extends to the "mortal" quality of empires and ideas as a form of precarious optimism – nothing and noone is too big to fail, and this for JD is the starting point for a practice in which fallibility and fungibility are acknowledged as fundamental qualities in living beings, societies and technologies. Imagining the 'high church of the modern' as a moveable or precarious tabernacle, JD's works and writing feature an array of free-floating consumer goods, liturgical devices, construction materials, fictional characters and mythical symbols detached from the architectures, hierarchies and taxonomies in which they have their place.

Matt Johnson Movie Money (1 Million Dollars In a Gym Bag), 2016 Carved Wood With Paint
12 Matt Johnson at Marlborough
Matt Johnson is an artist based in Los Angeles, Johnson was born in New York City. He is a sculptor who creates humorous works out of everyday materials. His art has been compared to that of Tom Friedman and Charles Ray for its innovative manipulation of objects.
Who doesnt like a million dollars?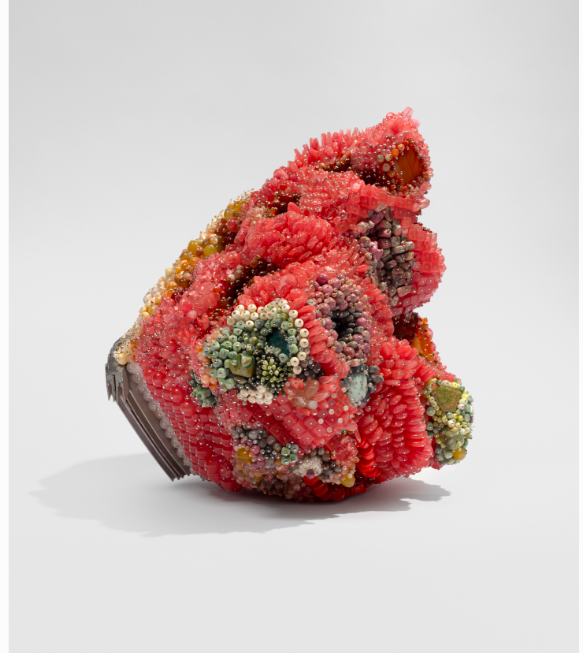 m
Kathleen Ryan Bad Melon (Baby Chunk), 2020
Cherry Quartz, Rose Quartz, Agate, Jasper, Rhodonite, Rhodochrosite, Rhyolite, Unakite, Magnesite, Carnelian, Citrine, Calcite, Ruby In Zoisite, Limestone, White lip shell, Glass, Steel and Stainless Steel pins, Polystyrene, Aluminum Airstream
13 Kathleen Ryan presented by François Ghebaly
New York- based Kathleen Ryan's work in sculpture is distinguished by?her virtuosic grasp of materials, ranging from poured concrete, cast?iron, carved marble, and precious stones, to found objects such as?granite machine-mount blocks or bowling balls. Ryan engages with?formal sculptural concerns such as volume, weight, pressure, balance,?and line, while subtly alluding to the materials' historical and?economic underpinnings, along with frequent references to the human?body and classical motifs. Many of her recent works were cast at a?nearly defunct iron foundry in Pennsylvania, and in part engage with a?declining manufacturing industry that has shaped the economic and?social trajectory of communities across the United States. Varying?from poetic to deadpan, Ryan's works are rendered effortlessly light?and delicate in spite of their massive industrial materials and?manifest weight. Kathleen Ryan (b. 1984, Santa Monica, California) holds a BA in Studio Art and Anthropology from the Pitzer College, Claremont, California (2006) and an MFA from the University of California, Los Angeles (2014).
FRIEZE Viewing Rooms New York 2020 Edition 8th May -15th May viewingroom.frieze.com/
Categories
Tags