No physical exhibitions, no studio visits, no collectors' dinners and most definitely no sealing the
deal with a handshake. As part of the worldwide effort to delay the spread of COVID-19, galleries have closed their doors indefinitely and most of us are being encouraged or forced to stay inside. Nobody predicted that this would happen, but that doesn't mean that some are not better equipped to adapt and thrive in this temporary new world than others.
Money, as ever, is the root of this inequality. Just like a great portion of London's upper middle classes have escaped to their country homes, the majority of mega-dealers have moved their operations online. With ample budgets to build and maintain online sales and viewing platforms and in-house marketing teams, large social media followings and long client lists to ensure traffic and sales, they are able to mitigate the worst of the revenue impact of the lockdown.
Gagosian, for example, is making publicly available for sale one artwork per week by an artist whose short term exhibition prospects have been stamped out by the virus. With 1.2 million Instagram followers and a healthy rolodex of clients, it isn't surprising that the works sell out quickly, no doubt with many more private sales happening off the back of each week's "Artist Spotlight". Others have opted for the more traditional "online viewing room" format, offering a slick presentation of work which aims to emulate the gallery experience at home. Small galleries have been largely left out of this near seamless transition from physical to virtual. Without the capital required to adapt their online presence in this way, their already-precarious existence is threatened further.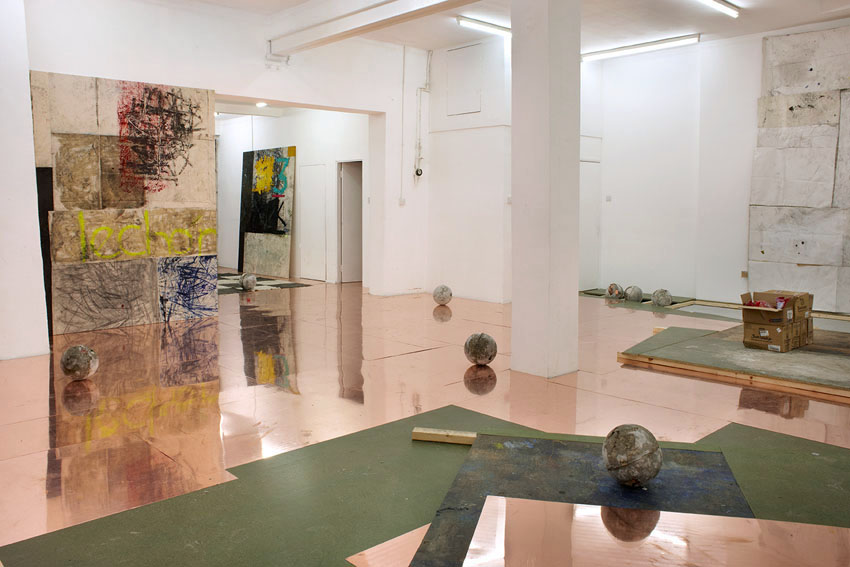 Carlos/Ishikawa. Install Oscar Murillo Dinner at the members club? Yes! i'll have a black americano first pls.
Enter "Platform", a series of two exhibitions hosted by David Zwirner's online viewing room showcasing offerings from small galleries in London, New York and Los Angeles. For the chosen few this levels the playing field somewhat, allowing them access to Zwirner's following and, well, platform, for free. This doesn't put Zwirner out in any major way – unlike actual wall-space, donating online space doesn't impact their capacity to show their own artists too – but it does provide sales opportunities to those who need them now more than ever.
Similarly, Lisson collaborated with five galleries from the APAC region during the recent online iteration of Art Basel Hong Kong to offer clients virtual walkthroughs of their presentations at the e-fair. We might commend Lisson and Zwirner for taking pity on the little guys during this difficult period, but it's important to understand that this isn't straightforward philanthropy. The art world
is a complex organism, full of dynamics that blur the line between competition and codependency. They know that they couldn't thrive as they do without the existence of those that they are offering support to now.
One of the twelve galleries selected for Platform: London is Carlos/Ishikawa. Operating from an industrial unit off Mile End Road, they were instrumental in launching the career of Oscar Murillo, whose canvases Zwirner now sells for six-figure sums. While still studying at the Royal Academy, he had his second UK solo exhibition, animals die from eating too much – bingo! there in 2011. Two years later, his work appeared in Folk Devil, a group exhibition across Zwirner's two New York spaces. In 2014 Zwirner announced that they would be representing Murillo exclusively in New York, and alongside Carlos/Ishikawa in London. Despite scepticism from many following his swift rise to success in the mid-2010s, the artist's career seems to remain in good shape today. In the last year, he added solo shows at Kettle's
Yard in Cambridge and with both of his London dealers as well as a quarter of a Turner Prize to his CV. Who knows whether this story and, perhaps more importantly the sales that is has no doubt generated for Zwirner, would have been possible without Carlos/Ishikawa's early support.
It would be unfair to reduce Zwirner's Platform series and Lisson's virtual tours to initiatives solely to save their own skin, but it is important to understand that they are not simply charitable acts either. The ecosystem that allows them to prosper relies on the existence of galleries like Carlos/Ishikawa, who build careers and markets for the emerging artists that go on to sell for
megabucks with mega-dealers.
Categories
Tags