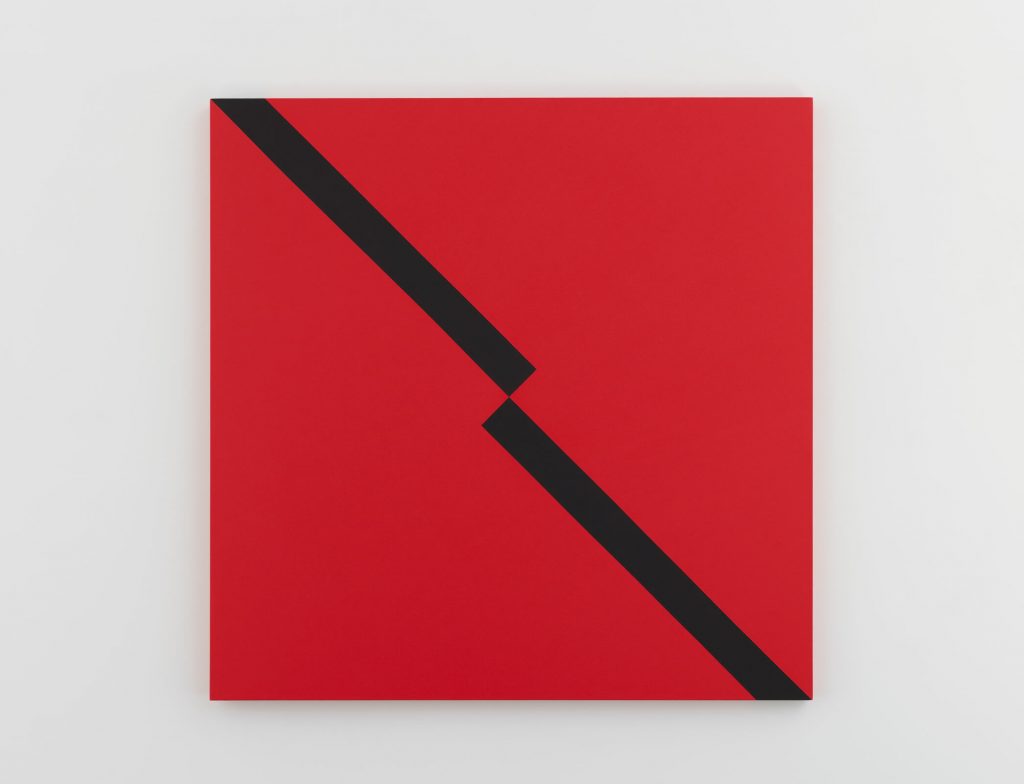 Carmen Herrera, Camino Negro (2017), Acrylic on canvas, 152.4 x 152.4 x 3.8 cm, 60 x 60 x 1 1/2 in
Lisson Gallery is participating in Art Basel's Online viewing Room this year and to coincide with the fair's programme, Lisson Gallery are supplementing Art Basel's platform by inviting key Asian galleries to join together in a virtual walk-through, to help make the site interactive and appealing to audiences both regionally and globally. Featured Asian gallaries are: Antenna Space (Shanghai), Boers-Li Gallery (Beijing), Lisson Gallery (London, New York, Shanghai), STPI (Singapore), Tina Keng Gallery (Taipei), TKG+ (Taipei).

Lisson Gallery viewing Room Art Basel 2020
This initiative will act as a regional hub, providing the community spirit that both Art Basel Hong Kong, and Hong Kong itself, typically represent, and allowing an opportunity to collaborate at a time when international collaboration seems so important.
Lisson Gallery's presentation for Art Basel's online viewing room will feature sculpture, painting and photographic works by Ai Weiwei, Cory Arcangel, Ryan Gander, Carmen Herrera, Shirazeh Houshiary, Anish Kapoor, Lee Ufan, Richard Long, Julian Opie and Joanna Pousette-Dart.
Highlights of the presentation include a suite of new individual and group portraits by Julian Opie using his distinctive, reductive formal language; a concave, space-distorting stainless steel and matte effect lacquer work, Glisten (Spanish Gold and Pagan Gold mix dark to light) (2019), by Anish Kapoor; an iconic Ai Weiwei 'selfie', Illumination (2019), taken on the occasion of Ai's arrest in 2009; and two recent acrylic on canvas paintings by Lee Ufan and Carmen Herrera – Ufan's meditative Dialogue (2019) and Herrera's Camino Negro (2017), portraying "The Black Path" amidst a vibrant red backdrop (2017).
Also featured will be the delicate, swirling wood panel composition Pink Black Yellow (2018) by Joanna Pousette-Dart (the most recent addition to the Lisson Gallery roster); Shirazeh Houshiary's Mirage (2017), formed through subtle layerings of acrylic, pigment and pencil marks in ethereal, fleeting blues and whites; and a C-print work by Cory Arcangel from his Photoshop CS series, emblematic of his wider oeuvre, evoking a tentative crossover between the mistiness of colour field painting and the austerity of op-art.

Boers-Li Gallery (Beijing) viewing Room Art Basel 2020
Alongside this, and in tandem with Art Basel's site, Lisson Gallery will launch a virtual walk-through of the presentation, with live descriptions of the works and insights into the artists' practices. In collaboration with five other galleries from the APAC region – Antenna Space (Shanghai), Boers-Li Gallery (Beijing), STPI (Singapore), Tina Keng Gallery (Taipei) and TKG+ (Taipei) – this collective, global project will be an opportunity for the audience to engage and interact with the galleries and artists, in the same way as they could physically at the fair.
Organised by Lisson Gallery, each gallery will present for 10 minutes on their select presentations, guiding the audience through their online booth, and provide an opportunity for those present to come together, and participate.
VIP Previews for clients from 18th – 20th March plus additional walkthroughs from 20th – 25th March for the general public. 18th – 25th March 2020 www.artbasel.com/viewing-rooms
For further information or to join one of the virtual walk-throughs, contact shanghai@lissongallery.cn.
Categories
Tags