Michael Staniak HDF_219, 2020. Casting compound, digital UV pigment and acrylic on engineered wood panel, steel frame. 211.2 x 159.2cm (83 x 63 inches)
As we voyage deeper into an age of dual environments – the physical and the virtual – Staniak's textured paintings highlight the phenomena of both realms. The tromp l'oeil effect ensures a variety of visual interpretations: the viewer's position, either on or offline, affects the subsequent experience. When the paintings are viewed on the screen, the texture is emphasised; when viewed physically they seem flat, like a digital print or a backlit screen. His paintings are reminiscent of cosmic topographies viewed by satellite imaging, or microscopic surfaces blown up to macro levels. Looking at Staniak's pieces is like entering an uncharted environment: one where lithic surfaces have been imprinted by time and the elements, until a gently undulating surface remains.
In his latest exhibition, Natural Order, Staniak focuses on how technology can be used to make sense of the myriad of capricious information that is readily available online. Having to navigate this virtual landscape poses many new challenges, like entering a strange and inhospitable land without a map. In this new series of HDF paintings, Staniak's signature casting compound textures and saturated, screen-like hues are treated with an extra visual device. Software-based geometric compositions dissect his seemingly random and improvised gestures into more ordered areas of information.
For millennia, new technology has been developed to navigate the unknown chaos of nature. Devices such as maps, charts, microscopes, night-vision and satellites, all aid us in traversing our physical environment. Even our brains are wired to make sense of random visual information through a process called Pareidolia, think of a time you have gazed at a cloud only to see an apparition of a face or figure. The human brain longs to decipher and ascribe meaning to cryptic, often meaningless, visual data – all with the purpose of taking the sting from our environment, a ording ourselves the best chance at adaptation.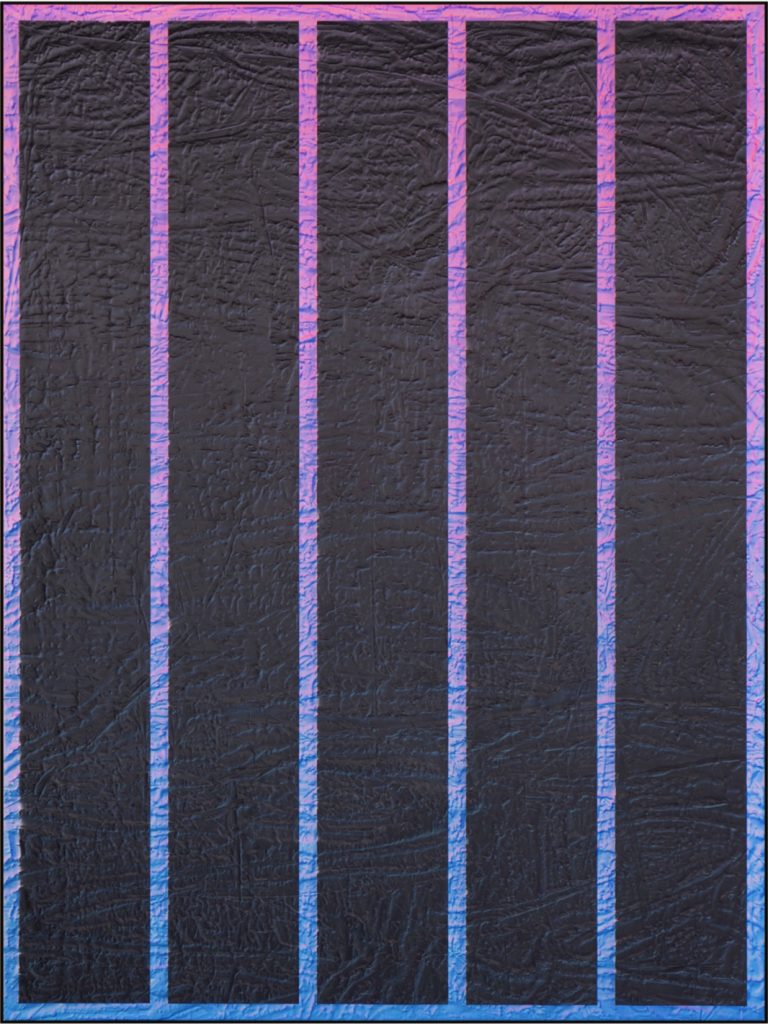 Michael Staniak HDF_203, 2020
The rapid evolution of our online habitat has challenged us to be ever more reliant on digital media for guidance. Algorithms and artificial intelligence predominantly dictate our online behaviour; they almost act as the virtual Pareidolian mind that sees patterns in online code. This can lead to physical world consequences – from simply taking a di erent car route based on an optimum estimation via an app, to the outcomes of political elections. Staniak's new HDF paintings fuse elements of traditional and new technologies to reinterpret his textural information. His shapes and lines, formed using screen-based software and applied to the surfaces through UV flatbed printing, act like markers or borders amongst a seemingly random landscape. The results resemble a digitally mapped environment, one tamed by technological advancement.
Michael Staniak, 'Natural Order' Private view Thursday, 12th March 2020, 7PM – 9PM
10 March – 4 April 2020 @unitlondon
About The Artist
Michael Staniak was born in Melbourne in 1982. His adolescence was primarily a sporting one and, in his early twenties, he became a professional tennis player – a career which was cut short due to injury. The silver lining to this particular cloud was Staniak's subsequent movement from the tennis court to the artist studio, spending a year in his back garden toiling over a folio for entry into art college, he reignited a passion for the creative arts.
Staniak studied digital media communications in the United States and, discovering an artistic and academic verve, went on to study for a BFA followed by an MFA at the University of Melbourne's Victorian College of the Arts (graduating in 2011). Staniak's work formed part of Unit London's 2018 group exhibition Looking For U which showcased eight outstanding artists' explorations of art in the digital age. Staniak's solo shows include Anytime Anywhere and Solid State at Steve Turner in Los Angeles; New Surface at NKN in Melbourne; IMG_ at Contemporary Art Museum in St Louis; and Permanent Display at the Annarumma Gallery in Naples.
Categories
Tags