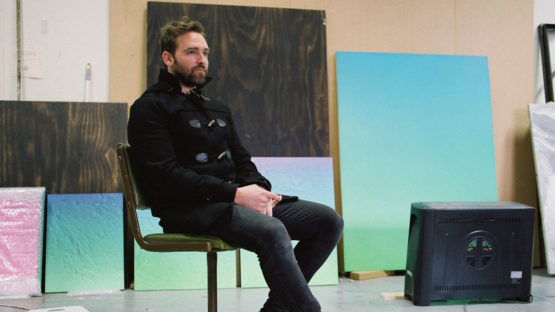 We caught up with Michael Staniak at the opening of his exhibition Natural Order to delve a bit deeper into his art practice
Can you tell us about your practice and the themes you like to explore
I have a heavily hands-on, studio based practice. Though a lot of my work references digital aesthetics and digital media, the hand-made elements of my work are most important. As a result, I investigate ways in which digital and social media are affecting the traditional (and not-so-traditional) production of painting and sculpture, and also how this work can be interpreted by audiences through physical or screen-based viewing.
Natural order is the title of your show – does digital disrupt or reinforce the natural order?
The digital is now a part of our natural environment. When people think of nature, they may think of the wild; of rolling hills and untamed forests. However, as 21st Century humans, we are very much interconnected via digital means and we are becoming more and more accustomed to traversing both physical and virtual environments. Both also affect one another. Digital technology has the ability to help us navigate our new social terrain but also disrupt physical reality. However, it seems a natural evolution to use these new technologies to enhance the order within our lives and try to make sense of our increased access to information rather than hinder it.
You are based in Melbourne how have the recent fires and floods impacted on your work if at all?
The past summer was tragic for many rural communities and some of the effects of the smoke haze could be felt in the city. However, my work was not influenced by these events. I do have a more recent keen interest in the natural environment, which can be seen in some of my work over the past two years. This occurred after undertaking a residency in remote Newfoundland, Canada, in 2018. The series of paintings for Natural Order do not specifically coincide with the research from that residency but do still touch on the idea that my painted terrains are small segments of my own gestural, studio landscape.
How/Why did you choose to become an artist?
I just need to make art. It is about as simple as that. I have been creative for as long as I remember and I am sure it runs in my blood considering my father attended art and design college in Poland many decades ago.
Post internet – aren't we in the post reality world now?
Post-Internet is a funny buzzword that I think has been misinterpreted many times. Originally coined by Marisa Olsen about a decade ago and expanded on by theorist Gene McHugh, it is about the idea that the Internet is no longer a place for coders and programmers but allows authorship for all. It also suggests that there is a connection between most objects in the physical world and our activities online. So the term Post-internet in art simply refers to art work made after the internet has become ubiquitous. Of course, a lot of work made with ideas of the internet or digital media specifically in mind, was lumped into a category of "post-internet" like it was a movement. But I think most work exists inside this realm and therefor the word has lost its lustre. You can just observe how easily artistic trends spread through the likes of Instagram. As for post-reality, following this logic that would simply mean work made in a time of reality, which could be interpreted as anything. I would go so far as to say that we may be making art in dual reality – where artwork is inevitably seen in the physical and the virtual. So artists must be conscious of this dual interpretation when creating work in the studio. But I think these two realities are now so interlinked that they are becoming one and the same.
Michael Staniak, 'Natural Order' Private View Thursday, 12th March 2020, 19:00 – 21:00 @unitlondon
Categories
Tags