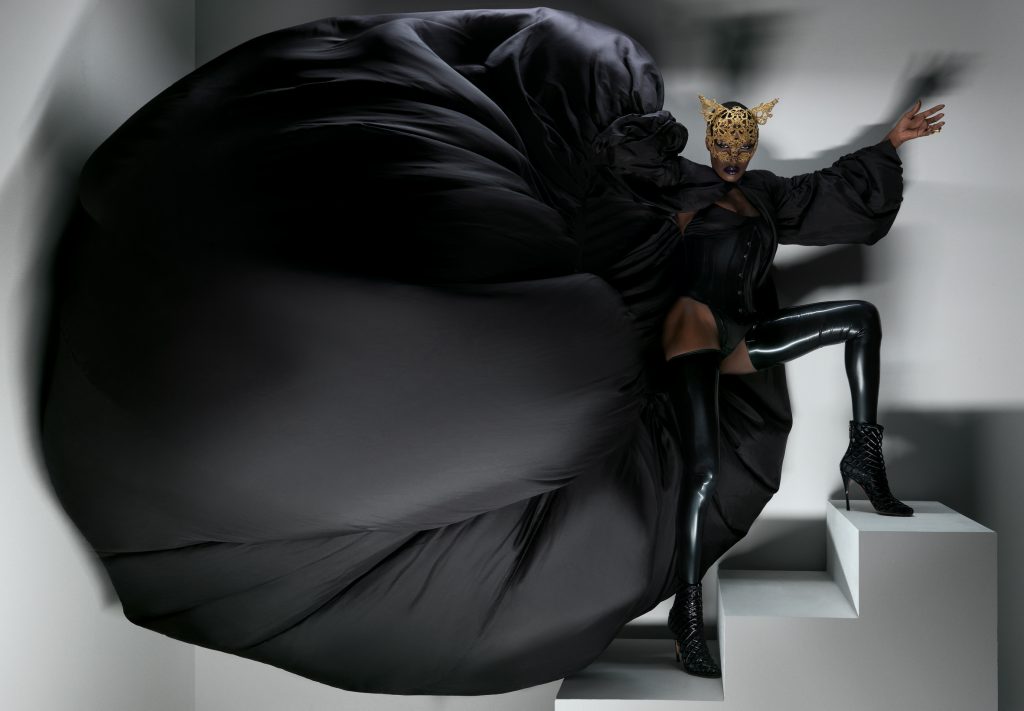 Grace_Jones by Andrea Kalrin
Southbank Centre today revealed the first acts chosen by international icon of music, fashion, art and film, Grace Jones, for her 2020 Meltdown festival. The longest running artist-curated festival in the world reaches its 27th year, taking over Southbank Centre's 17-acre London site from 21-21 June, with a global, generation-spanning line up.
With rare performances from international legends to contemporary pioneers, Grace Jones' Meltdown reflects a decades-long career working with the finest musicians in the world, while remaining a towering figure of contemporary culture, continuing to inspire cutting-edge artists today.
Boundary-breaking artists chosen by Grace Jones include:
Grammy Award-winning singer/songwriter and visual artist Solange Knowles (RFH, 12 Jun).
Pioneering musician and legendary queer-feminist icon Peaches, returning to Southbank Centre with the special UK premiere of an explosive show specially crafted for Grace Jones' Meltdown (RFH, 13 Jun).
Paraorchestra presents: The Love Unlimited Synth Orchestra, the world's first integrated ensemble of professional disabled and non-disabled musicians celebrating the music of soul icon Barry White with special guests (RFH, 17 Jun).
Skunk Anansie, celebrating 25 years since their political, musical and aesthetic radicalism propelled them from the backrooms of 1990s London to huge success (RFH, 18 Jun).
Malian legend Oumou Sangaré, combining rich musical tradition with contemporary sounds and fearless campaigning for women's rights (QEH, 17 Jun).
Meshell Ndegeocello whose three-decade career has explored the intersection between race, politics, and sexuality and been credited with sparking the neo-soul movement (QEH, 18 Jun).
Jones also showcases original world-class musicians with global impact including:
Undisputed reggae great Jimmy Cliff, the musician who penned immortal anthems including 'I Can See Clearly Now', 'You Can Get It If You Really Want' and 'The Harder They Come' (RFH, 14 Jun).
Sengalese superstar Baaba Maal, who shifted worldwide perceptions of West African music in the 1980s with his unique blend of traditional rhythms and modern Western styles (RFH, 20 Jun).
One of the most enduring and original reggae artists Lee Scratch Perry, who returns to Southbank Centre with dub producer Adrian Howells after curating Meltdown in 2003 (QEH, 12 Jun).
Soul legend Lee Fields joined by his band The Expressions (QEH, 20 Jun).
Multi-award winning South African choral supergroup, Ladysmith Black Mambazo, who return for two very special shows (QEH, 21 Jun).
Grace Jones herself brings the festival to a climax in the world-class Royal Festival Hall, with an extraordinary new show unlike any other she has performed before (RFH, 21 Jun). This very special evening brings together her musicianship, flamboyant theatricality and flair for the unexpected.
Grace Jones said:
"As everyone knows, I'm a collector, and I collect people, amongst other things. This is what I have done for Meltdown. These wonderful artists I have chosen represent something unique to me personally and to my career. From Baaba Maal to Skunk Anansie to Solange. Each one of these artists has a little bit of me in them, and now I am proud to present them all to you. By the time I close the festival with my performance on the 21st of June, everyone who has attended any one of these shows will have had an incredible live concert experience, given to them with love from me, Grace Jones."
Meltdown has an unparalleled reputation among artists and is famed for providing a stage for exclusive collaborations and intimate, once-in-a-lifetime musical experiences. It is the crown in Southbank Centre's year-round programme of gigs and contemporary music which emcompasses world-class venues including Royal Festival Hall, Queen Elizabeth Hall and Purcell Room, and opportunities to showcase boundary-pushing, underground artists through it's celebrated futuretense and Concrete Lates series. Jones joins a roll-call of world-changing artists to head up the festival, including David Bowie, Yoko Ono, Patti Smith, Nick Cave, Lee Scratch Perry, M.I.A., and Robert Smith, and takes the baton from her former collaborator Nile Rodgers, who delivered the most critically acclaimed Meltdown to date in 2019.
Tickets will go on sale to Southbank Centre members at 10am on Wednesday 12 February and to the general public at 10am on Friday 14 February. For more information go to www.southbankcentre.co.uk/meltdown.
Categories
Tags