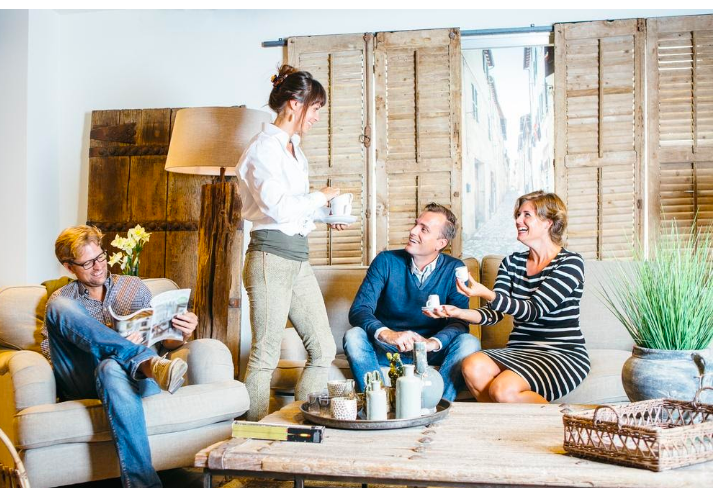 Do you dream of hosting extravagant dinner parties, but are too embarrassed by the look of your living room? Or, do you wish to have all your boys over for Sunday football, but have no room to seat everybody? Believe it or not, many people face the dilemma and don't invite their friends and family over because they don't think their home is guest-friendly. This doesn't have to be the case, though. A few simple changes to your living room can rejuvenate your home and create a welcoming space that everyone will love.
Below, we'll go over how to create a guest-friendly living room that will make everyone want to stay. Take a look!
Invest in the right furniture
The furniture you buy will make or break your living room. You don't want furniture that's too stiff or fancy that won't make guests feel at home. Nor do you want furniture that's outdated, dirty, or old that makes people sit at the edge of their seat. Instead, you want pieces that strike a happy medium between modern and comfortable.
You can find great furniture for your living room at affordable prices that won't break the bank. Brands like Lexington Furniture, Hooker Furniture, and Liberty Furniture are all great options for updating your home. Some home design trends and furniture pieces you need to create a guest-friendly bedroom include:
Couch: Your couch is the epicenter of your home. This is where your guests will congregate to watch the big game on Sundays, eat hors d'oeuvres while watching the latest episode of the Bachelor, or play fun games like Bananagrams or What Do You Meme. Your couch has to be big and comfortable that isn't too valuable where people wouldn't want to sit on it. Sectional and modular sofas are excellent choices for cramming in all your buddies onto one seating arrangement. Other ideas include a sofa and loveseat combo, or a sofa bed that allows your guests to sleep over.
Chairs: Additional seating is just as important as your couch. In most cases, not everyone will be able to fit on your couch, so arranging chairs that allow everyone to face each other and the TV will create a welcoming environment where everyone can socialize. Armchairs, recliners, and bar stools are just a few types of chairs you can place in your living room. If you don't have enough room for these, consider chic bean bag chairs or extra-large pillows people can use as seating.
Coffee Table: A coffee table is a must for every living room. They allow guests to place their drinks down when they're mid-conversation and are a great place to serve snacks and appetizers. Other great additions for your coffee table include flowers, candles, photo albums, magazines, coffee or tea set, and table books to keep your guests entertained when you're busy.
End Tables: End tables, just like coffee tables, are great for drinks, snacks, and light reading that will make your guests feel right at home. One benefit of end tables is that you can place lighting fixtures on them to brighten up the room for a cozier feel.
Light up the room
The lighting in your living will either draw guests in or push them away. A living room that is too dark will make your guests feel uncomfortable, unwelcome, and hidden from others, which might make them feel unwanted at your home. 
When lighting your living room, you want to ensure you provide enough light so people can see, but not too bright, where they feel as if they're in the waiting room of a doctor's office. Ceiling lighting is important, but if you don't have the budget to install new lights in your ceiling, you're still in luck.
Table lamps and reading lamps can be placed on end tables so guests can read and see what's in front of them easier. Standing lamps can be placed in dark corners to illuminate them and widen up the room. You can even place spotlights and picture lights to highlight artwork and photographs hanging on your wall.
Don't skimp on accessories
To complete your living room, make sure you accessorize. There are plenty of ways you can make your friends and family feel at home with the right accessories. Throw blankets and pillows will allow them to get cozy while watching a movie or binge-watching Netflix. The right candles that aren't too overpowering can add a calming fragrance to the air that keeps them relaxed. You should also invest in stylish throw pillows that add color to your living room and provide extra comfort for your friends and family.
Wrapping up
Turning your ordinary living room into the meeting center for your friends and family doesn't require a full overhaul. Investing in comfortable furniture, lighting up the room, and adding welcoming accessories is a great starting point for creating a guest-friendly living room.
About Mark Westall