Peter de Hooch: The Mother, c. 1661
Pieter de Hooch (the Dutch say 'hoe-k') was born in Rotterdam in 1629, but lived in Delft during the 1650's, where he painted 40 of his 150 known works before leaving for Amsterdam in 1660, where died around 1680. In Delft now, only the second solo show ever of his paintings* aims to lift him 'out of the shadow' of Delft's most famous son, Vermeer. De Hooch's four brothers all died young, enabling his parents to support his art education – he went on to five children himself, though there he is definitely bested by Vermeer's fifteen (on the other hand, De Hooch often included children in his compositions, whereas Vermeer did not.

Pieter de Hooch: Cardplayers in a Sunlit Room, 1658
40 works are excellently presented at the Museum Prinsenhof  – backed up by considerable original research into de Hooch's life, subjects, techniques and reputational trajectory. Which does leave the question: how good are the paintings? You don't feel the presence of the people the way you do in Vermeer, but maybe that's a merit in order to fit their undemonstrative presence into a concentration on space, light and architecture. No-one is better at orchestrating transitions between internal and external, and their relative distances and lighting conditions; at integrating the abstract and perspectival patterns of geometric floors into compositions; or at describing walls and their various states of deterioration with an engaged precision suggestive of the bricklayer's son which de Hooch was. And his settings – courtyards, interiors, gardens, grand buildings – are more varied than I had appreciated.  The result is a luminously calm, beautifully organised view of everyday life which values quotidian tasks as virtuous.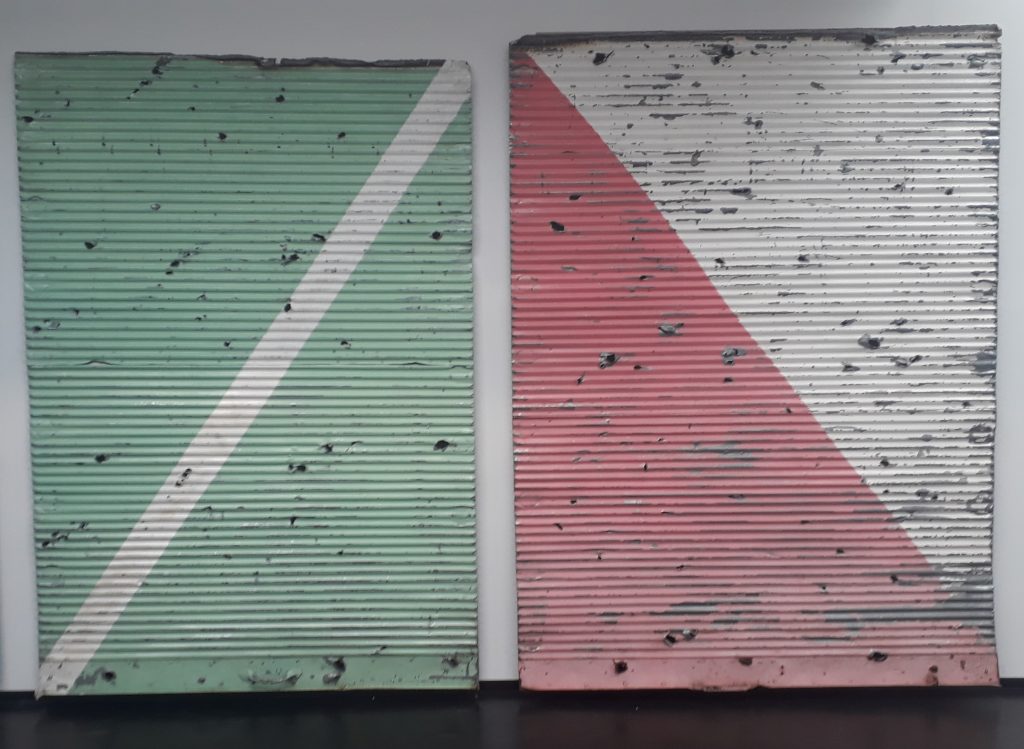 Floris Boccanegra: 'Out of Business (The Diagonal)' 2 + 3, 2017
And that everyday life is picked up in 'Extra Ordinary' an imaginatively curated show of contemporary art across four spaces around the town**. Stand-out works by two famous artists – Erwin Wurm and Shana Moulton – are complemented by lesser-known favourites of mine – Paola Ciarska and Koos Buster – and 18 other choices of considerable wit. Desiree de Baar knits architecture out of wool, then folds it up. You can ride in Maze de Boer's bumper car but the rink is hardly bigger than the vehicle.  Peter de Krom films a gang of mobility scooter riders, Priscila Fernandes the goings-on at Kidzania, a theme park in which children can pretend to be adults. Anne Marie van Splunter shows children opening curtains onto the day's new world. Natasha Caruana has brought together wedding photographs – designed to sell the dresses – with the bride's face edited or redacted for anonymity. Leo Gabin compiles found footage – of mysteriously purposed origins – of young women cleaning their rooms. And there's room for directly troubling aspects: the distressed abstract aesthetic above, which might make you think of how Gedi Sibony appropriates the backs of lorries, is caused by bullets and shrapnel: they are shop shutters which Floris Boccanegra brought back from Mosul, Iraq.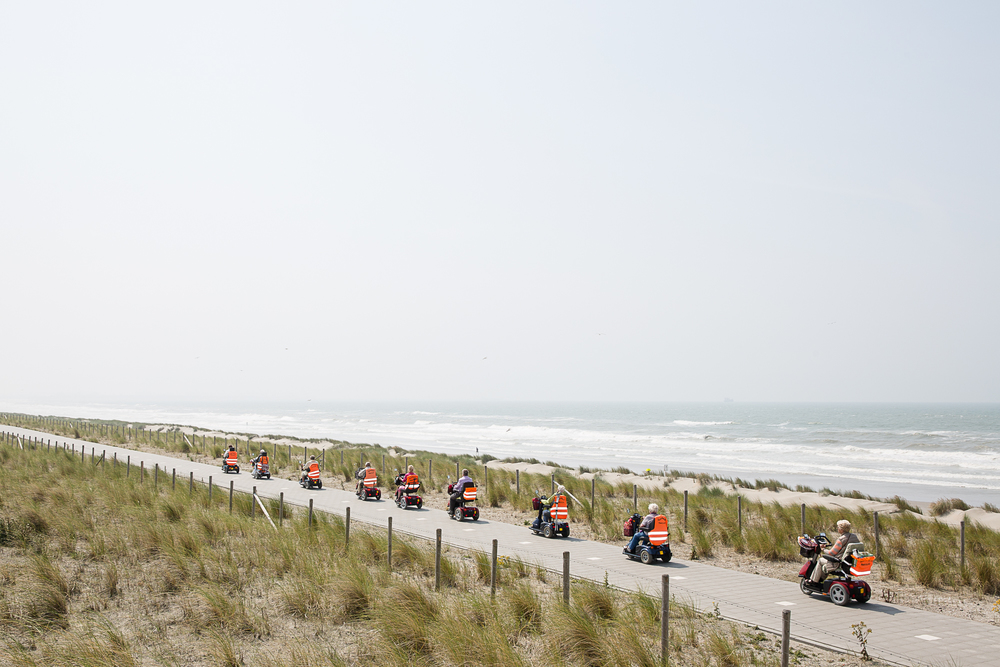 Peter de Krom: 'The Scootrangers' (still) 2016
* To 16 Feb 2020 at Museum Prinsenhof
** To 16 Feb 2020, organised by 38CC
Art writer and curator Paul Carey-Kent sees a lot of shows: we asked him to jot down whatever came into his head
About Paul Carey-Kent