Miaz Brothers, Young Man J, 2017, Acrylic on canvas.
As part of their ongoing period of transformation, Lazinc gallery presents Watch This Space in collaboration with renowned curator Magda Danysz, of Danysz Gallery. This unique artistic initiative brings together over 25 contemporary artists, who will develop and create works live time onsite. They will transform the gallery over the course of three months, creating a dialogue with the space and an opportunity for audiences to see the creative process unfold.
This disruptive exhibition will house an array of multi-disciplinary works, touching on themes of urban art, rebellion and multi-culturalism. Many of the artists invited by Danysz – such as YZ and 1010 – adopt building facades and concrete surfaces as their canvas, transforming them into monumental public artworks. Watch This Space will similarly see the walls and floors of the gallery become arenas for the artists' creative process.
Mindful of a growing sense of division and segregation both in the UK and around the world, Lazinc and Danysz aim to build bridges that stretch over geographical and political boundaries to connect disparate, international communities through art. The socially oriented practice of Danysz and the Watch This Space artists align with Lazinc's mission to showcase artists whose work comments on the prescient issues of society today.
Artists, including prominent figures from the Lazinc roster – namely Mark Jenkins and the Miaz Brothers – will feature alongside international artists specially selected by curator and co-producer Danysz, notably, Charles Petillon and Ludo.
Charles Petillon is widely known for his large-scale balloon installations that present novel perspectives to historic locations. In August 2015, Petillon covered the arched ceiling of Covent Garden with 100,000 pristine white balloons, transforming the space into a dream- like wonderland. Similarly, Lazinc artist Mark Jenkins employs his practice to encourage public participation. Using the 'street as a stage', Jenkins constructs surrealist installations that engender spontaneous responses from passers-by. Meanwhile, female French artist YZ creates striking monumental portraits of women that inject a feminine sensibility into the genre of street art. These artists will create works alongside one another for the first time in Watch This Space.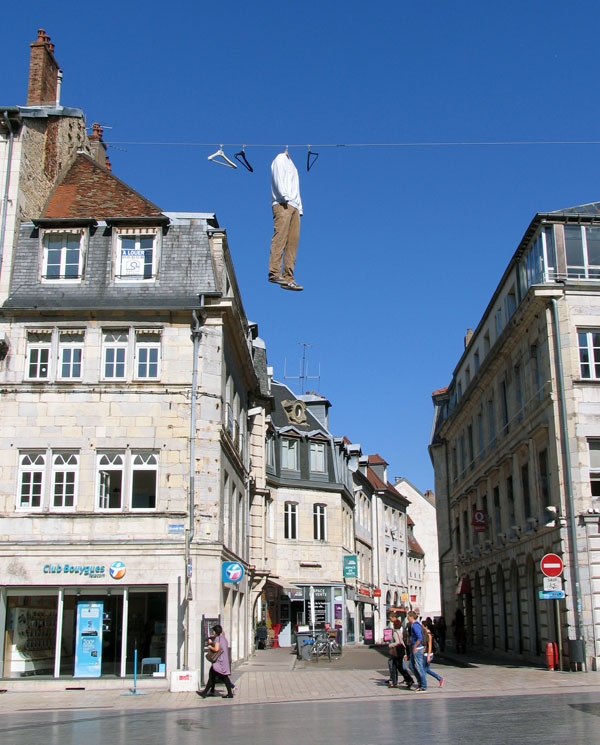 1010 (pronounced tenten) is an artist celebrated for his immersive graphic illusions. His cavernous murals seem to disappear from the surfaces on which they are painted and imply a trompe-l'oeil technique to suggest three-dimensionality.
Remi Rough is another artist to look out for. Influenced by the abstract vanguards of the first half of the twentieth century, his colourful works have transformed walls in the MB6 Marrakech Biennale, the DC Mural Project in Washington and the facade of the Megaro Hotel in central London.
The phrase 'watch this space' denotes a period of transition and impermanence and reflects Lazinc's own phase of transformation. By creating new works live in the gallery space, the artists highlight art's unique ability to capture the fleeting nature of contemporary life. The concept also imbues the artists' creative process with a performative element, as artists must work alongside one another in public view.
Watch this Space will immerse visitors in a world of creation where they can see the artists' process as it unfolds. The space is a blank page for the participating artists, who have the freedom to paint from floor to ceiling. In this cultural experience, we want to show the side of art that audiences don't normally see. – Magda Danysz
About the gallery
Magda Danysz is the founder of Danysz Gallery, which is based in Paris, Shanghai and London. She started her cultural journey in 1991 in Paris, opening her first gallery at age 17. Since then she has opened spaces in Shanghai (2008) and a pop-up in London (in 2015). In addition to producing exhibitions for the spaces she directs, Magda Danysz has also curated other cultural projects with museums and municipalities worldwide. As an active curator she has participated in more than 100 exhibitions worldwide and has also been keen on publishing books about art. She has written various publications, including a monography about American artist Futura; an Anthology of street art; and Les Bains-Re?sidence d'Artistes, which is about an artist residency project in the heart of Paris held in 2012–13
Categories
Tags