The Sixteen Trust, a new arts and education charity aimed at providing opportunities and raising aspirations for 11-16 year olds in deprived parts of the UK, has been founded and will launch this month with a major exhibition in Margate.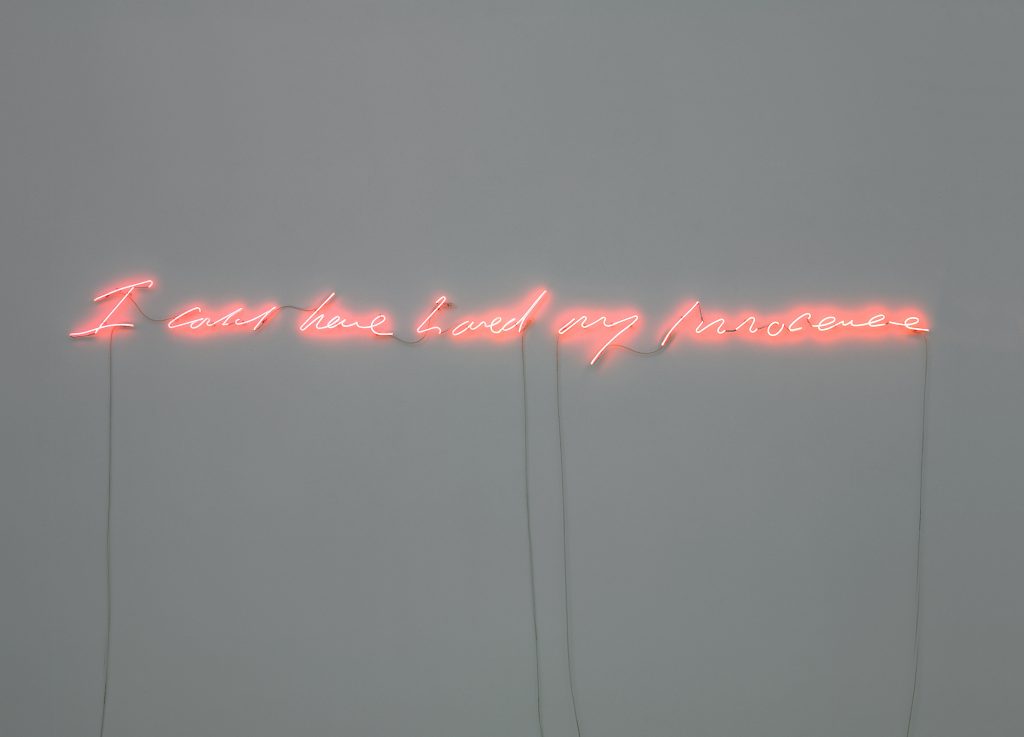 Tracey Emin?I could have Loved my Innocence?2007?Neon (pale pink)?38.1 × 340.4 × 5.1 cm (15 × 134 × 2. in.) Edition 3 of 3, with 2AP
The Sixteen Trust will focus on driving real-world opportunities through the charity's significant network of arts professionals, believing that the arts have the unique capability to touch all aspects of daily life, and provide young people with opportunities through practical, creative or even scientific pathways.
Education through the arts has the potential to reach into and inform a wide variety of subjects, providing cross-pollination and transferable skills, giving students experiences and hands-on knowledge that could prove invaluable in initiating a variety of interests and, eventually, career paths. It will give long-term support, tied into the school curriculum and in partnership with schools and educators.
The Sixteen Trust will stage a large exhibition of former Turner Prize nominees and winners in the Sunshine Cafe, Margate, near Turner Contemporary, running 13th September – 18th October 2019.
Sunshine Cafe is an iconic 1930s Grade 2* listed building on Margate's seafront. The exhibition, titled 'We Must Cultivate Our Garden', will be the first time the venue will be open after its closure in 2011 and there is a palpable sense of excitement about this opportunity. In many ways this space represents the former glory of Thanet, and is a great focus for the projects aims and objectives, in driving aspiration and investment in the area. The project is run in partnership with Thanet District Council and Margate Festival.
Founder and Curator Lee Cavaliere says:
"To young people growing up in real financial hardship, and experiencing generational unemployment, the benefits of the arts can seem distant and alien. The Sixteen Trust has been founded to practically reach out to these otherwise ostracised children, to vitalise their talents and ideas and help them to realise their potential, and most of all, to help them understand the real value that they have, to their community and to our broader culture."
Mentoring will be offered in-person and online, via one-to-one sessions and video, with print and other resources. The aim is to provide a long-term, cohesive and comprehensive support to children, throughout and beyond their secondary education, using a network of successful, relatable and approachable individuals, who were themselves once in the UK schooling system.
Current schools partners include Hartsdown Academy, King Ethelbert Schools in Thanet, and Goodwin Academy in Deal. The potential for adding value to the curriculum is huge. Matt Tate, Head of Hartsdown Academy, says:
"The opportunity that is being afforded to us by The Sixteen Trust is potentially life-changing for our students; the impact that being part of this project will have on our students will be phenomenal and hopefully foster in them the confidence and skills needed to encourage them to take on the mantle of the next generation of great, British artists."
Mentors brought on board so far include: Helen Lovett-Johnson, costume designer for the recent Royal Ballet production of Cinderella; Mikei Hall, head technician at Tate Britain; Amanda Grey, art lawyer and partner at Mishcon de Reya; and a host of set designers, filmographers, art technicians, curators, fashion designers and dance choreographers.
'We Must Cultivate Our Garden' (Margate) Sunshine Cafe? Marine Terrace, Margate CT9 1XJ 13th September – 18th October 2019 13th September, 6-9pm
The Dreamland Cinema complex opened with considerable fanfare in March 1935. Following closure during WW2, the Cinema complex reopened in 1946 with the Sunshine Cafe as a billiard hall. Since then, the space has been a musical hall, a bingo hall and a children's' play area. Its last use, as the 'Oriental Buffet', ceased in 2011. The Cinemas and bingo hall closed in 2008.
The Sixteen Trust Team
Lee Cavaliere, Founder Lee is a private art dealer and curator, and contemporary art specialist, based in London and Margate. Following a number of years working with the Tate's Collection displays, he moved on to the commercial sector, delivering contemporary exhibitions programmes at Max Wigram Gallery and the Fine Art Society on Bond Street, London. Collaborating with galleries, he has presented artists at dozens of art fairs including, most recently, Art Central Hong Kong, London Art Fair, and the British Art Fair, London. He now manages artists and works internationally with galleries and museums, developing exhibitions and facilitating opportunities and connections.
Elaine Foley, Trustee Elaine has worked for over ten years in the dance sector in both the US and the UK.
She's passionate about community engagement in the arts, and championing inclusive and diverse contemporary dance practice and performance. She has extensive experience in dance performance from stages to stadiums as well as training and teaching Yoga and various styles of community dance. She currently works as Projects Manager, Learning & Engagement with Sadlers Wells.
Rosie Escott, Trustee/Treasurer Rosie has worked in the charity sector since 2007 and has been the Managing Director of Kent-based charity, Music for Change, since 2010. She has extensive experience of financial management, fundraising, events and project management, and an excellent knowledge of the East Kent area, having lived and worked in the community in Thanet for around 10 years. Rosie is passionate about the role of the arts as a catalyst for social change, and is very excited to be a Trustee for The Sixteen, being dedicated to the organisation's aims and ethos. She is a qualified member of the Institute of Fundraising and also works as a freelance fundraiser.
The Sixteen Trust c/o Kreativ House, 280 Mare Street, London E8 1HE www.thesixteen.org
Categories
Tags