Art critic Tabish Khan brings you 'The Top Art Exhibitions to see in London'. Each one comes with a concise review to help you decide whether it's for you. All end soon, so hurry if you want to catch them. All but one of his top picks from last week are still open, so there's a chance to catch them too: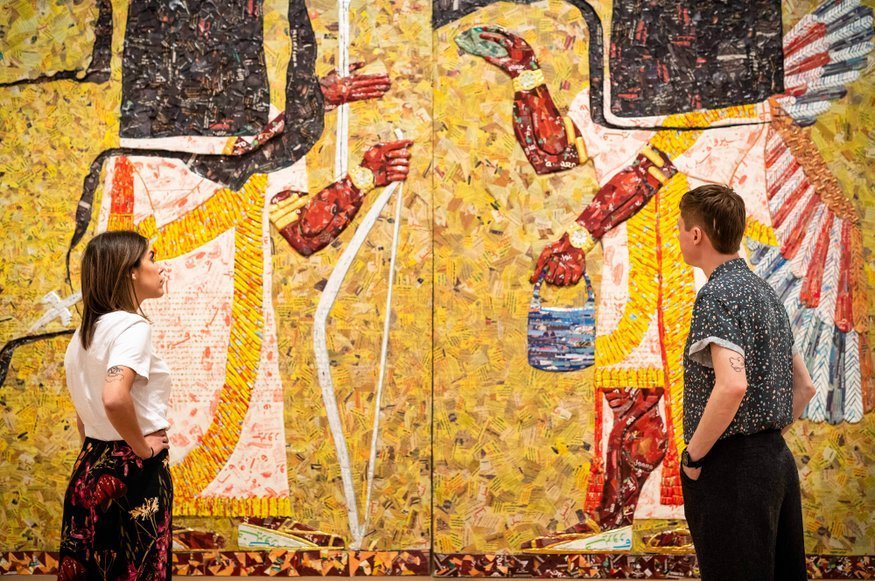 Michael Rakowitz @ Whitechapel Gallery
What does a cover of Deep Purple's Smoke on the water have to do with looted Iraqi artefacts or the Beatles with the idea of creating one Arab state? It's the kind of links Michael Rakowitz draws in his thoroughly researched projects that look at the destruction and preservation of heritage. It's a brilliant exhibition that packs a powerful emotional punch. Read my full review here. Until 25 August.
Frank Bowling @ Tate Britain
Colour explodes from the walls in this collection of big bold paintings that are a joy to behold. It's about time Frank Bowling got his dues and this Tate Britain show is it — plus he still going at age 85, what a legend. It's not just gorgeous paintings there are political themes too including migration, homelessness and colonialism contained within his work. Any fan of painting must visit this long overdue retrospective. Until 26 August.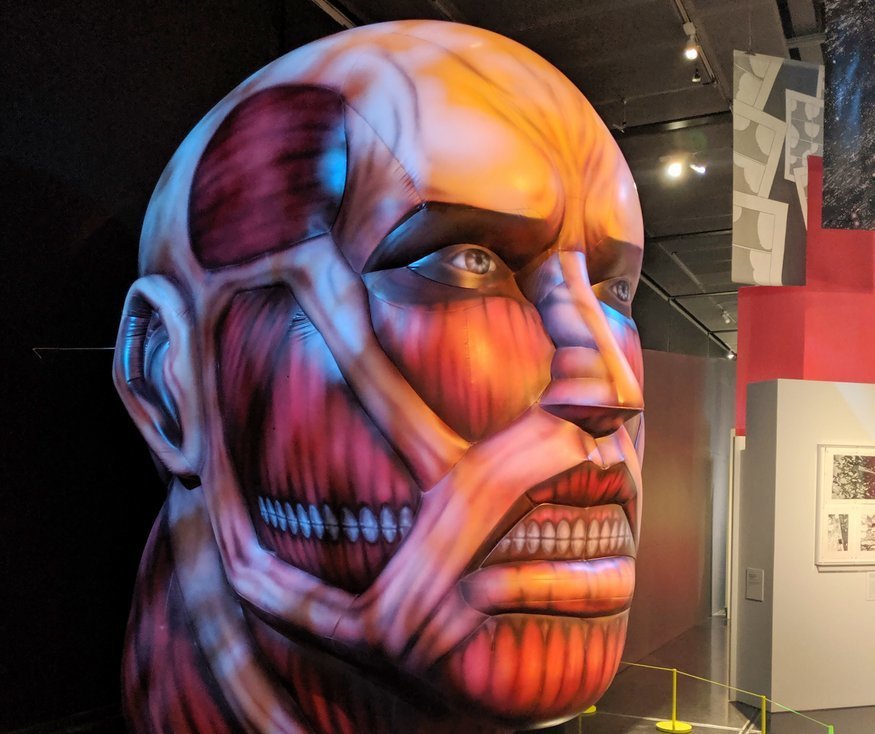 Manga @ The British Museum
Sailor Moon, Dragonball Z and Attack on Titan have all made The British Museum their home in a blockbuster Manga exhibition. Learn about where the genre originated, the sub genre designed to appeal to female readers and have a go at 'Mangafying' yourself. There's so much to see and it's a great gateway into this Japanese art form. Read my full review here. Until 26 August.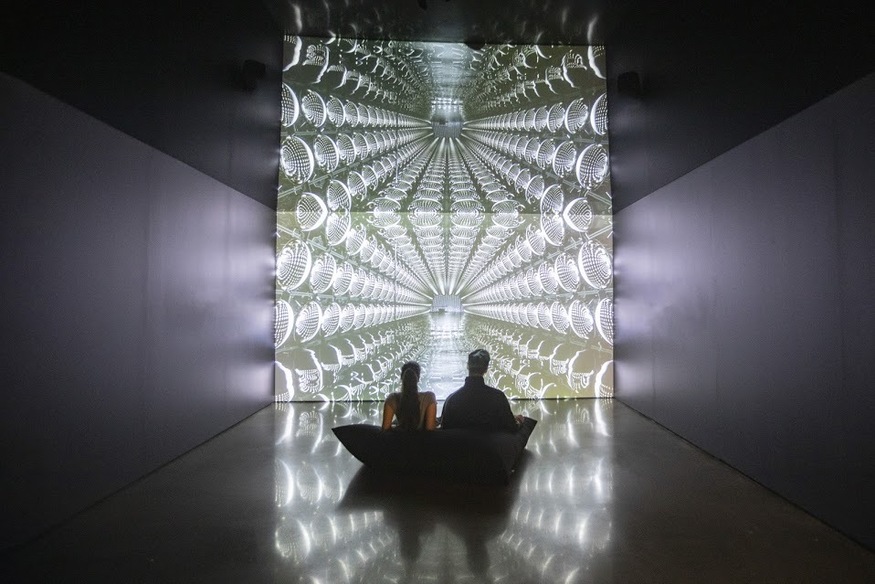 Dark Matter: 95% of the universe is missing @ Science Gallery
95% of the universe is made up of dark matter and dark energy, but we can't see it or feel it. So to put on an exhibition on this topic is impressive. Science Gallery has done just that with artists working with this loose theme so we get works made from spiderwebs and carbon atoms, and a quirky video by Andy Holden looking at the laws of physics within cartoons. Until 26 August. 
Writing: Making Your Mark @ The British Library
Writing is a skill that goes back to the beginnings of human civilisation, but is it in danger of dying out? The British Library has put on a detailed exhibition about the history of writing and how it's evolved — I had no idea that the letter A was originally an ox head that got flipped over time and made more abstract. From stone tablets to printing presses and the personal computer, it's a fascinating journey exploring one of life's basic skills we take for granted. Read my full review here. Until 27 August.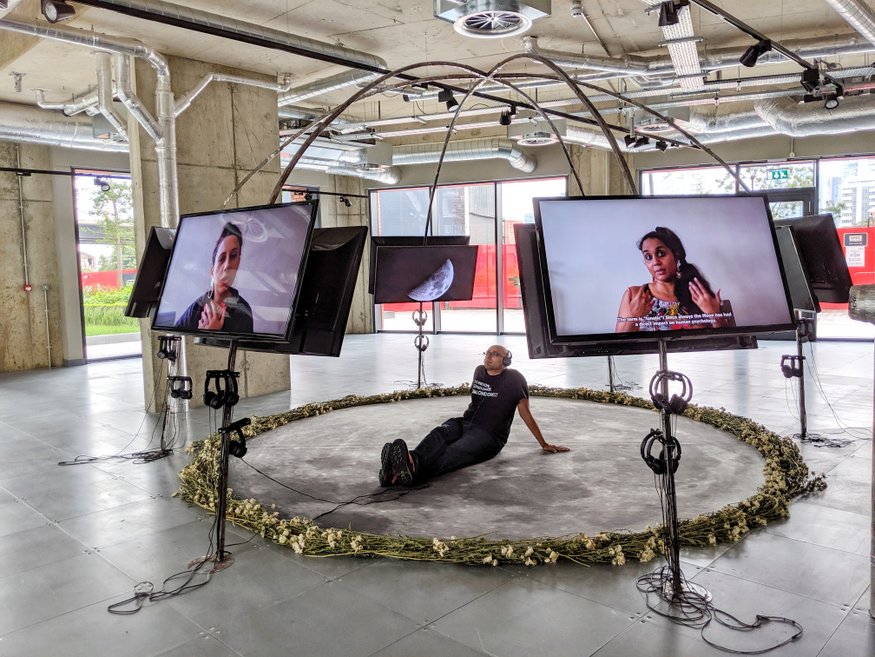 Tabita Rezaire: Satellite Devotion @ Arebyte
Listen to a dose of guided meditation based on the moon while sitting or lying inside a dome, in this relaxing exhibition. For me it was the perfect way to lie back and end a day of gallery hopping. Around the outside of the dome are videos of people exploring our relationship with our natural satellite 50 years after humanity first set foot on it. Until 24 August.
Michael Craig Martin: Sculpture @ Gagosian, Brittania Street
A giant metal pen, light bulb and pair of headphones stands up in the gallery as if delicately balanced on their ends and defying gravity. These giant playful artworks are a fun contrast with the polished floors and suit and tie wearing invigilators. Until 23 August.
All images copyright gallery and artist unless otherwise stated. Rakowitz Photo John Nguyen/PA Wire. Bowling image Matt Greenwood. British Library photo: Tony Antoniou. Gagosian photo: Mike Bruce.
Categories
Tags