Art critic Tabish Khan brings you 'The Top Art Exhibitions to see in London'. Each one comes with a concise review to help you decide whether it's for you. All end soon, so hurry if you want to catch them. All but one of his top picks from last week are still open, so there's a chance to catch them too:
David Adjaye: Making Memory @ Design Museum
From a massive cathedral for Ghana to the Holocaust memorial planned for Westminster, David Adjaye has selected seven impressive projects that his firm is involved in around the world. Each one takes from local cultural cues to create poignant and spectacular designs. It's great to see an architect who is more concerned with respecting varied cultures than placing his own stamp on a landscape. Until 4 August.
The EY exhibition: Van Gogh and Britain @ Tate Britain
The hugely popular Van Gogh exhibition is drawing the crowds to Tate Britain and rightfully so as it contains some stellar works by the master painter. Sunflowers, landscapes and his own version of a Gustave Dore etching of prisoners at Newgate prison. Some superb loans means it's a rare chance to see Starry Night and several other Van Gogh masterpieces while learning about how his time in Britain influenced his art, and he in turn influenced British artists. Read my full review here. Until 11 August.
Gray Wielebinski: Dark Air @ Seager Gallery, curated by DATEAGLE ART
A half scorpion, half Sphinx blocks off half of the gallery. This cute and giant transforming beast references the artist's own transition between genders and its made from found materials all associated with Americana — from sports tops to denim. To complete the sporty feel scarves commemorating the exhibition hang off the wall and they're reasonably priced so I bought one. Until 2 August.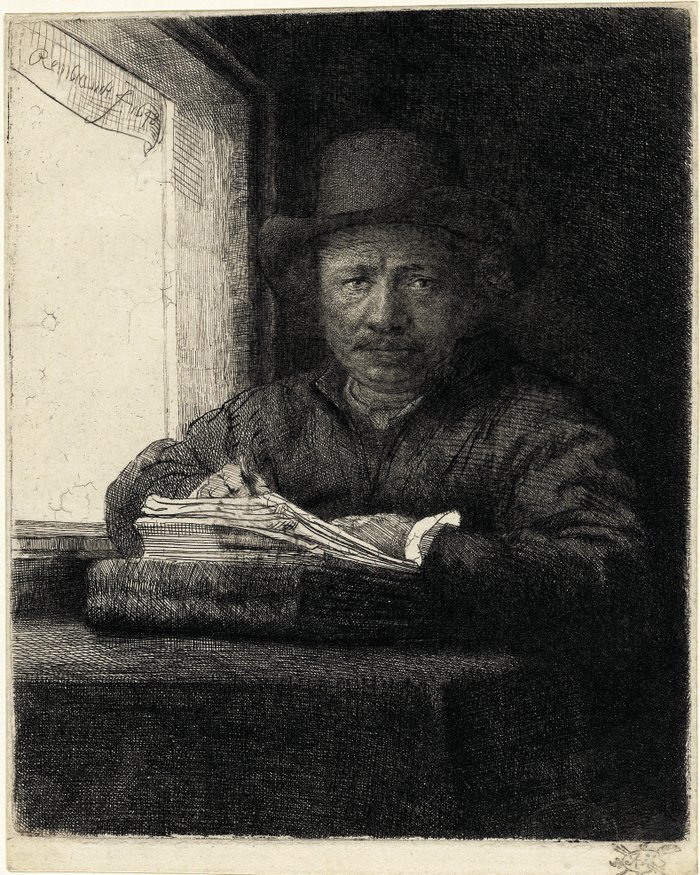 Rembrandt: thinking on paper @ The British Museum
The master of light and shadow is on show at The British Museum with a fantastic selection of drawings. These may be a lot smaller than his paintings but the light streaming down from heaven in the Annunciation and the painter's self-portrait in the half light are spectacular treasures. It's a beautiful show to remember Rembrandt by 350 years after his death. Most people aim for the blockbuster exhibitions at museum, but don't overlook impressive free displays like this one. Until 4 August.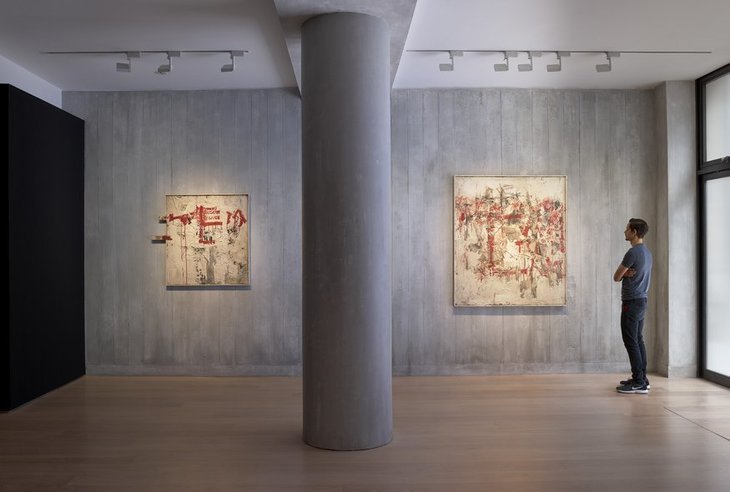 Writings on the Wall @ Waddington Custot
This white walled Mayfair gallery has been transformed with gritty grey walls that you may find on the street. It's to mark an exhibition of artists who all took inspiration from graffiti on the walls including Brassai who used photography to capture faces scratched on walls as if they were their own modern language. And Cy Twombly who used the crude graffiti he saw and incorporated them into his abstract works. The way this show is presented really brings those stories of inspiration to life. Until 8 August. 
Radouan Zeghidour: LXXV Chants de Sirenes @ Yamamoto Keiko Rochaix
The artist takes us into his illicit world as an urban explorer going into underground locations that we wouldn't be able to access. From there he creates casts that bring up all the dirt and dust from an unknown world and creates carved 'mind maps' from his journeys.  He's scratched his scribblings all over the gallery's walls so this exhibition becomes another exploration. Until 1 August.
Insight Investment Astronomy Photographer of the Year Exhibition @ National Maritime Museum
Light trails of stars and blades of wind turbines ablur create a beautiful images as does the milky way visible above a frozen waterfall. Nothing makes me feel quite so small as appreciating the vastness of space, and it's particularly relevant given we've just celebrated the 50th anniversary of the moon landings. This exhibition is also a special 10 year anniversary show and includes some of the great images from the previous years of this annual competition. Until 4 August.
All images copyright artist and gallery, unless otherwise stated. Adjaye image: Adjaye Associates & Ron Arad Architects. Van Gogh – photo (C) RMN – Grand Palais (Musée d'Orsay) / Hervé Lewandowski. Seager image © DATEAGLE ART. Rembrandt – Copyright Trustees of The British Museum. Radouan – image Alexander Christie. Astronomy – copyright Steven Mohr. 
Categories
Tags