This July multidisciplinary artist Piers Bourke opens his London studio with an exhibition of new works, and introduction to his artist in residency program with abstract painter Douglas Diaz.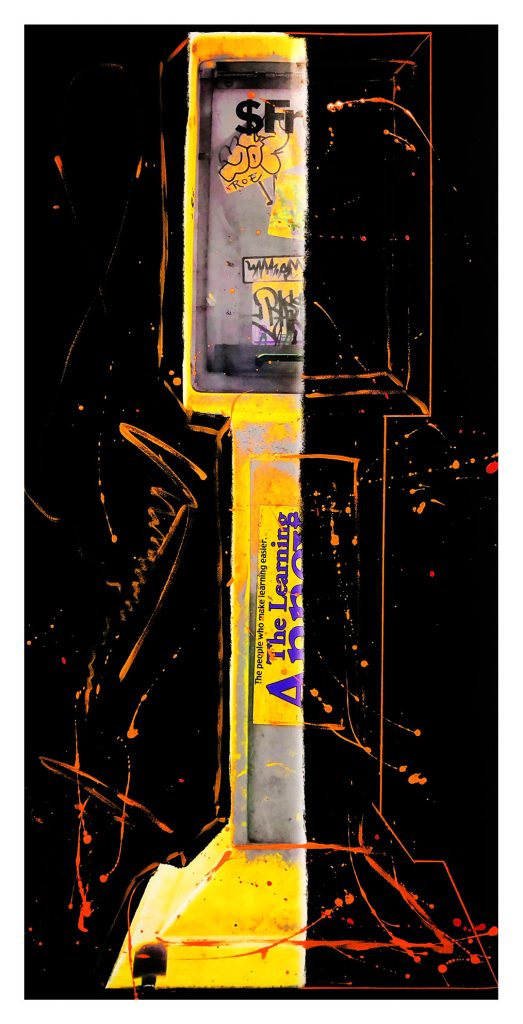 Piers Bourke, Newspaper Stand 4 – 90cm x 60cm, 2019,
'Unit 4 Studio Opening' will exhibit Piers' new series of newspaper stands and phone booths which continue his long-running interest in everyday objects in our society that are becoming obsolete. Meanwhile, Douglas will present his work made during the residency which continues to explore the act of drawing in paint.
Piers Bourke comments on the significance of the 'Studio Opening: "The studio has always been an important base to my practice and to be able to share this experience and in turn learn from another artist is key to my progression"

Douglas Diaz, Fragments of Memory 9- 180 x 128cm – 2019, Courtesy of the artists.
This exhibition and introduction to the studio "artist residency" program is a break from the traditional approach of most art residencies, due to the intimacy and openness to exchanging ideas on a one to one basis.
"Over the course of the month we could see the influence on one another being transferred into our work which developed conversation and increased productivity."
Piers was introduced to Douglas by a mutual friend whilst living and working in Singapore. Douglas was then living in Tokyo and since then they have remained in constant contact before meeting in Singapore, Bangkok and Hong Kong at exhibitions around South East Asia. Piers' concept was always to put into practise what the two of them had discussed virtually over social media over the previous few years.
It was during this period that Piers lived in Singapore that Instagram was starting to change the way artist work and could share ideas. Although Instagram has become a key tool in being able to help artists promote themselves and sell their work, it also allows artists to get to know their peers work who they admire and start their own dialogue and engagement.
Bourke realised though that although discussion is hugely important, too much talk can be counterproductive for artists, as the real-life blood, is actually producing and making work and getting it seen.
It is this concept that has started the studio residency program, conceived in SE Asia but opened in West London. Piers looks forward to welcoming visitors to the studio and talking further about this exciting step in his practice.
'STUDIO OPENING at UNIT 4 is open from Monday-Saturday, 10am-4pm by appointment only. Please contact piers@piersbourke.com for all enquires
Piers Bourke 'STUDIO OPENING' 1st July 2019 – 18th July 2019 10am-5pm Unit 4 Sullivan Enterprise Centre, SW6 3DJ
ABOUT PIERS BOURKE:
British contemporary artist, Piers Bourke, born 1978, studied at Chelsea College of Art and the University of the West of England in Bristol. Piers' practice combines progressive print and painting techniques with a traditional execution process. Perhaps best known for his iconic depictions of quintessential British imagery, including The Queen's postage stamp and telephone boxes, the artist's recent body of works sees a return purely to painting. Previously based in Asia, Piers returned to London at the end of 2018, working from his new studio in Parson's Green. Piers Bourke has exhibited internationally, with previous solo shows at Loughran Gallery, Rebecca Hossack Gallery London and New York and The Art Fellas in Singapore. Bourke's works are collected by a global audience. PIERSBOURKE.COM
ABOUT DOUGLAS DIAZ:
Douglas Diaz (b. 1972) is a Brooklyn, New York born artist. His work explores questions of his own humanity, challenging preconceptions and thoughts, embracing fears and the darkness that lies deep within the unconscious in an attempt to gain spiritual equanimity. This exploration takes shape in the form of drawings and painting that occur after a short zazen meditation. The drawings themselves are cathartic exercises that often repeat in themes.
Douglas has been exhibiting his work in solo and group shows since 2015 across Australia, Indonesia, Japan, Singapore, Thailand and the United States. In 2017, Douglas had his first solo museum exhibition titled SHUKKE (Art 1 Museum, Indonesia). His work is collected privately and publicly in 18 different countries.
DOUGLASDIAZ.COM
Categories
Tags