Opening this week multidisciplinary artist Piers Bourke, presents 'Flying Home', a presentation of the artist's new body of work at a private Mayfair property on Adam's Row.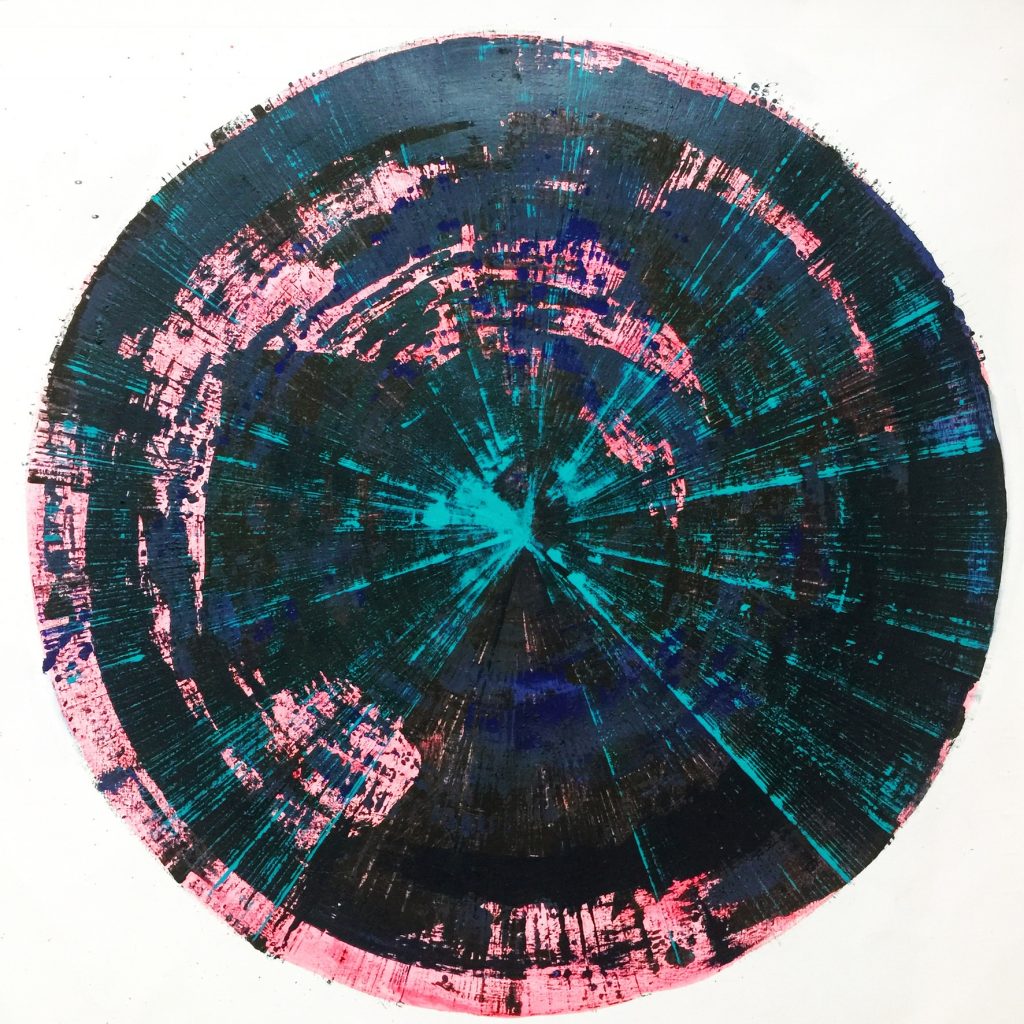 Piers Bourke 'Flying Home'
'Flying Home' will exhibit eighteen works across British-born Piers Bourke's expansive practice, with a focus on pieces created during the artist's time spent living and working in Singapore. Large-scale series, including the innovative 'Fan Works' and 'Time Zone Explosions', highlight the adaptation and development of Bourke's process to incorporate traditional techniques and materials.
Upon moving to South East Asia in 2014, having previously travelled extensively across the region, Bourke's fascination with the culture and imagery surrounding him intensified. The artist developed a particular interest in Korean contemporary painting, with its distinctive textures and quality. Following the relocation Bourke also became aware of the societal differences in attitude and mentality, which proved instrumental in shaping the direction of his practice. Having initially worked with paint, then moving to paper and collage, Bourke's return to and fascination with the medium is a natural succession.
Piers Bourke comments on the significance of 'Flying Home':
"The move to Singapore marked a poignant moment in my artistic career, I found myself at a crossroads between previous ways of working and absorbing a new mentality around me. 'Flying Home' reflects and tells the story of this exciting time."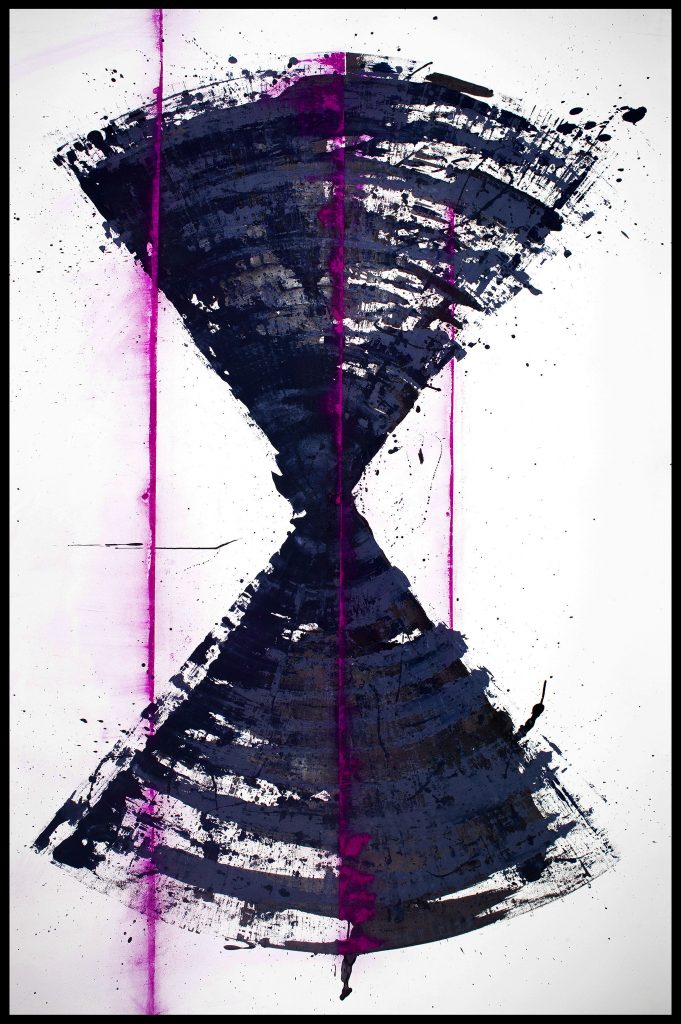 Pieres Bourke Fan series purple
Perhaps best known for his iconic depictions of quintessential British imagery, including HM The Queen's postage stamp and telephone boxes, Bourke experimented with both imagery and process while in Asia, beginning with the 'Free as a Bird' series. Starting with pre-existing collages the artist used new techniques to create additional layers of depth. Piers was able to achieve a striking twisted ribbon effect through a process of cutting, reassembling and digitally reproducing the images a second time.
Upon a realisation and dissatisfaction with the ease in which digital artworks can be copied and reproduced Bourke chose to pause this aspect of his practice, reflected by the newest works in the Mayfair show. Whilst in Singapore, Piers returned to pure painting. Using ink on paper, Bourke adopted traditional tools, abandoning brushes for wooden blocks, to allow gestural marks and movements to be translated on to the surface material. Inspired by Asian techniques and Korean artists, including Lee Ufan and Kwon Young-Woo, Bourke began to experiment with mineral pigments, mixing the two consistencies to further the traditional process.
The 'Fan Works', a significant body of new pieces, are a development of Piers' ongoing icon series, here British stamps and postboxes are replaced by the distinctive Asian motif. Scaling up the wooden tools to a longer baton, Piers was able to achieve sweeping movements across the surface material. This technique resulted in the layered, textural works, which appear as one striking gesture, as opposed to individual marks. In addition, the use of pigment, rather than paint, produced a balance between positive and negative space.
A progression of this series, and a result of Piers' increasing travel between Singapore and the UK, saw the artist develop a methodical approach, resulting in the 'Time Zone Explosion' works. Created by anchoring a baton to a fixed point in the centre of the paper, Bourke was able to capture precise movements. Once complete, the second stage of application was introduced, embodying the frenetic state of mind caused by flying and continuously changing time zones, the initial calculated placement of the paint became disrupted through rapid and gestural strokes, resulting in the series, which is simultaneously calculated and chaotic.
Piers Bourke 'Flying Home' 20 Adam's Row, Mayfair, W1K 2AL 29 November – 21 December 2018
'Flying Home' at 20 Adam's Row is open from Monday-Friday, 10am-5pm by appointment only.
To reserve a visit please contact Alice Barnett at KTW London: alice@ktwlondon.com

Piers Bourke No seasons in the tropics
About the Artist
British contemporary artist, Piers Bourke, born 1978, studied at Chelsea College of Art and the University of the West of England in Bristol. Piers' practice combines progressive print and painting techniques with a traditional execution process. Perhaps best known for his iconic depictions of
quintessential British imagery, including The Queen's postage stamp and telephone boxes, the artist's recent body of works sees a return purely to painting. Previously based in Asia, Piers returned to London at the end of 2018, working from his studio in Parson's Green. Piers Bourke has exhibited
internationally, with previous solo shows at Loughran Gallery, Rebecca Hossack Gallery and The Art
Fellas in Singapore. Bourke's works are collected by a global audience. Piers Bourke is a committed philanthropist, having donated works to recent charity auctions, including the Save The Children Arbitration Ball and has raised over £30,000 for www.theroastbeefclub.com and https://supportourparas.org through the sale of his pieces.
Categories
Tags